Zero new cases is a "good outcome" for Maleny after more than 300 people came forward for testing following the confirmation of a woman in the town carrying the UK variant.
Queensland Health said all close contacts of the woman, who flew from Melbourne while unknowingly still infected, had also been tested.
"The community can be reassured that all close contacts of the case have been tested and are being managed appropriately according to national guidelines," a spokesperson said.
"Sunshine Coast Health has worked closely with local businesses ensuring the community remains safe from COVID-19."
The pop-up clinic will remain at the Maleny Soldiers Memorial Hospital until 4.30pm Tuesday and could be extended.
"Maleny residents are to be commended for coming forward to be tested for COVID-19," the spokesperson said.
It comes as Queensland recorded no new cases for the third day and the premier ordered Greater Brisbane's lockdown to end at 6pm Monday but masks to remain mandatory in public indoor places until January 22 (more below).
University of the Sunshine Coast lecturer in nursing and outbreak advisor Matt Mason said the risk to people in Maleny had been "very low" because the woman had already gone through 10 days of quarantine and had no symptoms.
Mr Mason said people did not need to be alarmed but if anyone developed symptoms they should get tested "just in case".
"It is very much a precautionary approach because she did have one of the new variants and the data isn't there on how these variants behave other than causing a lot of problems in the UK and South Africa and America," he said.
"The idea is we don't want it causing problems here and because of that we need to ensure as much testing is going on."
Mr Mason said zero new cases was a "good outcome".
Earlier
The partner of the Brisbane hotel cleaner whose infection sparked a three-day lockdown has also tested positive, however genome sequencing is yet to be done.
Greater Brisbane's lockdown will end at 6pm Monday but there will be some ongoing restrictions during the remainder of the virus' "incubation period", the premier announced.
For the next 10 days people will have to wear masks at public indoor venues such as shopping centres, gyms, churches, libraries, public transport, taxis and rideshare and workplaces where people cannot socially distance.
Premier Annastacia Palaszczuk urged people to carry masks with them "at all times" and pop them on at crowded indoor places except at eating and drinking venues.
The mandatory mask wearing would continue for the duration of the "incubation" period of the virus until 1am on January 22.
It comes as Queensland again recorded zero new cases in the community and four new cases in hotel quarantine after 18,904 tests.
Ms Palaszczuk praised people in the local government areas of Brisbane, Ipswich, Redlands and Moreton for adhering to the lockdown and coming forward to get tested.
She said Brisbane's snap lockdown was a "world-first" and also the first time the strategy had been employed in Australia as a circuit-breaker.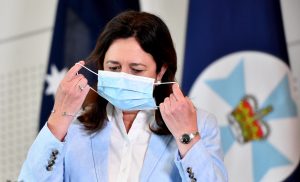 Ms Palaszczuk said the gradual easing of restrictions followed the best health advice.
"The evidence tells us the lockdown has done its job," the Premier said.
"Dr Young has asked for these further 10 days of measures in the Greater Brisbane area.
"It's better to be safe than sorry and it's better to be sure."
Contact tracers have identified 370 contacts of the infected cleaner whose positive diagnosis sparked the lockdown and 172 of those tests have returned negative results.
Also, 304 of her close contacts have been traced, with 154 coming back negative and 10 of the woman's closest contacts would be retested.
Police handed out more than 1300 masks while undertaking compliance patrols over the weekend and handed out very few infringements.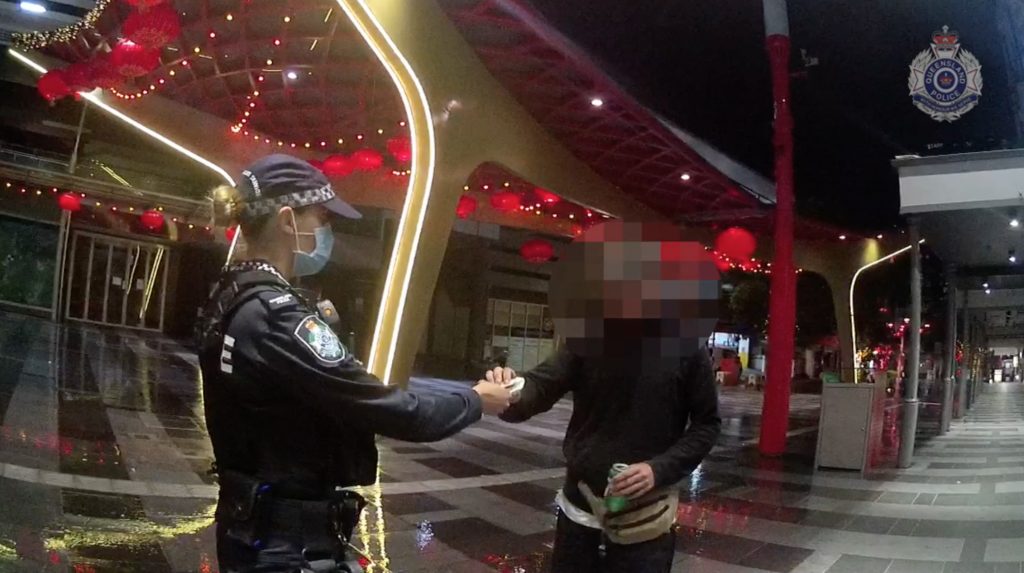 Ms Palaszczuk said the three-day lockdown was not an "over-reaction" and was supported by the Australian Health Protection Principal Committee and national cabinet.
The ongoing restrictions include limits on businesses to 1 person per 4 sqm indoors and 1 person per 2 sqm outdoors, seated eating and drinking only, no dancing except for weddings, and gathering limits of 20 in homes and public spaces, 100 at weddings and funerals and 50 per cent capacity for indoor concert venues or theatres and outdoor stadiums.
Restrictions on visits to hospitals, aged care, disability accommodation and prisons remain.
EARLIER:
Premier Annastacia Palaszczuk is expected to provide an update 9am Monday as Greater Brisbane enters day three of the snap lockdown announced on Friday.
Workers in the Greater Brisbane area have been asked to stay at home where possible as the city enters what is hoped will be the final day of the snap lockdown announced on Friday.
The Premier thanked Queenslanders for largely complying with the strict measures including the mandatory use of masks in public.
"This has been a really great response from people in the Greater Brisbane community and we need to keep it up, so Monday 6pm is the day and we'll be updating you again tomorrow morning at nine o'clock to see how our cases have gone overnight," she said on Sunday.
Queensland has been on high alert after a cleaner at one of Brisbane's quarantine hotels was initially diagnosed with the UK virus strain.
The highly contagious variant has potentially been active in the community since January 2 but no further locally acquired cases have been detected.
Chief Health Officer Jeannette Young said it was too early to say if there would be more cases in the community.
EARLIER:
Droves of people in Maleny have queued for testing after a woman with the UK strain of Coronavirus visited several locations and sent shockwaves through the town.
There was a lengthy line at a pop-up clinic at Maleny Soldiers Memorial Hospital on Sunday morning after an alert was issued Saturday for those who visited a pizza takeaway, bottle shop and supermarket.
Maleny resident and My Weekly Preview journalist Leigh Robshaw said there was a queue of about 40-50 cars at the clinic Sunday morning and they were moving at a snail's pace.
"I've never seen anything like this before. It is the longest line of cars trying to get into the street where the hospital is, it's crazy."
"There was only one person (seemingly) doing the test and there were two hospital workers walking down the queue handing out pieces of paper for registration details."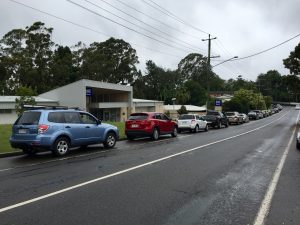 She said there was some alarm around town.
"There's a bit of a sense of mild panic. People are on edge.
"People were rushing about (on Saturday), looking worried."
She said she was trying to remain calm.
"(Queensland Chief Health Officer) Jeanette Young has said it's very low risk but I'm still being very cautious and staying at home for the time being.
"I've been careful when I've been in town."
She said the centre of Maleny was packed on Friday, with tourists flocking to shops and cafes.
"I was concerned looking around, thinking it's not good to have this many people in town and not socially distancing."
But there was hardly anyone in the business district on Sunday.
"It was looking quite empty for a 9am on a Sunday, when it's usually bumper-to-bumper with people at cafes and shops."
Local business owner Norman Scott had closed his shop – Maleny Food Co – for the day.
"It's very quiet. The Christmas and holidays period has generally been positive with the lack of COVID issues (in Queensland) but a little scare like this and now the streets are pretty much empty."
"That's the right thing to do of course. We don't want any potential outbreaks. While it's difficult for business, it's the right thing for us to bunker down for a couple of days until the authorities say it's blown past and we're okay."
He said he was a bit concerned but he was optimistic the town would return to normality soon.
"The natural thing is to be alarmed but …. this is an infection that we all have to be mindful of. It's not going away so we just have to be ready to react and in some respect I think that's what happened."
"The authorities quickly let us know what's happening and the community can monitor themselves and get tested if necessary.
"Let's hope the authorities have caught it early and we'll get back to where we were."
Get more Sunshine Coast stories to your inbox by subscribing to our FREE daily news feed: Go to SUBSCRIBE at top of this article to register.
Meanwhile, there were no new COVID-19 cases recorded in Queensland overnight as Greater Brisbane enters the second day of the snap lockdown announced on Friday.
More than 19,000 tests were conducted in the state over the past 24 hours and Premier Annastacia Palaszczuk thanked Queenslanders for complying with lockdown measures including the mandatory use of masks in public.
"Can I remind people if you do need to go to the shops to get a loaf of bread or some milk, put your mask on and you can go and do that. If you want to do a bit of exercise, please put your mask on, and you can go and do a walk around your neighbourhood," she said.
Queensland chief medical officer Jeanette Young said there had been a fantastic response to the risks posed by the UK virus.
"This is the first time we've seen it in our community in Australia, we know what has been going on in the UK, but it is very hard to unravel, because they came from a different position to us," Dr Young told reporters.
"So this is all about learning every single day, but taking the most precautionary approach possible, because we don't want this to get out there."
The highly contagious UK variant has potentially been active in the community since January 2 but no locally acquired cases have yet been detected.
Queensland is on high alert after a cleaner at one of Brisbane's quarantine hotels was initially diagnosed with the UK virus strain.
EARLIER:
A Maleny woman who had the coronavirus and did 10 days quarantine has tested positive to the UK strain while living in the community.
The woman was unknowingly still infected while flying to Queensland from Victoria on January 5 and travelling to live with her parents in Maleny.
Public health alerts have been issued for a pizza takeaway, bottle shop and supermarket in Maleny (more details below) where the woman is in self-isolation on the outskirts of town.
The woman had travelled from the UK to Victoria on December 26 and tested positive on December 27 however no genome sequencing was done at the time .
She completed ten days isolation in Victoria and was showing no symptoms when she was released without an exit test which was not required under existing protocol.
The woman then flew Jetstar from Melbourne to Brisbane on January 5, travelling to Maleny in the Sunshine Coast hinterland where she has been staying with her parents.
Victorian officials alerted Queensland Health to the case on Friday and the woman was contacted to undertake a follow-up test which came back positive to the UK variant.
Chief health officer Dr Jeannette Young said the risk to the community was extremely low but precautions were being taken because of the UK variant's super-spreading capacity.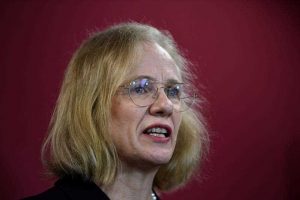 "Her parents have been tested and we are working through close contacts," Dr Young said.
"She lives on the outskirts of Maleny – we got her tested here yesterday and she's still testing positive.
"The risk is extremely low because she is right at the end of her potential infectious period.
"With the normal variant we would not be concerned at all but because of the new variant we're just being cautious which is why we retested her…and found she is still excreting virus."
A public health alert has been issued for three Maleny businesses:
Cappriccios Italian Pizza Restaurant (take-away only) for anyone standing outside on January 6 between 6.30pm and 7pm.
Purple Palate Cellars on January 7 between 4.15pm and 4.25pm.
Woolworths Maleny on January 7 between 4.30pm and 4.50pm.
There is also an alert for travellers on the Melbourne to Brisbane Jetstar JQ 570 flight which arrived 11pm on January 5.
"Anyone that lives in Maleny and develops symptoms please come forward and get tested," she said.
The woman remains in self-isolation, and is being managed by the Sunshine Coast Public Health Unit.
A spokesperson for Queensland Health said there was no evidence the UK strain was infectious for longer but precautions were being taken.
"We have changed our protocols for the United Kingdom and South African variants to require at least 14 days of isolation until further information emerges," the statement said.
A pop up COVID-19 testing clinic has been opened at Maleny Soldiers Memorial Hospital. It was open on Saturday and it will also be open from 8.30am to 4.30pm Sunday, Monday and Tuesday. There are other COVID-19 testing clinics in the region.
Crucial three days
"Let's see what happens on Sunday. Let's see what happens on Monday," Premier Annastacia Palaszuk said.
"These are the crucial three days that we need. The whole country is looking at what happens here in the Greater Brisbane region because we know that this UK strain is incredibly contagious.
"This is the first time it's been out in the community and it's not to say it will be the last."
Southeast residents have bunkered down and donned masks to stymie the virus's spread.
Queensland remains on high alert after a cleaner at one of Brisbane's quarantine hotels was initially diagnosed with the highly-infectious UK virus strain.
Authorities fear the woman in her 20s was infected and active in the community from January 2.
Residents in the council areas of Brisbane, Logan, Ipswich, Moreton Bay and Redlands must stay at home until 6pm on Monday except for essential work and shopping, exercise, to access healthcare or look after the vulnerable.