One of the biggest property myths appears to have been busted, with new data showing the majority of buyers on the Sunshine Coast are not southerners.
The idea of a great southern invasion has been seemingly quashed in figures revealing that seven out of ten houses sold between July 1 and October 30 actually went to Sunshine Coast buyers.
Agents and commentators have been talking up anecdotal reports of Victorian and New South Wales people flocking to the Coast and buying up houses at top dollar.
The perception is that interstaters, lured by value, lifestyle and modern infrastructure, are invading our residential market region.
But the latest numbers from around the Coast tell a different story.
My Weekly Preview's market research across 12 of the Coast's top real estate agencies found that of 477 contracts completed during the period July 1 to October 30 this year, 311 or about seven out of 10 houses, units and land sold were to Coast residents.
The most active buyers came from Nambour (10.6 per cent), Caloundra (9.83 per cent), Maroochydore (8.58 per cent), Kawana (8.37 per cent), Coolum (7.32 per cent) and Buderim (5.86 per cent).
Outside of the Coast, residents from 50 suburbs south and into Brisbane made up 19.2 per cent of sales while 4.2 per cent were to people living in other parts of Queensland. When you combine local residents and those within a one-and-a-half-hour drive radius, that equates to about nine out of 10 buyers.
As to the interstate invaders, they made up only 11 per cent with New South Wales the largest at 5.45 per cent, followed by Victoria with 3.35 per cent.
My Weekly Preview conducted a similar survey several years ago. Noel Olson, a Sunshine Coast resident since 1988 and one of the MWP's publishers says that survey revealed virtually the same outcome.
"What the data doesn't reveal is that while the vast majority of buyers are local, many of them may have originated from outside the region but when they purchased, they would have already been living and renting on the Coast," Mr Olson says. "Our region has and always will, and now more than ever post-COVID, appeal to our southern cousins, but most will move to the area via a rental property first."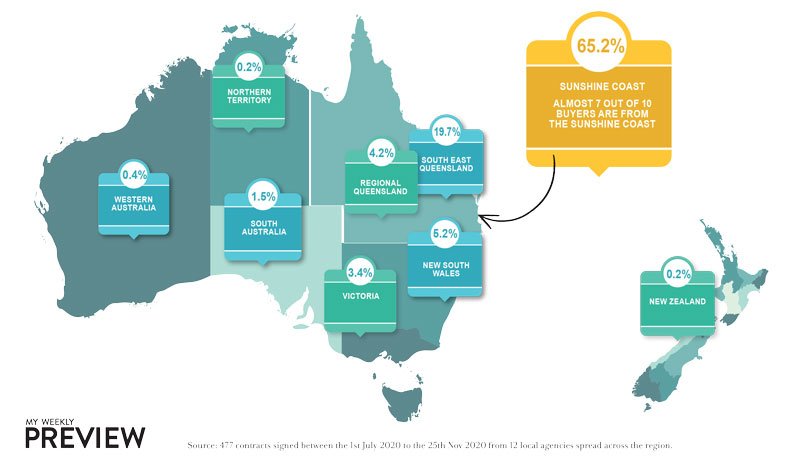 Home Sunshine Coast principal Kate Jewry says most of the people her agency has been dealing with are already on the Coast.
"We have been hearing in the media that people have been buying sight unseen, and yes, there has been some of that, but it was certainly not as prolific as what people have been led to believe," she adds.
Define Property's Ross Cattle says he has been dealing with several very frustrated southerners. It's not that they aren't eyeing off the Coast as an ideal location he says, it's more that they can't seem to secure a property.
Locals, who know the market are right here, right now and are winning this game.
"I wouldn't say the southerners aren't buying," Mr Cattle says. "There is definitely strong interest from interstate buyers, but they probably transact a bit slower as they get to know the market, where active locals are making decisions faster and seeing value because they know the market better and they are kind of beating the interstaters to the punch."
In the meantime, for unlucky new Coast residents, renting, when they can secure a place, is the go while they wait to buy.
Mr Cattle has also found that some southerners, who would normally travel overseas for their family holidays, are buying into holiday-let properties. "We have seen an influx in holiday-style property; it's a really strong part of our market," he says.
For locals, "renters are buying" Mr Cattle adds.
Astute Financial's Steve Panebiango says the government incentives are adding to the market pressure as Coast residents, who previously couldn't get in the market, are finding now they can.
"They are buying land and building because of the builders boost which has really lifted the market," he says. "The other incentive is for first-home buyers, which for the majority are renters, and with no mortgage insurance, it's saving them 15 to 20 grand."
Other drivers are the affordable money and the worry of getting ahead of the influx of people expected to be moving to the Coast, Ms Jewry says.
"I heard from one client that one school alone has 40 new enrolments from Victoria for next year," Ms Jewry adds.
"There has been a thought pattern out there about buying before the bulk of the southern migration arrives, if they are to arrive," Ms Jewry adds.
"If COVID has taught us anything and I have experienced this with lots of clients, is that with family already here other family members are coming to the Coast as if they ever go through the whole traumatic lockdown time again, they certainly don't want to being doing it separated from family."