The name "Sunshine Coast" was heard for the first time 62 years ago, in December 1958, and was selected after "Silver" and "Diamond" were considered.
It came up at the inaugural dinner of the Sunshine Coast Branch of the Real Estate Institute of Queensland in Caloundra.
The move was likely prompted because the South Coast, a similar distance on the southern side of Brisbane, had rebranded itself the Gold Coast a few months earlier in October 1958.
The three local authorities – Landsborough, Maroochy and Noosa shires – were collectively the Near North Coast or just the North Coast.
A name was needed to bring them together for tourism and to give the region an identity in the southern market.
A group of real estate investors backed by the REIQ began putting together a proposition for a united front to create a product image in the early 1960s.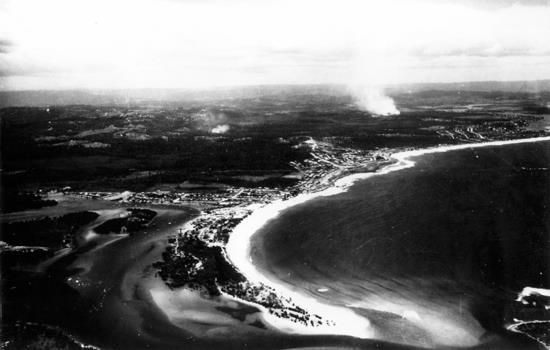 Premier Sir Francis Nicklin, who was from Palmwoods, also supported the concept of throwing out the parochialism of three shires and putting together a district package.
The next step was choosing a name and Suncoast was the obvious choice. Unfortunately, a development company headed by Rex Testro had beaten them to it.
Like this story? Get more just like it direct to your inbox by subscribing to our free daily news feed: Go to SUBSCRIBE at top of this article to register
Suncoast Developments had acquired the leases to land between Mudjimba and Coolum, as well as rights to the name, at least five years earlier.
Noosa property figure, the late Peter Sharpe, always preferred Suncoast which he said avoided the problem of people who arrived on a rainy day asking about the sunshine.
And there was the problem that it was a mouthful to say and write.
A few other precious resources were considered – Silver Coast, Diamond Coast – and finally it was settled. The Sunshine Coast prevailed.
The name was officially endorsed by the three local councils in November 1966 and in July 1967, a "Notification of Decision to Adopt a Place Name" under the Queensland Place Names Act of 1958 appeared in the Queensland Government Gazette.
Minister for Lands, Alan Fletcher advised that the decision would take effect from August 1, 1967.
Even 20 years later, there were more businesses prefixed Suncoast than Sunshine Coast in the local telephone directory – and almost as many still trading as North Coast.
But now, more than 50 years later, the Sunshine Coast News is readily identified as having the Coast covered.
This flashback is brought to you by veteran Sunshine Coast journalist and historical writer Dot Whittington, also the editor of Your Time Magazine.