Sunshine Coast homeowners are scoring thousands of dollars from banks amid a surge in cashback deals for refinancing. 
Homeowners are being offered between $1000 and $4000 to cut ties with their existing bank and switch lenders.  
Even with exit and lodgment fees, borrowers are still receiving several thousand dollars delivered to their accounts. 
Bank of Queensland lending manager Dianne Clancy (pictured below) said her Maroochydore office had been flooded with inquiries about their $3000 cashback offer.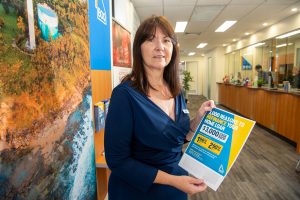 BOQ is offering $3000 for loans of at least $250,000 with a maximum loan-to-value ratio (LVR) of 80 per cent and a discounted fixed three-year home loan rate of 1.99 per cent. 
"We've been inundated with people looking at their options," said Ms Clancy. 
"A lot of people had more time on their hands in COVID and were looking at their finances and thought it was a good time to investigate further." 
The current BOQ deal runs until December 19 for settlements into February next year. 
Ms Clancy said the cashback enticement was the best she had seen and was an increase from the previous deal of $2500 which expired in September. 
Canstar's Finance Services group executive Steve Mickenbecker the cashbacks equated to a month's extra mortgage repayment or could be used for a much-needed holiday. 
"It's a good time to be refinancing. The best deals are around $4000 and that's a pretty generous deal. Four thousand dollars is nothing to be sneezed at," he said. 
Mr Mickenbecker said in the economic uncertainty of COVID, banks were trying to shore up more customers who were considered 'low risk' – those with existing loans or a track record of repayments. 
Like this story? Get more just like it direct to your inbox by subscribing to our free daily news feed: Go to SUBSCRIBE at top of this article
So with so many deals on offer, Canstar has compiled a table of some of the best incentives. 
St George Bank is offering up to $4000 cashback which includes $2000 for new applications and $2000 for applications with a maximum loan-to-value (LVR) ratio of 80 per cent. 
Other banks trying to lure new customers with a $3000 cash splash are Westpac ($2,000 per refinanced property and a bonus $1,000 for borrower's first application) and Virgin Money. 
NAB, RAMS and Commonwealth Bank are promoting $2000 while ANZ has a $1000 cashback. 
However, Mr Mickenbecker said homeowners should scrutinise the deals carefully to ensure they were getting good interest rates and check the fees. 
"You need to make sure you get the best deal on the loan because a cashback amounts to one-and-a-half mortgage repayments but after that you still have 359 repayments on a 30-year loan." 
Mr Mickenbecker said borrowers should prioritise packages that allowed you to make extra mortgage repayments. 
"Most Australians want to get ahead and get the principal down so it's got to be a loan that gives you that flexibility to make extra repayments, so you'll want a redraw or offset account," he said. 
However Ms Clancy, from BOQ, said the money and interest rates were not the only reasons people were leaving their banks to joining BOQ. 
"People are more conscious of what's out there but it's not always about interest rates," she said. 
"We offer personal service and people are upset at the lack of service of other banks and not being able to talk to people in the branches and being told to go online," she said. 
"We also have a community background supporting the Daniel Morcombe Foundation and Wishlist."