A 43-year-old primary school teacher who only started playing cricket a few seasons ago is relishing a rarely achieved feat in the sport.
Scot Teichman claimed all 10 wickets in an innings, a rare achievement at any level of the sport, during a Sunshine Coast fourth-grade game against Caboolture at Caboolture recently.
"I am still struggling to get my head around the fact that I've taken 10 wickets," he said. "It was a fantastic weekend."
Teichman, who was sick in the days leading up to the game, bowled a wide with his first delivery.
"I thought 'this is what my Saturday is going to look like," he said.
But his fortunes turned around and he bagged his first wicket at the start of his third over.
The wickets kept tumbling during an amazing spell and he finished with figures of 10/35 from 11.2 overs.
Only three players have snared all 10 wickets in an innings at Test level. It's more common at club level but still extremely rare.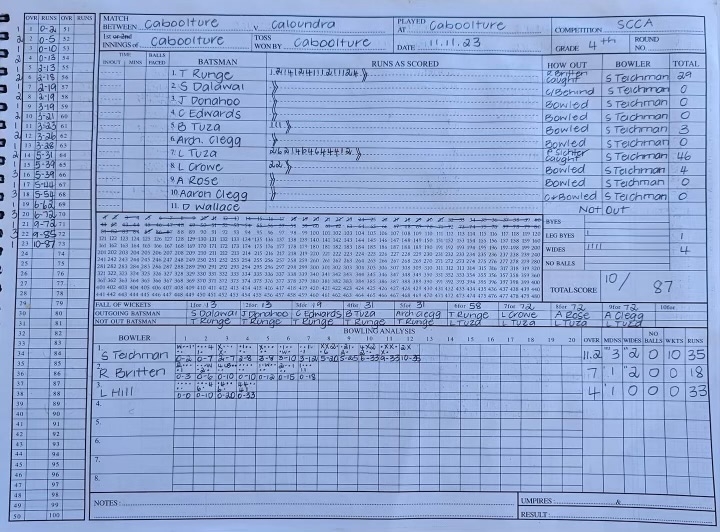 Teichman bowled six batsmen with his medium pacers, snared a catch off his own bowling, and dismissed the other two via teammates' catches.
When the final batsman holed out in the deep, it sparked wild scenes.
"When I got that wicket, all of my teammates celebrated. That was the most exciting part, seeing how excited they were for me," he said.
"And the Caboolture guys were very gracious and gave me a round of applause as well."
Teichman realised he had a chance to dismiss the entire side when the seventh, eighth and ninth wickets fell within four balls.
Ironically, he almost spoiled his perfect innings while fielding during the next over.
"A ball was hit to me and there was a run-out chance," he said.
"One of the players said to me that I would have done myself out of 10, but you don't think of that in the moment."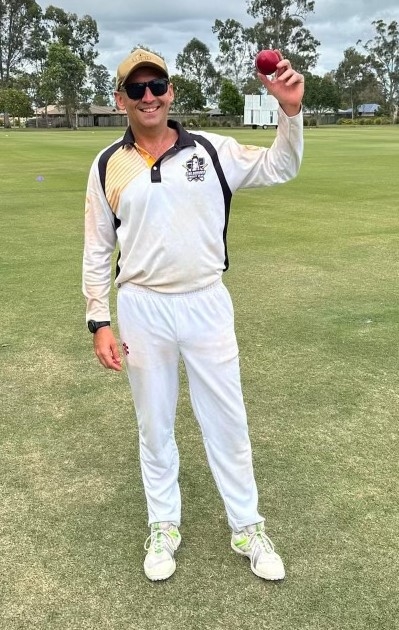 Caboolture only managed 87 runs from 23.2 overs in reply to Caloundra's 313.
Teichman only started playing cricket three years ago because his son played with the club.
His son has since stopped playing but he continued.
"I really enjoy my cricket, and Caloundra is a great club to be a part of," he said.
"I'm in my 40s, which is that age when you can either sit back a bit or do something to maintain your fitness.
"Cricket has been perfect for me, training twice a week and playing on Saturdays."
A call-up to third grade, or beyond, is "not on the cards".
"I'm happy to stay in fours," he said.
"I'm not the quickest bowler at the club, far from it, but I try and put the ball on a length and be as consistent as I can."
Teichman grew up on the Sunshine Coast, then taught at Thursday Island, where he met his wife, and moved back to the Sunshine Coast. They live at Aroona.
He's now a teacher at Chevallum State School.
He said he has kept the ball from the memorable game and it's atop a family trophy cabinet.
"My son, who is 17, has a couple of balls in the cabinet and one of them is for taking 7/7. He is always giving me a bit of stick saying, 'you will never beat those figures dad'.
"But I've finally got him."
Like stories about Sunshine Coast people doing great things? Help us deliver more by registering for our FREE daily news feed. All it requires is your name and email at the bottom of this article.