An NDIS provider is promoting an effective new approach to support work, with adventurous outings like rock climbing, gym sessions and a creek clean-up campaign.
The provider, Quest Collective, has abandoned visits to coffee shops and shopping centres from its activities list and instead plans challenging outings that teach new skills and help clients achieve bigger life goals.
Business founder Dan Fuller said its goal was to improve people's mental and general wellbeing and see that overflow into building meaningful relationships.
He said experiencing the outdoor activities alongside his client and good mate Jake, 15, has led to an ongoing mission to clean rubbish from Petrie Creek near Nambour and Cornmeal Creek at Maroochydore.
"One day we were driving out there and Jake noticed a heap of shopping trolleys and different bits and pieces in the creek, and he just pinned it with me, saying, 'Hey, why don't we bring the stand-up paddleboard down here one day and pull those trolleys out," he said.
"Jake borrowed his dad's stand-up paddleboard and we took it down there … and tried to pull these shopping trolleys, which were buried in three feet of mud, out of the creek.
"We just laughed our heads off, we were like little kids, and out of that got birthed a desire to clean up the whole creek system so, essentially, over the last six months we've been going between outdoor adventure, gym, working on different goals that Jake has, but primarily focusing on the bush and river clean-up."
So far, along with more than two dozen dumped shopping trolleys, they estimate they've removed 250 garbage bags of rubbish from the creeks, more than eight dump loads of scrap metal, dumped push bikes and thousands of plastic straws and discarded vapes.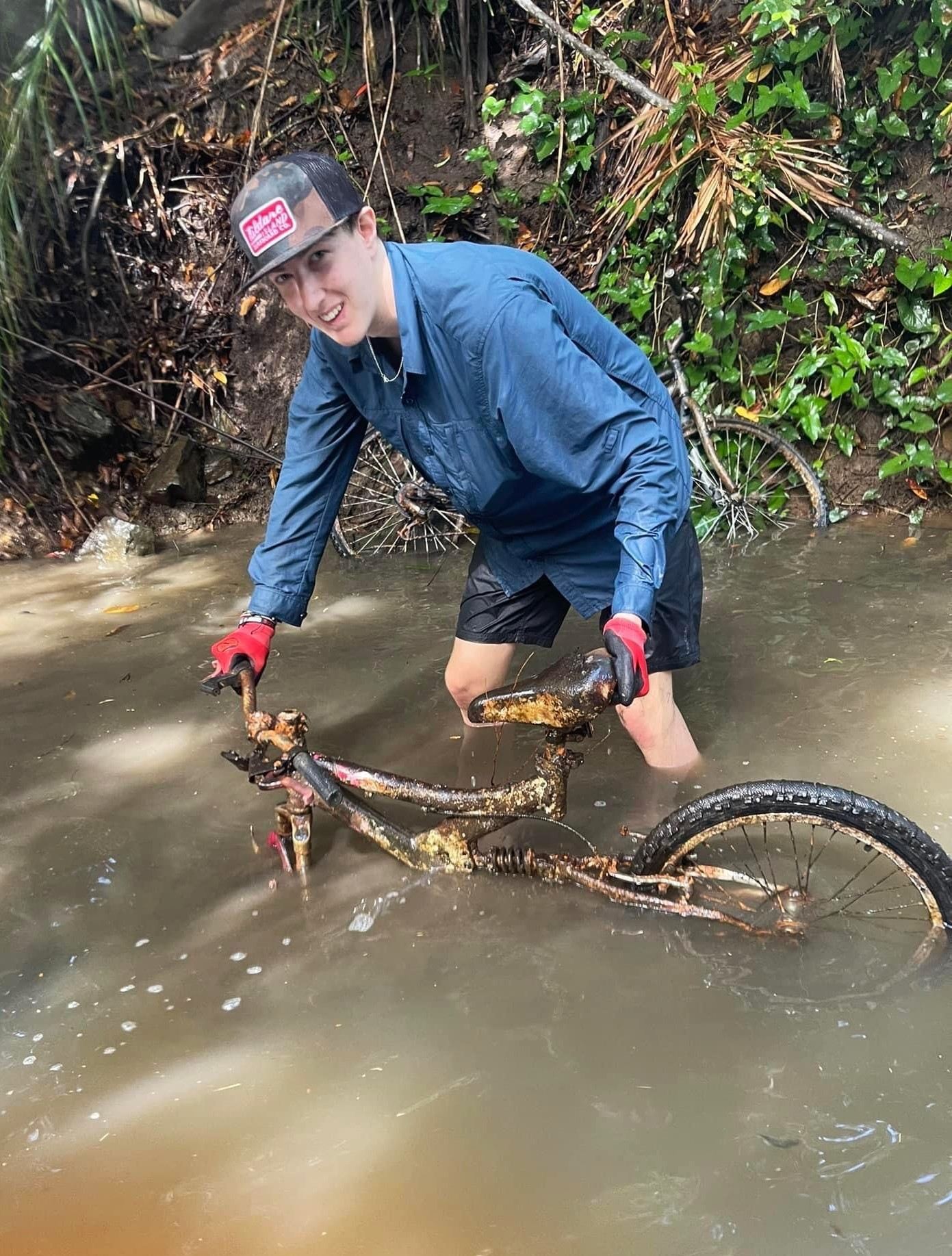 "It's good fun, we have a lot of laughs along the way and I enjoy it because I'm helping out people and the environment," Jake said of his campaign.
The clean-up efforts have attracted positive comments from the community, including offers to join in, which has further encouraged and energised the duo.
"Plenty of people who have noticed it on a Facebook page in Nambour, they were curious and wanted to know what we were doing. It made me feel happy. It was good," Jake said.
"It's a lot different than usual stuff; you go outdoors, (do things like) cliff jumping, and just exploring nature and having a fun time out there, instead of being in a crowded space or city or plaza."
The inspiration for Quest Collective was borne out of Mr Fuller's 15-year background in youth work, including in the disability sector. His personal interest in the outdoors, mountain hiking, multi-day hikes, camping and rock climbing, inspired him to combine the support work and youth mentoring with adventurous outdoor learning experiences.
He said Jake's experiences were a great example of what can be achieved when NDIS providers take a new and fresh approach to support efforts. He hoped Jake's story can create 'a ripple effect' that influences others in the support community.
"Jake's cleanups have been a life-changing experience. He's inspiring, he's built his self-esteem, his confidence, he's a leader, and he's humble. He's certainly inspired and led me," Mr Fuller said.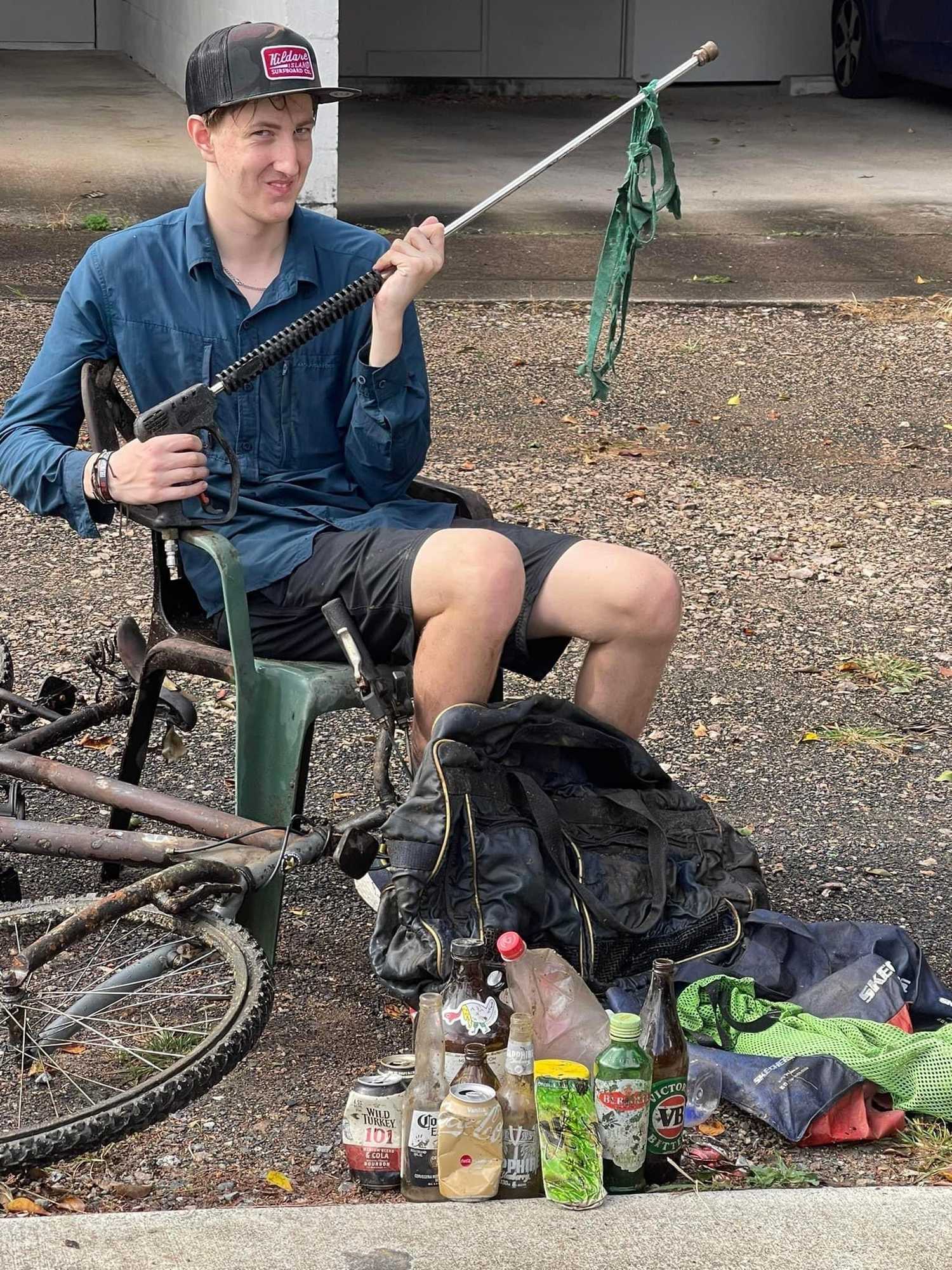 "Jake flagged with me what he wanted to do, and I've just helped make it happen, and here we are today, essentially wanting to share that to the wider community and to the NDIS sector, to inspire and help other people see that there's so much scope here through NDIS to do some amazing meaningful work in families.
"It's just about having a real focus on person-centred relationships and then just working out what somebody's goals are, what their skills are, what skills they want to develop and then just facilitating that.
Jake has enjoyed the adventures and cleanup so much, he's considering following in Mr Fuller' footsteps to pursue a future career that offers encouragement and growth to others, as an NDIS support worker.
For more details visit Quest Collective.
Local journalists supporting local people. Help keep independent and fair Sunshine Coast news coming by subscribing to our FREE daily news feed. All it requires is your name and email at the bottom of this article.