Two well-established Sunshine Coast real estate businesses have merged, with a husband and wife team 'handing the steering wheel' to a fellow agent.
Tristan Brown, from Nambour-based RE/MAX Property Sales, has purchased Karl and Lindi Rademeyer's Caloundra RE/MAX First office.
The Rademeyers opened the business in August 2015 after many successful years in sales, established themselves as one of the network's highest-achieving sales units.
In 2020 they received the national agency's highest honour, the prestigious Eagle Award.
Mrs Rademeyer explained that opening a real estate office had been a five-year plan when they first came to the Sunshine Coast.
"We got there two-and-a-half years sooner because the opportunity arose," she said.
"Being with RE/MAX as conjunctional agents, we were able to make the commitment to being a business unit, a business within a business already … I said back then that we believed we were in charge of our own destiny, that RE/MAX would be our support, but we steer the vehicle.
"We'll continue to be both a 'life' team and a sales team. We motivate each other and have 100 per cent passion and investment in what we are doing, and we've handed the steering wheel to Tristan."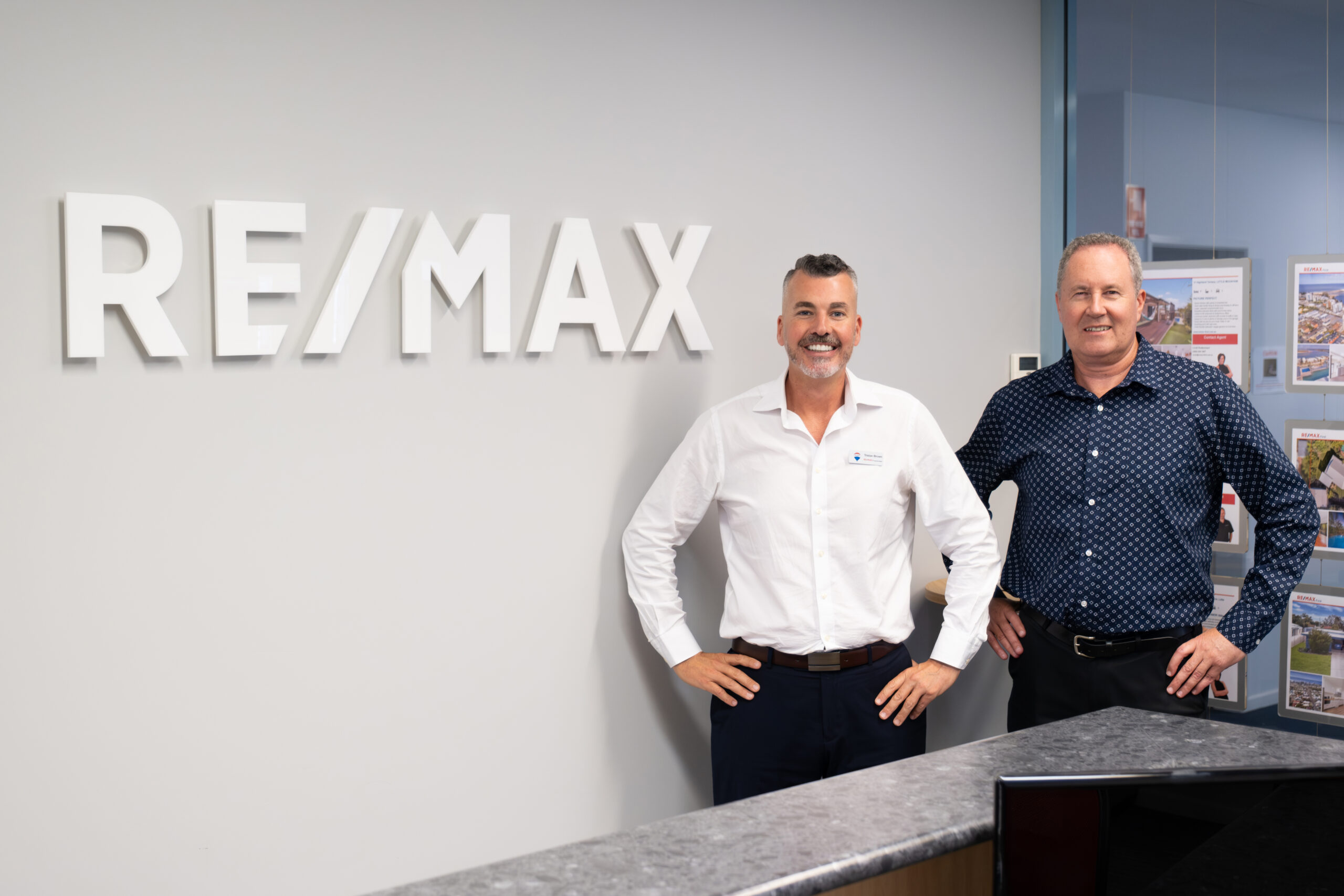 Mr Brown took ownership of his Nambour business in February 2021, earning a reputation as a progressive, dynamic leader and business owner.
"We approached Tristan because of what we'd seen him accomplish in his business in just 24 months, including growing the team from eight to 23," Mr Rademeyer said.
"We saw his energy and passion, his business acumen and leadership, and believed Tristan's were the best hands in which to place our successful and established business.
"That we are working with him is testament to the confidence we have in him taking the business forward and we are very excited to be on his team."
Mr Brown says his focus has always been on business growth.
"I have been actively planning expansion from day one of taking over RE/MAX Property Sales," he said.
"In truth, it has come early than expected but what an amazing opportunity to service the Sunshine Coast from two highly respected and successful offices and such stronghold locations – Nambour and Caloundra.
"With two offices comes an even greater team of experienced and skilled agents, greater resources and greater buying power with suppliers on so on, which will benefit our clients."
Subscribe to our FREE daily news feed. All it requires is your name and email at the bottom of this article.