There's a story of courage, loyalty and duty behind the big brown eyes of Ollie the Belgian Malinois shepherd.
Those beautiful eyes and her gentle and loving nature around family members also conceal deep anxieties linked to her past.
Ollie is one of Australia's "dogs of war", believed to have had tours of duty in overseas military zones including Afghanistan and the Middle East.
And like many of our forgotten heroes who have returned home from international conflicts, this distinguished war veteran has PTSD.
Memories of her past life would come crashing back every time a medical rescue helicopter flew over her Birtinya home, rushing emergency patients to Sunshine Coast University Hospital nearby.
She is the canine equivalent of the harsh reality behind Redgum's 1983 song I Was Only 19 about a returned Vietnam War veteran.
As the lyrics plead: "And can you tell me, doctor, why I still can't get to sleep? And why the Channel Seven chopper chills me to me feet?"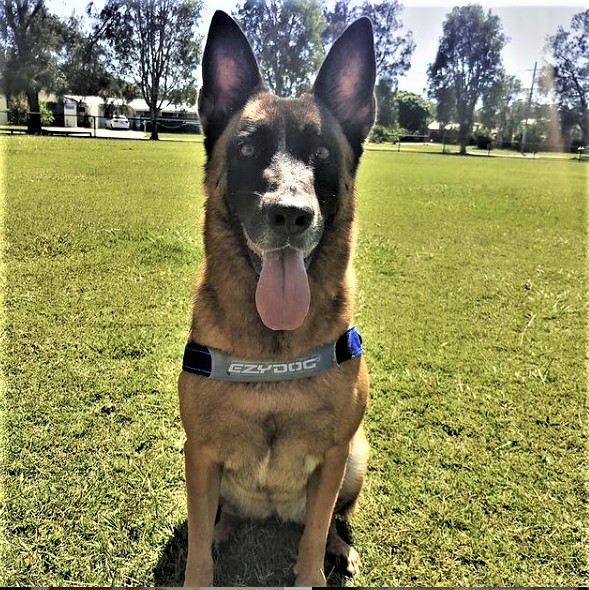 It wasn't until 1980 that PTSD was recognised when the American Psychiatric Association controversially added the condition to its Diagnostic and Statistical Manual of Mental Disorders disease classification.
At that time, few Australians knew PTSD existed or how victims could be affected many years after  traumatic, scary or dangerous events such as child abuse and sexual assault, car accident or war service.
PTSD can show up as disturbing thoughts, feelings or dreams, mental or physical distress relating to triggers or cues and an increase in the fight-or-flight response. Today, an estimated three million Australians have had PTSD at some point in their lives.
Now we realise the condition also can affect animals such as Ollie.
The medium-sized, short-haired Malinois is one of four varieties of the Belgian shepherd breed and looks similar to a German shepherd. They have a  short mahogany coat with black markings, muzzle and erect ears.
Extremely intelligent and easy to train, the Malinois in particular is used as working dogs by the military, for tasks including detecting odours such as narcotics for drug detection agencies, search and rescue operations and tracking by police forces around the world.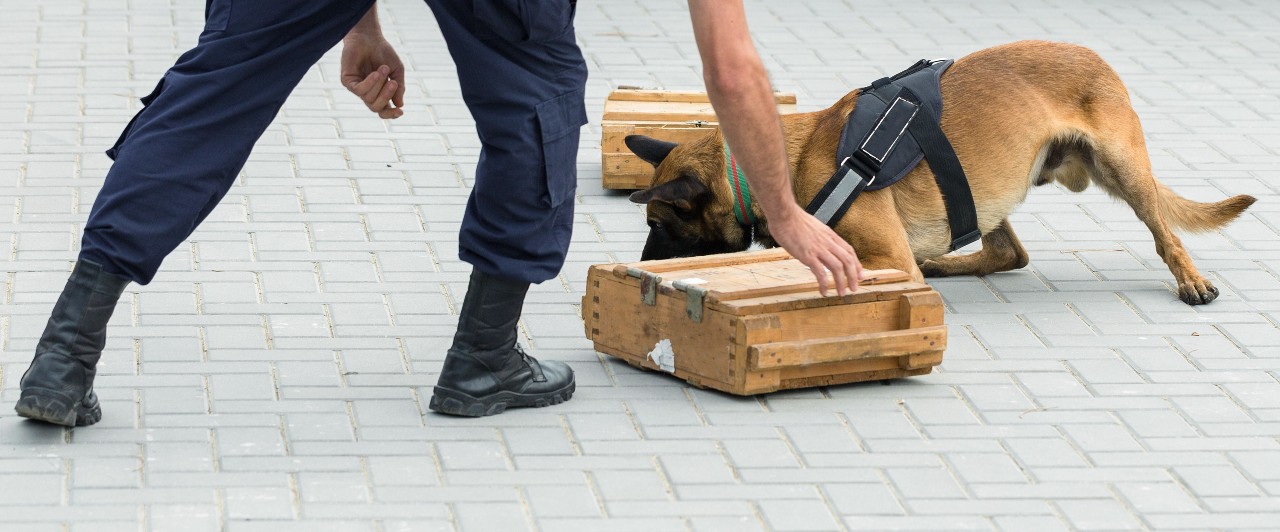 As a young couple starting their lives together, owner Glenn and his wife wanted to rehome a rescue pet and found their way to Ollie.
"I grew up in South Africa and we were right next door to Rhodesia (Zimbabwe), so we had ridgebacks around us all the time," Glenn said.
"But we started looking and my wife was really keen on German shepherds because she had them her whole life.
"We always wanted a rescue. We went from rescue to rescue (organisation) and then found Belgian Shepherd Rescue."
Glenn said the rescue organisation had strong links to Amberley RAAF Base near Ipswich and its extensive breeding and training program.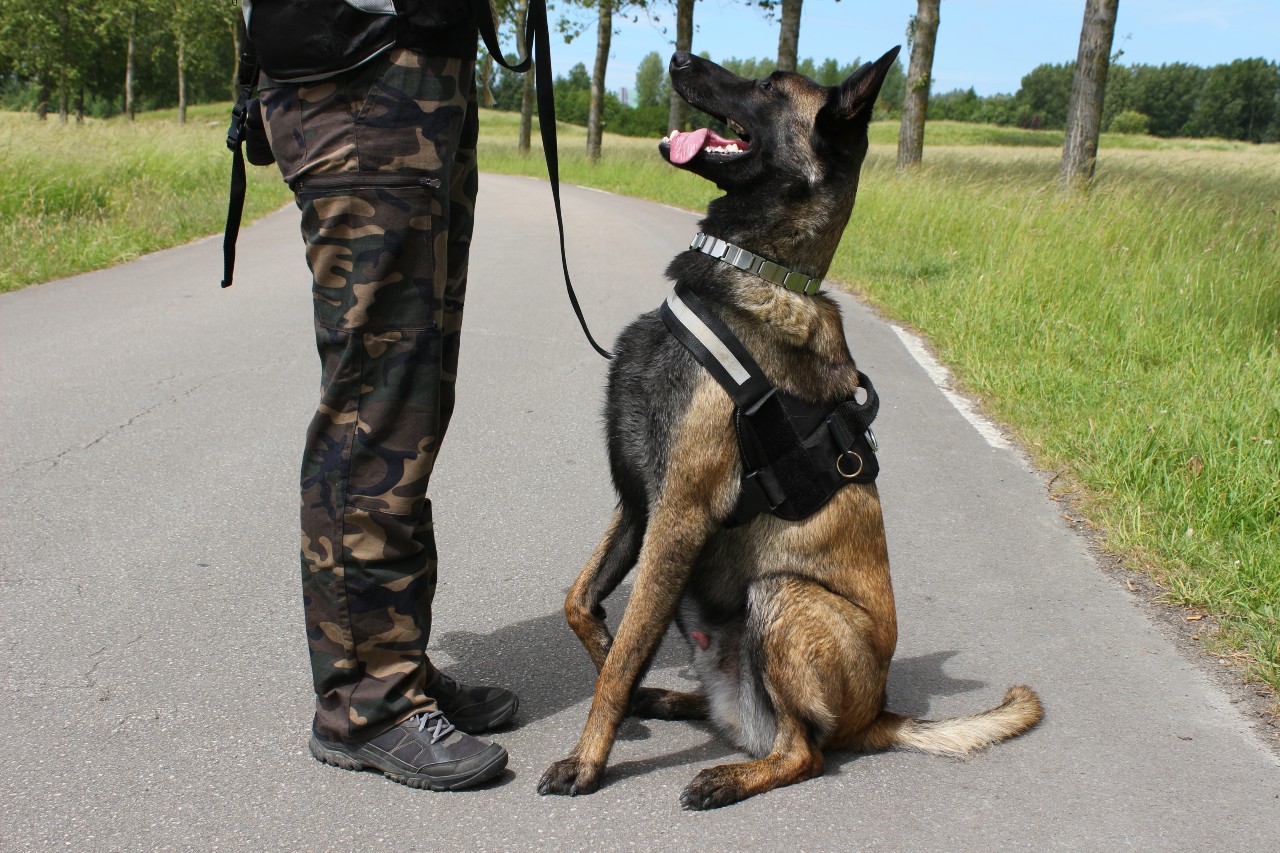 The family did their research, and then six years ago they met and fell in love with Olive: her kennel name, which they shortened to Ollie.
"The Belgian shepherds have overtaken the German shepherd as the most used dog in defence and police because they don't have the hip issues that German shepherds do," Glenn said.
"Their role can be a sniffer or detection dog or they actually go on patrol.
"And when they are on their patrol, they will grab people if they have to and hold them.
"She was trained to go out of a helicopter strapped to a handler.
"A lot of the ones that are either unsuitable for training or don't make the cut go on to a tender system through the RAAF website and people can come and meet them and then they go through a bit of de-training process.
"So Belgian Shepherd Rescue tender for a lot of them through the RAAF, take them and retrain them for six months."
Help keep independent and fair Sunshine Coast news coming by subscribing to our free daily news feed. All it requires is your name and email. See SUBSCRIBE at the top of this article.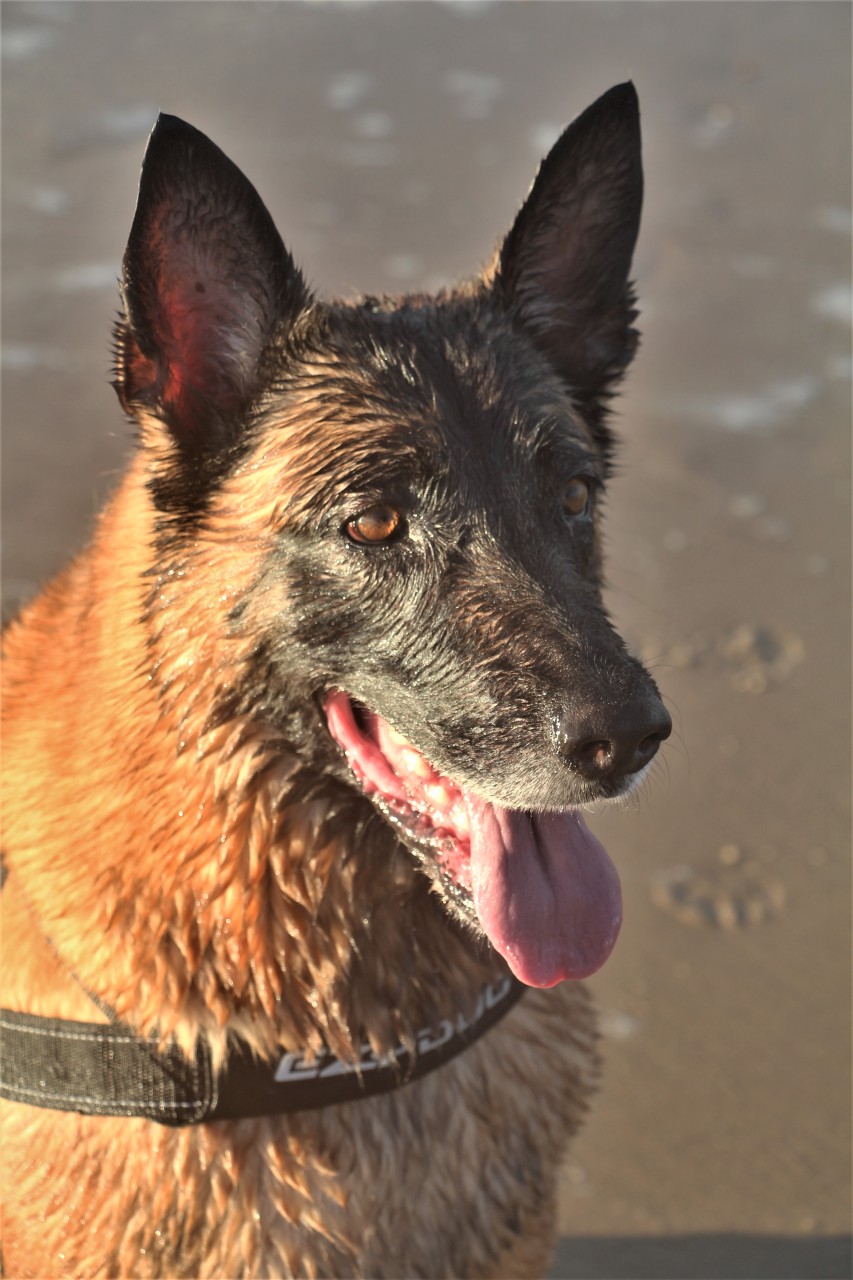 Nine-year-old Ollie was born at the Amberley base with two Belgian Malinois parents and she was combat trained up until the age of four.
Glenn believes Ollie saw action in Afghanistan or Iraq "but the RAAF don't really tell you too much".
"From what we understand, she had seen some action but early on she was deemed to have PTSD or anxiety and she was retired straight away."
Ollie's PTSD manifested itself as a high degree of anxiousness, especially around other people, Glenn said, but was heightened by storms and the whirring of rotor blades – a throwback to her early military training.
When they moved to Birtinya, near the hospital, the rescue choppers "freaked her out".
Ollie is part of the reason the family has now moved to acreage, avoiding the choppers' flight path.
But even without her PTSD, Glenn acknowledges that Belgian Malinois is "rated the most difficult dog to own and breed in the world" and not something a prospective owner should take on lightly.
While breeders consider them attentive and protective of families, good guard dogs and children-friendly, they have high energy levels that require daily exercise sessions. They are wary of strangers and become introverted or destructive if left alone for long periods.
As part of those natural traits, Ollie is very protective of her human family and always "on duty".
"She was female-led and female-trained (in the RAAF) so she has got a very strong affinity for females," Glenn said.
"She actually sleeps at the foot of the stairs so she can watch people coming in the front door.
"If we're home, she'll bark and go crazy until every visitor has been introduced to them.
"As soon as we introduce them, she sits, she sniffs them and she's fine.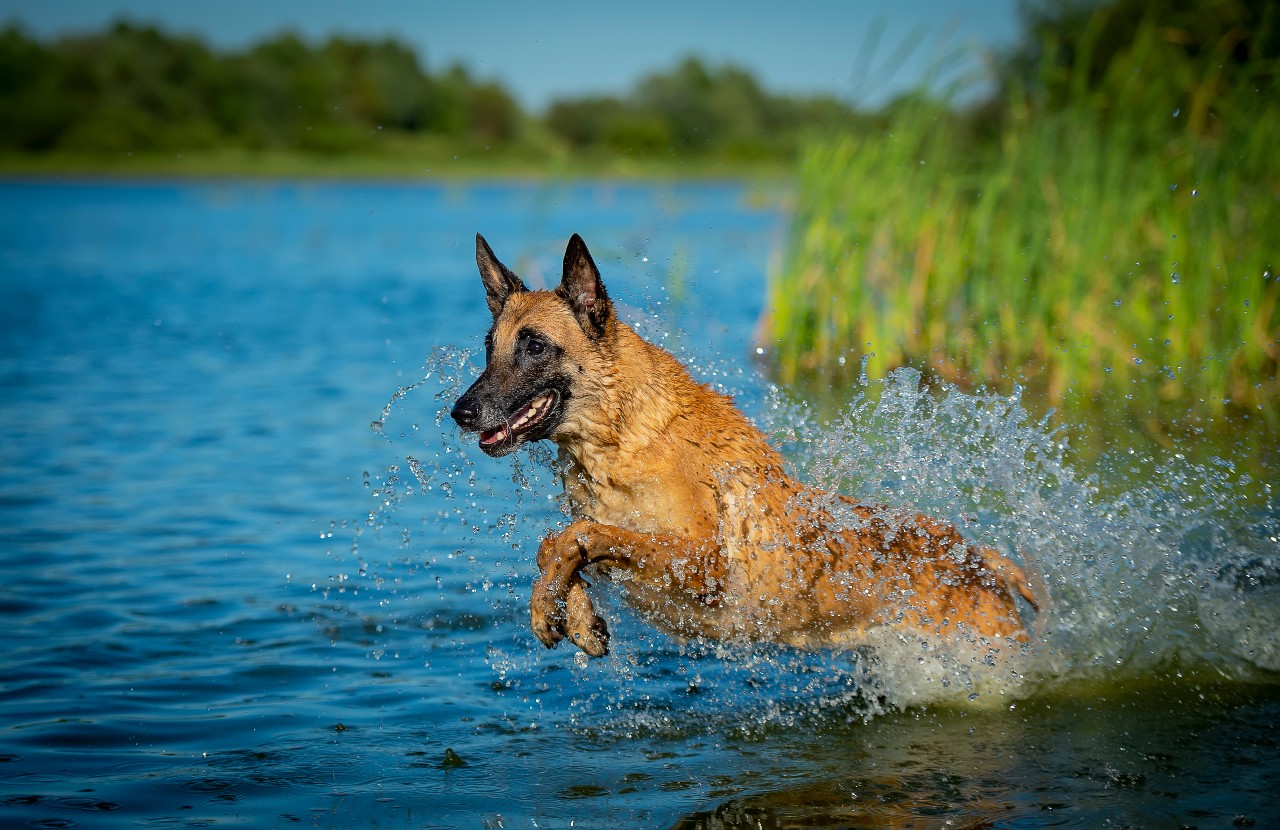 "If (the visitor) is in the house and she sees them and we haven't introduced them, she is pretty much on guard until we do introduce them.
"I'd love to be able to bring her down here (to the beach) this afternoon, but I've got to make a separate trip down every morning because she just can't be around dogs and people.
"She would be anxious the whole time. She'd be on alert the entire time (due to the numbers of people and animals)."
Owning a Belgian shepherd was an investment of time and effort – especially if they've had issues as well, Glenn said.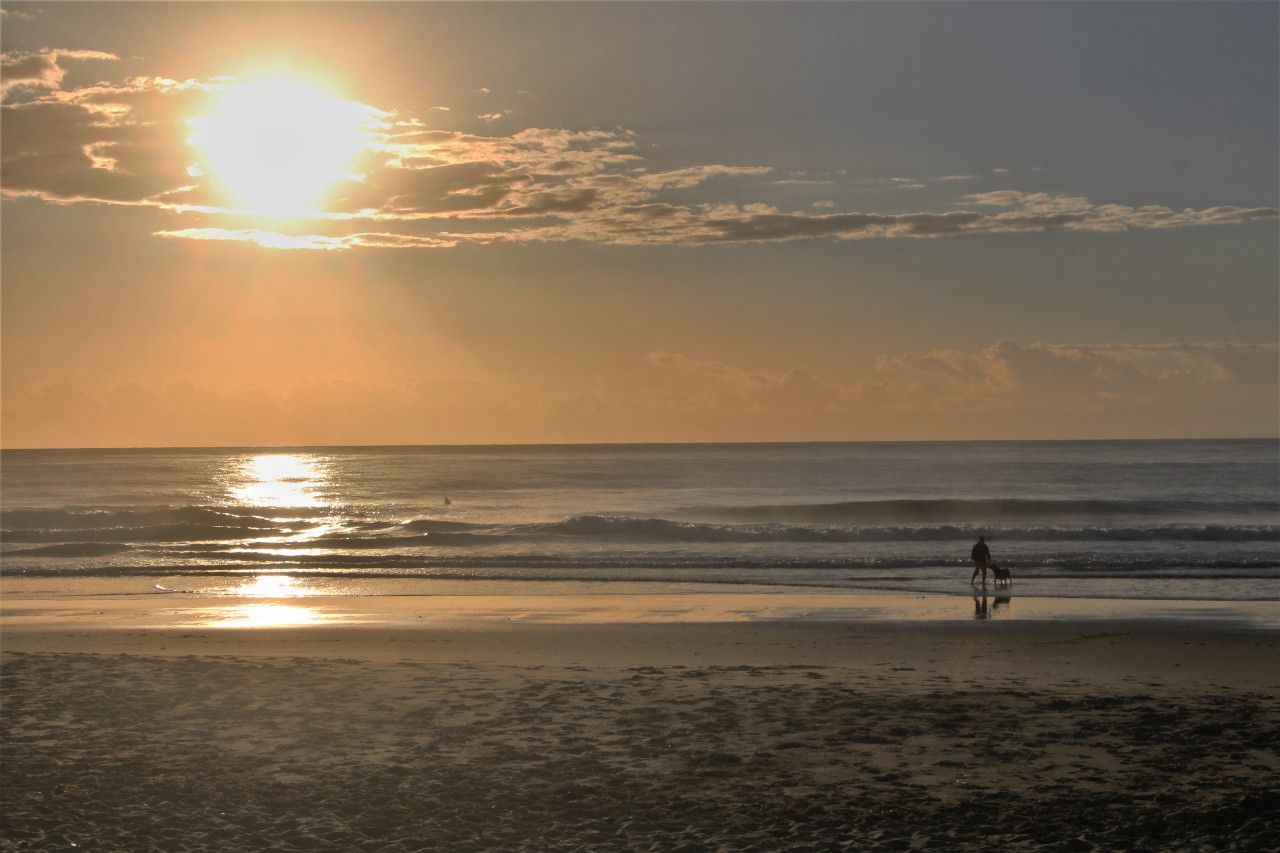 But their love of the water ("They call them 'Maligators' because they're out on the water the entire time"), desire to stay physically close to their owners and loyalty made them "amazing pets".
Ollie's healing from PTSD will be an enduring process, helped by that love of the water.
Most early mornings, Ollie can be found chasing balls and swimming around merrily in the surf before lazing away the rest of the day.
It's a far cry from the RAAF base where the defence force veteran has her own section of the honour board.
"We still send them photos. They sent us photos. They kept in touch with us for a fair while," Glenn said.
"They just like to keep tabs on her, especially since she was brought up in the system."
Dogs on the front line
The RAAF website says military working dogs and their handlers provide security, crime prevention patrols, emergency response and intruder detection on RAAF Bases and in deployed locations around the world.
The two main breeds used by the Air Force are the German Shepherd and Belgian Shepherd Malinois.
"Dogs and handlers are carefully matched to ensure they work well together," the site says.
"Once matched, handlers and their dogs work together to maintain a high standard of fitness and training, including regular testing to ensure they are ready to deploy at any time.
"Where possible, military working dogs will retire to their handler's home at the end of their Air Force service. A number of checks are undertaken to ensure the dog can enjoy a happy and healthy retirement after their loyal service."