What's in a name? When it comes to buildings and resorts it seems anything that sounds exotic is a winner regardless of its relevance to the Sunshine Coast.
Destinations further afield rather than local treasures proved popular when trying to build a holiday destination in the "greed is good" '80s.
We started off on the right track, with the first high-rise tower being called Maroochy Sands and a few others with equal local relevance followed.
Surfair had plenty of fresh sea breezes on the beachfront at Marcoola and Windward and Northwind in Mooloolaba are also fair enough.
The first French-inspired name arrived in the early 1980s when Chateau Royale opened in Cotton Tree. The French for royal castle was obviously seen as more enticing than Henry Perren's Boarding House and Café.
About the same time, Majorca Isle sprung up next door. The name of a Mediterranean island off the coast of Spain that's a favourite party hangout for boozed-up young Brits still towers over downtown Cotton Tree.
Betsan Coats, an enigmatic Englishwoman who purchased an Alexandra Headland site around 1953, was ahead of her time.
She built a motel-restaurant with an attached café fronting the beach and named it Boolarong, meaning "abundance" or "pleasant watering place", which became a local icon.
Sadly, this as demolished in 1998 to make way for the more ostentatious French title of Grand Palais.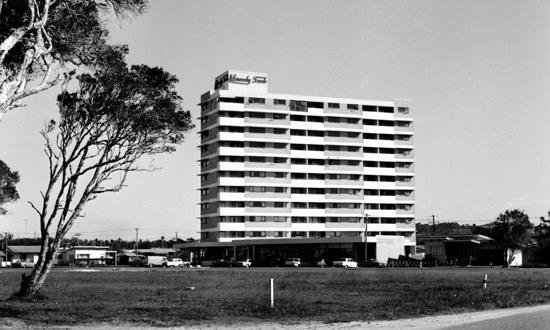 Myconos was presumably named for Mykonos, one of the better known of the Greek islands. It is one of the world's most popular holiday spots, where gleaming white houses reflecting bright blue water have inspired many an artist whose works can be seen in Greek restaurants everywhere.
It is indeed beautiful, but it's in Greece; and so, too, is Santorini, nowhere near Mudjimba.
Then we have Catalina and if one wasn't enough, an adjacent tower was then called Catalina II. Where is your imagination, people?
Catalina to most Australians conjures up an image of the flying boat that played a significant role in defending our country during World War II, although in this context it likely refers to the island off the coast of California.
Do you have an opinion to share? Submit a Letter to the Editor with your name and suburb at Sunshine Coast News via: news@sunshinecoastnews.com.au
I'll wager that the Californian city of Malibu doesn't have an apartment block called "Mooloolaba" and yet we are happy to name ours after a slice of the other side of the Pacific.
The same goes for Key Largo, a popular tourist destination in Florida, and Newport in Mooloolaba, although it was likely named for the Rhode Island harbour which surrendered the America's Cup to Australia about the time the building opened in 1983.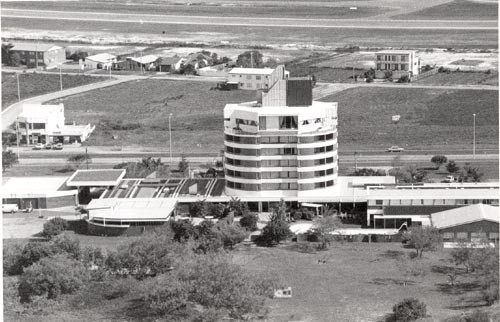 That sailing connection is easier to comprehend than Traflagar, the tower off Duporth Avenue. Why anyone would choose a name that conjures up images of Lord Nelson leading the British fleet into battle against the French and Spanish at the beginning of the19th century, or even the subsequent Monopoly board London square, is baffling.
Northcliffe is a Western Australian beach yet it's hard to spot any north-facing cliff near the tower on the Maroochy River. At least Twin Waters is a fair representation of where ocean and river meet.
After that first rush of exotica, more appropriate names have come forward – Osprey, Surfcomber on the Beach, Pandanus, Waves, Oceans, Sand Dunes and Silver Sea all have a local beach flavour, while Bluewater Point, Harbourview, Seaview, Beachside, Dockside, Beachfront Towers and Beach on Sixth, give a reasonable description of their address.
And the Latin, Aqua Vista, does say something about what it offers.
Peninsular in Mooloolaba gets by, although it's confusing that an 'r' was added to the end so that the geographical feature was spelt incorrectly. It could have been intentional or perhaps someone had just had a few too many beers over a marketing lunch.
Then we have the African selection. There's Zanzibar, in the Indian Ocean off Tanzania, which is famous for its nutmeg, cinnamon and pepper. It's on the water, which could be a tenuous link with Mooloolaba.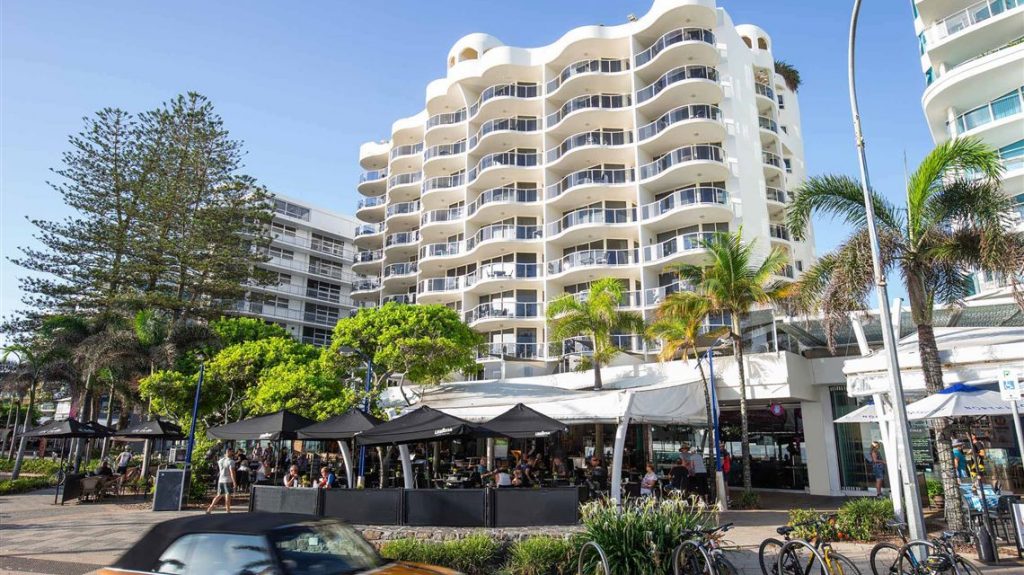 Marrakesh on Maroochy has an architectural style reminiscent of the Moroccan city famous for its markets and inspiring a Crosby Stills and Nash song, so why Marrakesh here? Its sand is more desert than beach and it is miles from the water.
Sirocco is a nasty wind that blows off the Sahara Desert and across the Mediterranean Sea, but probably sounds a more romantic choice for an upmarket apartment building in Mooloolaba than "Cyclone Larry".
There's the Cuban dance-inspired Rumba in Caloundra, and in Mooloolaba, Caribbean and Aegean resorts, named for seas where there are famous holiday beaches.
And there are plenty more if you care to start spotting.
Full marks for originality go to the truly Australian choices of Elouera, an Aboriginal word meaning "pleasant place" and Banyandah Towers, meaning "home on the water".
Although the popularity of foreign ports has waned in recent years, we could look more often closer to home when naming our buildings, especially as the Kabi Kabi have given us so many melodic words.
Try Bowallum meaning pelican, Buran (wind), Tirum Karin (sunset) and Narang (forest) just for starters.
This flashback is brought to you by Sunshine Coast journalist and history writer Dot Whittington, also the editor of Your Time Magazine.