A long-running business with one of the best 'offices' in the region is up for sale.
Craig and Kerrie Chandler have decided to sell Bill's Boat Hire at Golden Beach, after six years at the helm of the 66-year-old venture.
Kerrie said they had relished their time on the waterway, but they were eager to travel.
She said there was a "wonderful opportunity" for someone else to take over.
"The last six years have been an absolute highlight for us."
"We've really enjoyed every moment.
"Our objective was always to spend five or six years with the business and to build it up.
"We introduced new products and renewed the fleet and brought in a digital platform.
"We raised the bar and it's now the No.1 thing to do in Golden Beach on Trip Advisor.
"But we feel the time is right to move on and begin the next chapter, because we've achieved everything we wanted to do."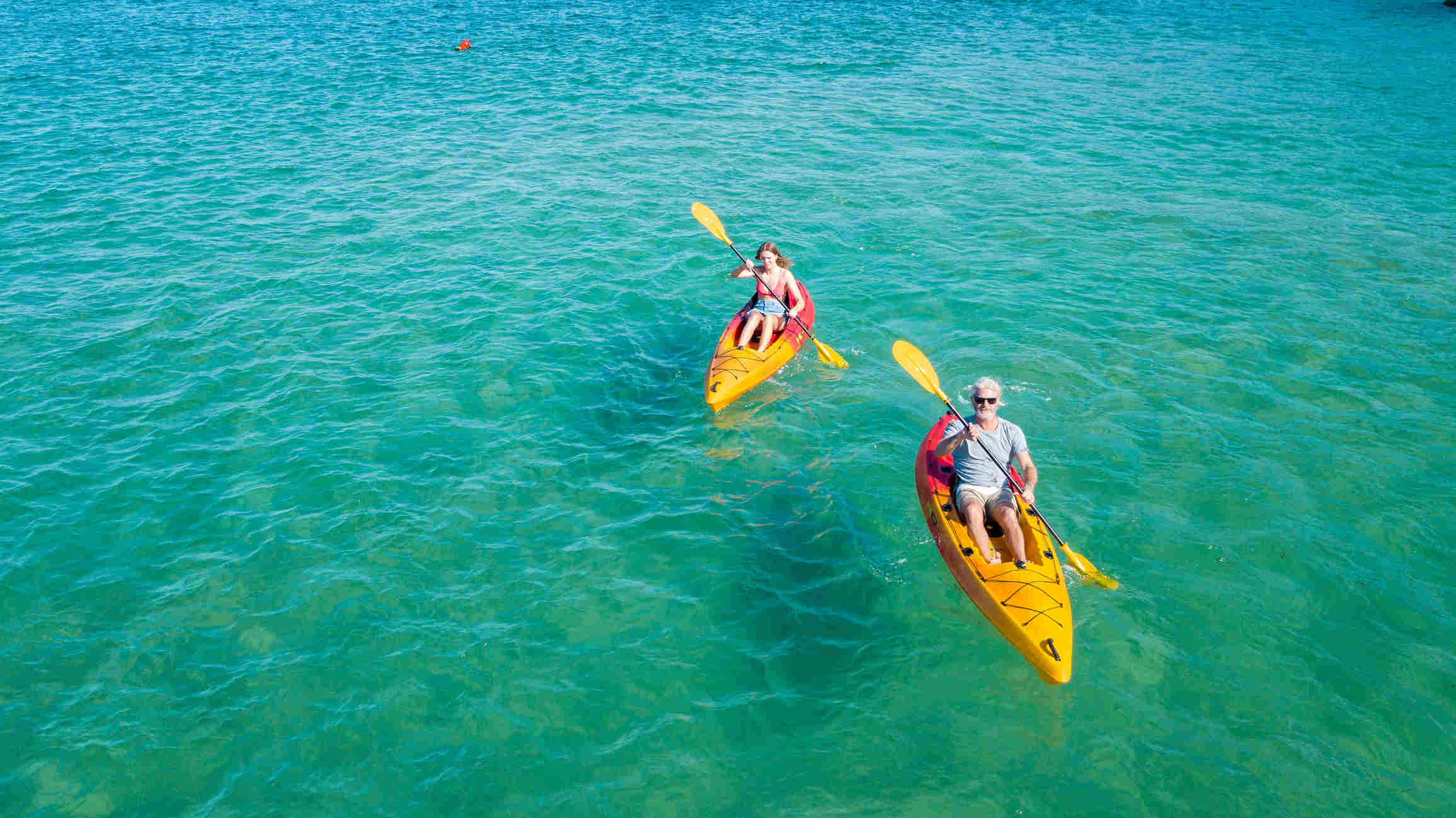 Kerrie said the biggest drawcard was the idyllic location of the business.
"It's in one of the best offices on the Sunshine Coast," she said.
"Overlooking the tip of Bribie Island, with the Pumicestone Passage and Caloundra as a backdrop, is beautiful."
It's based at 1 The Esplanade, operating in the northern Pumicestone Passage, between the new Bribie bar to the south and the old Caloundra bar in the north.
Boaties can enjoy calm conditions and stunning views and they can moor their vessel on the island during relaxing day trips.
The business operates from five moorings and boasts three barbecue pontoon boats, a fishing pontoon boat, half cabin tinnies, stand-up paddleboards and single and double kayaks, along with a novelty four-wheel bicycle.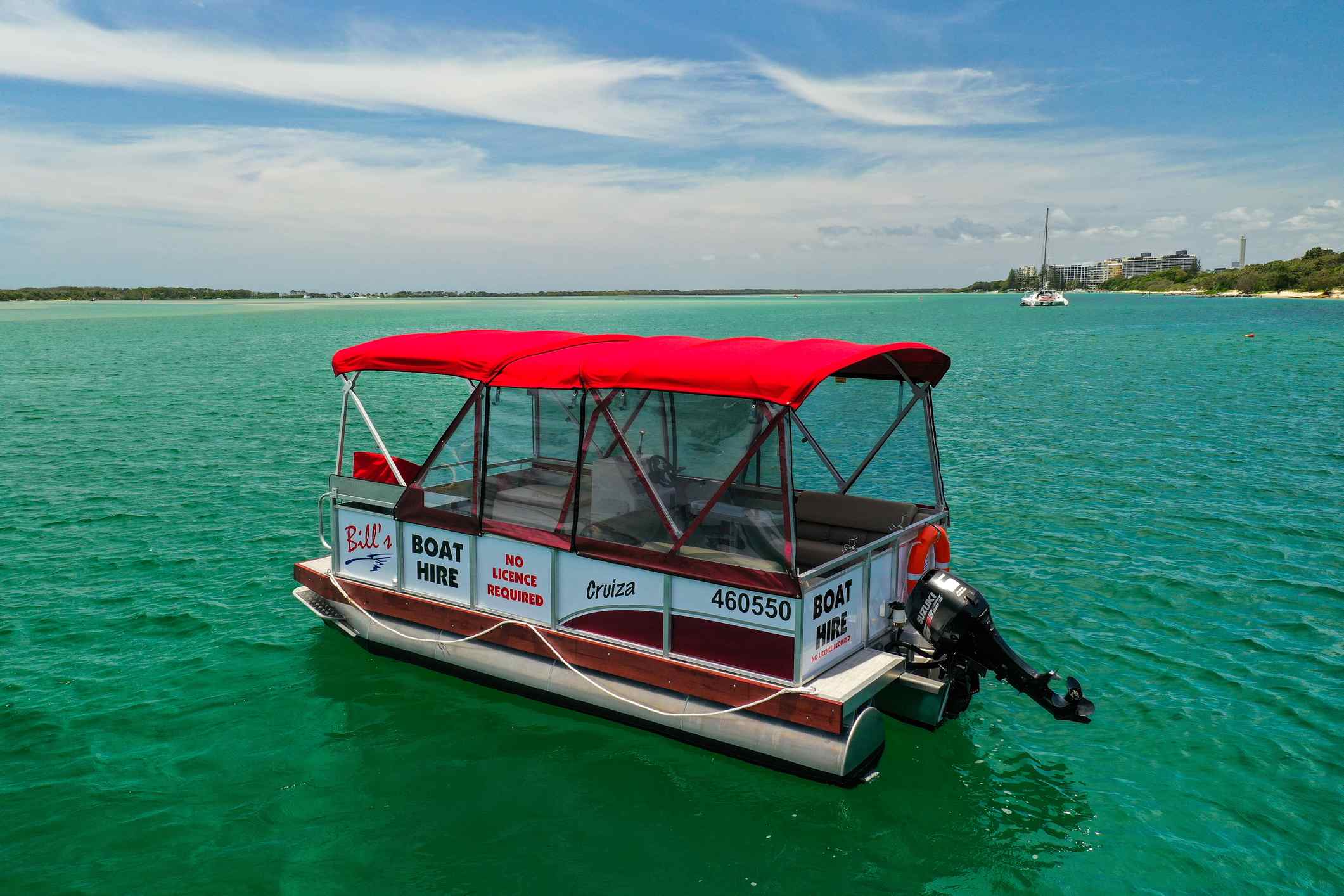 Bill's Boat Hire was established in 1956 by Bill Aspen, who chose the business logo and colours of white and red, which remains today, to match the old Caloundra Lighthouse.
The business has only had a handful of owners and it's believed to be one of only two local businesses operating from the same location for so long – the other being real estate agency Henzells, which has operated from Bulcock Street for more than 70 years.
"It's a tried and true business," Kerrie said.
"There used to be about six boat hire businesses in Caloundra, but Bill's Boats is the only one that survived.
"(In recent years) we've been through COVID, cyclones and an island breakthrough and we're still here and going strong."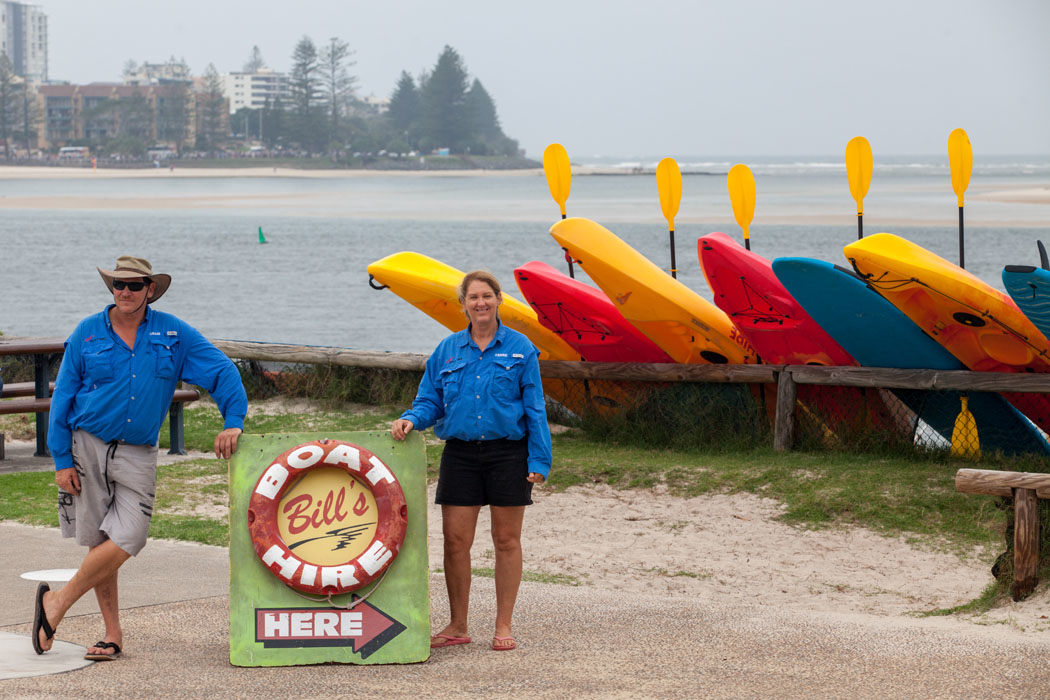 When the breakthrough occurred earlier this year, the Chandlers feared their business might not survive but the conditions in the northern passage instead became favourable and provided them with a stunning area to work with.
"It's become a beautiful, calm lagoon in that area," Kerrie said.
"We don't have raging currents at 12 knots. It's perfect for things like SUPs and kayaking."
Craig and Kerrie took over the business in 2016.
"Craig used to live across the road from Bill's Boat Hire when he was young and he often used to help the owner drag the boats up the beach," Kerrie said.
"Then one day, when we were on our way home from a three-year hiatus travelling the west coast, we heard it was for sale.
"Craig said 'this is an absolute dream come true for me and I'd love to purchase it.'
"So, we did, and we built it up.
"But now we're hoping we can hook the caravan up and do some trips around Queensland. That's the one state we haven't travelled in."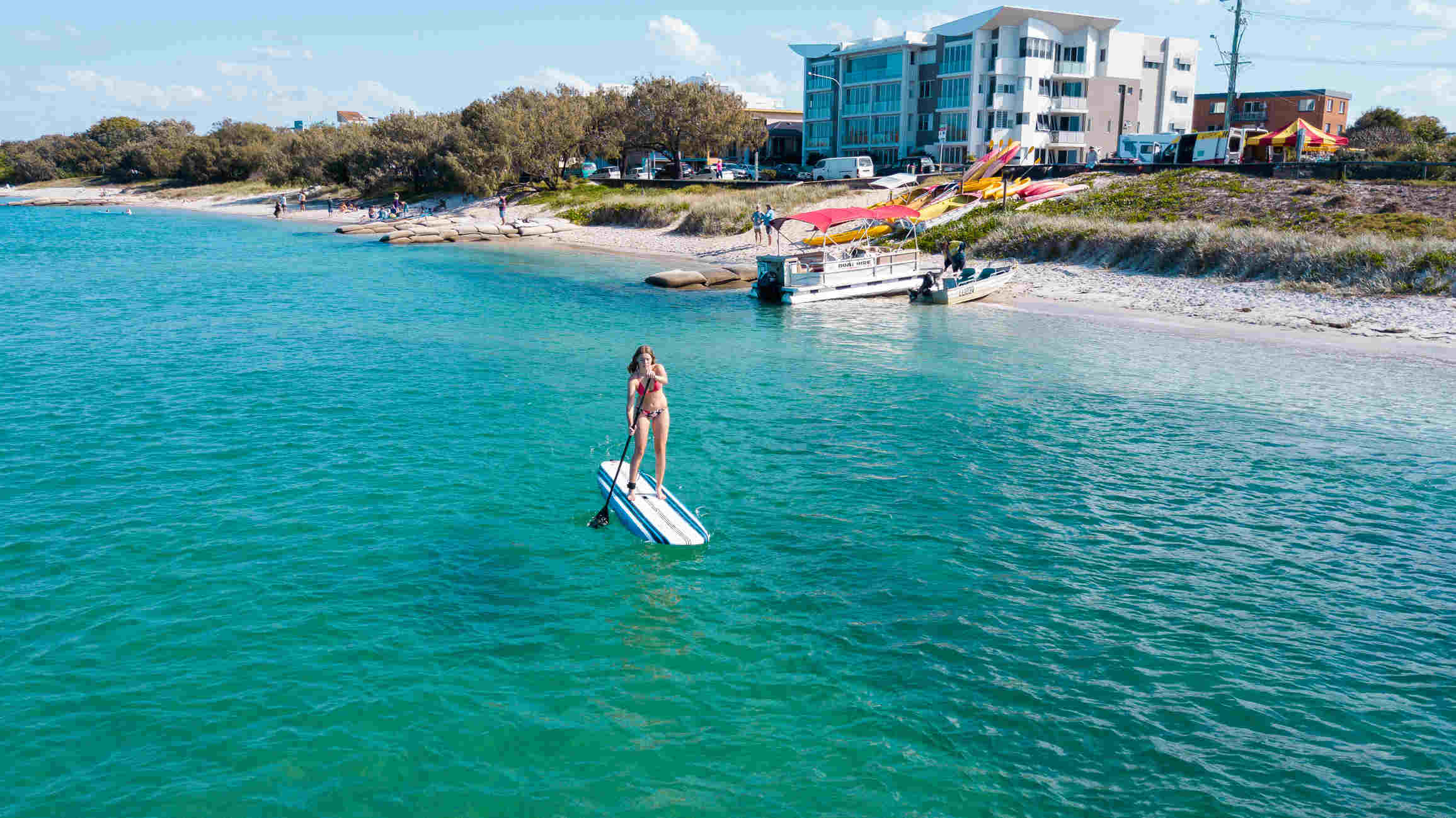 Kerrie said they were eager to pass the business on to someone who would treasure it as much as they have.
"It's not just a fleeting 12-month turnover and you're gone. It's an opportunity to sit down and really enjoy that tourism component of Caloundra," she said.
"You meet so many happy customers who are full of anticipation. They go out on the water and really enjoy it.
"And because it is an iconic business, it's got that's standing with the community.
"It has generations of returning customers who come back year after year.
"There are people who used to come here as kids, who now bring their grandkids."
Help keep independent and fair Sunshine Coast news coming by subscribing to our free daily news feed. All it requires is your name and email. See SUBSCRIBE at the top of this article.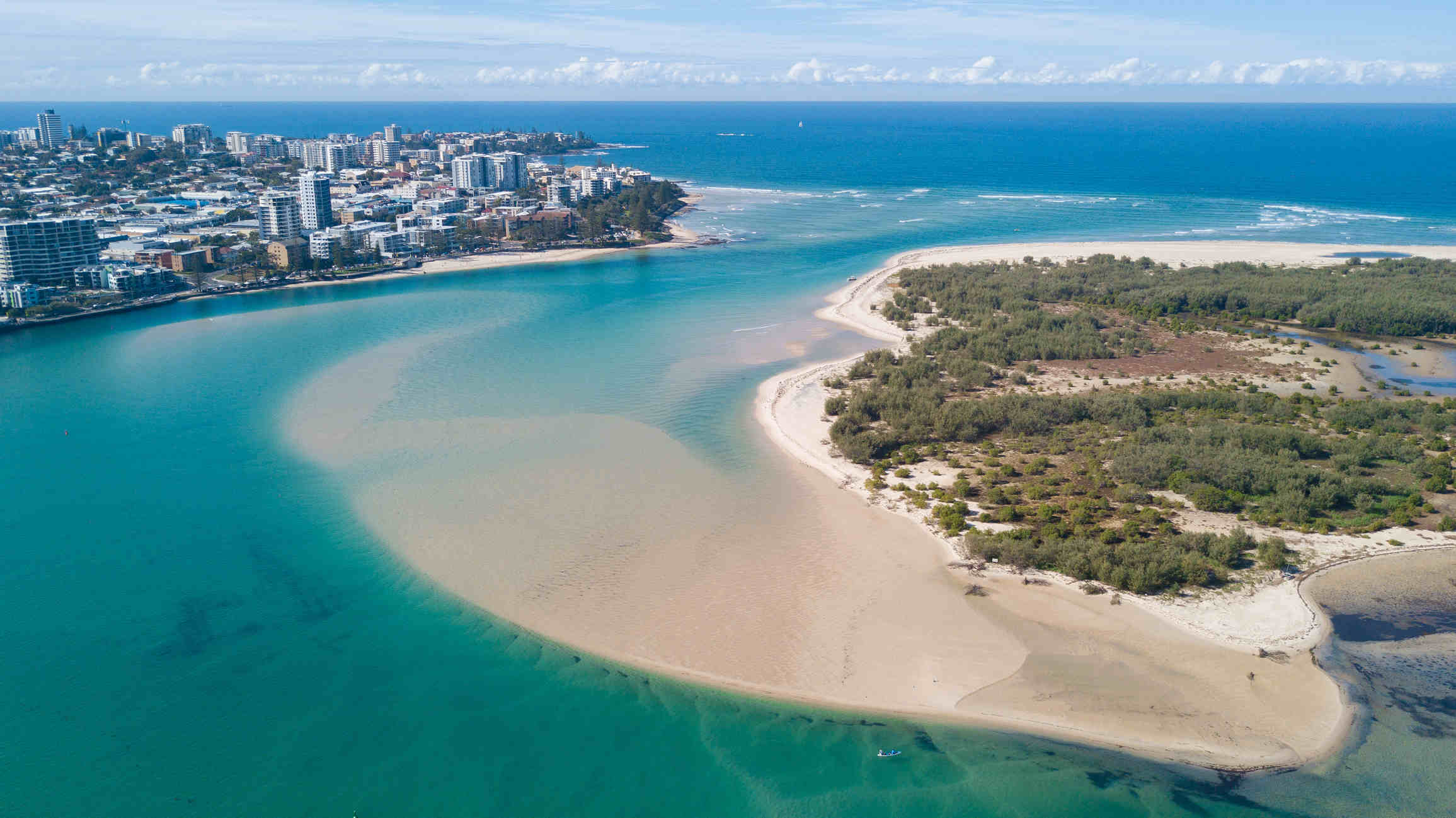 The Chandlers hoped to make a private sale.
"We've already had lots of enquiries," Kerrie said.
"We are getting a feeling for what their visions are.
"It's an iconic business so we want it to go into the right hands as opposed to someone with deep pockets.
"It's about finding the people who are the right fit and who want to continue the good name of Bill's Boat Hire.
"Hopefully, they can even raise the bar with the business because there's still room for growth."
For more information on the business and for purchasing enquiries see Bills Boat Hire and contact 0408 102100 or info@billsboathire.com.au.