One of the Sunshine Coast's most exclusive schools has officially welcomed its new principal at a commissioning service.
Anna Owen is the fourth principal to lead Sunshine Coast Grammar since its inception in 1997.
Mrs Owen, who started in the role in January, reflected on the year so far and offered words of wisdom, gratitude and direction. She also shared her discoveries of the school.
"I am extremely privileged and understand the importance of taking over the mantle of principal and Sunshine Coast Grammar School," she said.
"(It's) a school that is only 25 years old and has played such a significant role in founding and shaping independent education in the Sunshine Coast region."
The commissioning service was conducted in front of the school's staff, parents and students as well as other community dignitaries, including principals from local and Brisbane schools, Members of Parliament and the Sunshine Coast Regional Council, and colleagues from the University of the Sunshine Coast and Thompson Institute.
The school's renowned symphonic band and choirs performed during the processional,  conducted by Dr Mitchell.
Sunshine Coast Grammar prides itself on its connections with its community and the supportive and caring relationships students establish and maintain with their peers and teachers throughout their time at school.
"The pride of those who built our school is enormous," Mrs Owen said.
"We reflect with pride, but equally with hope and confidence in the future.
"There is a sense of positive anticipation in our community and it is my great privilege to share this future with our community," said Mrs Owen.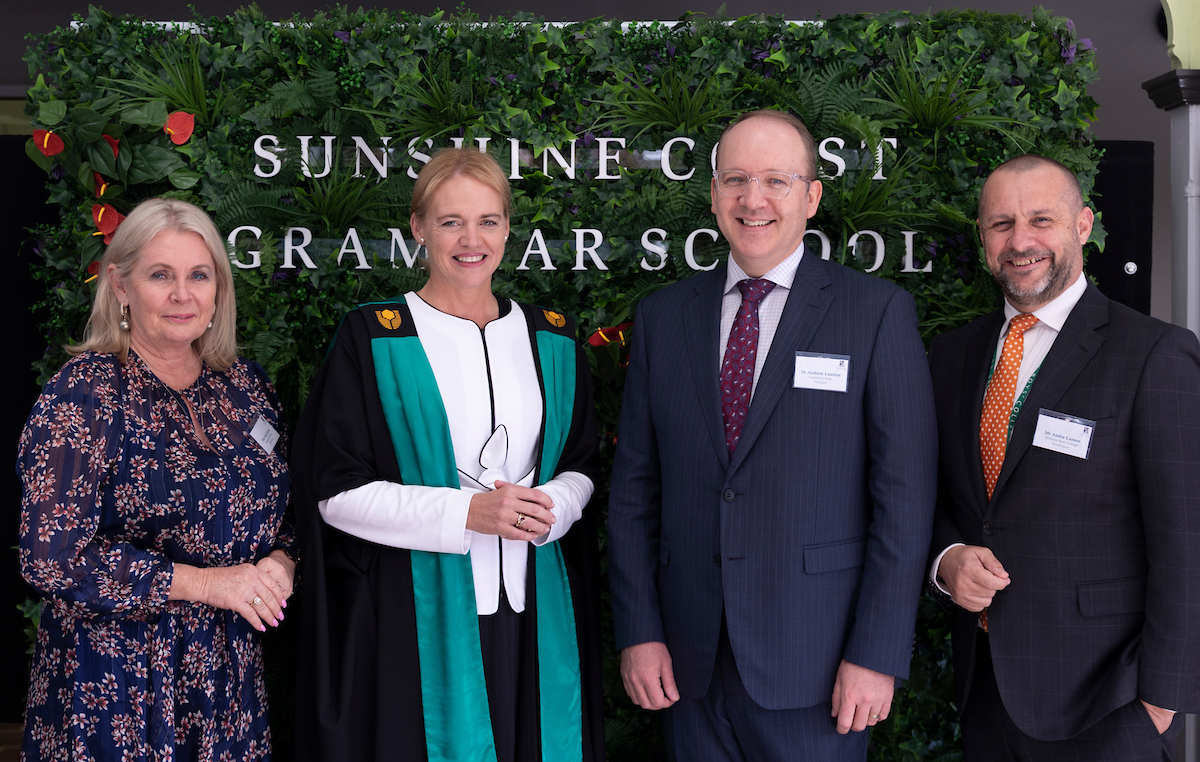 The school is a unique learning environment set on a beautiful 100-acre site, with its own lakes and rainforest.
It offers free wilderness immersion therapy or nature therapy for every person who wanders around the campus.
"It is very clear that our green heart will always be fiercely guarded. Our rainforest walk remains the beating heart of our school community", Mrs Owen said.
Mrs Owen, who was previously principal at Canberra Girls Grammar School, has extensive experience in leading teaching and learning as well as implementing pastoral care and wellbeing programs.
"I strongly believe in equipping students with the confidence, skills and education they need to shape their futures, whether they want to be a political leader, run their own business or chase their dreams with passion and purpose," she said.
A member of the Australian Institute of Company Directors, Mrs Owen is completing her Masters of Business Administration through the University of Queensland.
She is also a member of the Australian Council of Educational Leaders and has been at the forefront of leadership, innovation and change management.
Additionally, she achieved her Masters in Science with a high distinction and has since completed the Stanford University Managing Teams for Innovation and Success program.
"I am passionate about the advancement of young people and equity for all," she said.
"Through my leadership and experience I hope to continue to build a culture of excellence and guide Sunshine Coast Grammar School through its current growth and development."
Help keep independent and fair Sunshine Coast news coming by subscribing to our free daily news feed. All it requires is your name and email. See SUBSCRIBE at the top of this article. 
Mrs Owen has inspirational leadership and strong values grounded in the Christian faith and along with her proven experience, she will continue to contribute significantly to the development of the School's vision, where passion meets purpose.
"My hope as principal is that looking back on their school days our students will remember compassion, kindness, encouragement, empathy, challenge and humour in equal measures," she said.
"That they will be a performer as much as an audience member, and rarely an online onlooker.
"That they will find enjoyment in the struggles and they will have learned to give their personal best."
Maria Woods was principal at the school for about a decade before resigning in June last year.