Every year, around this time, I write about how the Nambour Show has a special place in my heart as my dad died on the Saturday of the show.
This year, they tricked me as the show is a week earlier than normal, so as you read this it's over and, hopefully, was a resounding success.
So, usually I would have gone into the circumstances of Dad's death but instead I thought I would share some advice, a bit like a Dear Dorothy Dix letter.
Now here is the thing – the night he died I got a call from a mate of his to get to the hospital.
I remember very clearly that I knew he was gone way before I got there and I kept saying to my dear wife that there were so many things I wished I had said, done and shared with him, and now it is too late.
I was right.
It was 1984. He was 66 and I was 26 and he was gone from my life.
No hint it was going to happen, just gone.
The really sad thing is I couldn't remember then, and can't remember now, the last conversation we had, or the last thing we did together.
Do you have an opinion to share? Submit a Letter to the Editor with your name and suburb at Sunshine Coast News via: news@sunshinecoastnews.com.au.
Now, I want to be clear, this is not a column about people feeling sorry for me.
I am sharing this for the complete opposite reason, to remind people it can happen to you anytime with no warning.
Don't make the mistakes I made, or in fact Len Robinson did as well, leaving things unsaid, both ways.
If it's someone close to you – a parent, child, partner or even a close friend – tell them you love them and appreciate them because you never know what's around the corner.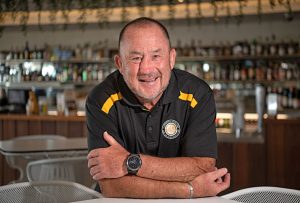 If you have a disagreement, sort it. Do not let it be unresolved, as it may be the very last time you see them, or they see you.
"I don't regret the things I have done, I regret the things I didn't do when I had the chance," is a well-worn saying that I should be the author of.
So folks don't be like me and have regrets, like every time I hear Harry Chapin's Cat's in the Cradle I think of my dad after the last verse, "And the cat's in the cradle and the silver spoon, little boy blue and the man in the moon, when you coming home, son? I don't know when, but we'll get together then, dad we're gonna have a good time then."
HL Robinson August 17, 1917 to June 16, 1984, RIP.
Ashley Robinson is a columnist with Sunshine Coast News and My Weekly Preview. His views are his own.