When it comes to quirky or unusual rock formations and geological world-beaters, Australia has more than its fair share.
But there's one I'm betting few Aussies outside NSW know of, or have even heard about.
This landmark should have earned its place among our most-recognised geological phenomena.
It deserves to be a household name alongside Central Australia's Uluru (the largest exposed sandstone monolith in the world), the Kimberley's curious beehive-shaped formations known as the Bungle Bungles, and the remaining  seven limestone stacks of Victoria's 12 Apostles in Port Campbell National Park.
Ball's Pyramid lies 23km south-east of Lord Howe Island (LHI) – a geological treasure in itself, about 600km north-east of Sydney and in line with Port Macquarie on the NSW Mid North Coast.
The pyramid is the eroded remnants of a shield volcano and caldera that formed about seven million years ago in the Neogene Period of the Cenozoic Era.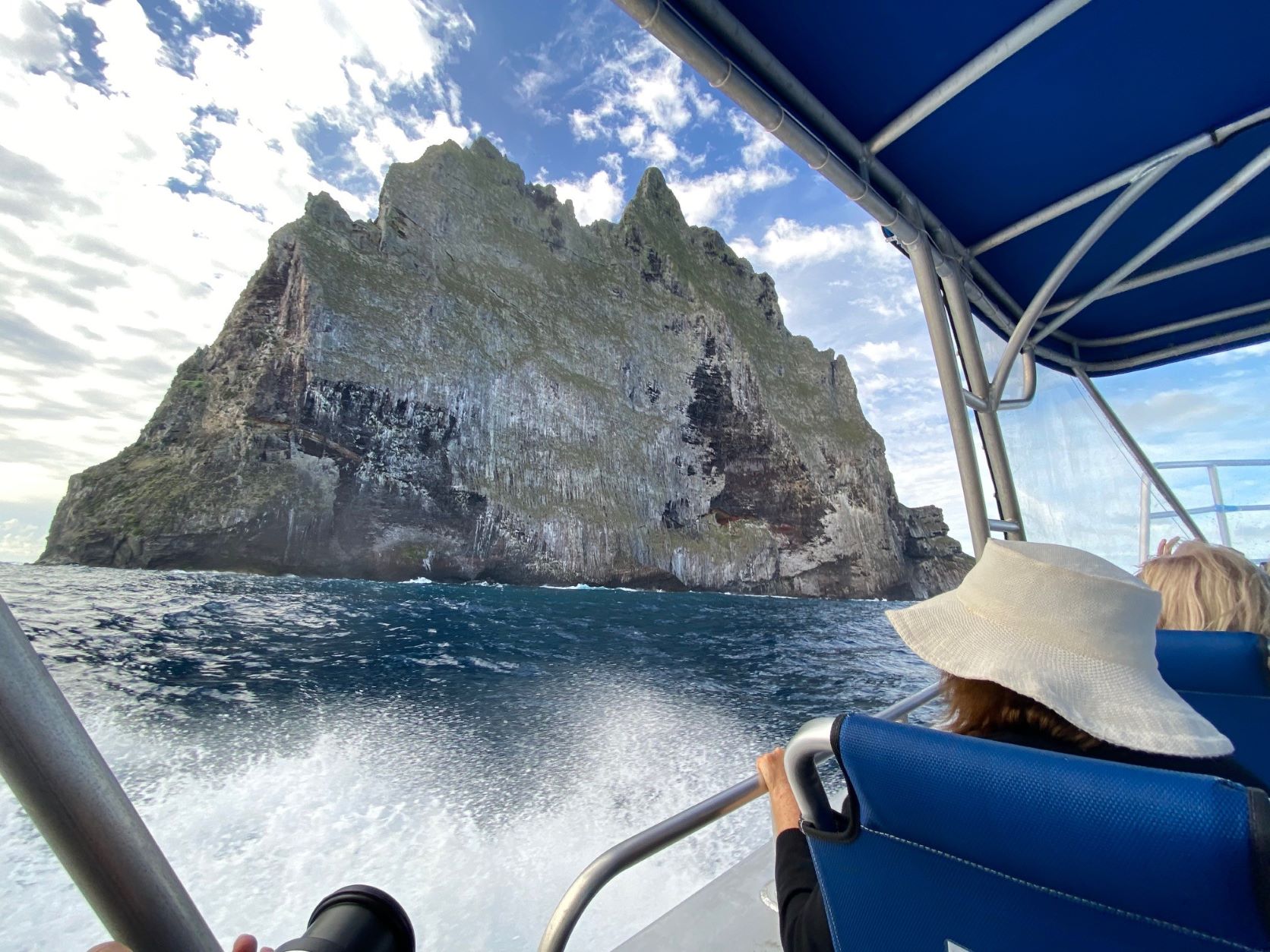 The Reef N Beyond Ball's Pyramid eco tour leaves from the jetty near LHI's Old Settlement Beach to take up to 20 visitors at a time on the state-of-the art Custom FARC Air Rider boat to this fascinating oceanic monolith.
After a short history lesson and birdwatching off LHI's landmark Mt Lidgbird (777m) and Mt Gower (875m), passengers embark on a 30-minute adventure interspersed with the occasional "yee-hah!" or "whoah, boy!" (depending on the swell) as the deep V cathedral hull takes on every wave.
SCROLL DOWN TO CHECK OUT MORE PHOTOS 
As the southern end of the island is left behind, the feeling is surreal as you first spot the world's largest sea stack rising defiantly out of the sea.
Surely this is some CGI-created triangle marking the spot of the mythical lost city of Atlantis or villain's lair in a Hollywood movie?
Then you squint your eyes and pretend the tip of your forefinger is touching the pinnacle – just like all those silly tourist photos from the foreground of the Louvre Museum in Paris or the Leaning Tower of Pisa in Italy.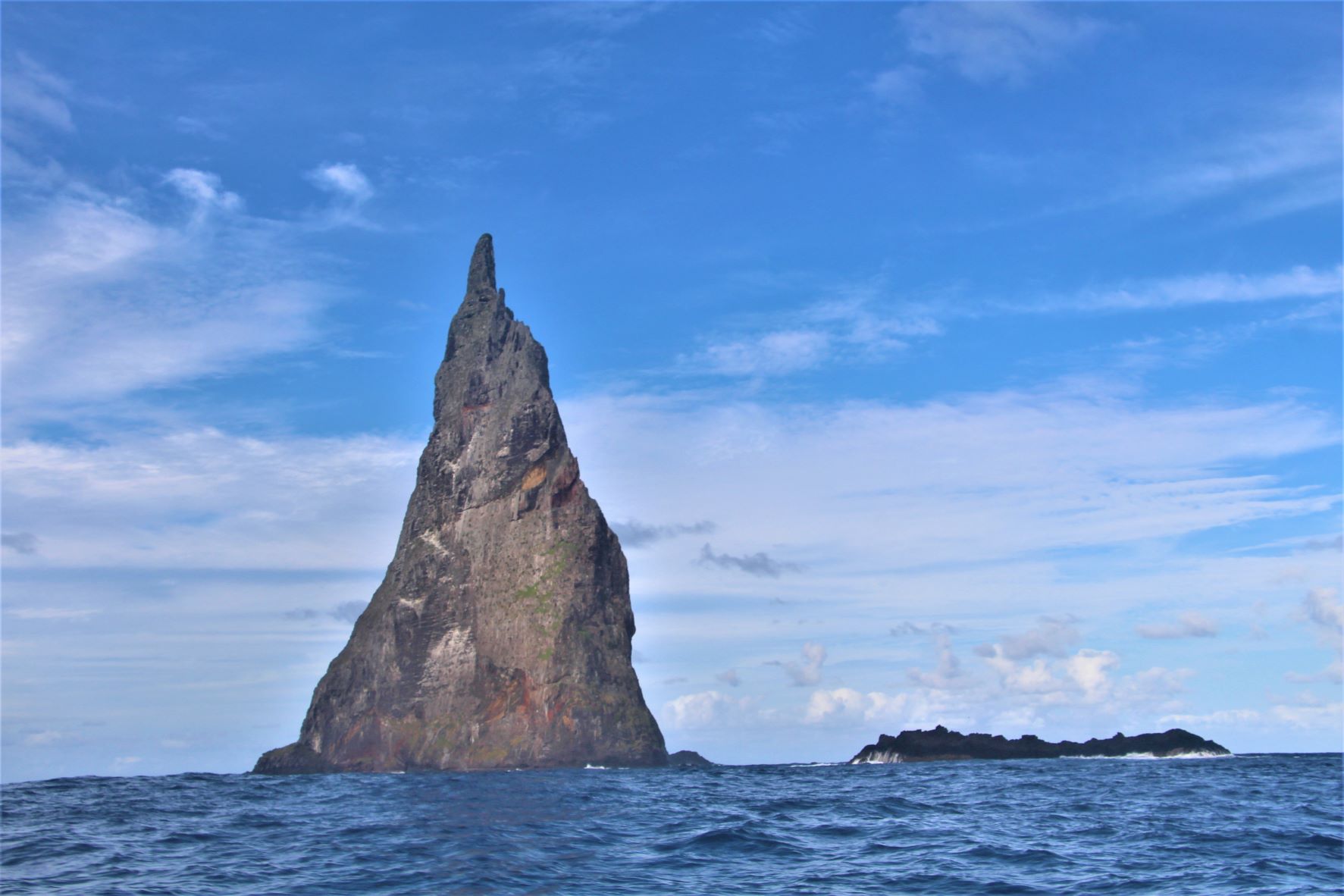 The nautical miles soon peel away and the pyramid's outline changes from the far-off flipper of a giant prehistoric whale to a monstrous canine tooth piercing the surface of the water.
But it's not until you are bobbing in the gentle waves, perched close to its base and gazing up to its towering "witch's finger" that you fully comprehend its size.
Now the Air Rider seems like a toy bathtub boat in comparison and you feel like you're in the middle of a Sir David Attenborough documentary.
Reaching 551m – more than half-a-kilometre tall, Ball's Pyramid is a basalt marvel of sheer cliff faces, jagged edges, caves and craggy outlines that command attention.
Foreboding. Powerful. Mysterious. Menacing. Perilous. Inhospitable. Uninhabitable. Beautiful. Majestic. No single word fully captures this sight.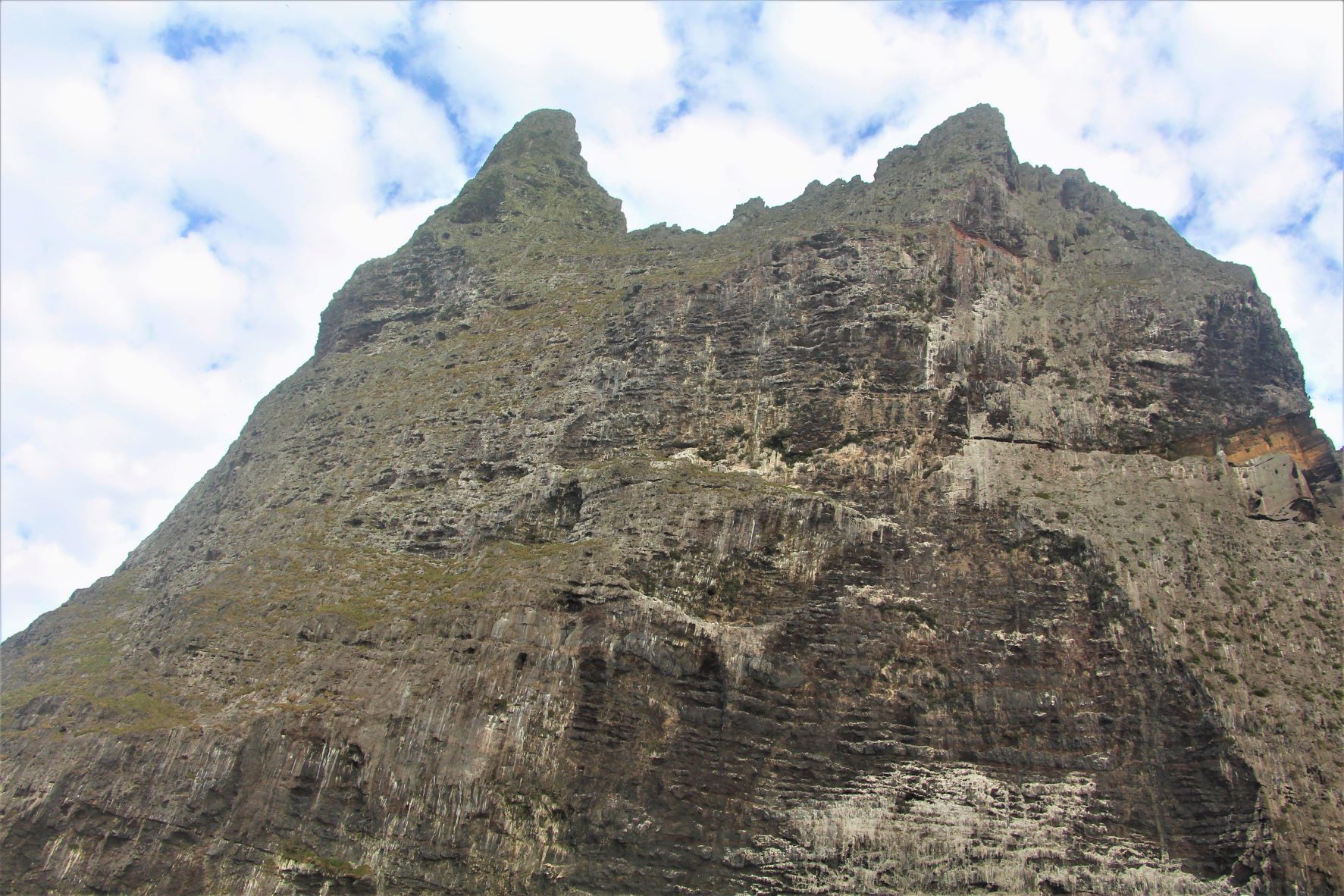 The pyramid forms the centre of a submarine shelf that is 20km long and an average 10km wide, with a depth of about 50m of water teaming with marine life – from the rare Ballina Angelfish to the Galapagos sharks common to LHI, schools of pretty blue-green rainbow runners to turtles and marlin.
If weather conditions around the pyramid are favourable, even snorkellers aboard the Reef N Beyond trip can drop into this sea creatures' playground.
Our captain Dave Gardiner, who has spent the last 40 years skippering in and around the waters of Lord Howe Island,  tells us that only half-a-percent remains of what was once an island on the Lord Howe Rise, part of the submerged continent of Zealandia.
And he jokes that we're just in time because "in 200,000 years, it will all be gone" – a victim of the incessant weathering and wave action.
As we take an even closer inspection, Captain Dave points out six holes and fissures in the rock that are compromising its stability.
It doesn't seem to worry the myriad birdlife calling Ball's Pyramid home, though.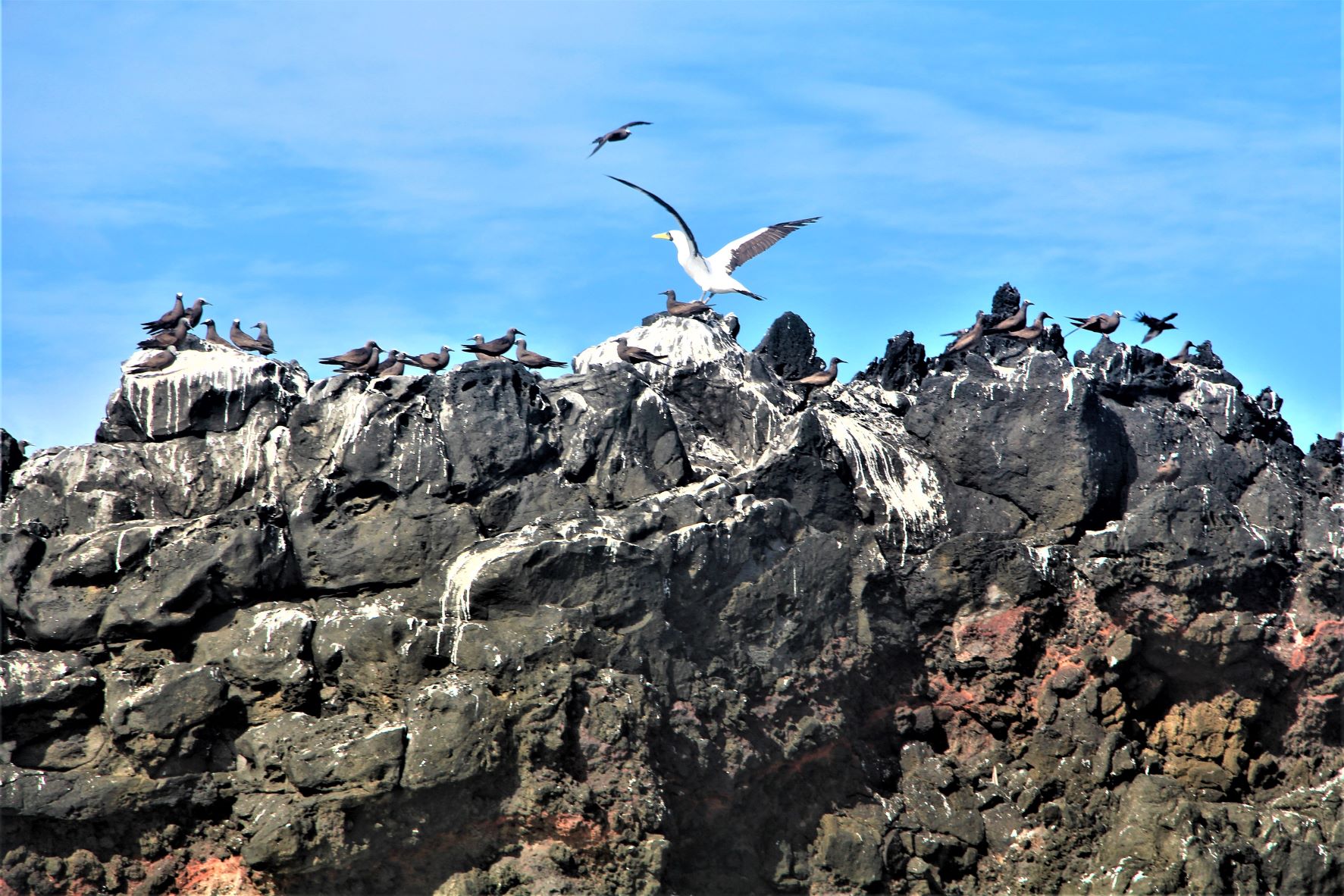 Masked booby are everywhere, enjoying social gatherings in the sun. And we've been escorted on our journey to the pyramid by petrels, shearwaters, noddy terns and the occasional albatross.
We slowly motor past Observatory Rock and Wheatsheaf Islet – about 800m west-northwest and west-southwest respectively – as we circumnavigate the pyramid that is 1.2km long and 600m at its widest point.
Like travel and adventure stories? Help us deliver more by registering for our free daily news feed. All it requires is your name and email. See SUBSCRIBE at the top of this article. 
We feel the sea spray in our faces and observe the force of nature incessantly pounding the lower extremities.
Mini waterfalls are created as each wave trickles back down through every crevice of the rock shelf.
A timely glance over our shoulder also will provide an Instagram-worthy vision of Lord Howe Island in silhouette.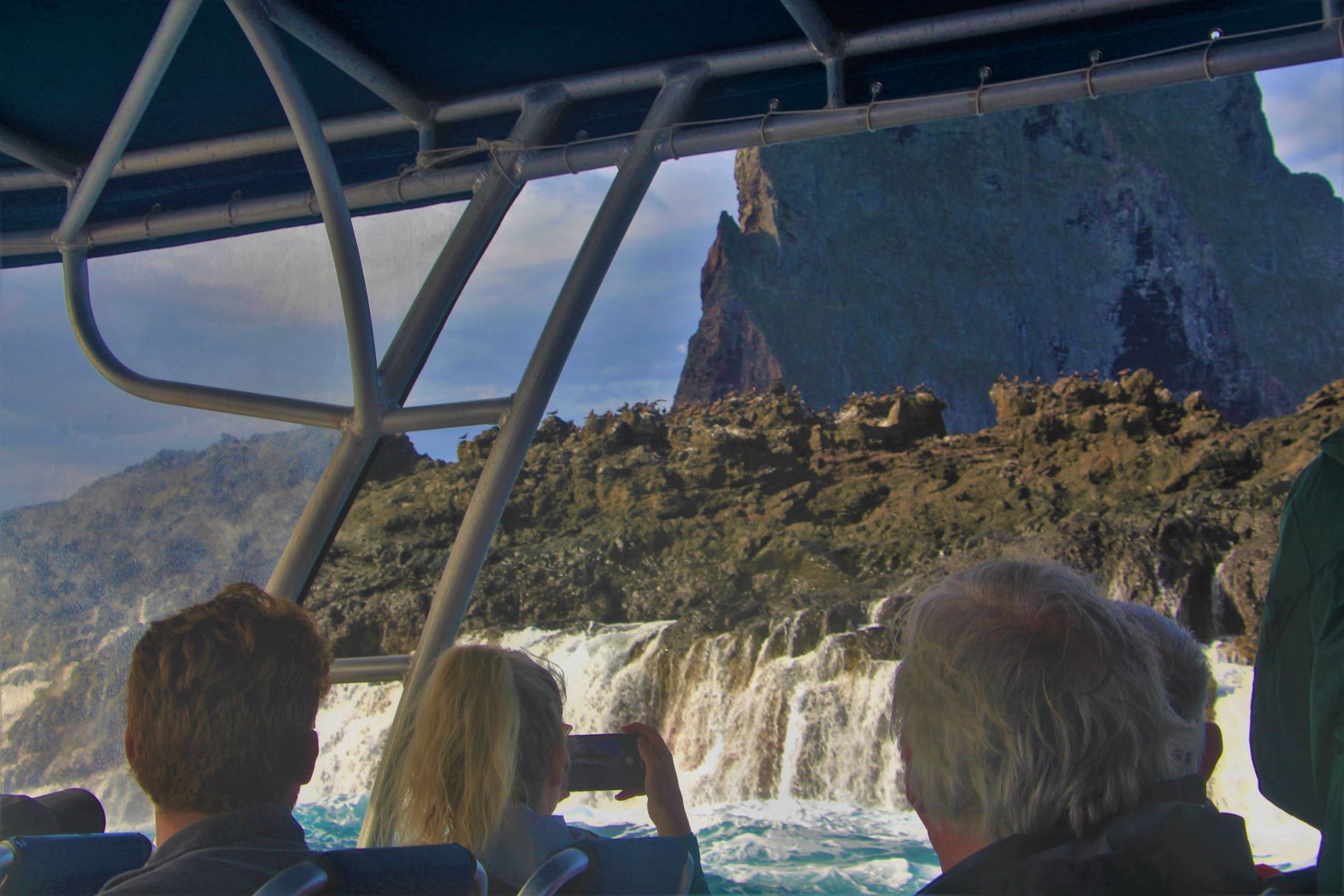 MODERN HISTORY LESSON ON ANCIENT TREASURE
The discovery and naming of Ball's Pyramid have links to the arrival of the First Fleet in Australia in January 1788, when another seafaring captain, Lieutenant Henry Lidgbird Ball, was given command of the vessel Supply.
A month after that historic expedition, Ball took the first settlers and worst of the worst convicts to Norfolk Island – another speck in the Pacific Ocean, 1100 nautical miles NE of Sydney.
Love travel and adventure? So do we. Help keep more stories coming by subscribing to our free daily news feed. Go to Subscribe at the top of this story and add your name and email. It's that simple.
Along the way, he discovered a previously unknown crescent-shaped island, about 10km long and up to 2km wide.
After going ashore and claiming the island for England, he later named it after Richard Howe, then First Lord of the Admiralty.
But his second, more curious, discovery he would name after himself as Ball's Pyramid.
The incredulous sight of the sea stack has left many in awe ever since.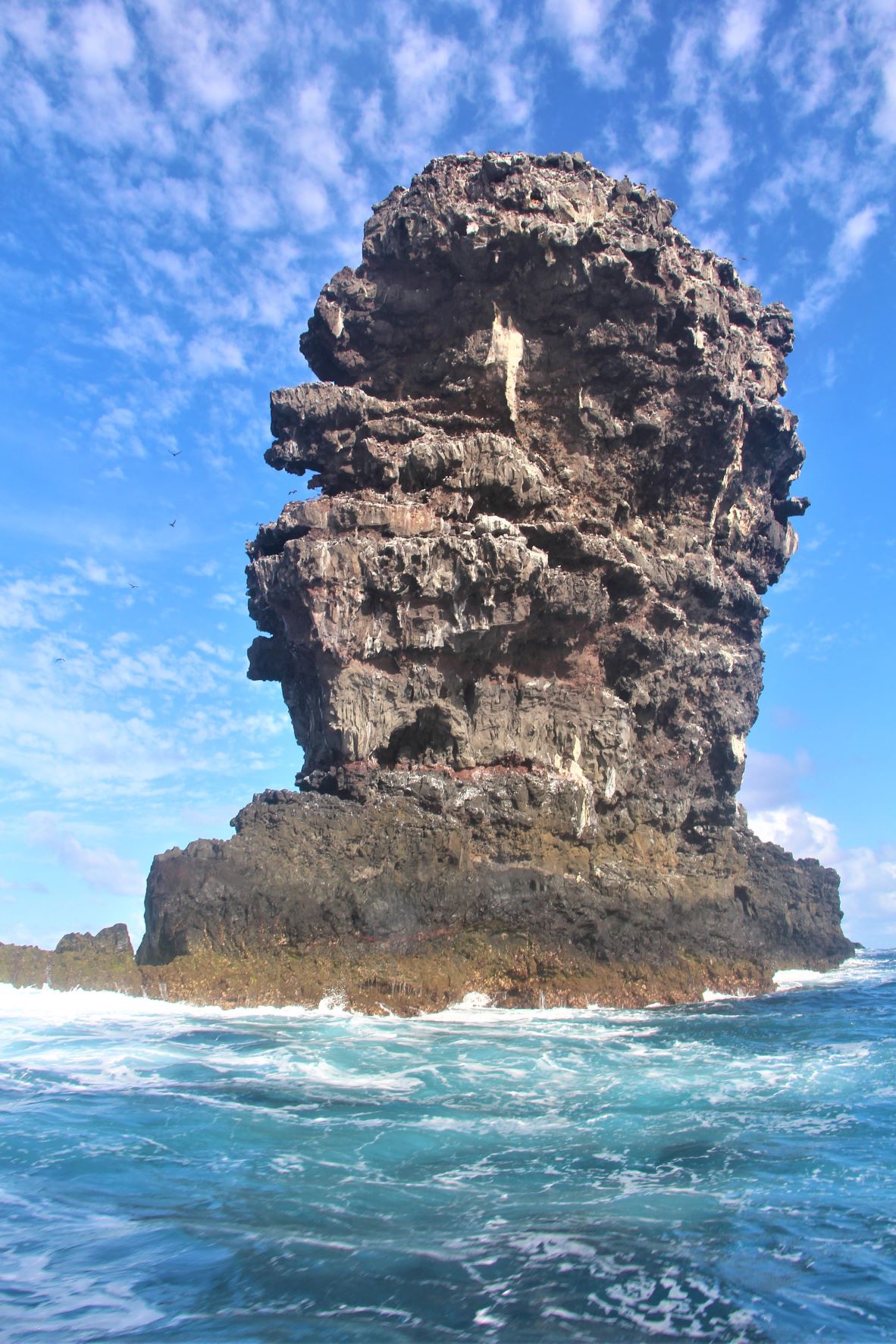 US-born thrill seeker and wing-suit pilot Jeb Corliss told Facebook followers that he thought the first picture he saw of Ball's Pyramid had been photoshopped.
But after leaping out of a helicopter in April 2015 with his friend Luigi Cani and winging their way over the top of the pyramid, he told  Daily Mail Australia: "It may be the single most beautiful place I have ever been. It really did feel like an alien landscape from another planet."
The first known group to reach the pyramid's summit was a team of climbers from the Sydney Rock Climbing Club on Valentine's Day, February 14, 1965.
An attempt had been made a year earlier  by another Sydney team with members of the Scouting movement including a 20-year-old Dick Smith, who would go on to become one of Australia's best-known adventurers, entrepreneurs, aviators, filmmakers and publishers.
Smith returned to the pyramid in 1980 with fellow climbers John Worrall and Hugh Ward, and unfurled a NSW flag provided by then Premier Neville Wran on the summit.
Since 1985, climbing has been banned but scientists can now apply to gain access to the pyramid for research purposes.
For passengers on the Reef N Beyond eco tour, the water view is just as exhilarating.
And Captain Dave has the chance to regale stories of the world's rarest insect that scientists had believed extinct for 80 years.
The lobster-like Lord Howe stick insect is the heaviest flightless stick insect in the world.
The nocturnal creatures have a hard shell and can grow to 12cm in length.
The intriguing insect hadn't been seen since 1920 – two years after the SS Makambo ran aground at LHI and some black rats on the ship escaped on to the island.
The rats ran riot, devouring the stick insects and relegating other unique flora and fauna to extinction.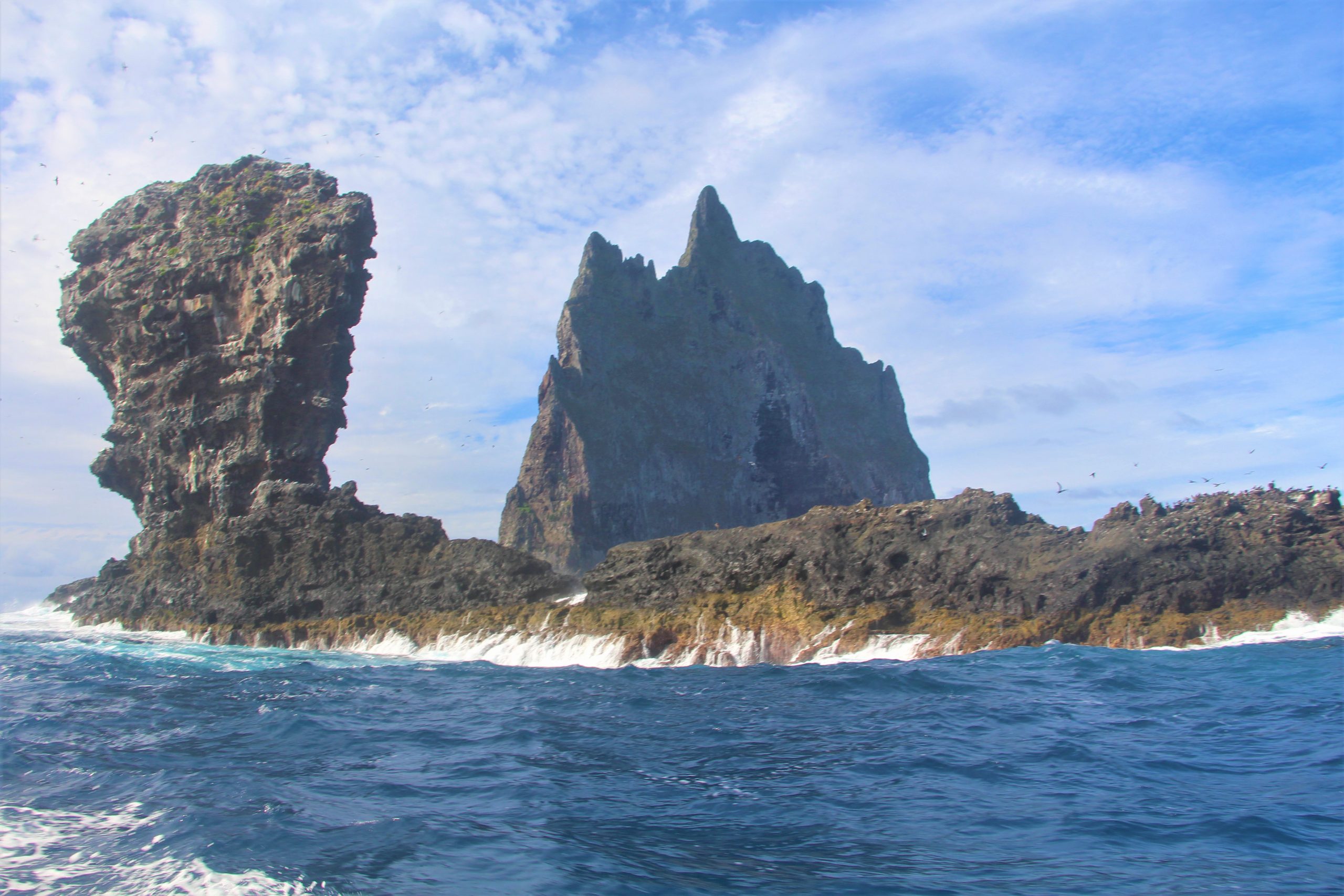 More than 40 years passed without a single sighting of the Lord Howe stick insect.
Then, in 2001, after hearing rumours of stick insect corpses on Ball's Pyramid, Australian scientists David Priddel and Nicholas Carlile found a tiny patch of soil with a small dense Melaleuca howeana bush that is native to Lord Howe Island. Large, fresh insect droppings lay underneath.
The team returned at night to scale the rocky side of the pyramid to find the same patch of soil and 24 live Lord Howe stick insects in total.
Following a successful breeding program at Melbourne Zoo, thousands of eggs have since hatched and "insurance populations" of eggs have been sent to other zoo breeding programs around the world.
One of the world's largest rodent eradication programs has also been completed to rid LHI of the descendants of those shipwrecked rats, so one day a new population of stick insects can return to its original island abode.
The three-and-a-half-hour, weather-dependent Reef N Beyond Ball's Pyramid Eco Tour also includes a circumnavigation of Lord Howe Island. Passengers will take in the scenic beauty of landmark spots including Mt Lidgbird and Mt Gower, the Admiralty Islands, Old Gulch, Clear Place, Ned's Beach , Kings Point, Wolfe Rock, Mutton Bird Island, Boat Harbour, World's End, Red Point, Middle Beach, Gower Island, and Little Slope. If conditions at Ball's Pyramid are too rough, optional snorkelling will take place at another spot closer to Lord Howe Island such as Malabar. To book, call (02) 6563 2208 or go to visitlordhowe.com.au
GETTING THERE: QantasLink allows local travellers to fly from Sunshine Coast Airport to Sydney, with a connecting flight to Lord Howe Island. Check-in your luggage here and pick it up on LHI. The flight time is under two hours from Sydney, with flights departing daily year-round. Eastern Airlines flies direct to LHI from the Gold Coast (flight time of about 110 minutes) and Port Macquarie (about 90 minutes).
Sunshine Coast News travel editor, Shirley Sinclair, has a passion for capturing the world and her own backyard in words and pictures. She has visited more than 40 countries and taken more than 20 cruises but still considers a 12-month trip around Australia with her husband and young family the best year of her life.
A MORNING ON THE WATER