Three quick-thinking surfers now have a cracking fish tale to tell about the one that didn't get away.
The surf was meant to be pumping earlier this week when the trio threw their boards in the car and headed to Wurtulla rocks.
But after about an hour chasing underwhelming waves, one of the surfers, electrician Jordan Gunn, of Currimundi, turned the afternoon on its head.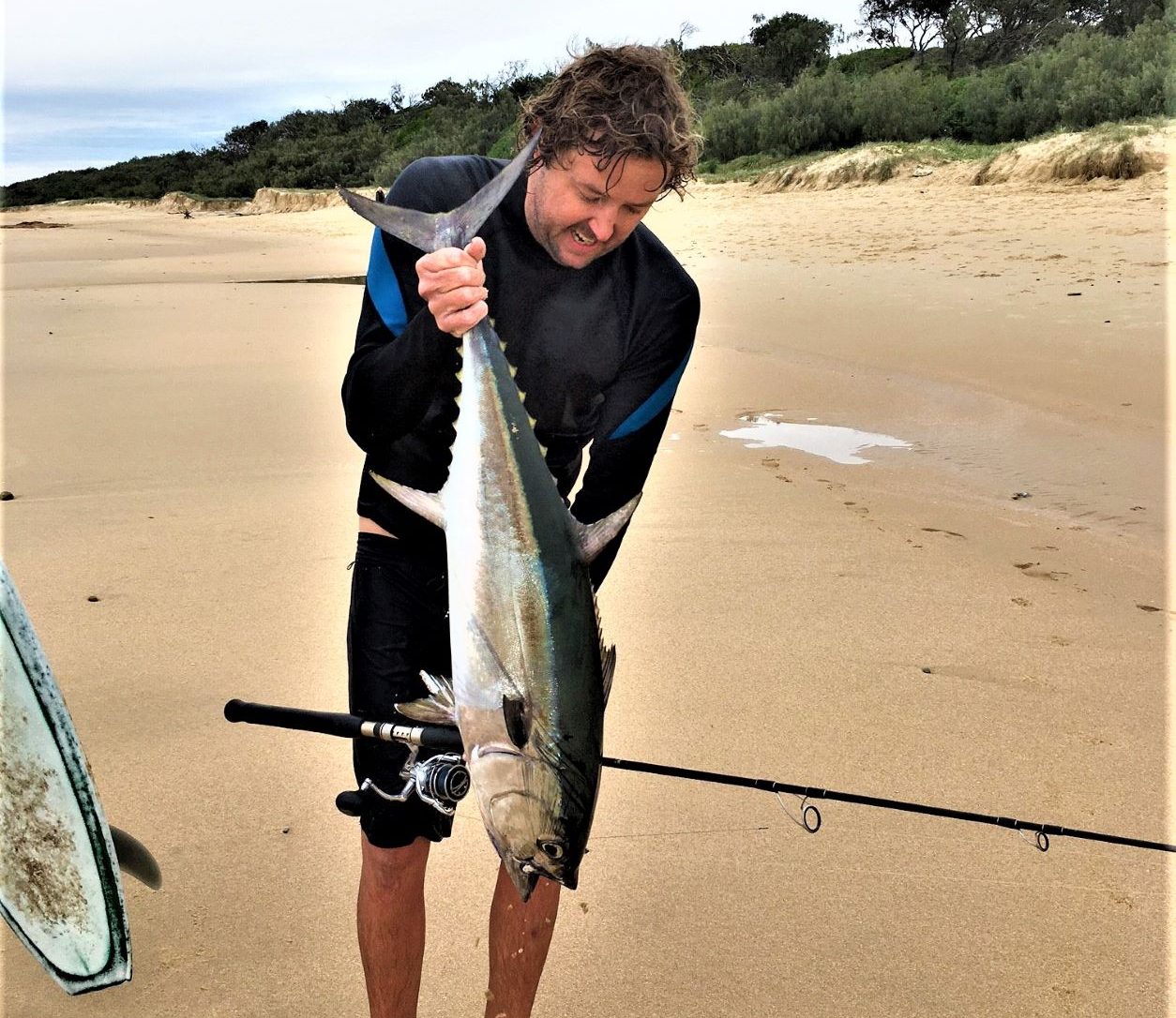 "We were out in the surf and I could see the fish hitting the surface of the water," Jordan said the next day.
"I paddled out to see what they were.
"Being a fisherman, I know what I'm looking at. As soon as  I saw them, I thought, 'They're tuna. They're longtail tuna'. They're quite a prized fish.
"I said to my mate, 'I gotta go. I can't just sit and watch'.
"So I ditched the surfboard on the beach, ran back to the car and grabbed the rod."
Within three minutes, Jordan had hooked on using a hard-bodied stickbait surface lure.
Like stories about Sunshine Coast people doing great things? Help us deliver more by registering for our free daily news feed. All it requires is your name and email. See SUBSCRIBE at the top of this article. 
"It was probably about a metre long. Just around 10kg," said Jordan, who has been fishing since he was a young grommet growing up on the Sunshine Coast.
"They're the ultimate sport fish – super strong and muscley. A ball of muscle, really. Good eating."
Meanwhile, beach walkers on the overcast afternoon had seen birds circling and also realised "something big" was thrashing around among the baitfish some distance out to sea.
But they shook their heads in disbelief as they saw the surfer-turned-fisherman trying to stay upright on his board and one-handed paddling while also holding a fishing rod and struggling to control the fish that was bending the shaft almost in two.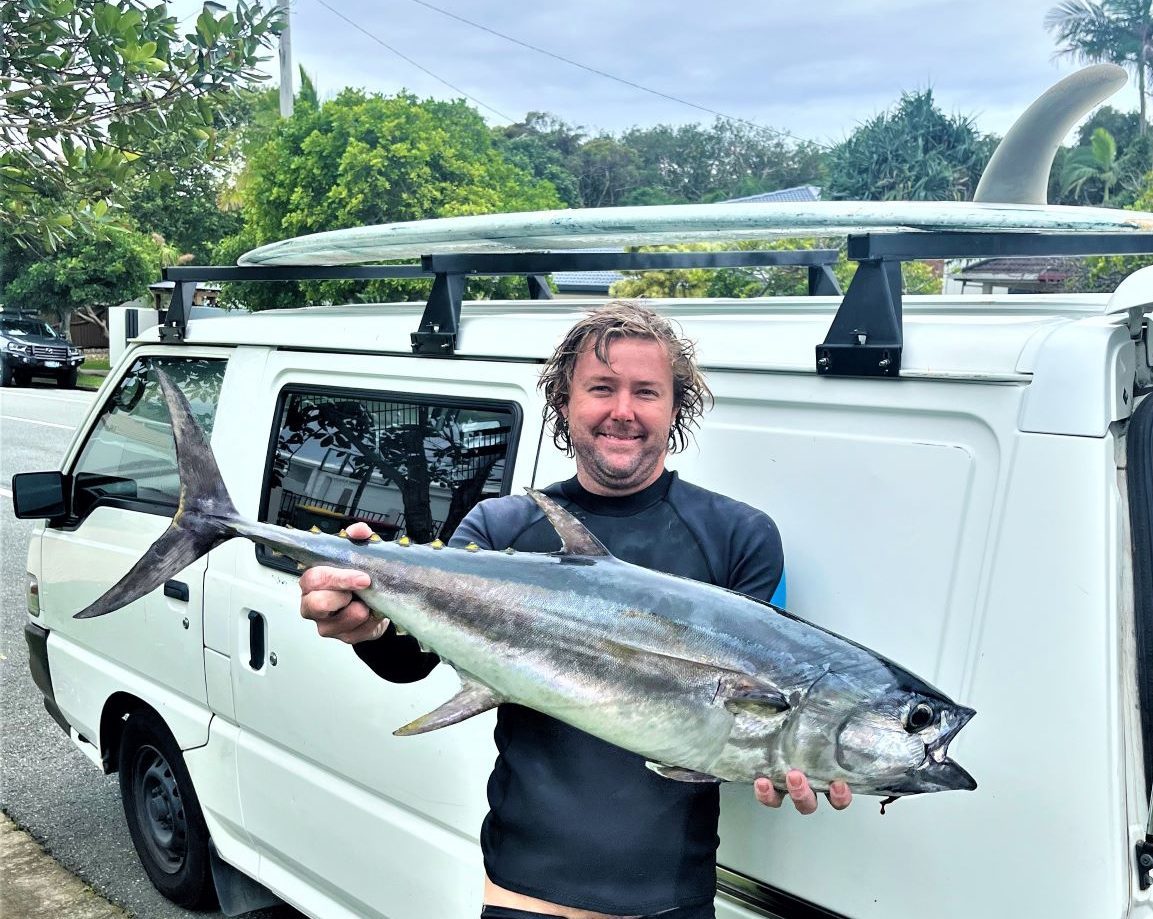 One of his mates had tied his leg rope to Jordan's ankle to tow him into the beach, helping to counteract the fighting force of the fish that wanted to drag him further out to sea.
After 10 exhausting minutes, Jordan slumped forward on the sand, rod and writhing beauty still in hand.
A stranger on the beach agreed to take photos on his phone and send them on to Jordan for bragging rights.
Once recovered, he was stoked at his bounty.
"It was pretty sick," said Jordan, who usually goes fishing in his 4.5m tinnie up to about 20 nautical miles offshore from Mooloolaba.
"It was more a bit of a laugh than anything because I was with my mates.
"The one mate who loves fishing, he didn't want to (fish off the surfboards) and I was like 'Well, give me your car keys'.
"It was his rod. It was a bit of a laugh –  a bit of a 'show the boys up' type of situation.
"We always dish it out between us. They helped out a fair bit.
"You've got to be a little bit further out – hence the surfboard comes into play. Probably 100m off the back of the waves.
"We had to think on the spot.
"I would have been stuffed if I was by myself, to be honest."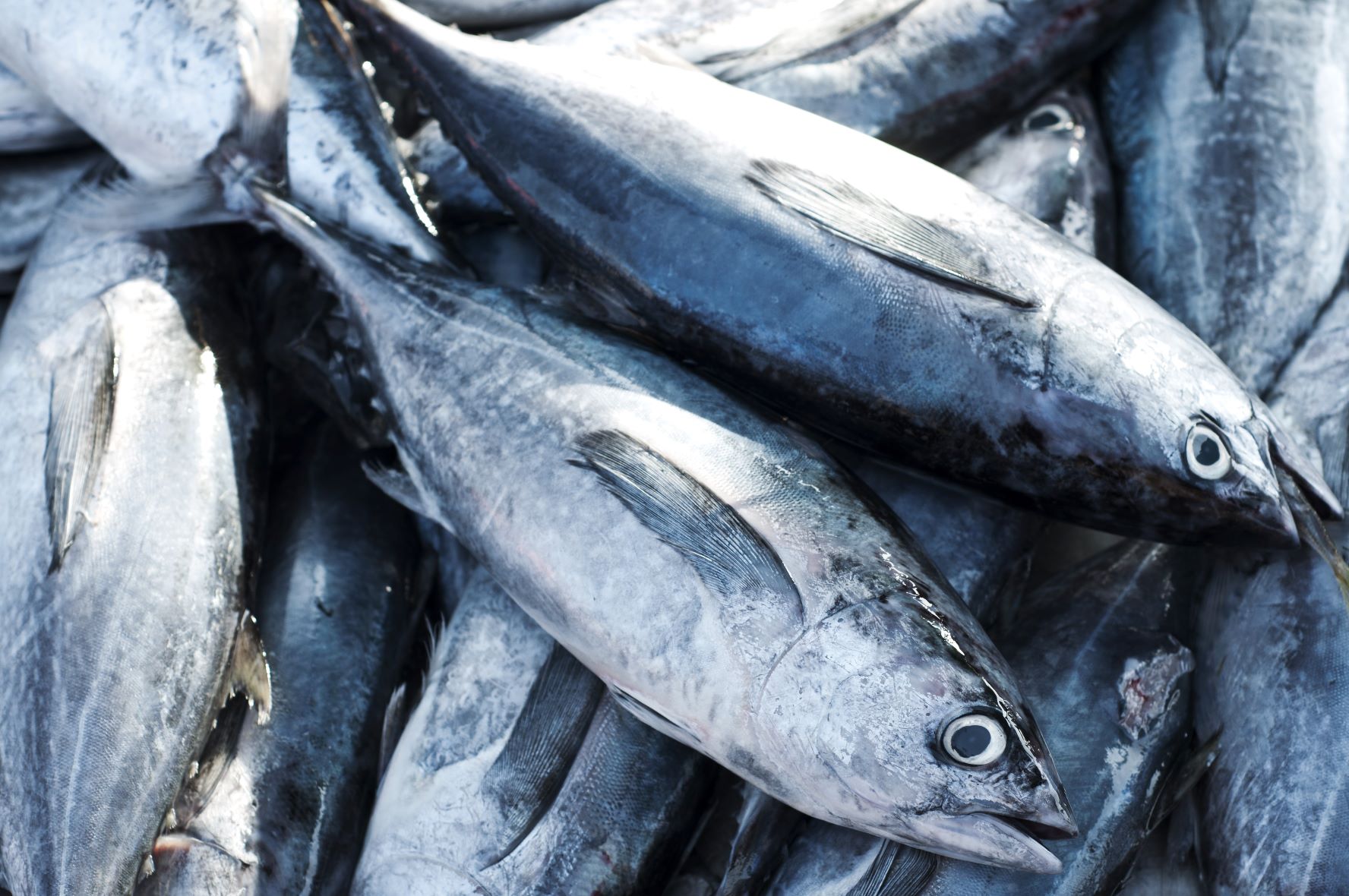 Longtail tuna are also known as northern bluefin tuna: dark blue-backed fish that are part of the Scombridae family.
Jordan revealed that this week's effort wasn't his only surfboard fishing adventure.
"I have actually done this once before," he said.
"I walked down to Dicky Beach and could see fish going crazy.
"I didn't have time to go and get my boat at Mooloolaba and get all the way back there.
"So, I thought, 'I'll just jump on my board and paddle out'.
"I've got quite a big surfboard and it floats pretty well.
"It was about this time last year, actually."
Local journalists supporting local people. Help keep independent and fair Sunshine Coast news coming by subscribing to our free daily news feed. All it requires is your name and email. See SUBSCRIBE at the top of this article. 
On that occasion, his duel with the fish was much less of an ordeal, assisted by a jet skier who grabbed the rod and dragged the longtail tuna back to the beach while Jordan paddled in.
Once the prized catch is bled and divided up between friends, it's usually sashimi and sushi all 'round.
"They're cracking eating," Jordan said.