The Sunshine Coast has unwrapped some of the latest wild, wacky and wonderful ways to spend quality fun time with family and friends.
Axe throwing, a school where you can make your own spirits in an afternoon, and a free-roam virtual reality centre where you can shoot zombies and aliens, were all turning heads at a special tourism expo at Bokarina's Venue 114.
The new-age leisure pursuits to tick off the to-do list were part of a record turnout of 130 exhibitors showcasing experiences, attractions and tours across the region at scout22.
Now in its fourth year, scout22 is an initiative of Visit Sunshine Coast and is held in partnership with Sunshine Coast Council.
While we're famous for our scenic beaches and hinterland and have many long-established attractions, these new tourism ventures have been sprouting up throughout the region to give added layers to the visitor experience and lure residents on a regular basis.
And they're flourishing.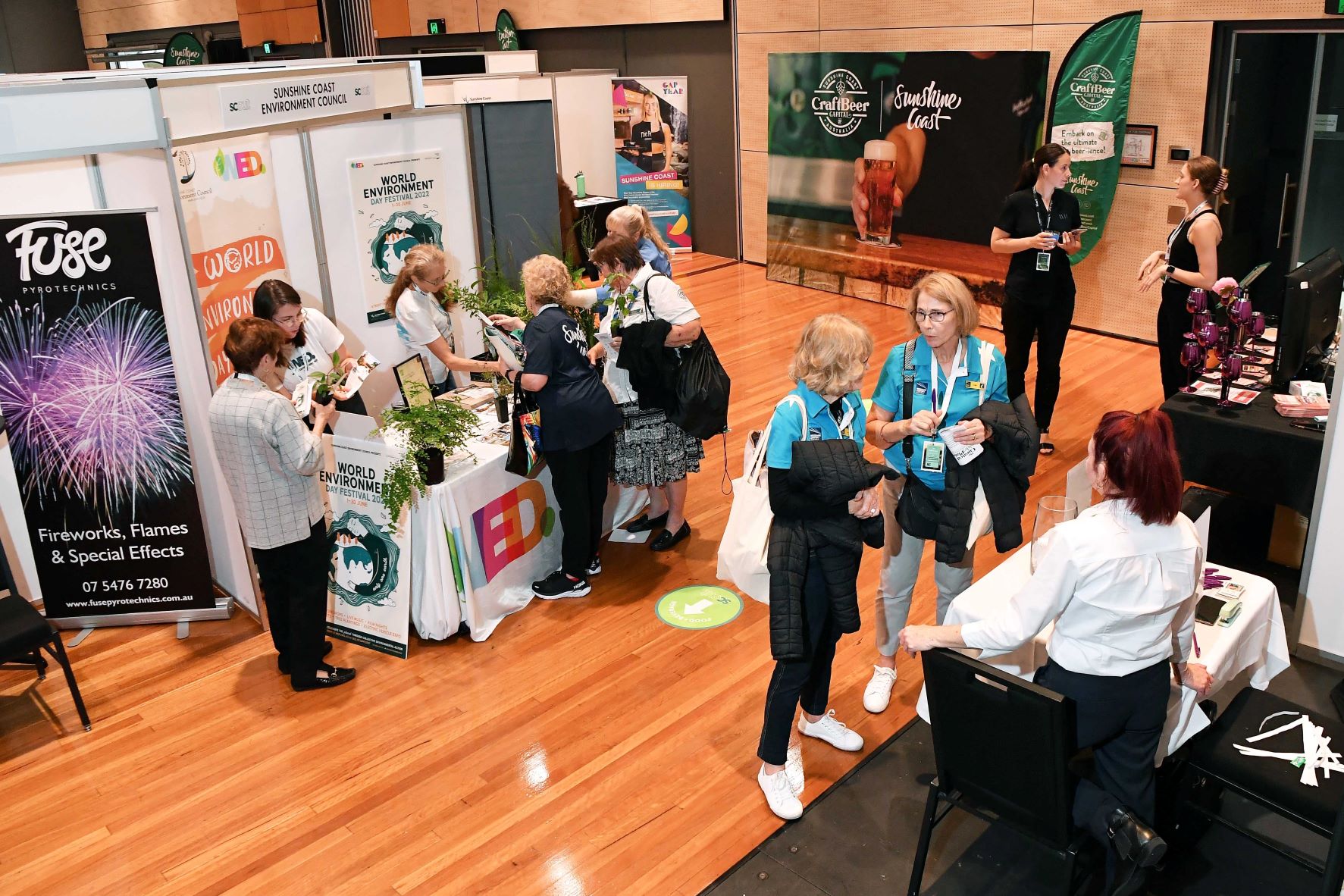 Business partners Shaun Evans and Dani Argent have been operating Sunny's Axe Throwing at Moffat Beach since December.
While it might conjure up thoughts of big men in kilts throwing their weight around at a Scottish Highland Games, women are already targeting the quirky activity in big numbers.
"With something like axe throwing, anyone can do it," Shaun said.
Local journalists supporting local people. Help keep independent and fair Sunshine Coast news coming by subscribing to our free daily news feed. All it requires is your name and email. See SUBSCRIBE at the top of this article. 
"It is equal access, equal activity. And for a lot of the female demographic, it is quite empowering in that sense.
"Axe throwing is all technique.
"A lot of the female base, they listen, they pay attention, they're thinking about what's happening.
"Males (try to) throw it harder. It doesn't work – just like in golf.
"As far as technique driven, darts is very similar. If anything, we like to say it's darts, just with a swing."
Wearing enclosed shoes, anyone can put their axe-throwing skills to the test (those aged 12 to 17 need an adult guardian/parent to participate).
But dismiss any preconceived ideas that the bona fide sport is an aggressive activity akin to a "smash room".
Shaun said nothing was further from the truth.
Participants, instead, often felt cathartic after a session.
"Once people actually do the activity, what they feel on the outside or the other end is a sense of relief," he said.
"For me, personally, it's meditative. If I am stressed or aggressive … I don't throw very good."
Axe-throwing started as a sport, with top-tier competitions now held all over the globe and federations hosting world championships.
Shaun and Dani were two of the first axe-throwing coaches in the state in 2018 in Brisbane.
In mid-2021, they decided to set up business for themselves.
"It was the sport of consistent throwers that enabled commercial businesses to be viable," Shaun said.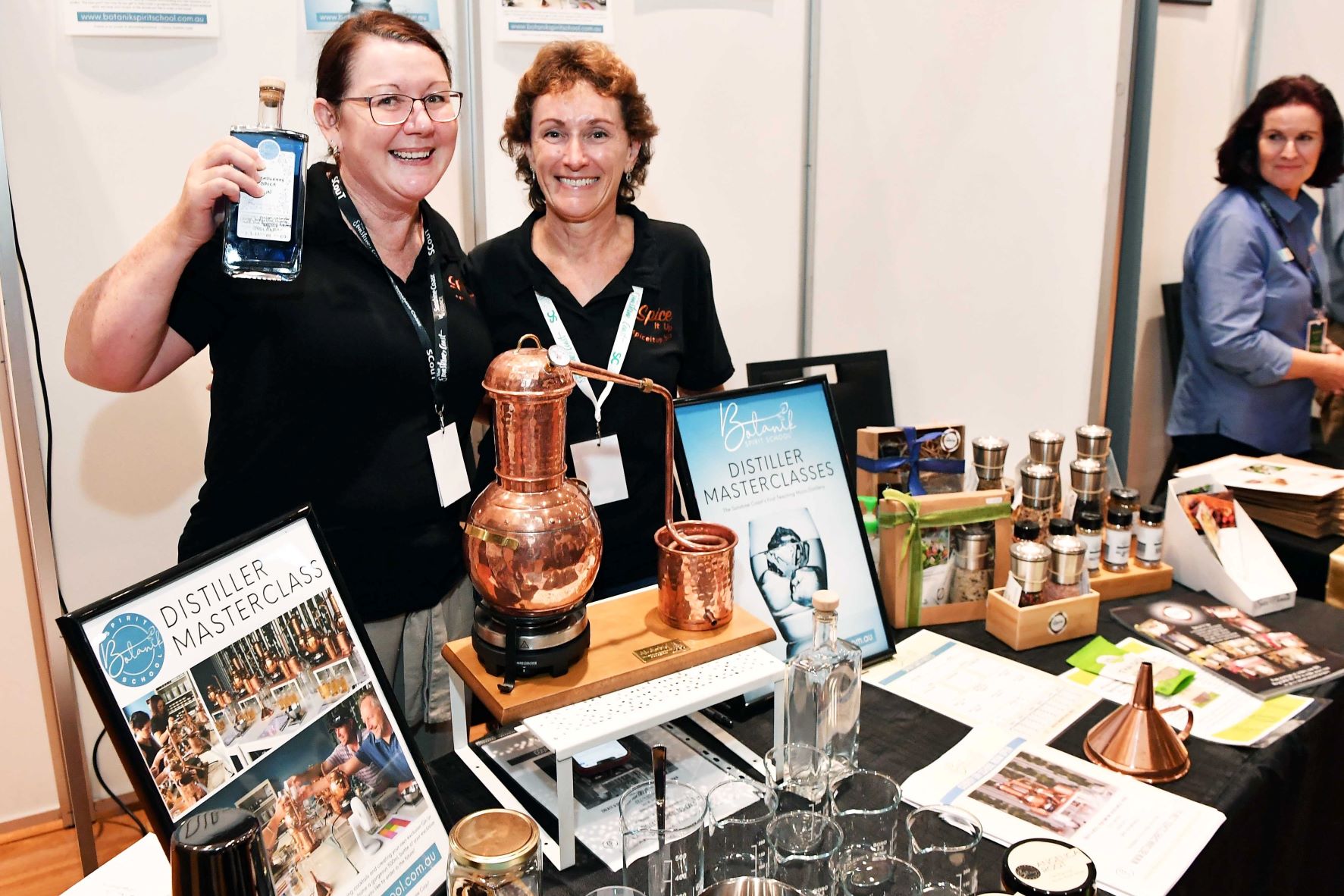 For those needing a more creative outlet, Botanik Spirit School offers the chance to play distiller for an afternoon.
Sisters Kylie Banning and Sue May were on hand to explain how participants can blend their own unique bottle of spririts in a single three-hour session, held twice on Saturdays at Cooroy.
Noosaville's Gourmet Taste Creations supplies the spicy ingredients for the innovative experience that starts with a cocktail featuring a signature Botanik Gin or Vodka, based on the flavours each visitor would like to explore for their own crafted spirit.
After learning more about the gin and vodka-making process and how distillers carefully manipulate their spirit blends, participants get straight down to the business of selecting their base and botanicals, under the guidance of the head distiller and botanical expert.
The distilling process using mini Portuguese Alembic Stills is outlined, and various spirit cuts are taste tested to ascertain the best flavours needed to create a unique balanced blend of their own.
Then all that remains is to decide on a name for the spirit, design a label and
seal the bottle with wax while enjoying a second cocktail.
Kylie said that creating customised spirits was the recipe for fun for corporate teams, hen's parties and birthday groups.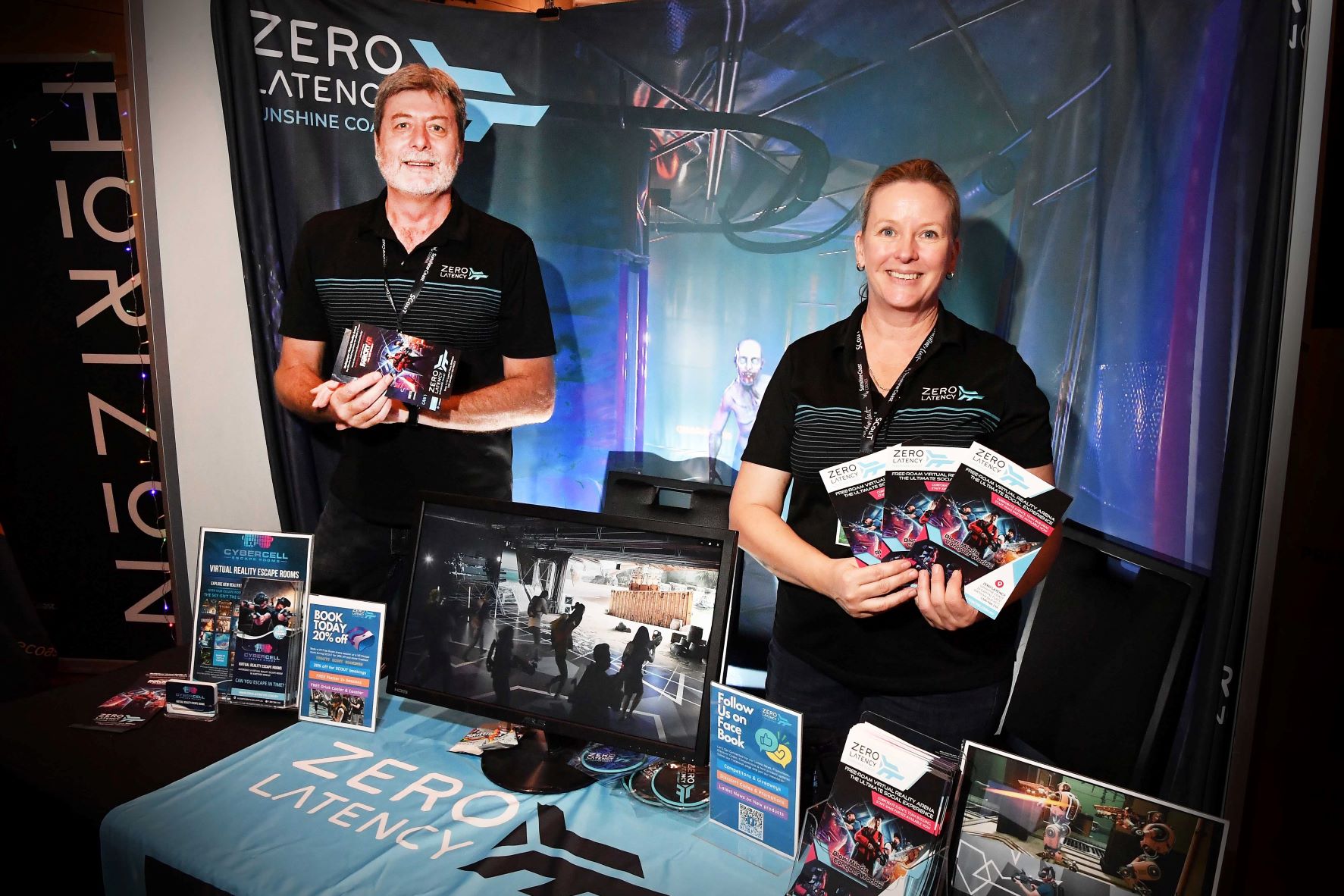 At the other end of the Coast, Renae and Paul Kingston are the faces behind Birtinya's Zero Latency VR that opened its doors at Shop 11, 10 Capital Place, nearly 12 months ago.
This is the only business on the Sunshine Coast that offers free-roam virtual reality.
"You're in a big arena, you put your headset on, you pick the game, you're inserted into the game, you walk through the game," Renae said.
"Picture a tennis court and you can walk throughout. Your friends can play with you – up to eight people at a time."
Like stories about Sunshine Coast people doing great things? Help us deliver more by registering for our free daily news feed. All it requires is your name and email. See SUBSCRIBE at the top of this article. 
Games with names such as Zombie Survival and Sol Raiders can take players into other worlds and new time zones to battle against relentless enemies.
Renae said their players were mainly mid to older teens and adults, including corporate customers – some of whom return for team-building exercises every couple of months.
"We owned an IT business and we took our IT techs to play in Brisbane," she recalled.
"We said, 'Oh, this has got to open up on the Sunshine Coast'. And here we are."
The Kingstons have since expanded the business to include escape rooms.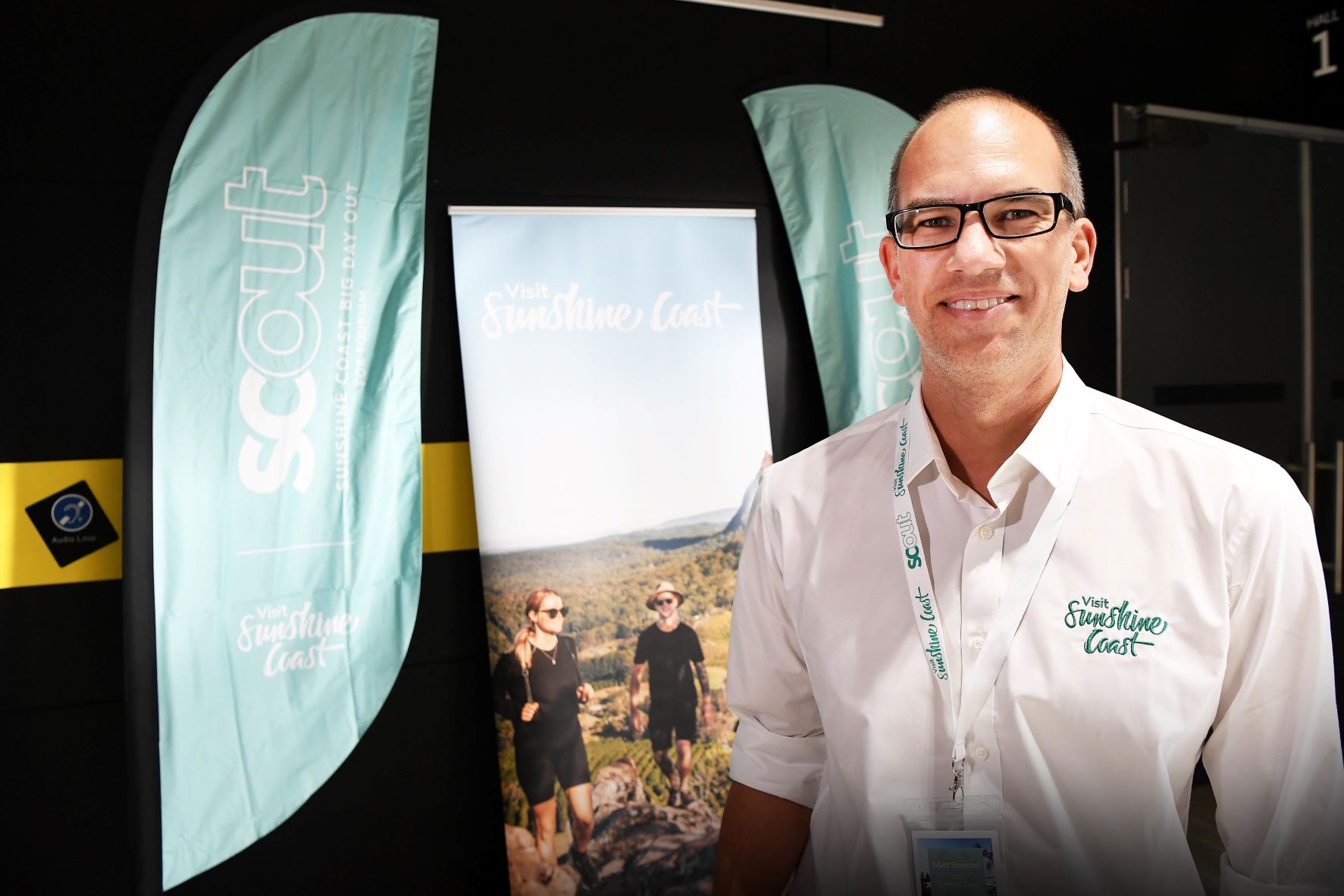 Visit Sunshine Coast CEO Matt Stoeckel was "really pleased" with the turnout for what is billed as the "Sunshine Coast Big Day Out for Tourism" – despite rain bucketing down at the start of the industry exchange and networking event.
He was expecting about 600 tourism industry professionals to connect, engage and collaborate across the seven hours, which also included special presentations, speakers and networking drinks.
Help keep independent and fair Sunshine Coast news coming by subscribing to our free daily news feed. All it requires is your name and email. See SUBSCRIBE at the top of this article 
scout22 is largely an annual educational exercise, familiarising the 175-strong army of Visitor Information Centre volunteers from as far as Gympie and Moreton Bay and regional accommodation operators with what's available for tourists.
"The main purpose is really to connect our experiences and attractions with all our accommodation operators on the Coast," Mr Stoeckel said.
"By knowing what's in our own backyard, it lets businesses work together, package and promote their products to visitors.
"There's so much to see and do and it's hard to keep up with that.
"We've got a record number of exhibitors. So it's really encouraging to see that, despite COVID, there's a lot of confidence in our industry."
TOURISM SHOWCASE