A mother-of-two who suffered post-natal depression has found her stride as the inspirational founder of a women's running club.
Coolum Beach's Renee Chagoury will line up for the Runaway Noosa Marathon this weekend (May 28), spurred on by the challenges she's overcome and with the support of her club-mates.
The 33-year-old has transformed her relationship with exercise during the past three years, overcoming post-natal depression, losing 42kg and starting a women's only run club.
Renee has used her story and passion to inspire women all over the country to take up running through her Sole Sisters Run Club.
She had previously struggled with weight fluctuations and was unable to form a positive link to exercise.
After suffering post-natal depression following the birth of her second child, she took up running and hasn't looked back.
"I just used to go to the gym, not really know what I was doing," she said.
"Then I started running and it's a way different experience now.
"Before running it was never a good, positive relationship with exercise. It was just going to the gym to tick the box."
Juggling the alternating sleeping schedules of her two young children, Renee was determined to put her time at home to good use, so she bought herself a treadmill and started to run around her babies' routines.
"That's where I started," she said.
"I was too embarrassed to run outside. I didn't want anyone to see me in activewear or anything like that so I just bought a treadmill and started to run 3km."
Renee eventually pushed herself outside of her comfort zone and teamed up with a running coach.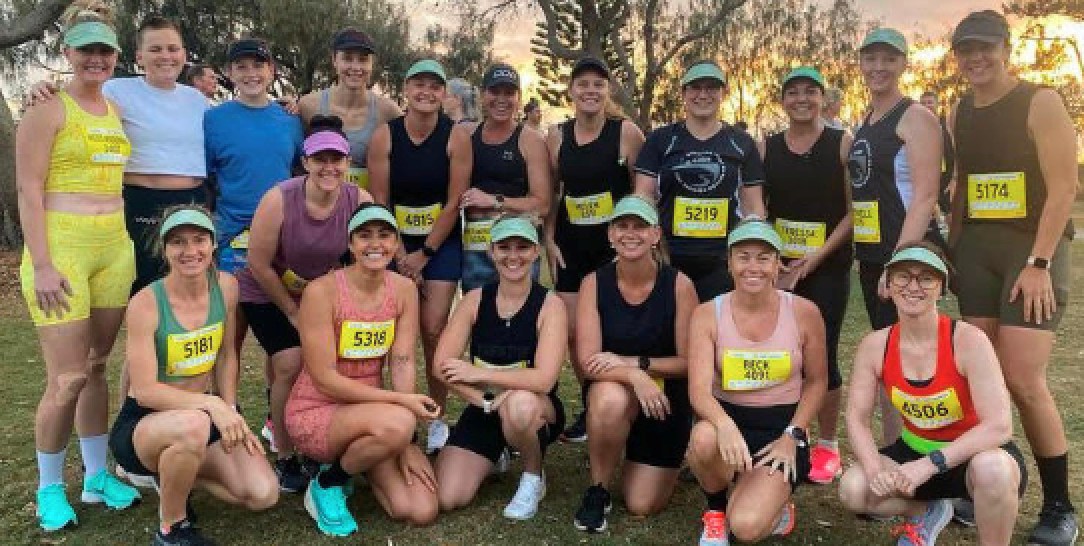 With her confidence developing and with a budding love for running, Renee started a group text with some of her girlfriends who were keen to meet up and run.
As the group started to expand, Renee set up an Instagram account and named it Sole Sisters Run Club.
Renee said her aim was to provide an inclusive space for all women, of all abilities, to get together and enjoy running.
"I see all these run clubs about and their social media is filled with young people who have six packs and are getting these ridiculous times and they're racing to get podiums," she said.
"I wanted to make an inclusive environment and then it just grew and grew, to Brisbane, to Gold Coast and South Australia and now we've just started one out in the hinterland, so that the girls who love running trails can run trails each week."
Sole Sisters Run Club organises weekly runs, with some women attending the runs with the group and others joining remotely from wherever they are based.
"I would say all of our clubs together, there would probably be over 300 girls," she said.
"Some girls run not where our club is but they'll share their runs on social media and tag us (and) wear the shirts."
Renee said running completely transformed the way she lived her life, from the weight loss and overcoming post-natal depression to the community she found and the choices she now makes each day.
"It's completely reshaped my life," she said.
"My best friends are now in my run club and I always go back to that saying, 'you are a result of who you hang out with', and we all text each other, 'hey do you want to go for a run," she said.
"This has completely changed my lifestyle and all the other girls as well.
"We have a support system, we feel safe when we're running (and) we never feel alone. It's a bit of accountability too.
"You send a message or put something on social media about going for a run tomorrow at 5am in the dark and you have 20 girls turn up who want to run 20km with you. It's exciting, it's great.
Since she began her running journey, Renee has completed a marathon and several half marathons.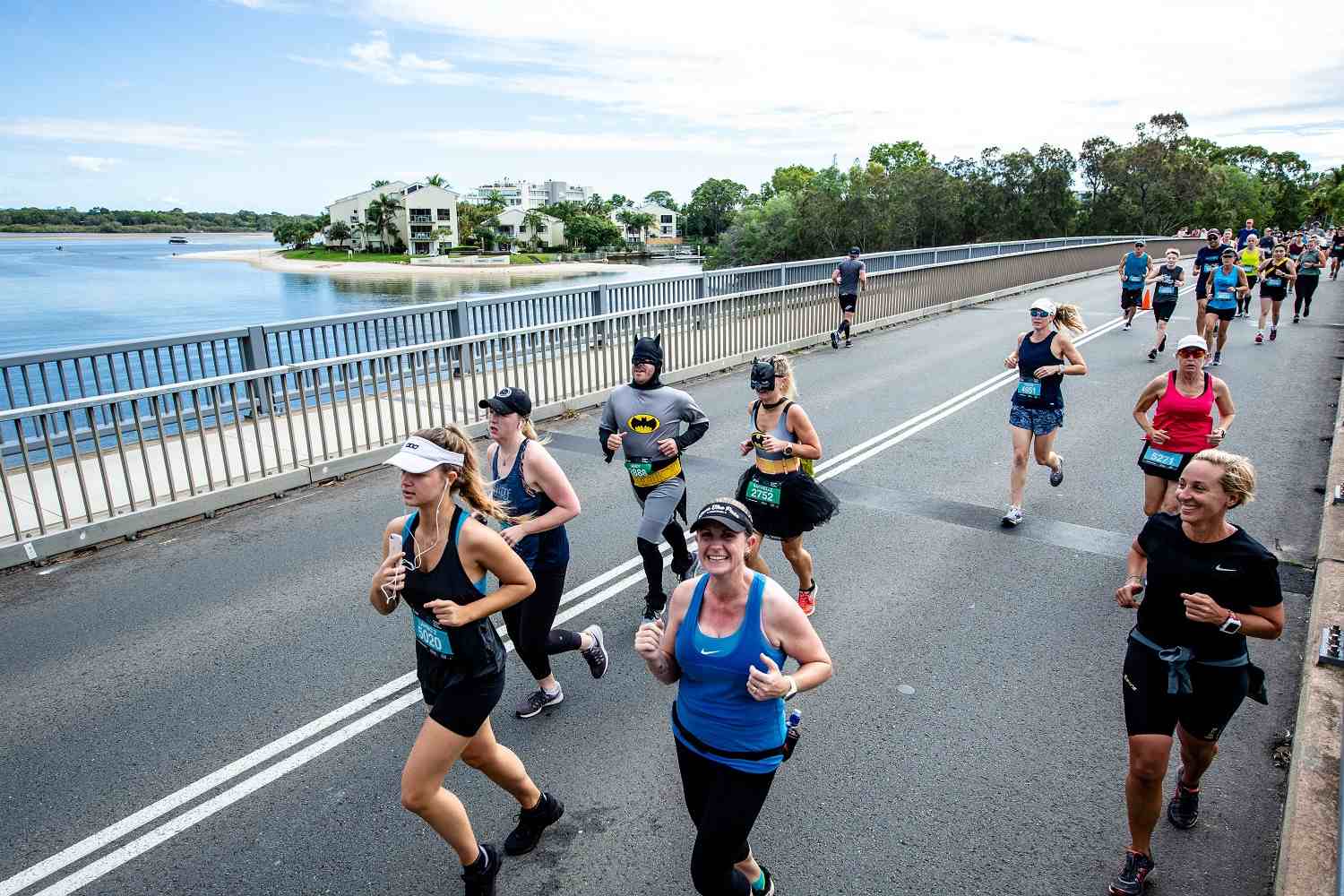 The Noosa Marathon will be her second race over 42.2km and she will be joined by a group of club-members.
Help us deliver more stories that inform, connect and celebrate the Sunshine Coast by signing up for our free Daily News Feed: Please go to SUBSCRIBE at top of this article and add your name and email address.
Completing the marathon is another stepping stone along Renee's path towards a happy, healthy life.
Entries remain open for the Runaway Noosa Marathon.
Geoff Meyer, Managing Director of Oceania for The IRONMAN Group, organisers of the event, said that the team was looking forward to welcoming runners back to Noosa for the first time since 2019.
"It's great that we're in a position to be able to bring runners back to Noosa for this fun and friendly event after a two-year hiatus," Mr Meyer said.
"The Runaway Noosa Marathon provides a great opportunity for runners to spend the weekend in this incredible region, take part in the run of their choice on Saturday morning and then relax.
"The return of the marathon has been a long time coming and we're thrilled to be welcoming thousands of runners both from Australia and overseas.
"We will have a fantastic mix of social runners, who are out for a fun morning with friends, right up to those who take their events a bit more seriously and are out for a marathon PB on a flat and fast course."
Tourism and Sport Minister Stirling Hinchliffe said the return of the event was important to the region's COVID-19 recovery.
"Marathon organisers are expecting thousands of pairs of running shoes on the flat, fast and friendly multi-lap course through the heart of Noosa," Mr Hinchliffe said.
"The Runaway Noosa Marathon is the perfect reason to book a weekend getaway and that's why we've given this event a prominent place on our It's Live! in Queensland events calendar."
Runaway Noosa Marathon Festival
Saturday, May 28: Run Noosa, marathon from Noosa Parade at 6.15am, half marathon from Noosa Parade at 6.30am, 10km from Laguna Park on Noosa Parade at 9.15am.
Sunday, May 29: Swim Noosa, 3.8km from Noosa Main Beach at 7am, 2km from Little Cove at 8am, 1km from Little Cove at 9.30am, 500m from Noosa Main Beach at 10.30am.
For more information and to enter visit Runaway Noosa Marathon.