A huge array of local community groups are set to benefit from a financial windfall.
Sunshine Coast Council has announced more than $550,000 will support 95 projects in its latest Major Grants round.
One community group set to gain is the Maleny and District Men's Shed Incorporation, after it was awarded $6394 in the Community Facilities category, towards erecting a new shed.
Scroll down to see the other groups being helped
Men's Sheds play an import role in improving men's health and wellbeing by offering an inclusive and safe place for all men from a local community to come together, and by providing important health information.
Maleny and District Men's Shed Incorporation Secretary Lindsay Hay said he was thrilled the group had received a Major Grant, with membership increasing recently.
"Our Men's Shed now has more than 50 members and the funding will go towards erecting a shed recently donated by the Australian Defence Force and allow expansion of the Men's Shed's activities," he said.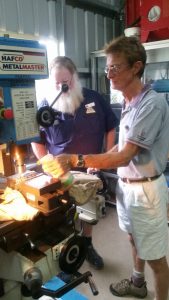 "Our members are excited to get into alternative activities such as leatherwork, lead lighting, cards and computers, as well as having a breakout space for meals and information sessions."
Community Portfolio Councillor David Law said the latest round of funding supported many important community projects, including youth programs, creative and cultural events, and facility upgrades.
Among the local community groups reaping the benefits are:
Glasshouse Country Bowls Club, receiving $10,000 towards installing new shade structures to the bowls green (Division 1)
Landsborough Tennis Club Inc., receiving $6245 towards upgrading the clubhouse kitchen (Division 1)
Caloundra Committee Of Service To The Ageing, receiving $4742 towards construction of a storage room (Division 2)
QCWA Branch Caloundra, receiving $7500 to purchase safe fit-for-purpose chairs for use at the CWA Hall, replacing one hundred old and heavy chairs (Division 2)
Kawana Rugby League Football Club Inc receiving $10,000 towards installing a shade structure upstairs at the Club Facility (Division 3)
Parent to Parent Association Qld Inc., receiving $7250 towards their Loud and Clear Qld. A concert designed for and by people with intellectual disability (Division 4)
Save Our Streets Ltd., which received $7500 for their 2022 National Reconciliation Week Cultural Awareness Project (Division 4)
Palmwoods Community and Business Association, receiving $5000 towards the Palmwoods Spring Harvest Festival 2022 (Division 5)
Maleny Cultural & Historical Society Inc., receiving $7160 to build a retaining wall to protect the saw mill exhibit (Division 5)
Suncoast Spinners Wheelchair Basketball Inc., receiving $5000 towards "Reverse Inclusion" – a Junior Wheelchair Basketball Program (Division 6)
Zonta Club of Maroochy Inc receiving $4000 towards the "Seeds of Change" community forum event featuring expert speaker and author, Jess Hill, to speak on Domestic and Family Violence (Division 6)
Maroochydore Football Club Inc., receiving $10,000 to replace the cold room in the club canteen (Division 7)
Sunshine Coast Hockey Association Incorporated, receiving $10,932 to replace the aging electronic scoreboard at the Ballinger Road Sports Complex (Division 7)
Sunshine FM Radio Association Inc., receiving $8830 towards purchasing equipment to keep this community radio station on air in the event of mains power outage (Division 8)
Coolum Bridge Club Inc., receiving $7500 to replace air conditioning (Division 8)
Supporting People in Respite and Lifestyles Inc., receiving $4000 towards the Artworkz Exhibition 2022, an annual accessible Art Exhibition for artists with a disability to display their work at Coolum Civic Centre between 19-20 August 2022 (Division 9)
Nambour Community Centre Inc., receiving $7500 towards tackling racism programs launching during Multicultural Month in August 2022 (Division 10)
Wan'diny NAIDOC Committee, which received $10,000 towards their NAIDOC 2022 Wan'diny Family Fun Day (Division 10)
Range of Life Pty Ltd., receiving $10,000 towards the Rangebow Festival – a new community arts and culture festival scheduled for August 2022 (Division 10).
The full list of grant recipients can be found on the council website.
Stay on top of local stories by subscribing to our free daily news feed. All it requires is your name and email. See SUBSCRIBE at the top of this article.