From officiating ceremonies in an NRL jersey to horror themes and having rings delivered Harry Potter-style by an owl, celebrant Drew Ricker loves making people's big day even bigger.
Known for his fun approach to helping happy couples celebrate, Drew brings a sense of personality and humour to each ceremony, at the request of the couple, of course.
Since beginning his business Say 'I Do' with Drew in 2016, the popular celebrant has officiated hundreds of couples, with many interesting requests over the years.
A teacher by trade, his interest in becoming a celebrant started after a bit of a joke when he was a guest at a wedding.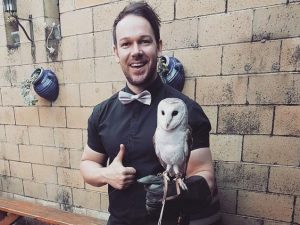 "I went to a wedding seven years ago and it was low-key and formal and not very interesting," he said.
"I made a comment to my wife and a friend about it and they said they didn't think I could do any better.
"I said: 'well, we will see about that."
So, during a six-week break over the Christmas school holidays, he completed a Certificate IV in Celebrancy and  never looked back.
"Most people who contact me want to have some fun and a few laughs," he said.
"Obviously, there is the legals and formalities, but I try to eradicate those myths that people think they are expected to do at their wedding.
"I try and help everyone have fun, get the audience engaged, take their mind off the stress of the day and being too formal and everyone being quiet like they are in a library."
Drew said he had received some quirky request over the years, dressing up for horror-themed wedding and concealing the surprise of a wedding during parties.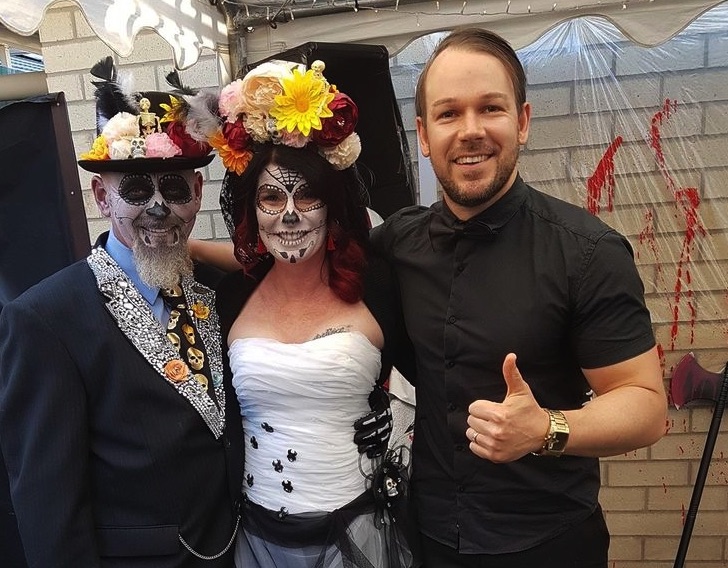 "I've had horror themes, Hawaiian themes, surprise ceremonies where people think are at a massive party and we play a few games and it ends with a couple getting married.
"I've had an owl deliver the rings to me one time. The owl flew in and I had to do a quick exchange of the rings."
Recently, Drew had the pleasure of wearing his beloved South Sydney Rabbitohs jersey while officiating the wedding of a keen Canberra Raiders supporter.
"When I met the couple, we found out we had a mutual love of rugby league and we were having a bit of banter to each other about our teams," he said.
"He sent me a message and said that if South Sydney beat Manly in the semi-final that was playing that weekend – this was last year – that I get to wear my Rabbitohs jersey.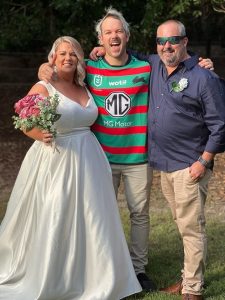 "If they didn't win, I would have had to wear a Raiders jersey.
"Turns out I won that one and it was a whole heap of fun."
One couple even requested he wear a Happy Gilmore shirt and the footy shorts he was wearing, instead of changing into his professional clothes.
Drew officiates weddings across the Sunshine Coast region but marries couples from Gympie to the Gold Coast.
For more see Say 'I Do' with Drew.