Some things are just bigger and more important than the individual.
The ocean. A worthy cause. Love. Community.
One example was the recent Island Charity Swim, a test of endurance that involved swimmers and their supervisors venturing a very long way off our coastline in the moody, unsettled dawn only to emerge, bedraggled, on a far-off shore several hours later.
The annual event route leaves Mudjimba beach, tracks around Old Woman Island and then along the coast past Maroochydore and Alexandra Headland to Mooloolaba.
It is a tough swim, and this year's event delivered pain, seasickness and tears as well as satisfaction to its participants.
Why people participate at all is a mystery to some, but the reasons are two-fold: the challenge and the cause.
The cause is core to the event – the swim's reason for being is to raise money for the Coast's Special Schools, to give kids with disabilities gear and opportunities the schools themselves can't afford.
In its double-decade history, more than $1 million has been raised for them. This year, organisers were hoping for $50,000 but raked in more than $66,000: amazing during a pandemic.
The mammoth amount raised was gathered in 924 donations, something that should make all 26 fundraisers (and 16 teams) and their supporters glow with pride.
They are evidence that little pieces of good, when grouped together, make a big, positive difference.
While the cause is for community, the challenge of the swim is personal.
Some did it in teams as a kind of loose relay. I was part of one such team this year, a group convened by my friend via social media. It was an experience that will stay with me.
Others, incredibly, do the whole thing solo.
Some, such as the extraordinary Wingless Warrior and her teammate Wonder Woman, do it side by side. Theirs was an awe-inspiring effort that stirred the soul and raised more than $13,000.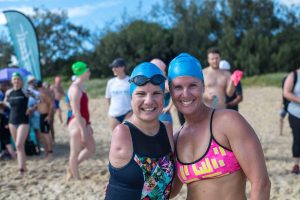 Local journalists supporting local people. Help keep independent and fair Sunshine Coast news coming by subscribing to our free daily news feed. All it requires is your name and email. See SUBSCRIBE at the top of this article
The Island Charity Swim is a feat of organisation and each year the boundaries are tested to allow it take place at all.
For starters, having a hundred or so swimmers thrashing about loosely in open water in whatever weather and with all manner of creatures under and around them would make the most hardened safety officer blush.
Teams are required to have a boat large enough to accommodate all members – in part, in case a shark is spotted and everyone has to get out of the water – and that is a bridge too far for many hopefuls.
Not everyone knows a boatie willing to give their vessel, skill and three or four boring hours of their time as they bob along behind a swimmer who inches, snail-like, along the roughly 10km route.
And then every individual and team needs a willing paddler to guide them home.
There are so many cogs in the wheel and so many little elements that must come together for the Island Charity Swim to happen.
But when they do, as they did this month, the ripple effects are felt far and wide.
Jane Stephens is a USC journalism lecturer, media commentator and writer. The views expressed are her own.