What do panthers, swooping magpies, aliens, pizza and astronauts have in common?
They can all be found hidden beneath the clothes of men, women, boys and girls across the world, on undies and crop tops – all thanks to Knobby.
Knobby is a Sunshine Coast brand that has been ramping up the undergarment game since 2014.
After seeing one too many pairs of holey undies on the bedroom floor, Rob Rand had an idea.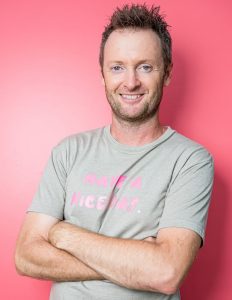 "My wife and I were living in North Queensland and I remember looking down at the floor one day, seeing holes in just about all of my undies and thinking, 'Wow! This isn't cool'," he laughs.
"I was running amok in business while my wife was teaching at a school and I suppose I was looking for a venture where I could apply my background in design and textiles to a business model.
"It was a few things that came together at the right time and the business concept of Knobby was born from there.
"It was almost a convenience thing at the start – something that allowed me to express my creativity – and it quite humbly morphed into something quite special."
So, what is "Knobby"?
"We like to think of ourselves as more then just an undie brand," Rob says.
"We are a lifestyle brand who happens to make undies – but really cool undies.
"People are always very driven by trends for outerwear, but we wanted to come up with a way that you can wear something epic and fun – whether that's a space dog or pink unicorn – and no one would even know about it.
"And who are we to stop a bloke wearing pink unicorns to work if it makes him feel awesome."
Local journalists supporting local people. Help keep independent and fair Sunshine Coast news coming by subscribing to our free daily news feed. All it requires is your name and email. See SUBSCRIBE at the top of this article. 
While the idea for Knobby dates to 2012, Rob and his wife only brought it to life a few years later after selling their house in North Queensland and making the move to the Sunshine Coast.
"There were a lot of hurdles, as with all new businesses, especially as I really wanted to create a subscription model around the business – something exciting that people could look forward to every month," Rob says.
"A surprise in the mail. And give that same feeling as when a magazine subscription would show up.
"It had to be about the entire experience."
In 2014, the Rands sent out their first commercial pair of undies and haven't looked back.
"It was even a challenge to come up with the name for the business," Rob says.
"We tried out about 4000 (ideas) before we settled on Knobby and it was certainly interesting watching the brand take shape unintentionally from there.
"Knobs are a part on a motorbike tyre, and I come from a background in motocross, so Knobby was a play on that.
"But when people heard it, they, too, played around with innuendos and the community grew the brand themselves."
Today, the company still plays homage to that part of Rob's life with some big names on board as brand ambassadors.
"I had a few friends racing at high levels in motocross and the undies were a great fit for them as they are designed using materials suitable for sportswear or active people," Rob says.
"It has really grown from there, too, into other high-pace sports.
"We collab with incredible artists each month on designs, got into events and big festivals.
"It's become about freedom and fun, staying humble, exciting but not flashy, transparent and down to earth, trusting just like your mate.
"We give people permission to just be who they are. And I believe that's the reason we have grown into what we are today."
What Knobby is today is epic – starting with its own "hub".
"We recently opened a brand-new hub for our workers in Chevallum, which is awesome," Rob says.
"We want to build more than jobs. We want to build an epic work culture on the Sunshine Coast and encourage collaboration, a great community vibe and give our team a space to grow, which is exciting.
"We have big plans for a portable skate park, basketball court and even an outdoor event space at the hub."
There is also a strong focus on sustainability, and new materials and products.
Like stories about Sunshine Coast people doing great things? Help us deliver more by registering for our free daily news feed. All it requires is your name and email. See SUBSCRIBE at the top of this article. 
"Everything will be made from recycled plastic and natural fibres including our very own bottle-blend fabric, which is something we have created from the ground up over the last few years, to reflect the material people love but from a sustainable source," Rob says.
As if that wasn't enough of a goal for 2022, the company has also recently wrapped up the Summer of Knobby, where a big car with a unicorn wrap set out to entertain at various hot spots across the Coast.
"It was a lot of fun," Rob smirks.
"We are building the brand awareness in our own backyard now, which is great, and we have even started local same-day hand deliveries.
"Watch this space because there is more to come on those, too.
"It might even involve an ice cream truck and a dinosaur head.
Visit the website.
This great feature is from the Autumn edition of SCN's sister publication Salt Magazine, out now.