A developer is promising to create a "sense of arrival" to the new city centre with a "vibrant" multi-storey tower proposed at the gateway to the emerging Maroochydore CBD.
Capital 22 has lodged an application to build a 13-level high-density development with 104 units, three levels of office space, restaurants, a pool and rooftop gym.
Its location on the corner of Aerodrome Road and First Avenue, Maroochydore, is considered the northern entrance to the new Maroochy CBD.
The multimillion-dollar site has been home to two op shops — Neighbours Aid and Salvation Army Family Store — and adjoins Bob Jane T-Marts.
The two allotments on 132 and 134 Aerodrome Road were purchased for $3 million and $3.55 million respectively in June 2021 and May 2018, according to RP Data.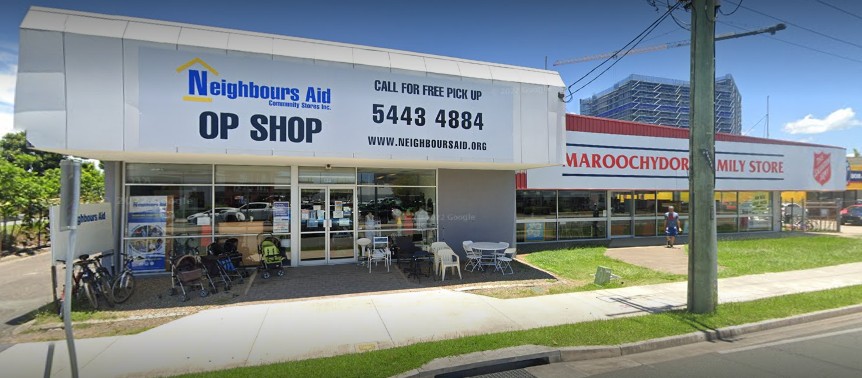 In a planning report lodged with Sunshine Coast Council, town planners Adams and Sparkes said the tower presented a "strong design response" for the prime block.
"The proposal represents a vibrant, high intensity, mixed-use development with a podium and tower built form consistent with the intent of, and providing a sense of arrival to, the Maroochydore CBD," the town planning report states.
The development comprises a "podium" base with food and drink outlets and the main lobby.
The tower above would house 104 units — a mix of short-term and long-term accommodation.
Because of its location just 320m from the Maroochy River and 1.2km from the beach, the building design would reflect the beachside character of the area, the report stated, and feature a "light coastal colour scheme".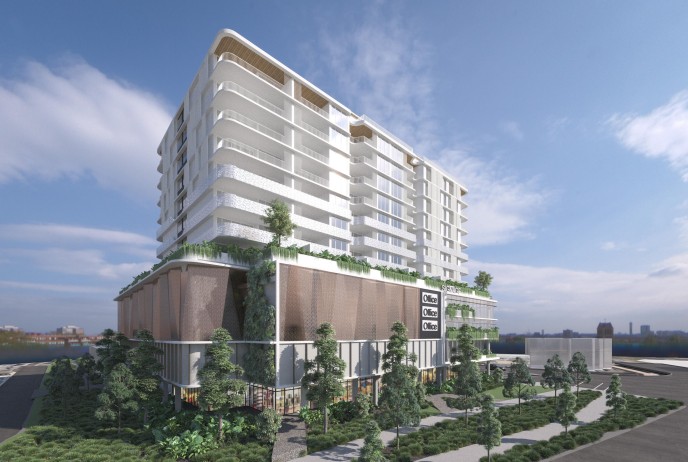 The levels would feature:
Ground floor: five food and drink outlet tenancies, residential lobby, commercial lobby, and 16 ground level car parks.
Levels 2 to 4: three levels of office space with three levels of car parking, partial mezzanine parking level with another 251 spaces.
Level 5: pool and pool terrace area (on top of the podium).
Levels 5 to 12: eight levels of residential units (each level comprises 13 units
including 11 x three-bedroom units and two x two-bedroom units) plus a large communal open space.
Level 13: rooftop with gym and outdoor terrace area and screened plant room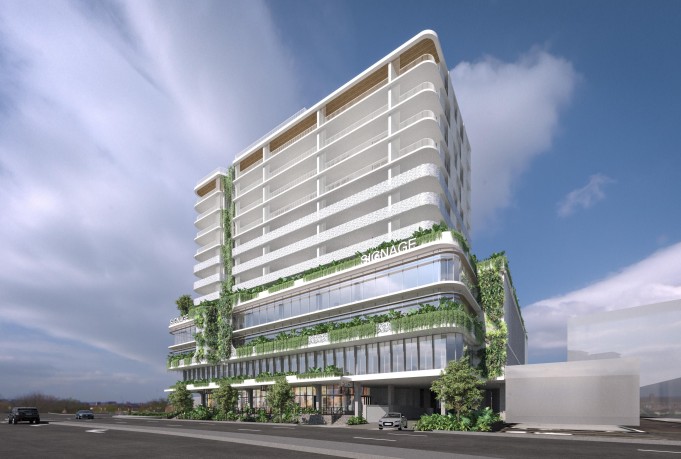 In its report, Adams and Sparkes said the council had already given its 'in principle' support to the project which was "generally compliant" with planning requirements.
The report said the development application, which seeks a Material Change of Use, should be approved.
"Council has provided strong support for the proposed development in a pre-lodgement  meeting, providing in principle support for the proposal and indicating that the development is generally compliant with the planning requirements of the Local Plan Code, the Multi-Unit Residential Uses Code and the Business Uses and Centre Design Code," said the report.