The Sunshine Coast's population could explode by 60,000 people on top of current projections, equating to an extra city the size of Aura and bigger than Noosa, warns a property market report.
This would bring the population in 20 years to at least 580,00 residents instead of the 520,000 that the council and State Government are using for their planning.
The warning is contained in the 64-page Sunshine Coast Property Market Update 2022, an analysis by Direct Collective.
The report states that desire for the Coast's lifestyle and opportunities is expected to trigger an extreme growth trajectory to 2041 "like no other region in Australia".
But it says the Sunshine Coast Council and State Government are basing their planning on outdated data from the Queensland Statistician's Office that underestimates the future population by 10 per cent.
In one example, the paper says none of the governments' statistical projections have considered the rise of the Coast as a "Millennial magnet", with a trend of more younger people moving here.
"As we have been pointing out for some time, what is happening on the Sunshine Coast hasn't occurred anywhere else that we can identify," states the report.
"We have a set of circumstances so unique that it can only be described as a 'once in history' set of economy and region-transforming events that alone would be hard to clearly identify the impact, much less the aggregate effect.
"What is required is new thinking and new modelling."
Another trend triggered by the pandemic was population pressures from local residents choosing not to leave the Coast, and former residents returning to live here.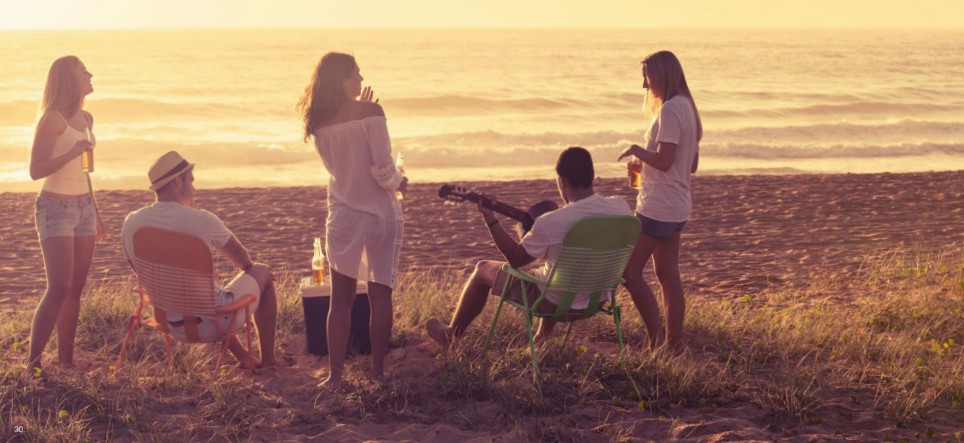 The report warns that without a recalibration of the data, the Coast's already dire housing undersupply would reach a new low, impacting everyone's lifestyle and liveability.
"We're currently sitting in a major undersupply, and if Council doesn't have accurate data in its planning, that undersupply is only going to grow," the paper states.
"The impacts being felt now with incredible price growth, low rental vacancies and increasing homelessness will only get worse."
To house the future population, the report says the balance of Aura, Palmview and all of the proposed Beerwah East estate would have to be completed and "we would likely still undersupply the market".
"It is unlikely that Beerwah East will be available to the market and be developed fast enough to achieve this outcome."
The balance of the housing would have to be "infill" development — knocking down houses to build townhouses and units.
The region would need to construct 3500 new units each year (townhouses, apartments, duplexes, secondary dwellings), but currently the Coast is struggling to deliver one-third of that, the report states.
Such medium-density housing was referred to as the 'missing middle'.
Stay on top of local stories by subscribing to our free daily news feed. All it requires is your name and email. See SUBSCRIBE at the top of this article 
"We often hear people say they don't want the Sunshine Coast to 'become another Gold Coast'," the paper notes.
"While we are not suggesting building high-rises on the sand dunes, if we don't meet housing demand with affordable solutions then our lifestyle will suffer far more than shadowing on beaches (which, we will state many times, no-one wants or is planning for).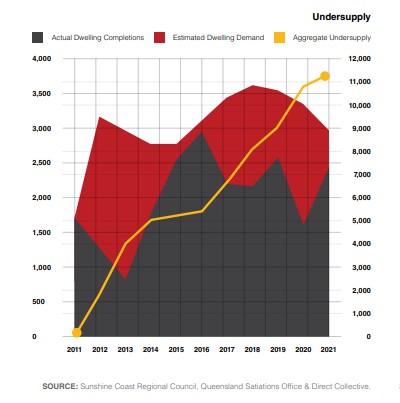 The report predicted that without enough housing on the Coast, places like North Lakes and Brisbane would become "feeder regions" to the Coast rather than the other way around.
A spokesperson for Sunshine Coast Council responded to the report, saying the region's population was tracking consistently with existing forecasts released by the Queensland Statistician's Office.
"New projections based on the 2021 Census will not be released until 2023 and will provide an updated point of reference for reviewing the accuracy of current projections.
"Until this time, it is not possible to confirm recent trends or set updated population projections for the Sunshine Coast or South-East Queensland as a whole.
"As the past few years have shown, it is difficult to predict with precision what the future may hold for our region.
"However, it is Council's intention that by using the most up-to-date, reliable, and credible sources of population information available – and by having a clear vision with a focus on careful planning and good design – we can grow sustainably whilst maintaining and protecting the things we love about our Sunshine Coast, including our liveability and natural assets."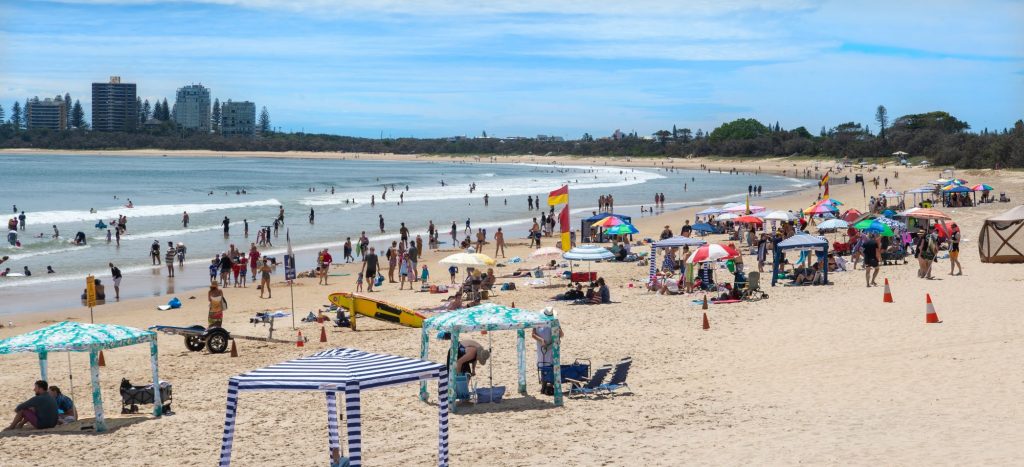 Direct Collective chief operating officer Mal Cayley urged everyone on the Coast to "come together to fully understand the issue and work towards a sustainable future".
"Every action has an impact, including the action of doing nothing."
Mr Cayley said the impact of miscalculating demand would not just be felt in house prices and rent rises it would have a detrimental effect on other areas such as roads, sewerage, power and jobs.
Do you have an opinion to share? Submit a Letter to the Editor with your name and suburb at Sunshine Coast News via: news@sunshinecoastnews.com.au
However, without having seen the report, USC Emeritus Professor Mike Hefferan commented that projecting a population that far in the future was a "hypothetical" exercise.
"If you can give a reasonable plan for five years out that's a start and anything other than that is hypothetical debate about how many people will be living here. It's hard to say," he said.
"In any case they (governments) have not got the dollars to be doing infrastructure that far out."
Professor Hefferan said building housing for an extra 50,000 people on top of projections would have to be done incrementally as "no government is going to roll out infrastructure for 50,000 people".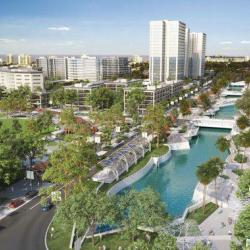 However, he said catering to a fast-growing population like the Coast, which had land limitations from mountains and flood-prone areas, would mean having to build up instead of out.
Professor Hefferan, whose expertise is regional development, said it was not feasible to keep expanding the urban footprint with more single-lot estates like Aura.
"Urban sprawl is an issue. You have to have density. People think that with density the lifestyle is not as good, but have those people been to New York and Paris? They're dense and they work.
"The answer is not urban sprawl. It's not going to work with single houses on a single lot."