Therese Fenwick never imagined while growing up in Noosa Junction that she would be writing the word "vintner" after her name on business cards and emails one day.
As co-owner of Heritage Estate Wines with her husband Robert, Therese is one of the driving forces behind innovative Granite Belt winemaking.
And it's no wonder she dazzles visitors with her enthusiasm as a host and passion for the industry – she comes from good community-minded stock.
Her father Len Daddow, now 87, owned Cooroy's Daddows Honda from 1966 to 2018, and was one of the pioneers of Noosa Arts Theatre (where Therese worked behind the scenes as volunteer sound engineer from 2005-2013).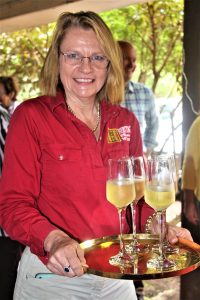 He was one of the "fathers of AFL" on the Sunshine Coast, a Noosa Tigers co-founder 50 years ago, life member, patron and president for many years.
Therese remembers the hours spent as a youngster picking up sticks and stones on then newly developed grounds at Coolum, Cooroy and Noosa, ready for the day's matches.
Her mother Thelma Daddow, a past president of the Quota Club of Noosa, helped plan and establish Carramar aged care facility when a group of community members realised in 1974 that many Noosa retirees had no family close by.
The "people-person" skills certainly rubbed off on Therese and were nurtured close to home in the early 1980s.
"I worked for Noosa Resort Corp that put Noosa on the map," Therese said.
"The fun part of the job was the travel agent famils that we 'had to host' in local restaurants like Angels and Barry's on the Beach."
Local journalists supporting local people. Help keep independent and fair Sunshine Coast news coming by subscribing to our free daily news feed. All it requires is your name and email. See SUBSCRIBE at the top of this article. 
With a childhood so entrenched in Noosa, Therese's face still lights up at any mention of the Sunshine Coast.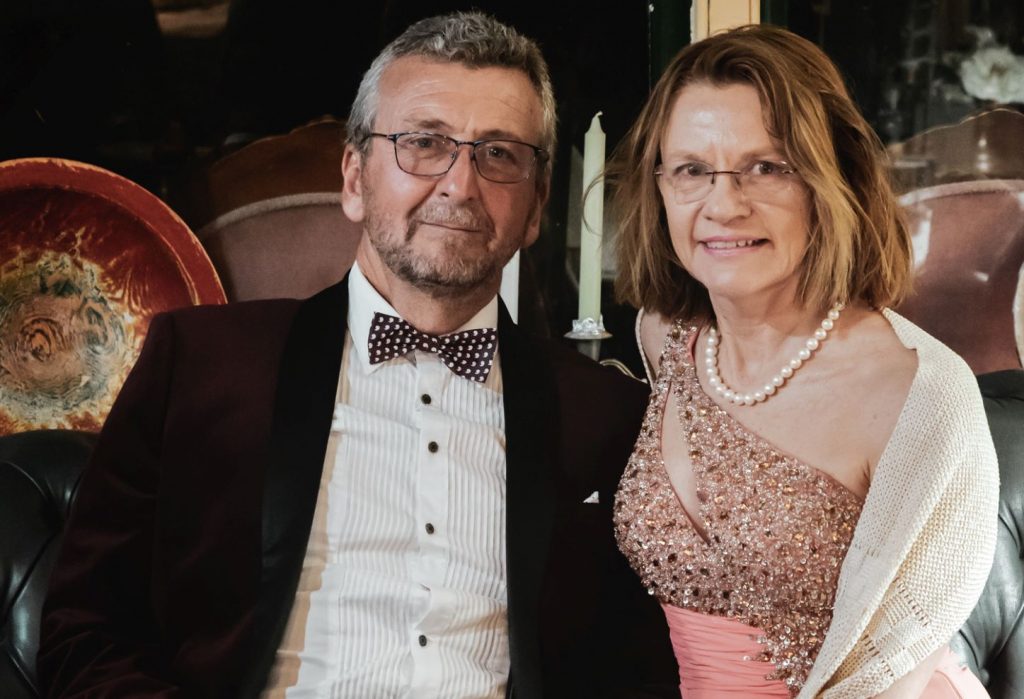 "Coming home to Noosa is a lifelong habit that might just have been broken by the Granite Belt," Therese admitted.
"I'm not sure many people understand what it's like to be in a business that encompasses nearly every angle of life, but this gig on the Granite Belt is certainly all-consuming and deeply satisfying, and challenging."
Her love affair with wine began when she was an au pair on a respected French vineyard and winery for 12 months at the end of her Clayfield College boarding school days.
From there, Therese began creating a significant collection of beautiful Australian wines – some of which are still cellared and brought out on special occasions.
Today, she revels in meeting those dropping by the Cottonvale cellar door and talking all things wine.
Meanwhile, husband Robert was raised on avocado, citrus and pineapple farms in Woombye.
Robert's paternal grandfather and two great uncles built fledgling Cooroy, including the town hall and most of the shops, in the early 1900s and Fenwick Park in the town is named after them.
Later, Robert put his energies into science and, more specifically, geographic information system (GIS) mapping. GIS mapping allows businesspeople to better visualise geographical patterns and data to be more strategic in areas such as sales routes and franchise territories.
But Robert has always embraced a love of wine and in the end, it was the shiraz that drew the couple to the Granite Belt and Heritage Estate Wines, which has enjoyed a 5 Red Star winery rating in the James Halliday Wine Companion from 2016-2021.
"It  was pretty much Robert's decision to take this lifestyle on," Therese said.
"It was  his shaking of his head constantly, saying: 'It's just that shiraz. I just can't get past that shiraz'.
"This was the basis of our choosing this property, with our toys in the box of farming, manufacturing, entertainment, accommodation and hospitality."
The "heritage" side of the winery also played its part in the Fenwicks' decision to buy the property "three years and four vintages" ago on  March 4, 2019.
The main building was set up in 1946 as an apple store and was converted in the late 1980s by former owners Bryce and Paddy Kassulke.
Because of the cool climate and high altitude of the vineyard (at 960m above sea level), the Kassulkes started planting the largely white varieties, including fiano, in 1987, and opened the winery on Easter Saturday 1992.
Apart from old curiosities, the rail and war memorabilia (including gas masks) around the walls, the main dining room boasts a steel beam from Middlesborough in England that was surplus to building needs for the Sydney Harbour Bridge and carpet from the old Grand Hotel in Southport on the Gold Coast.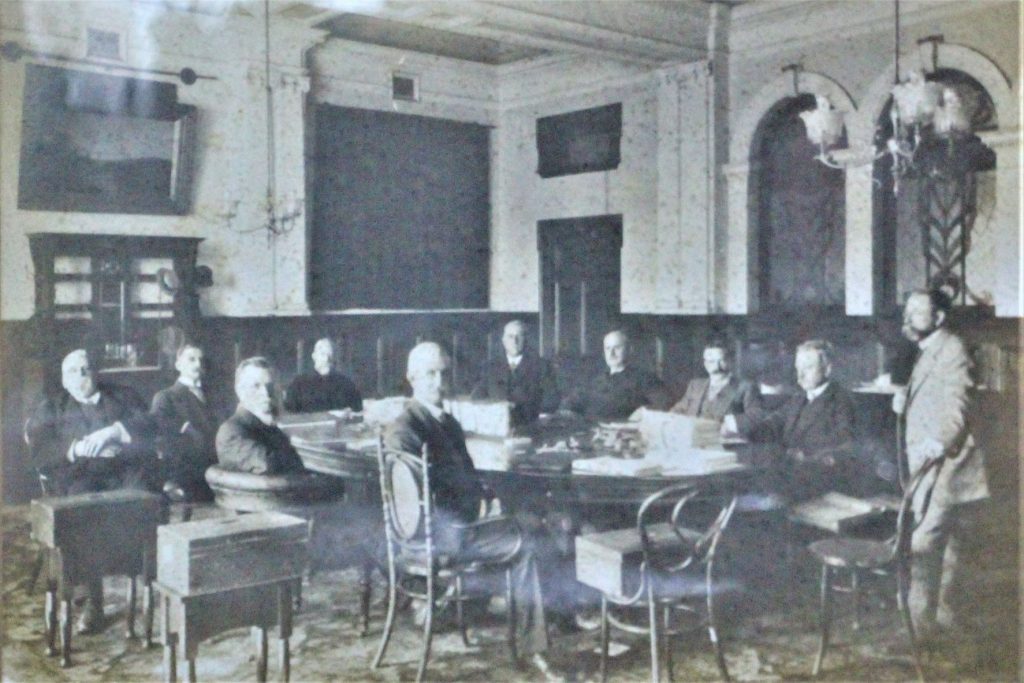 Next to the fireplace is a beautiful antique table seen in an historic photo on a wall of the Queensland Executive Council in 1914.
Love nostalgia? So do we. Help keep more great Coast memories alive by subscribing to our free daily news feed. Go to Subscribe at the top of this story and add your name and email. It's that simple.
This was the first parliamentary table used from 1859 when Queen Victoria declared Queensland its own state.
The table, with secret voting holes and buttons built in, was bought in the premier Wayne Goss era (early 1990s) in a clean-out of surplus furniture and Therese jokes it "probably cost former owner Bryce quite a few bottles of wine".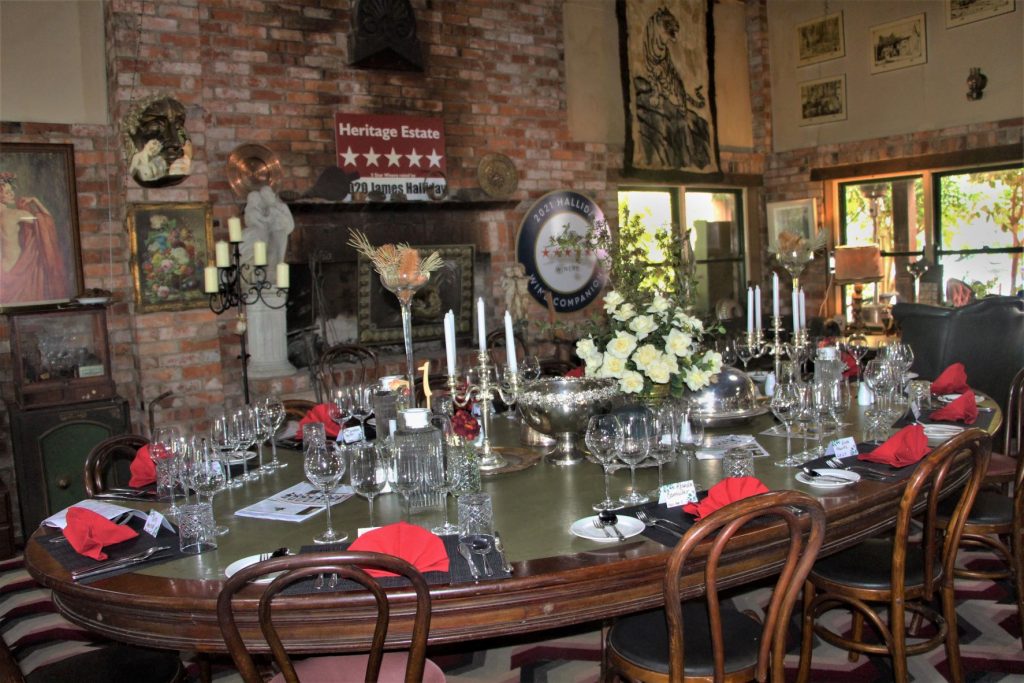 As Heritage Estate Wines celebrates 30 years this year, Robert enjoys nothing more than getting his hands dirty, literally, in the winemaking process from planting to production, assisting winemaker and viticulturist Stephen Oliver, and chatting with everyone from wine connoisseurs to novices behind the cellar door bar.
And Therese is in her element with the winery's Vine + Dine Journey (held five days a week,  Thursday to Monday, featuring five dishes and seven wines) and the monthly 5-Senses Black Tie degustation dinners when she has the chance to don beautiful ball gowns and mingle with interesting and distinguished guests from around Australia.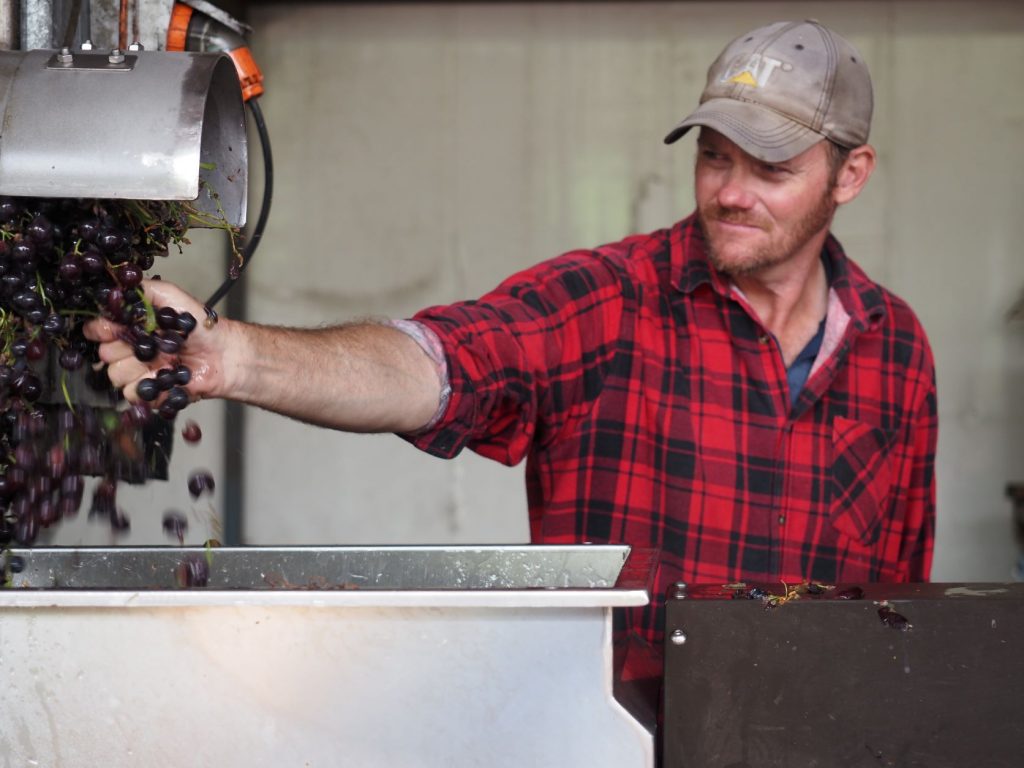 Both events showcase those shiraz styles that first won over the Fenwicks and the paddock-to-plate experiences featuring the culinary skills of resident international chef Chris Howard.
The cellar door and these regular events bring opportunities for Therese to vicariously  travel home to her roots: "I have friends and family in Noosa who will always be close, and I'm so pleased that so many friends have visited us in the winery."
VINE + DINE JOURNEY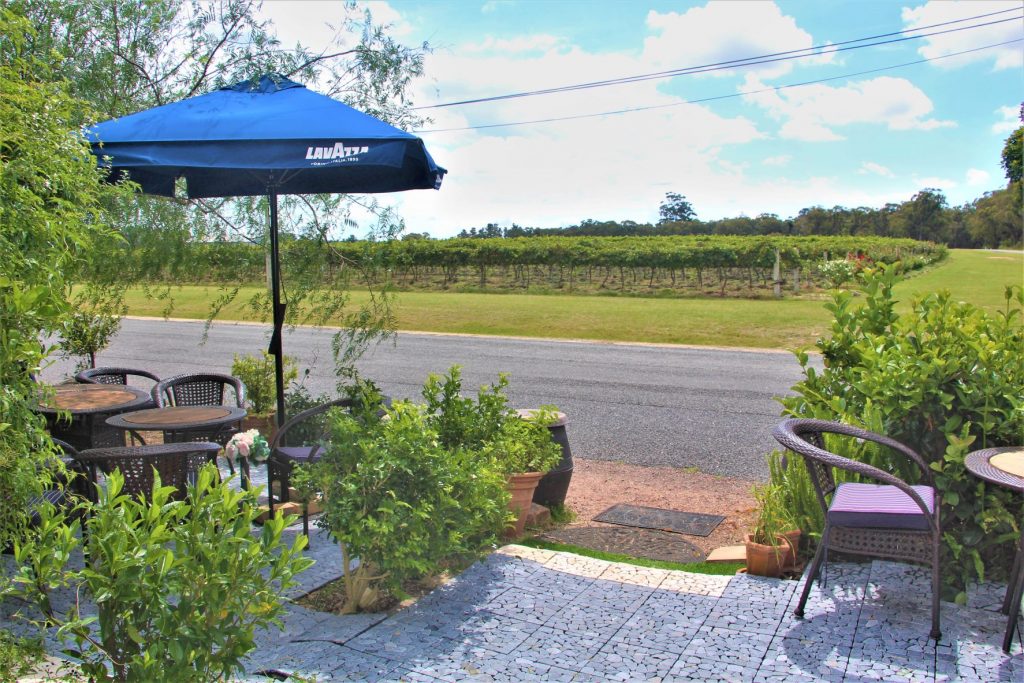 A group of travel media from around Australia recently indulged in the Vine + Dine Journey that started in the vineyard with a glass of Sparkling Chardonnay Pinot Noir in hand (the Charmat secondary fermentation in tank under pressure adds to the tiny bubbles and creamy texture).
As a drone scared off the Indian myna birds and currawongs, participants learned about the processes of growing fine wine grapes in the High Country.
We smelled the perfume of the roses at the end of the rows, and discovered that as well as acting as an early warning system for the winegrower (because their fragrance attracts insects such as aphids before they can make their way to the fruit), their thorns also prevented horses and oxen – used to plough the vineyards in the old days – from cutting corners and damaging the vines.
Help keep fair, fast and FREE Sunshine Coast News coming by signing up for our free Daily News Feed: Please go to SUBSCRIBE at top of this article to register.
Back inside for the food and wine pairing, Therese added a little French pizzazz as she explained the five-dish lunch and full flight of wines.
Cellars doors and marketing manager Carly Milnthorpe enthralled the group with personal accounts of ghostly encounters in the winery.
And we were introduced to the Vinofood range of chutneys, jams, relishes and even rocky road chocolate sauce – all infused with wines.
The range was born during Covid lockdowns and restrictions and is a collaboration between the winery and another food business in Denmark, Western Australia.
The best part, of course, is the taste test.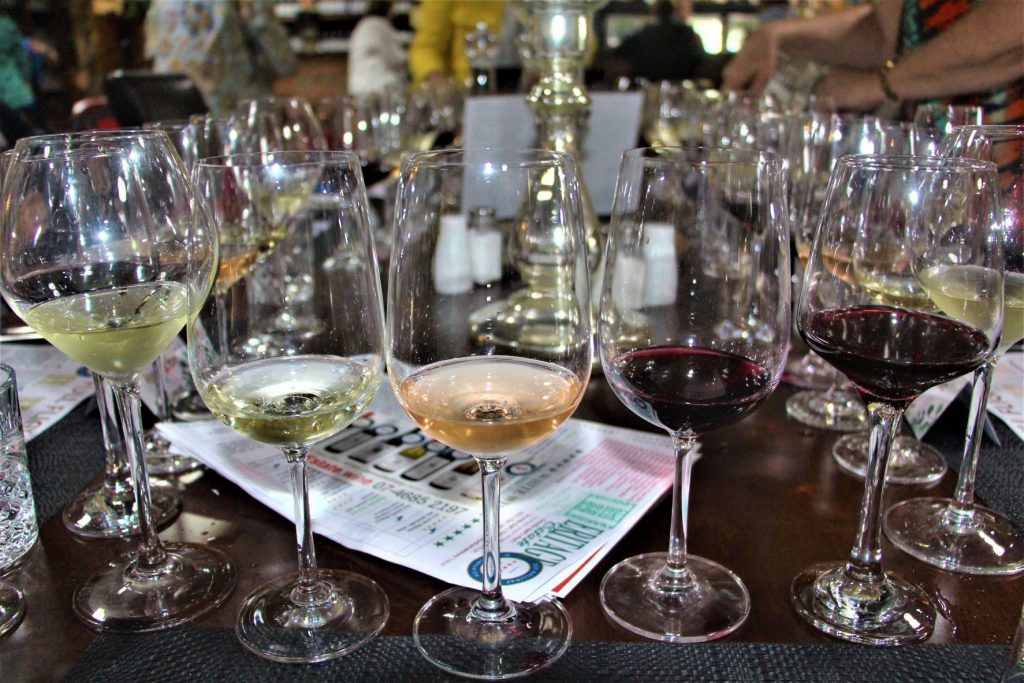 The Fiano 2020 is paired with the amuse-bouche: tostada roasted capsicum and anchovy with ginger, chilli tomato quetta and tapenade). Therese says the complex white wine needs a complex first dish that is sweet, sour, salty and chilli to explode in the mouth.
The Verdelho 2021 goes with the crème of roasted, caramelised, spiced traditional pumpkin soup and sourdough – The distinctive clean, crisp dry white with a fruity aroma cuts through the creaminess of the soup for a happy marriage of flavours.
The Pinot Gris 2021 is matched with Swiss brown mushrooms, roasted pulled, smoked chicken and leek on a Vinofood Spiced Orange and Riesling-enhanced sweet potato with grilled pecorino. "One of the reasons cool-climate wines are so special is they still have natural acids in the wine when we crush," Therese says. "So we don't add artificial, synthetic acids as most wineries do. This is probably our most aromatic wine. It has got strawberries, guava and grapefruit and it's therefore going to go with something earthy because it is a red wine. Mushrooms are a bit earthy, the smoked chicken is a little bit lighter because it's a light red wine. And sitting on a bed of our Vinofood riesling and orange will give it sweetness to enhance the sweetness of the pinot gris."
The Shiraz Mataro 2020 goes hand in hand with fresh Mooloolaba squid filled with black rice and beef on a rich marinara sauce with roasted heirloom tomatoes and butterfly Mooloolaba prawns. "Who said we can't do seafood here in inland Queensland?" Therese says. "It's out beef and reef equivalent. We call it Mountain Meets Sea and that's to enhance that lovely Shiraz Mataro.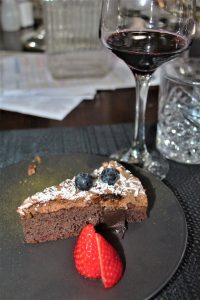 The Sagrantino 2020 is chosen for the Sbriciolata torta: chocolate and coffee layered cake with Moonshine Madness internal bombs and Vinofood Mandarin, Chilli Chocolate and Shiraz. "The Sagrantino is a big bold red. A beautiful red wine," Therese says. "The Sagrantino grape is from Umbria in Italy originally. It is classed as the most  tannic  grape in the world. So, it is full of flavour. Lots of spices and nutmeg-y. It goes great with your big rich crumbly cheeses and your steak. When you see it paired with your dessert, you kind of think, 'Hang on a sec. What's going on here?'. Trust me, it works. It's a sensation."
Moonshine Madness. "It starts off as red wine, we double ferment it and it becomes a bit like Tia Maria. We brew up coffee. We add dark chocolate. So, it smells like coffee, it tastes like dark chocolate and because it's red wine, it's good for you. It can last for 16 years. Dribbling it on ice cream is a fabulous way to whip up something really quick (for dessert) but it is totally wicked for the end of a meal as well because it sort of sets the tone: This is the culmination."
The Vine + Dine with five dishes and seven wines changes seasonally and is available for bookings from Thursdays to Mondays each week. Cost is about $60 a head (depending on wines chosen)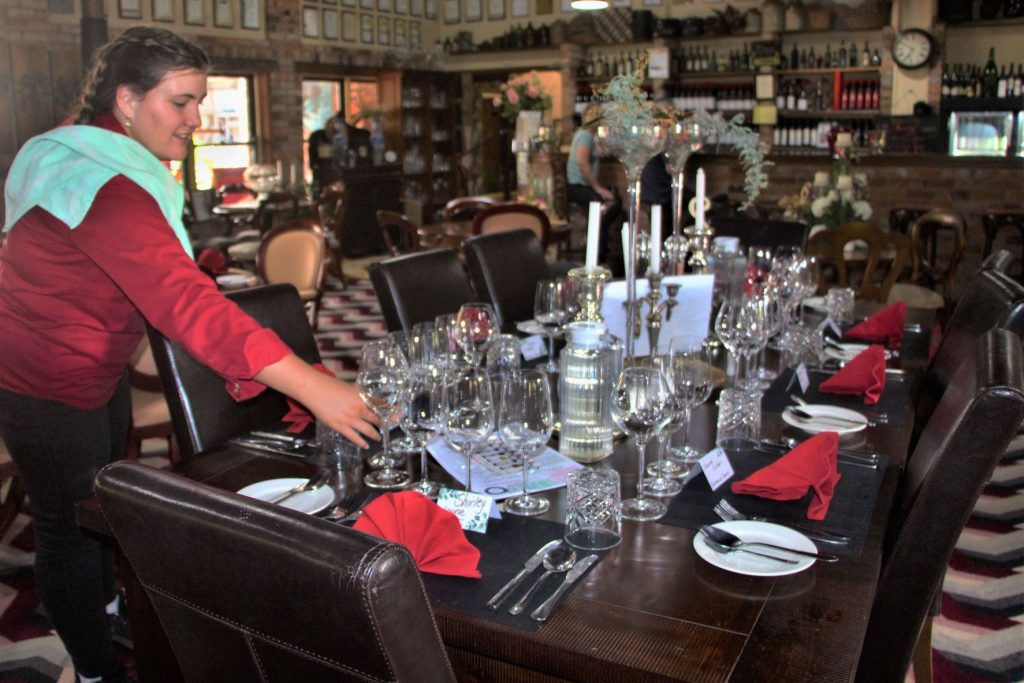 5 SENSES BLACK TIE
You'll feel like you've truly "arrived" from the moment your name is announced and you travel down the winery staircase to be greeted by chandeliers, crystal glassware, white tablecloths, twinkling candles and silverware.
In what is considered an Australian-first degustation event, you'll taste the creations of former Toowoomba lad Chris Howard, who returned to Queensland during Covid after falling in love in Spain and running his own restaurant for 20 years.
Settle in with a backdrop of remastered, classic movies – perhaps The King and I or Breakfast at Tiffany's – you'll see on the big screen.
Hear the live String Quartet and lively discussions of food and wine.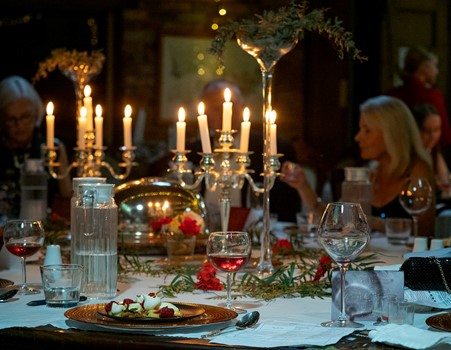 Use the Nez du Vin kit to help you align the correct aromas as you deeply smell the Halliday 5 Star wines.
And the touch of class will be everywhere as men don their best suits and women are resplendent in all their lace and finery.
The 5 Senses Black Tie is held on the second Saturday of every month and costs $190 a head.
Visit the website for more.