This long weekend will see our volunteer surf lifesavers raise the red and yellow flags for the last time for the 2021-22 patrol season.
And what a season it has been.
Our volunteers have looked after almost 1.2 million visitors to Coast beaches over the course of the season.
So far, 348 people have been rescued and 2,728 first aid treatments have been administered.
Our 3000 lifesavers across 14 clubs also have conducted more than 21,000 preventative actions, which is when they consider swimmers could be at risk and intervene to ensure their safety, such as directing them closer to shore, or bringing them in between the flags.
Across the state, volunteer lifesavers have put in a massive 270,000 patrol hours, which is an extraordinary contribution to our community and we can't thank them enough.
After the flags are taken down at the end of Monday's Labour Day holiday, it will be time for a well-deserved break for lifesavers over the winter months.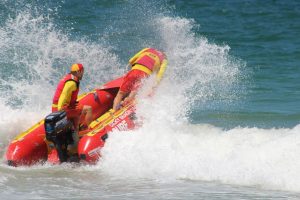 Lifeguard services will step up to seven days per week at key locations until the new season starts in September.
However, there's still another long weekend ahead of us and the ocean is set to pose some challenges.
We expect people to be out taking advantage of a beach break before the weather really cools off for winter.
We'll see surf in the 1m range, maybe increasing a touch late on Sunday into Monday, and predominately from the east. Gusty easterly winds are expected to make conditions messy on Saturday.
The winds are due to drop off Sunday afternoon into Monday morning and pick up again as they swing more south-easterly Monday afternoon.
Local journalists supporting local people. Help keep independent and fair Sunshine Coast news coming by subscribing to our free daily news feed. All it requires is your name and email. See SUBSCRIBE at the top of this article 
We will have low tides just after lunch into the early afternoon, so the rips will be at their strongest about two hours either side of midday.
There is a high chance of showers, though only scattered, and fingers crossed for a decent amount of sunshine in between.
Enjoy your weekend and if you're heading to the beach make sure you only swim between the red and yellow flags and say a big thank-you to our volunteer lifesavers!
Aaron Purchase is Surf Life Saving Queensland's regional manager for the Sunshine Coast. His column in sunshinecoastnews.com.au keeps the community informed of what's happening on the beach and offers tips on how to stay safe.