A controversial plan to build a series of luxury private cabins and glamping structures in a pristine national park is facing growing public opposition.
Designs are being finalised for expensive "eco" lodges, expected to cost hundreds of dollars per night, at a number of sites within Great Sandy National Park, north of Noosa.
One of the proposed locations is the untouched 'hidden jewel' Poona Lake, which is a similarly unique type of lake to the world-famous Lake McKenzie on Fraser Island.
The other site is on the stunning headland of Double Island Point (pictured above) which is out of bounds to campers who must erect their tents some 11km south at Little Freshwater Creek.
At both locations the Queensland Government's Tourism Department is allowing a private operator to build and maintain 10 luxury cabins exclusively for high-paying visitors.
Another three sites along the 102km Cooloola Great Walk trail have been earmarked for private leasing, including glamping or lodges in the upper reaches of the Noosa River's everglades.
The plan for high-end accommodation in the park is facing growing public outrage at sensitive environments being opened to private operators for commercial gain.
There are also fears that handing over exclusive access to sections will erode the access rights of campers and trail users, especially at popular areas like Double Island Point.
Do you have an opinion to share? Submit a Letter to the Editor with your name and suburb at Sunshine Coast News via: news@sunshinecoastnews.com.au
Long-time defenders of Great Sandy National Park and Fraser Island have launched a petition and warned that some of the most pristine wildernesses in the world will be impacted both environmentally and socially.
The plan is being pushed by the State Tourism Department and Sunshine Coast News understands it has horrified rangers who work for Queensland Parks and Wildlife.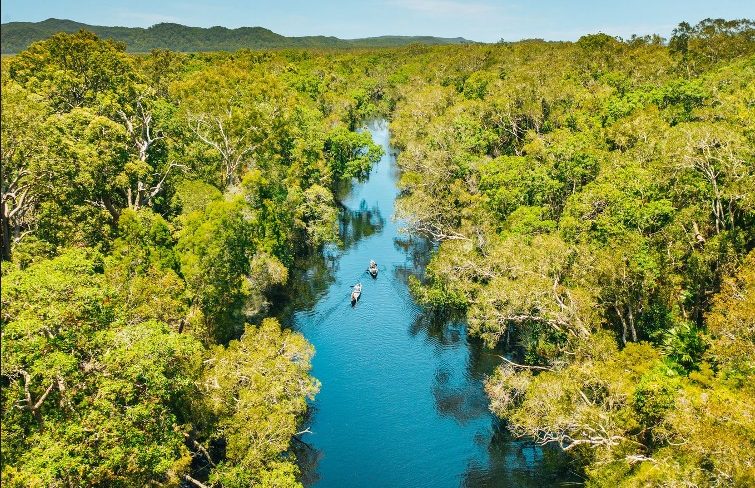 Lake Poona has become the flashpoint in the debate. It is an unspoiled perched lake which can only be accessed on foot along Cooloola's rainforest walks and is popular with campers, bushwalkers and trailrunners.
The lake has powdery white sandy beaches, tea-coloured water and is similar in its formation to the stunning Lake McKenzie on Fraser Island.
The State Government is progressing its plan to lease bushland next to the lake to a private operator which would require clearing native trees to build 10 luxury cabins.
Trees would also have to be cleared to build access roads and walking tracks.
Conservationist Mike West, who campaigned to stop logging on Fraser Island in the 1970s, said that apart from the destruction of native vegetation, he was concerned the cabins would be an eyesore.
"The main thing is their appearance. If you go to the lake now, there is nothing there but nature, it looks untouched," he said.
"And to have 10 cabins in a row right in your face on stilts 60m up the hill … you'll look up the hill and see beautiful forests and then these cabins offending your eyes."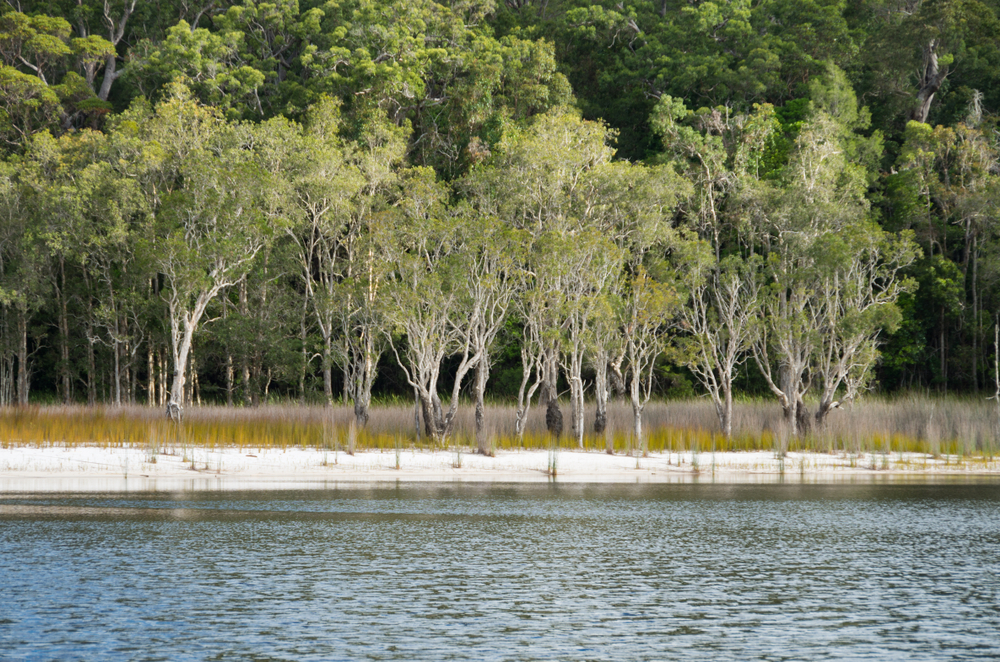 A spokesperson for the Tourism Department said the State Government was working with the proponent CABN, in establishing low-impact, best practice ecotourism facilities and walking experiences.
"CABN is currently finalising designs and is required to seek necessary State Government environmental and development approvals."
While no price has been set, the South Australian-based business already operates in SA and Victoria with prices ranging from $220 to $700 per night.
Their lodges typically include a queen or king bed, kitchen with fridge, gas cooktop, sink and bathroom with shower and eco-friendly toilet.
CABN owner Michael Lamprell said the ecotourism project was receiving positive support in the Fraser Coast region from local businesses and traders who were "excited about what it will bring to the community", and also from hikers.
Mr Lamprell said CABN was working closely with agencies and the traditional owners the Kabi Kabi to ensure the least environmental impact.
"What we are focused on is making sure we are adhering to what we need to environmentally and the legislation," he said.
"If we can find any way to adjust the site that will give better outcomes to the environment and better outcomes to the community and the walk then of course we will."
The new CABNs are advertised to be opening in 2023 but Mr Lamprell said that may change and as yet nothing had been finalised regarding the cabins or glamping.
Want to stay on top of local happenings? Get stories direct to your inbox by subscribing to our free daily news feed. All it requires is your name and email. See SUBSCRIBE at the top of this article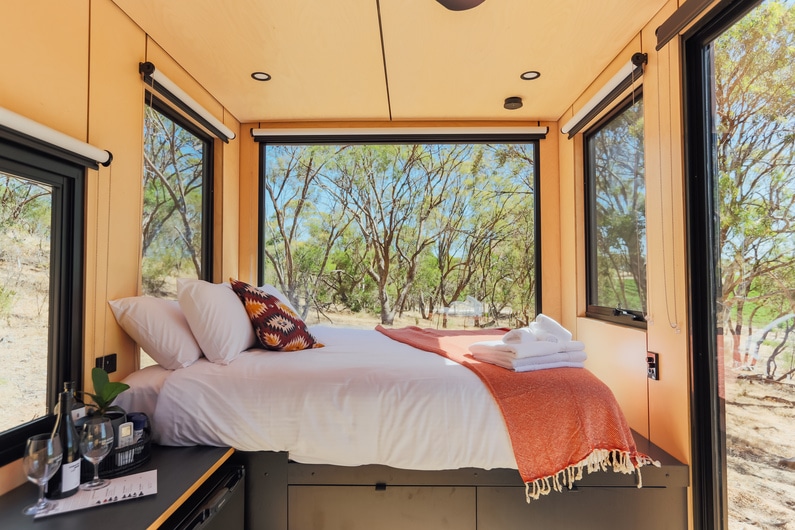 Griffith University's Emeritus Professor Ralf Buckley, International Chair in Ecotourism Research, said one of the "worst aspects" of the plan was that it would cater to the "rich" rather than improve public facilities such as camping amenities and trails.
"From a social-economic perspective, this proposal to build luxury lodges inside a national park only benefits the owners of the new lodges, it doesn't benefit the public or the park," he said.
"It's parasitising a public resource. It doesn't make any sense from a tourism perspective."
Professor Buckley has undertaken extensive research on private development in protected environmental areas and said it was not a growing international trend.
Globally, there are less than 200 cases of private tourist developments inside protected areas of any type.
He said there were many examples around the world where attempts to make money from private tourism in parks had failed, including safari lodges in South Africa's Kruger National Park and private cabins on New Zealand's Routeburn walking track.
"We have looked decade by decade at the data to see if there is a general increase and the answer is 'No'," said Professor Buckley.
"The most effective way to use parks to boost tourism is to improve the facilities for the principal activities for which tourists visit parks: namely, recreational activities such as hiking and enjoyment of scenery and wildlife."
Another of Professor Buckley's papers showed there was far more to be gained economically through the improved mental health of visitors to parks — some $140 billion per annum in Australia.
"The economy gains much more from parks if many people can visit for free, than if a few rich people pay to stay," he said.
Rainbow Beach resident Greg Wood, from Protect Our Parks, said allowing luxury cabins in the parks was a "slippery slope".
"It's not a great direction to take. It's such a rare and limited resource and it's being predated upon exactly because of its rarity," he said.
Mr Wood said the State Government was breaking the "cardinal principal" of national parks which was to protect biodiversity and ecology.
"The ALP campaigned with a promise to repeal the Newman Government's legislation (opening national parks for commercial development) and then came out with a plan to roll out eco-tourism," he said.
"It's being run by Queensland Tourism and they are using Queensland parks as an asset base for their tourism."