A 1950s beach house with its original features lovingly preserved has achieved double the price it was just two years ago during a huge auction extravaganza in Caloundra.
The two-bedroom highset home at 8 Rose Street, Shelly Beach, went under the hammer for $1.810 million. In December 2019 it sold for $855,000.
Getting the family out of Brisbane for seaside getaways must have been on the minds of the two bidders who fiercely went head-to-head.
The other six registered buyers had no hope of getting a look in once the Brisbane pair warmed up.
The bidding opened at $1.2 million, soared quickly to the $1.7 million when it was called 'on market'. Then it was on. With $5,000 bids the bidders crept quickly up and up.
The fibro shack featured an original 50s kitchen with multi-coloured pastel cupboard doors, a stand alone pedestal sink in the bathroom and polished wood floors.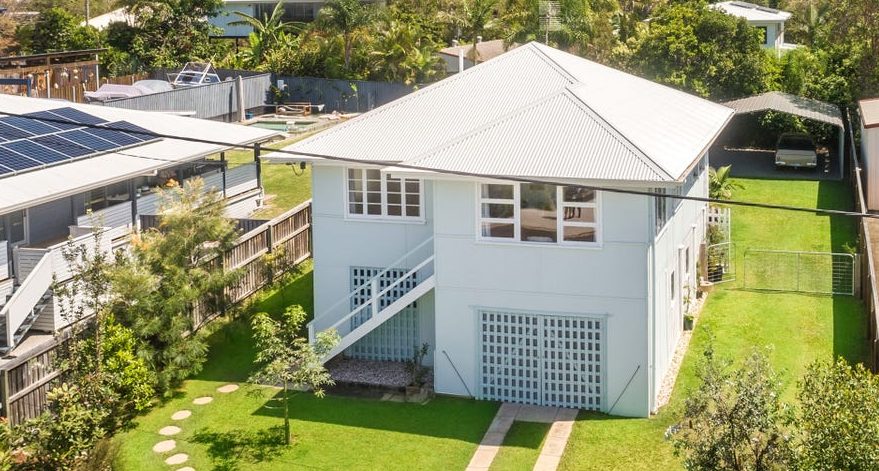 The bidding was an example of the intense action at Thursday's Ray White Caloundra auctions. People wanted to buy and there was no way several of them were going to miss out on owning their piece of coastal paradise.
Like this story? Get more just like it direct to your inbox by subscribing to our free daily news feed: Go to SUBSCRIBE at top of this article to register . All it requires is your name and email. See SUBSCRIBE at the top of this article 
 "They wanted to buy it; that's why we do auctions," Ray White Caloundra principal and agent Andrew Garland said.
"That's the utopian auction where the property is called on the market where there are people wanting to buy it and they fight for it."
Fierce unit battle sets a record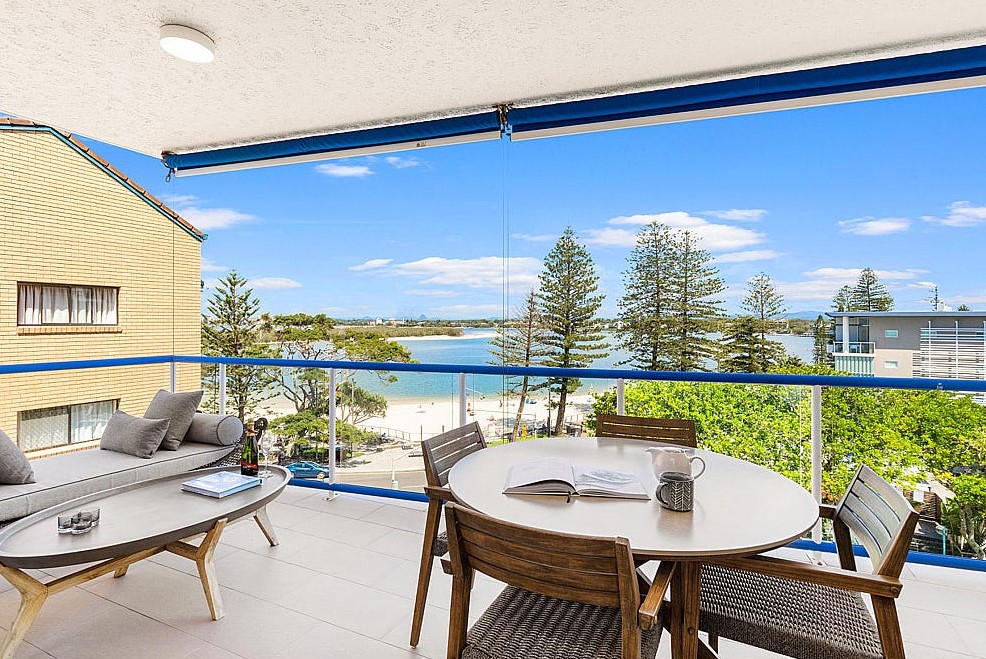 No matter what the challenge, two Brisbane buyers wanted the beautifully renovated Unit 7 at 63 Minchinton Street (above). It's located in town and has an iconic Caloundra outlook.
Their furious bidding drove the price up and well over the reserve by $122,000 to finally sell under the hammer at $1.352 million, setting a record for the complex.
"We have absolutely over the moon sellers and buyers," Ray White agent Carola Drexel said.
While there were six registered bidders when it opened at $1.1 million, that number was quickly narrowed down, Ms Drexel said.
It was then between two bidders, on the phone and "going brick by brick", said co-listing agent Natascha Drexel-Munro.
And the result must be close to a bidding auction record. Fifty-six bids came in thick and fast. Many times they totalled just a $1000 difference between each one.
The attraction of this place was its unique character. Ms Drexel said the small complex has seven units, a lift, was a matter of few steps to the sand and had a stunning rooftop with a view over Pumicestone Passage.
The two-bedroom apartment was completely renovated with the help of an interior decorator. "It was a first-class renovation in a first-class position," Ms Drexel-Munro added.
Deck cleared for Grigor Street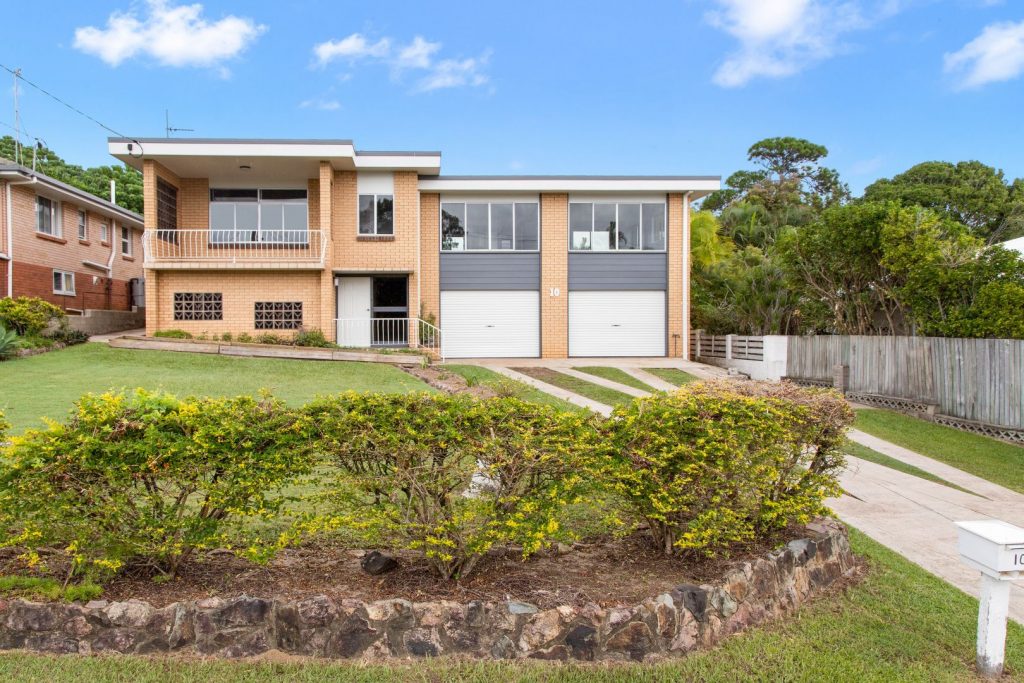 Number 10 Grigor Street in Moffat Beach set the mood for the morning auction. Bidding for the four-bedroom home opened at an adamant $2 million.
"It was a strong opening bid," Mr Garland said. "It sort of cleared the decks a little bit."
The four-bedroom home attracted eight registered bidders. But it was the opening man from Mons with a beachside suburb address is in his sights who wasn't going to be deterred.
One hopeful offered $2.001 million. Another offered $2.005 million but when the first bidder returned after some negotiation, with an offer $2.065 million, the hammer came down.
Mr Garland said Thursday's auction result was a solid outcome in the current market with all properties attracting strong buyer interest.
"Really it comes down to the preparedness of the sellers to meet the market today," he added.
Auction Results
78 QUEEN STREET, CALOUNDRA
SOLD UNDER THE HAMMER FOR $670,000
3 Bed, 1 Bath, 1 Car, Agent – Laura Bailey
7/63 MINCHINTON STREET, CALOUNDRA
SOLD UNDER THE HAMMER FOR $1.352m
2 Bed, 2 Bath, 2 Car, Agent – Natascha Drexel-Munro & Carola Drexel
1/9 HUME PARADE, CURRUMUNDI
SOLD UNDER THE HAMMER FOR $1.210m
2 Bed, 2 Bath, 1 Car, Agent – Andrew Garland
3 BRIER COURT, GOLDEN BEACH
PASSED IN AT $900,000
2 Bed, 2 Bath, 4 Car, Agent – Ray Daniels & Linda Daniels
9 MORETON PARADE, KINGS BEACH
PASSED IN AT $1.9m
6 Bed, 2 Bath, 2 Car, Agent – Natascha Drexel-Munro & Carola Drexel
10 GRIGOR STREET, MOFFAT BEACH
SOLD UNDER THE HAMMER FOR $2.065m
4 Bed, 2 Bath, 3 Car, Agent – Andrew Garland
66 RODERICK STREET, MOFFAT BEACH
SOLD UNDER THE HAMMER FOR $1.860m
4 Bed, 3 Bath, 2 Car, Agent – Andrew Garland
3 DELISSER PLACE, PELICAN WATERS     
PASSED IN AT $1.650m
5 Bed, 3 Bath, 4 Car, Agent – Carol Carr
8 ROSE STREET, SHELLY BEACH
SOLD UNDER THE HAMMER FOR $1.810m
2 Bed, 1 Bath, 3 Car, Agent – Andrew Garland
14 KARUNDA STREET, WURTULLA
PASSED IN
4 Bed, 2 Bath, 2 Car, Agent – Carol Carr