A community that prides itself on being one of the most artistic in Australia is fighting to stop the council from shutting down its live music scene.
Maleny faces losing its popular family friendly music nights, which are held in the eclectic Maleny Lane outdoor food court twice a week.
The Sunshine Coast Council has set a May 6 deadline to cease the Monday night FrontUp Chalkboard showcase and Friday night live music with dinner because of noise complaints.
Thousands of people have signed a petition and hundreds gathered on Monday to protest the directive, calling on the community to 'Help Save Live Music in Maleny'.
"I would be devastated if this event was shut down," said FrontUp Chalkboard audience member and sometime performer Mandy Lupton.
"This is the nightlife and social life of Maleny. There are few events on of this ilk.
"It's where we get to eat and meet friends. There's amazing diversity.
"This event at the Lane is where the community comes together and shows how much the arts are valued in Maleny.
"It's a Mecca for artists and musicians and poets."
Ms Lupton has also performed at the weekly talent night as a member of the local Mouth Orchestra choir.
"They've had performances from preschool age to elderly, all different styles of music, blues, jazz, folk and rock," she said.
"One guy was a musicologist who collects flutes from around the world and he took us on a musical journey through countries like China and Peru."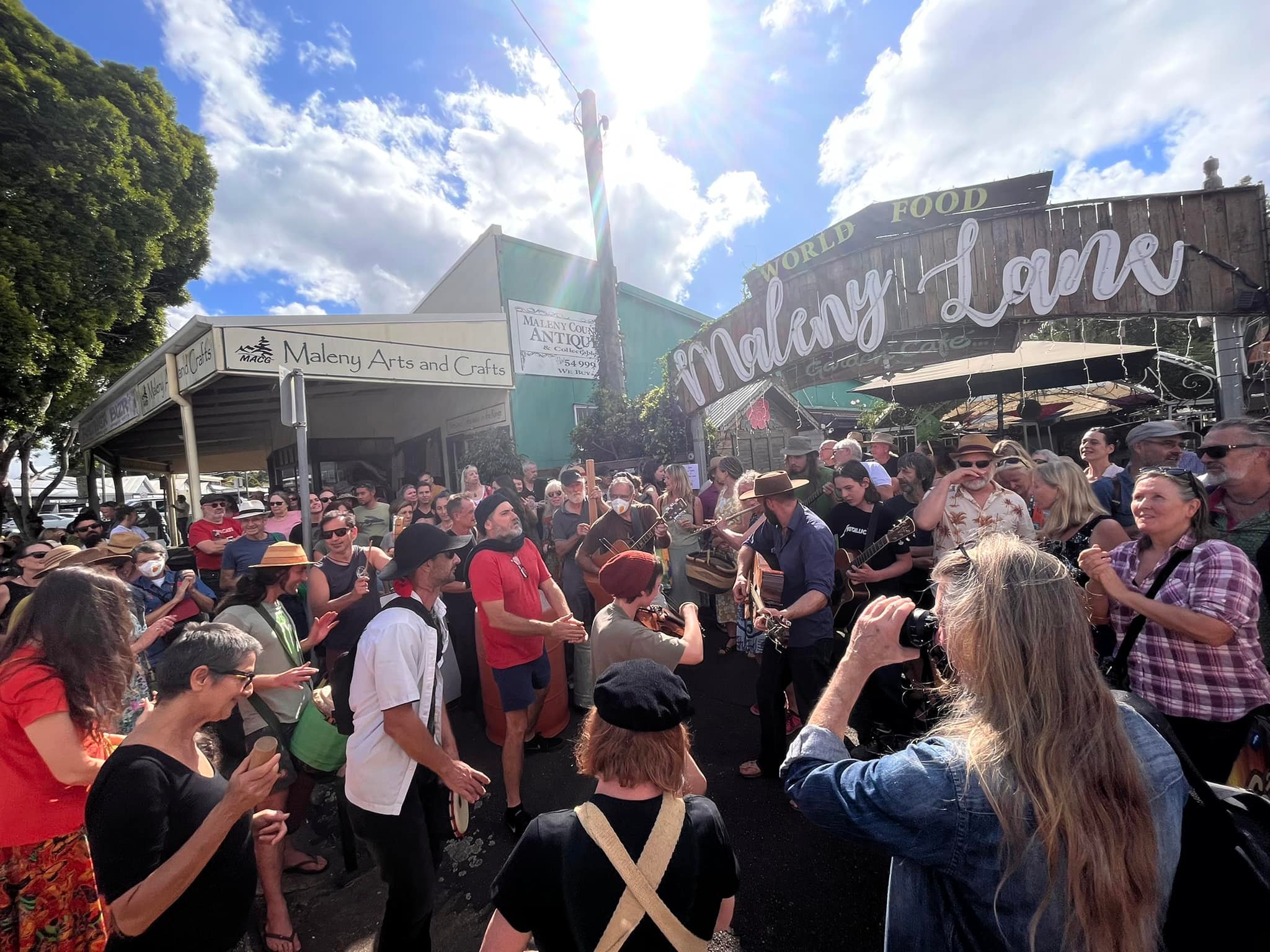 FrontUp Chalkboard organiser Steve McLeish said Maleny needed somewhere for artists to showcase their talents and where the community could gather and be entertained.
While he was eager to work with council to resolve the current problem, Mr McLeish said it had made him realise Maleny needed an arts precinct in the heart of town.
"Maleny deserves this. We're a bunch of artists. The demographics have been changing and they're trying to change it but Maleny is a town of artists and the hills are full of musos and painters and poets.
"More than anywhere in Australia they deserve an arts precinct."
Mr McLeish said the FrontUp Chalkboard night had been happening for a couple of years now and included eight to 10 acts of about ten minutes each.
Budding talents through to seasoned musicians entertain crowds of between 100 and 150 people.
The Friday night session includes a live band from 5.30pm to 9pm.
But Mr McLeish said a neighbouring restaurant raised a noise complaint with council about the Friday nights. It's understood the complainant wanted to start playing CDs as background ambience for the restaurant's diners.
(Residents living behind the venue had raised complaints previously which the organisers addressed by installing sound-proofing walls.)
Mr McLeish said after the latest complaint, the council opted to shut down both music nights in Maleny Lane.
Help keep fair, fast and FREE Sunshine Coast News coming by signing up for our free Daily News Feed: Please go to SUBSCRIBE at top of this article to register.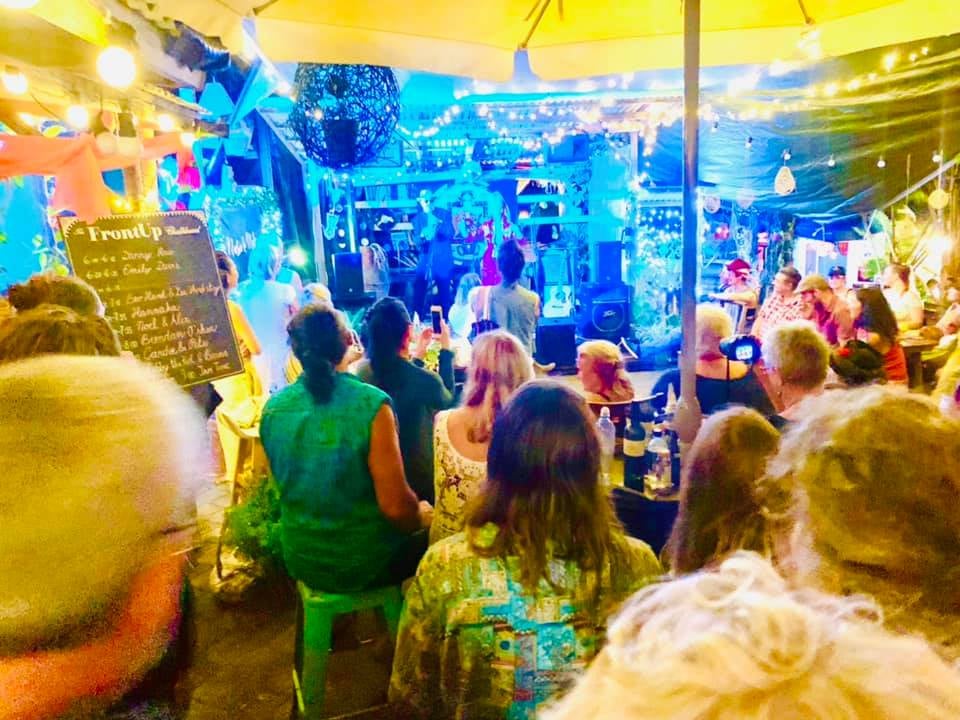 A council spokesperson said "several complaints" had been received from local residents about the noise from Maleny Lane music events.
"Council is currently investigating the lawfulness of these events and will work with the landowner/operator to achieve compliance.
"Council conducts such investigations in a manner that is objective, fair and impartial, in accordance with the law, and respectful of individuals."
Mr McLeish said the council had given them three options:
Stop playing live music entirely
Move to another venue such as the Maleny Community Centre which Mr McLeish said was "inappropriate"
Lodge an application with the council to establish a 'nightclub' which Mr McLeish said was "unrealistic".
"It would cost tens of thousands of dollars for a nightclub application and even then we wouldn't get it. Can you imagine anyone wanting a nightclub in Maleny," he said.
"They would be just setting us up to fail."
Mr McLeish said for now he had engaged a solicitor to continue talks with council in the hope of lifting the May 6 deadline.
In the medium-term, if the music nights were allowed to continue, the plan was to install more sound-proofing at the venue, such as a sound shell.
The longer-term vision was to develop an arts precinct in the middle of Maleny, with a team of experts such as an architect, engineer, grants writer and others already coming together to pursue the project.
"It could create amazing change," said Mr McLeish.
"We could become a tourist Mecca if we can put something like this together."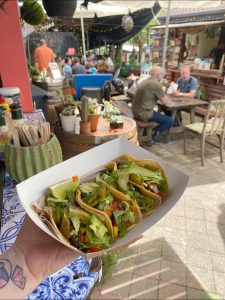 Mr McLeish, who has lived in Maleny for 40 years and co-ordinated events on the Coast during that period, said it would be easy for him to walk away and slip into retirement.
"But I'm not going to stop fighting for this. It's what we want so why can't we have it?"
Ms Lupton, who launched the petition on Change.org, said without Maleny Lane, locals would have to travel down the range to enjoy live music.
She said the council's clampdown after one restaurant's complaint was "totally unfair" and not in keeping with the community spirit.
"None of us see the Lane as a nightclub. FrontUp Chalkboard doesn't even serve alcohol. But the council sees a nightclub as an alternative solution."