A woman with no arms who has developed her own unique style of swimming will tackle her longest challenge yet when she takes part in a life-changing charity event.
Kerry-Lee Gockel, 38, dubbed 'The Wingless Warrior', will be among the participants at the annual Island Charity Swim — a 10km ocean swim around Old Woman Island.
The event raises money for students who attend Sunshine Coast Special Schools but has struggled to garner support in recent years because of COVID.
Kerry-Lee said the charity swim on May 7 was a personal challenge, a chance to raise money for a good cause and an opportunity to inspire the youngsters.
Although she was born without arms, Kerry-Lee said she has never let that stop her from living a full life.
"If the kids can see that just because they're different and they have challenges, that doesn't mean they can't do amazing things," she said.
Kerry-Lee swims via a freestyle kick, with flippers, and a roll to breathe. The movement has been described as "incredible".
She was introduced to swimming by her parents when she was young and competed at state championships.
Like stories about inspirational people? So do we. Help us publish more free articles by subscribing to our free daily news feed. All it requires is your name and email. See SUBSCRIBE at the top of this article.
When she started university, she decided to start open water swimming for recreation and hasn't looked back.
Her first event was at Mooloolaba in 2004, when she swam breaststroke for 1km, and she has since taken part in multiple events, mostly doing freestyle, around the world.
But she has never completed a 10km swim.
The course starts at Mudjimba Beach, goes around Old Woman Island and then heads down to finish at Mooloolaba Beach.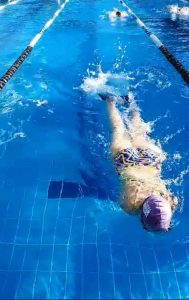 "I enjoy the longer distances and challenging myself, so when I heard about the Island Charity Swim, I thought it was do-able and it's what I'm aiming for," she said.
"I think the vibe is going to be amazing. I am looking forward to the event and there's a little bit of nervous anticipation.
"But no matter how tough it's going to be, the (special school) kids and their families do it tough every day.
"So, I will kick that bit longer and harder to get to the end."
Kerry-Lee said she always had a can-do attitude and she hoped to pass that on to the kids.
"My parents really instilled that in me, to look for ways to do things and come up with a a work-around," she said.
"My disability has never defined me.
"It's never been that I'm the girl with no arms or anything like that.
"It's been the fact that I'm Kerry-Lee, I've been to university, I work full-time (as a team leader at the Queensland Revenue Office), I enjoy swimming and by the way I have no arms.
"It's part of who I am but it doesn't define who I am."
She hoped the charity swimmers could raise enough funds to significantly boost services through local special schools at Nambour, Currimundi and Palmview.
"For the kids, there shouldn't be a lack of resources and as a community we can so easily go some way to assist them to have resources, for them to be able to reach their full potential," Kerry-Lee said.
"I was given every opportunity to reach my potential and I think these kids should have every opportunity to reach theirs as well.
"They probably require a bit of extra assistance than what I did and all the aids, therapies and supports cost a lot of money, so we need to get behind it and raise the funds."
She said parents of disabled children can't be expected to raise money for all resources.
"They're tied up as it is, looking after the kids and providing for them and making sure they get to school. They have daily challenges," she said.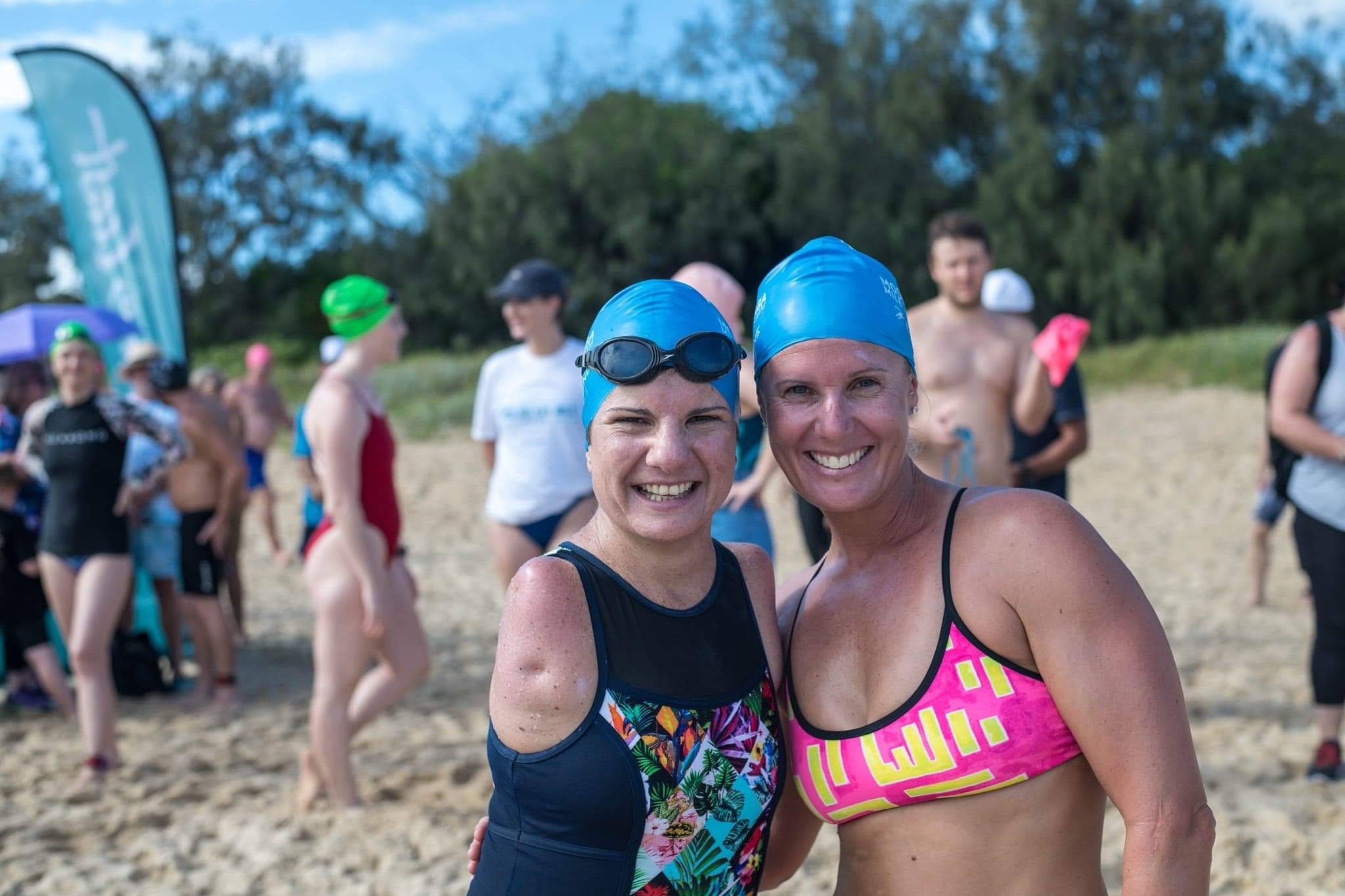 Kerry-Lee, of Brisbane, will swim beside Caloundra's April Hulbert, who has taken part in the event four times. They will also have a support crew on watercraft.
They have dubbed themselves The Wingless Warrior and Wonder Woman and they hope to raise $10,000.
They were introduced through Kerry-Lee's sister, a friend of April's.
April offered to swim beside Kerry-Lee at Mudjimba and they've since done some 5km swims together.
April was inspired by Kerry-Lee.
"She's incredible and amazing," she said.
"I think her parents raised her to be a resilient woman."
April, a learn to swim instructor and gym owner, marvelled at Kerry-Lee's mentality, strength and technique.
"It's a freestyle kick (with flippers) with a roll to breathe," she said.
"I look at her and think 'that's absolutely incredible'.
"I cannot fathom swimming more than 10km without arms. It is just inspiring and amazing."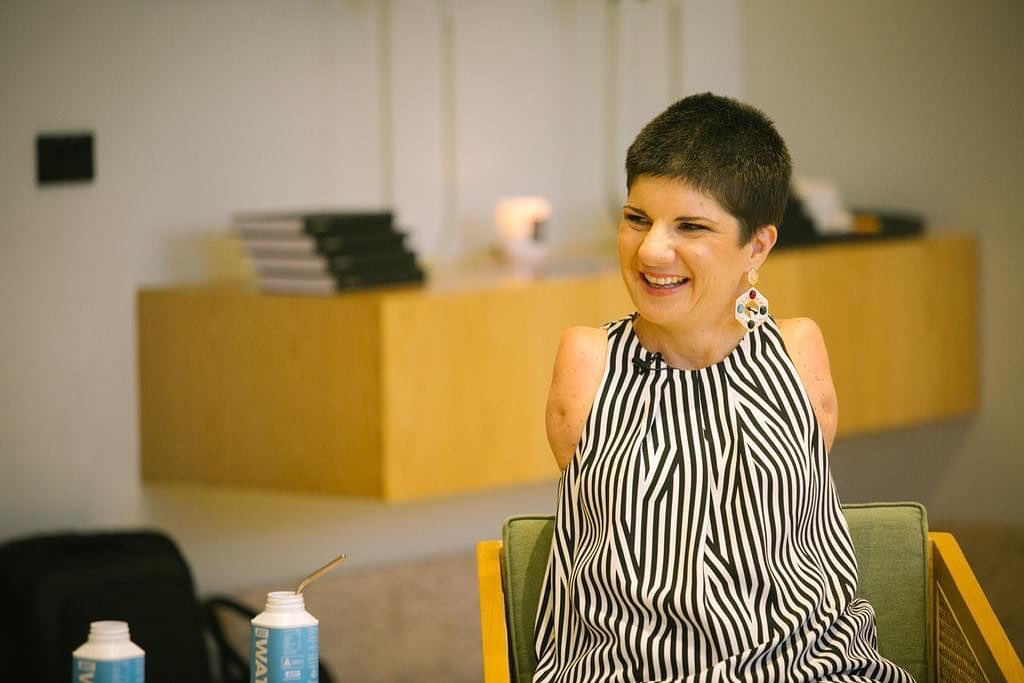 Help keep independent and fair Sunshine Coast news coming by subscribing to our free daily news feed. All it requires is your name and email. See SUBSCRIBE at the top of this article.
April said the event was vital for the special schools.
"The first year I did the swim, one of the mums was thanking everyone for donations and I said I'd continue to do the swim every year I can."
"You genuinely feel like you are doing something for the community … being tied to the community and what the event stands for."
"We rely on donations for those schools.
"I tell anyone to give it a go or to support it. I've done a lot of events and I feel like this is the best one."
To support Kerry-Lee and April in the swim see Island Charity Swim – The Wingless Warrior and Wonder Woman.
For more information about the event and to support it, see Island Charity Swim.