The Original Eumundi Markets may have just turned 43, but the much-loved attraction is giving Sunshine Coast residents fresh reasons to revisit and see what they've been missing.
Market operations manager Karen Davis, who took over the role in July last year, believes the markets are on the cusp of a new era after a rough trot.
COVID-19 lockdowns and mask restrictions have affected the scope of offerings and visitor numbers over the past two years.
And the "rain bomb" last month forced an "absolutely unheard-of" shutdown of the markets for two days.
Flooding and road closures meant some stallholders couldn't get from their homes to the markets to set up their stalls, while others such as Karen had to reroute their journeys and arrive late.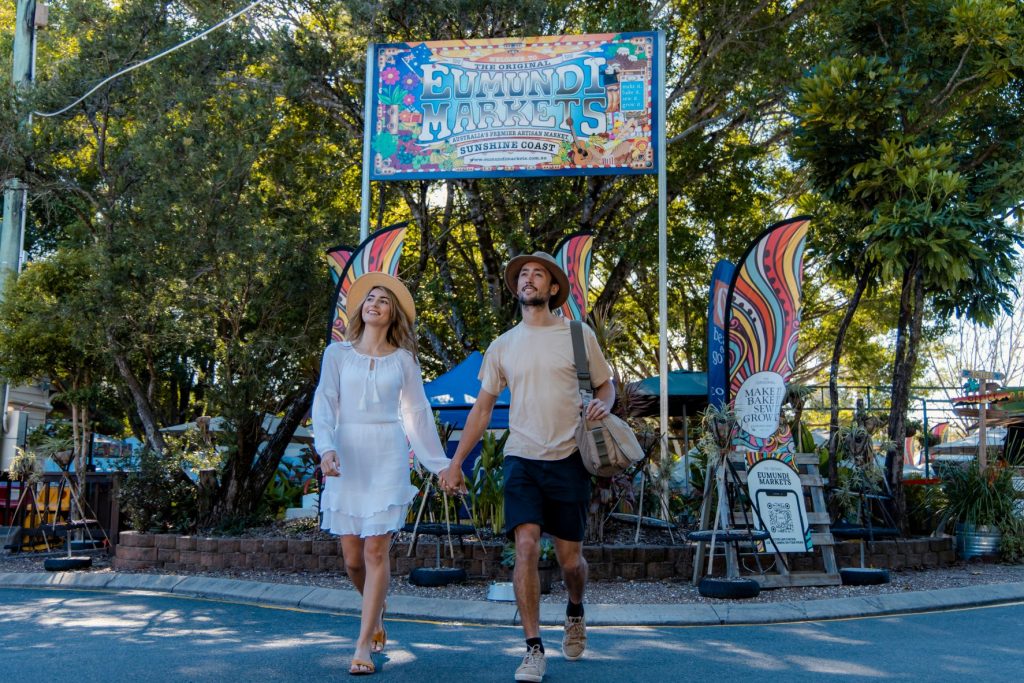 But then the State Government directive to stay at home and off the roads came through and Karen said she had an obligation to ensure the safety of stallholders and workers to make sure they could get home to family and pets. So the decision to close was made.
Surveys showed an estimated 1.2 million people came through the Original Eumundi Markets annually pre-COVID.
Like any major tourist attraction, the markets have had their ups and downs, and ebbs and flows.
But here's 10 reasons why the Original Eumundi Markets are still a happening place.
Ease of shopping.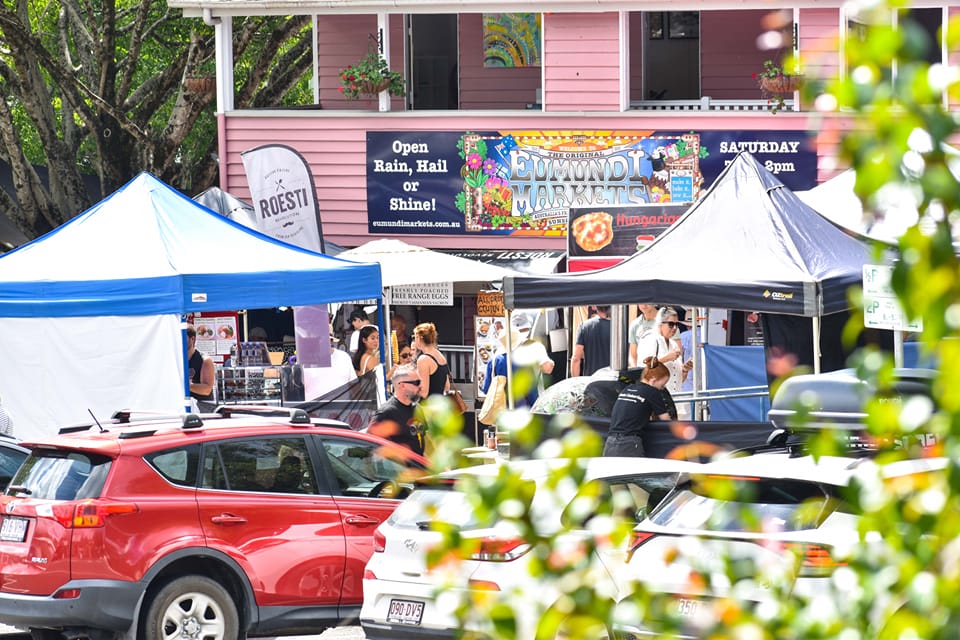 As a long-time Coast resident, Karen remembers pushing a pram through the crowds in the once-hectic, chaotic environment.
But things have changed and visitors are now greeted with wide strolling aisles, cafes and eating areas, entertainment stages and hubs, seating under the fig trees and other chill-out zones with more toilet facilities than in the past.
2. Pet-friendliness.
Shoppers love the fact they can bring their dogs on a lead. The pet-friendly space also offers pet paws (pause) points with grass, water bowls and shady umbrellas.
3. The food.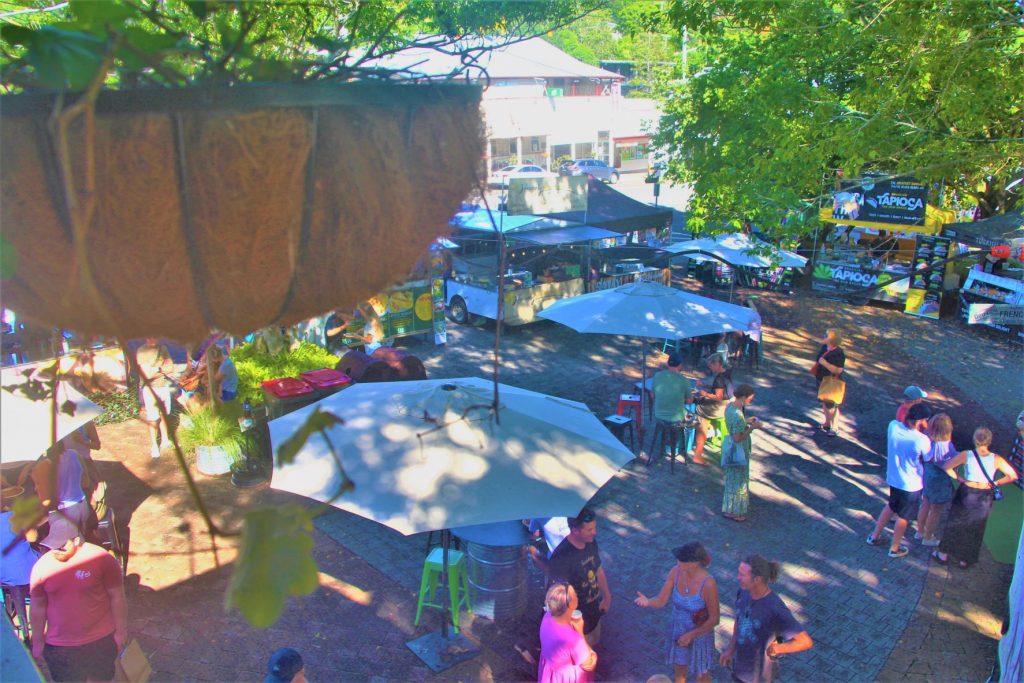 The new "foodie area" at the front of the markets along Memorial Drive is proving to be a quick "grab and go" drawcard for a specialty breakfast/lunch/coffee, with easy short-term parking on the main street.
The food van and stall vendors serve an international smorgasbord of options and local favourites – from cold-pressed juice sourced from the best citrus in season from around Australia, to roesti (potato) pancakes and Thai street food or breakfast quesadillas and Brazilian tapioca bread.
A little further exploration into the heart of the site uncovers further foodie surprises including macaroons and other French sweets, bagels, cured meats and baked goods to go with  locally made jams, conserves, chutneys, sauces and marinades.
4. "Make it, bake it, sew it, grow it".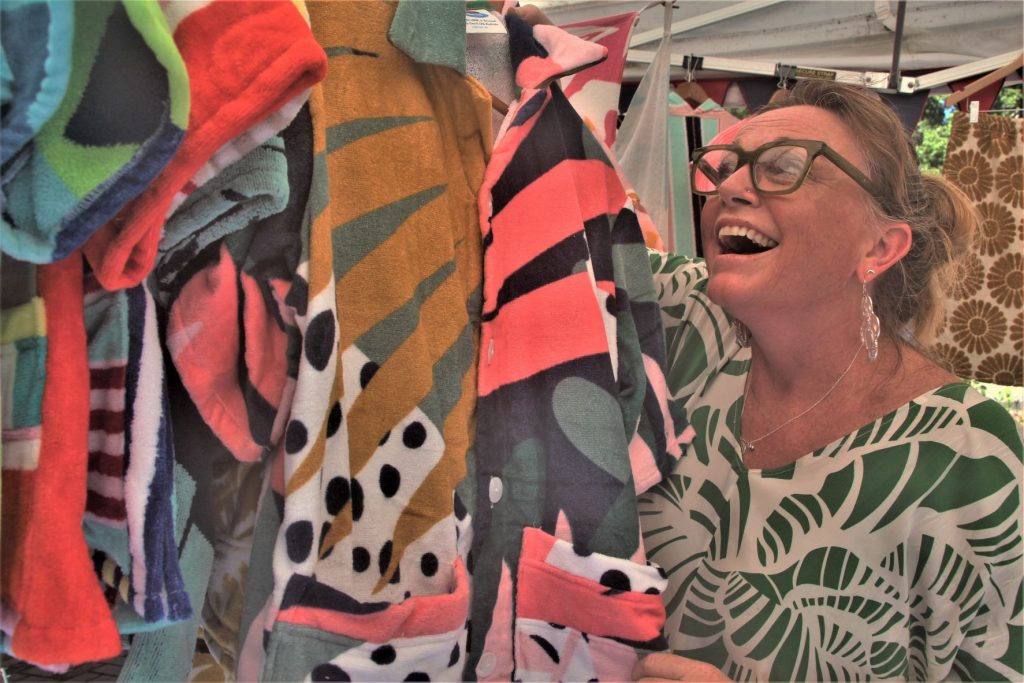 That's the markets' ethos and each stallholder is assessed by what Karen admits is a process that "can be quite exhaustive" – involving evidence of origin of materials and goods, as well as other criteria.
They are all, indeed, artisans of their craft.
Help keep independent and fair Sunshine Coast news coming by subscribing to our free daily news feed. All it requires is your name and email. See SUBSCRIBE at the top of this article. 
Karen said that while some stallholders had been coming to the Original Eumundi Markets for up to 30 years, a slow turnover of businesses kept the attraction feeling "fresh".
Many people who took the leap into shopfronts and online businesses with national and international followings had their start at the markets. Some of those still have a markets presence.
"The markets act as an incubator for micro-businesses," Karen said.
"It's a jumping platform for them. And it's a good little testing ground for their product where they can tweak it and they're getting that direct feedback from people. It's so important."
5. Market information centre.
In the grand tradition of English market towns, Eumundi not only supports the Original Eumundi Markets with more than 300 stallholders, but an extra 300 stalls in other market hubs – The Pavilion, Central, Eumundi Square and Parkside  – along with cafes, boutiques and other curiosity shops.
The market information centre, open on market days within the Original Eumundi Markets, acts like a visitor information centre for the whole town, while also offering stallholders support, and can point visitors in the right direction for their shopping needs, as well as local knowledge and tourist information for the surrounding area.
6. The experience.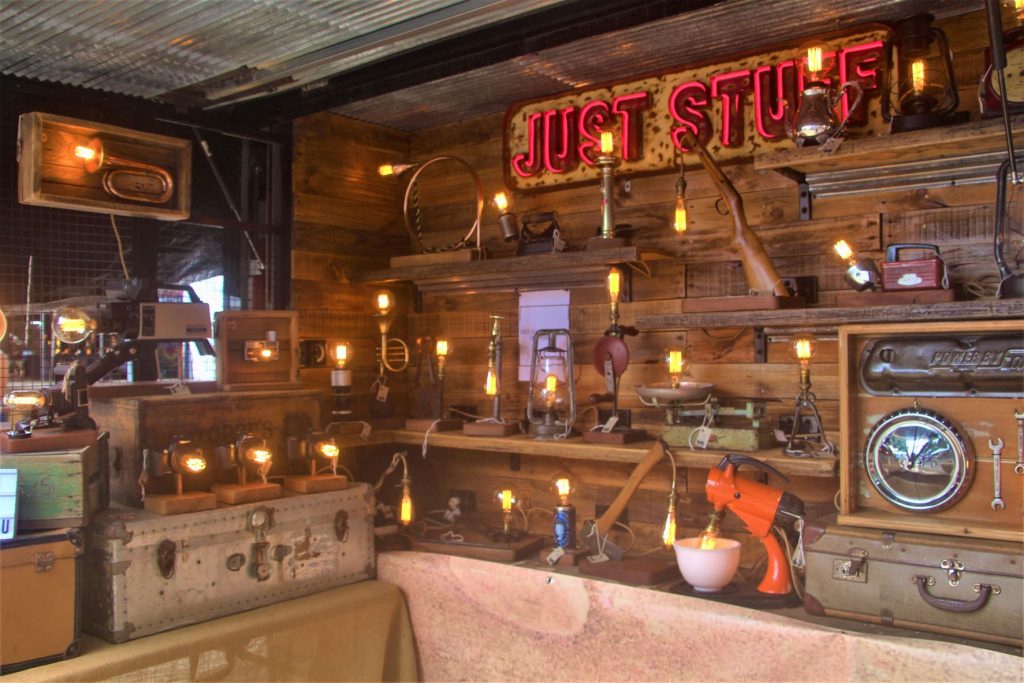 Looking out from her vantage point on the top floor of the two-storey pink administration building that was once a canecutter's cottage, Karen likens the feeling of the music, colour, aromas and relaxed vibe of the markets in full swing to a Woodford Folk Festival-style atmosphere.
That's especially true during school holidays when families can enjoy activities including face painting, balloon creations and a petting zoo.
"This can be a quick drop-and-shop or it can be a full-day experience. It caters for everything," Karen said of the all-weather attraction.
Local journalists supporting local people. Help keep independent and fair Sunshine Coast news coming by subscribing to our free daily news feed. All it requires is your name and email. See SUBSCRIBE at the top of this article. 
"You get people who come here and  say: 'Oh my gosh, every time I have someone come and visit I bring them here but I haven't been here in so long'.
"I want to make sure people come here because there's a story behind every stall and that needs to be shared and supported.
"And the only way for them to keep doing their thing and bringing this beautiful experience and asset to the region is for the region to support it, too.
"We need to reintroduce that feeling of a space where people come together.
"Not just a market, it's an experience."
7. The entertainment.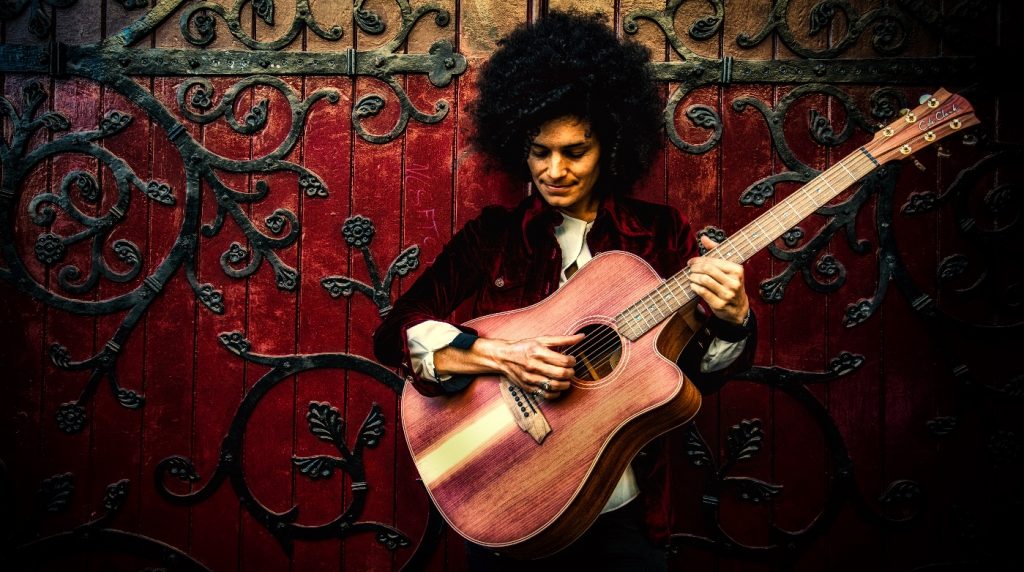 Recent renovations on the top storey of the administration building have created a VIP area where entertainers and other special visitors can chill out on a break.
A stellar line-up of musicians and street performers has always been a major component of the markets.
From the soulful tones of a didjeridoo to one-man-band Dan Horne and popular Coast singer-songwriter Andrea Kirwin on guitar, the good vibes waft over the tent roofs.
"It's such a beautiful bird's-eye of the markets," Karen said of her office in the admin building.
"When the music starts kicking in, it's just so nice to be up here."
8. Make a day trip.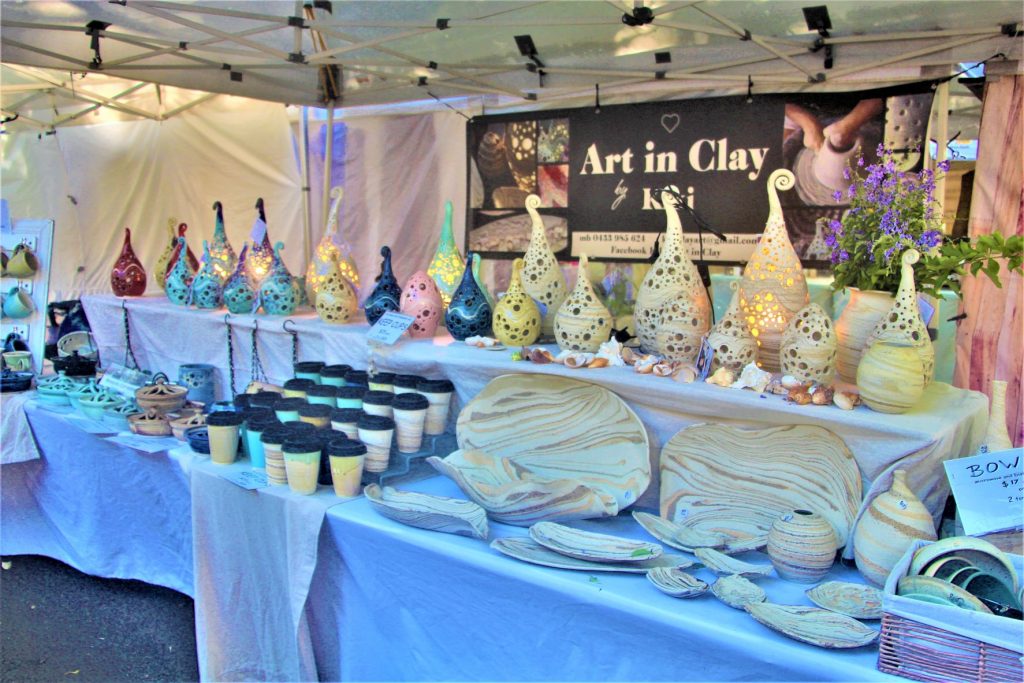 Importantly for COVID tourism recovery, tourist buses of excited day trippers are returning from country areas to the north as far as Hervey Bay and west to Toowoomba, as well as south to Brisbane.
Karen wants to become even more welcoming to visitors to the markets, especially where tour buses are concerned.
"If I see a bus at the market, I'll walk up to the bus driver and say, 'Next time you're coming, let me know. Shoot me an email or give me a call, so I can come and do a meet and greet'," she said.
Like stories about Sunshine Coast people doing great things? Help us deliver more by registering for our free daily news feed. All it requires is your name and email. See SUBSCRIBE at the top of this article. 
"I can tell everyone a little bit about the markets. Give them a little bit of hand directions – 'left, right, toilets are here' – and we can set aside a little area for them with a welcome sign.
"That's the Sunshine Coast way. If we all keep trying to deliver that levelled-up guest experience across our whole Coast, we're going to win back that business.
"They'll come back but let's make them really feel special when they do."
Day itineraries for the markets and nearby attractions will be the next addition to the website.
9. The stallholders.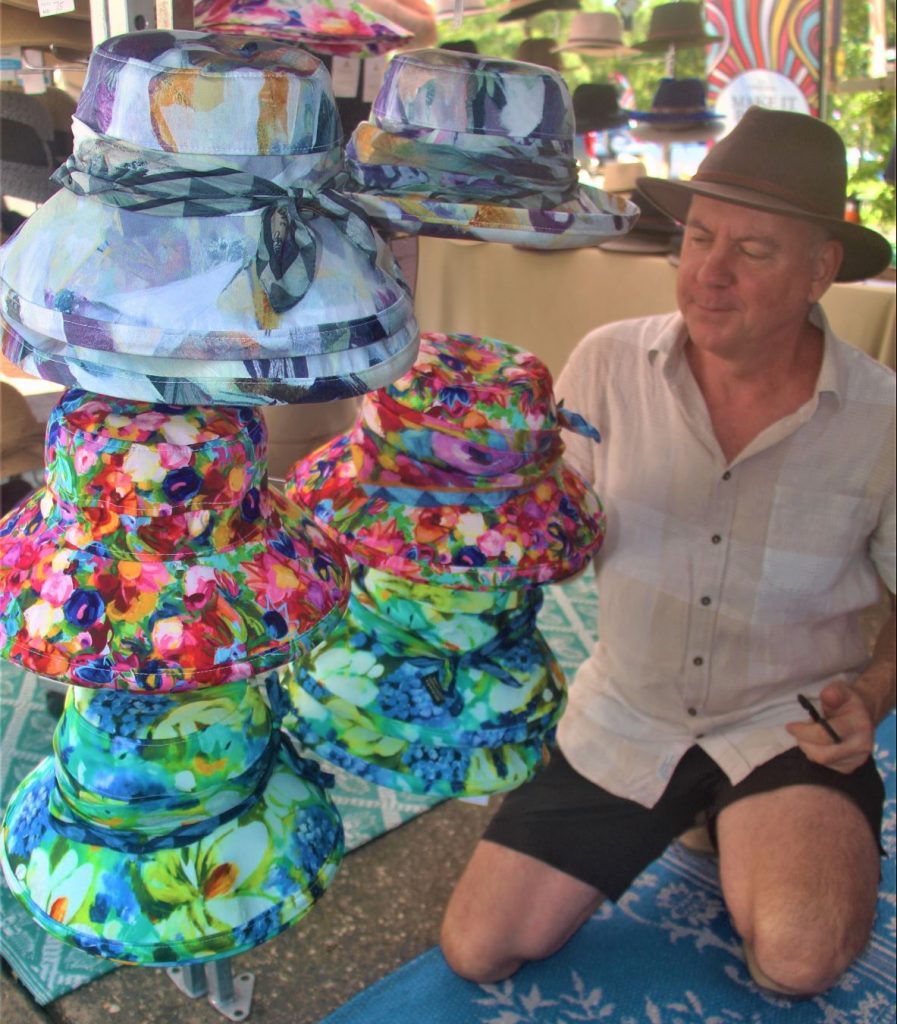 "Every single stall here has a story and it's their life and family. And for a lot of them, this is their business. This is what they do," Karen said.
"During the week, they're making, baking, growing or sewing.
"The Sunshine Coast has always had a lean towards having a social responsibility to buy local.
"It's also that social connectivity. When they're beavering away in their pottery studio, for example, it's quite often a solo artistic experience, but then they can come here and it's that like-minded social network that they can connect with.
"And it's also about that face-to-face, direct relationship with their purchaser.
"It's a beautiful exchange and it also means they're getting direct feedback on their product and that purchaser is buying a heart purchase and with a sense of purpose."
10. The dedicated team.
An 11-strong staff of casual, part-time or full-time workers maintain and prepare the site beforehand or are involved in the smooth running of each market day. But the site also offers untapped potential.
"(The operation) is bigger than people think," Karen said.
"It's not just the guys (they get here at 5 in the morning on market days) throwing up a few tents.
"There's way more to it than that. It's a machine.
"It's such a cute story, that the Country Women's Association was the starting point for the markets  and then it's grown and grown and grown and evolved.
"But there's very few markets sites that can say they're purpose-built and that's what the site is for.
"What I'm really trying to do is introduce this space as a site that people can think about for events, conferences and incentives, or long table lunches under the fig trees. I'm working closely with Visit Sunshine Coast for things like that."
The Original Eumundi Markets are open Wednesdays, 8am-2pm, and Saturdays, 7am-2pm.