More construction and health jobs will be created on the Coast after a development application for a new private hospital in Maroochydore was approved.
The Maroochydore Private Hospital will be an eight-storey medical and teaching facility with high-end amenities and featuring a rooftop relaxation area for staff.
Construction is expected to begin mid-year after the developer, Barwon Investment Partners, got the green light from Economic Development Queensland (EDQ).
The state-of-the-art hospital will service people living in Maroochydore and the wider region and will have a focus on musculo-skeletal conditions.
The hospital component will provide surgical specialties along with ancillary healthcare services and will have a comprehensive pain management, sports medicine and allied health offering.
It will also be an "epicentre" for surgical research and innovation with anchor tenants including the University of the Sunshine Coast (USC) and leading international orthopaedic company, Medacta.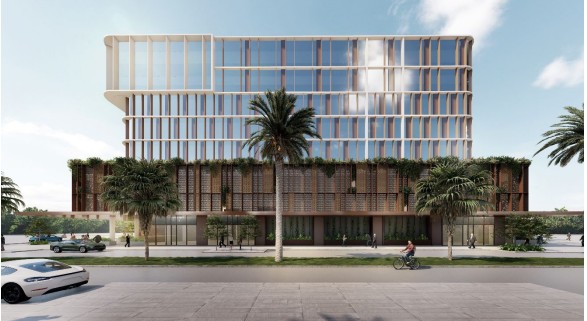 The university will collaborate with Medacta to create a centre of excellence in clinical care, innovation, education and research.
USC Vice-Chancellor and President Professor Helen Bartlett said teaching and research would tie in with existing degrees in Medical Science, Occupational Therapy, Health Science, and other allied health programs.
"This will assist in delivering better health outcomes for Sunshine Coast residents and greater opportunities for our researchers and students," she said.
Tom Patrick, Head of Healthcare Property at Barwon said it was fantastic to be part of a development that would provide local healthcare and create new jobs.
"Barwon's investment into the new Maroochydore CBD should prove to be a valuable one with the development, once completed, truly reflecting a value-based healthcare model," he said.
Sunshine Coast Council Mayor Mark Jamieson said the hospital would be an important addition to Australia's only greenfield city centre at Maroochydore.
"The investment by Barwon is yet a further sign of confidence in our new Maroochydore City Centre and adds to the growing momentum and investor interest that this project is generating," he said.
"In addition to our partnership with Walker Corporation to drive the development of the Maroochydore City Centre, the Barwon health facility, will continue to expand the diversity of facilities, services and opportunities within the City Centre."
Barwon launched the Barwon Institutional Healthcare Property Fund in 2016 which comprises 22 healthcare properties valued at over $1.1 billion, expected to grow to over $2.0 billion.