I read with sadness that the Nambour Show may not go ahead this year because of COVID restrictions.
All parties have to be vaccinated to either volunteer, perform, offer services or attend, which is a massive drain on all areas.
Last year, 29,000 people attended, which was a huge effort considering that the year before it was cancelled.
If it doesn't go ahead, I am sad on a few fronts.
Firstly, my wonderful memories as a little fat kid going to the Nambour Show, which is now known as the Sunshine Coast Agricultural Show.
While Dad was entering his pineapples in the fruit pavilion and occasionally winning a prize, I was always determined to eat my way through Sideshow Alley and I reckon I would have been age champion many years running if there was a weight-for-age dagwood dog-eating competition.
Do you have an opinion to share? Submit a Letter to the Editor with your name and suburb at Sunshine Coast News via: news@sunshinecoastnews.com.au
From a very young age I can remember plenty of friends of Mum's and Dad's who worked tirelessly as volunteers to make it the biggest and best show, a celebration of our rural background.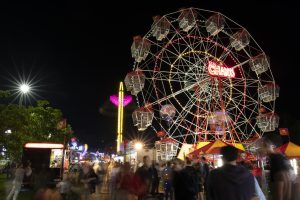 While that has changed, the dedication of the volunteers these days hasn't.
Rather than the horses and riders jumping hurdles in the central arena it's now the volunteers jumping them to try and keep things going.
On a really personal note, I am also forever attached to the Nambour Show, not just the dagwood dogs, soft drinks, fairy floss, toffee apples (another title I would have won) and the rides.
It was also referenced in the last words my father ever said.
On June 16, 1984, he was driving Mum to bingo at Yandina in the pouring rain and as he passed the showgrounds he said to Mum: "I feel sorry for those poor buggers in Sideshow Alley trying to make a living in this weather."
He had a massive heart attack at the end of that sentence and passed away.
If you can go to Bunnings and have a coffee to take away from inside the building without being vaxxed, if you're crammed in any supermarket or retail shop in the state without being vaxxed and you can go to markets on the same site without being vaxxed, surely you can have a rural show?
And if I, as an individual, decide I don't want to risk it because others won't get the jab, guess what, I won't go. Just let me decide.
Am I missing something?
Ashley Robinson is a columnist with Sunshine Coast News and My Weekly Preview. His views are his own.