Moffat Beach's picturesque foreshore will remain behind bars until the end of the year after wild seas in February caused a dramatic collapse of the seawall.
Divisional councillor Terry Landsberg said independent engineers were assessing the damage and considering how best to repair the ocean frontage.
But he said it was already looking like some of the foreshore picnic area may have to be reclaimed to stabilise the beachfront.
"We are going to have to look at retreating into the foreshore area," said Cr Landsberg.
"It looks like we're going to have to pier it, which means going back towards the pines which might damage the roots of the pines."
Help keep independent and fair Sunshine Coast news coming by subscribing to our free daily news feed. All it requires is your name and email. See SUBSCRIBE at the top of this article.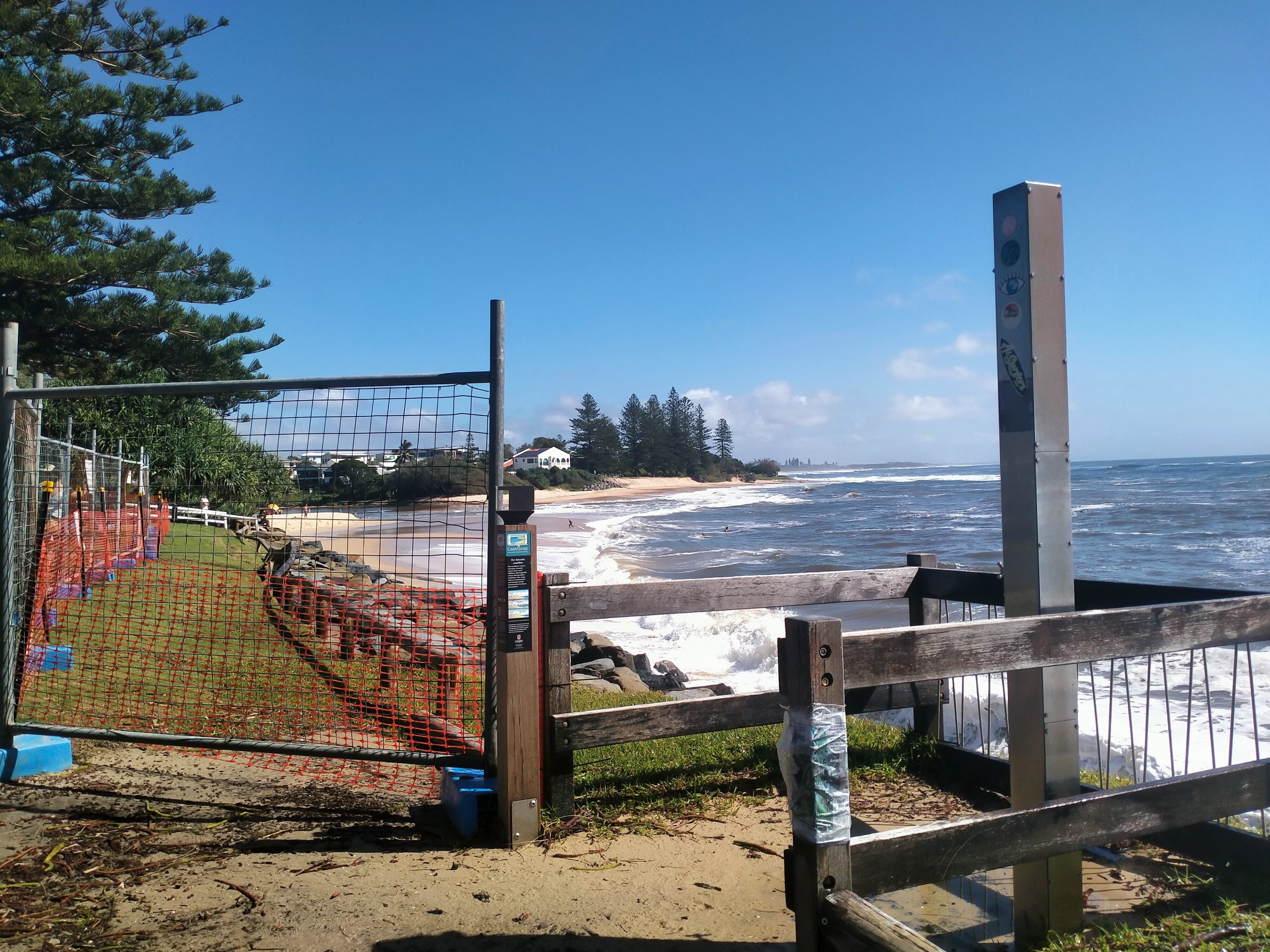 Cr Landsberg said it was yet to be determined whether the old Norfolk Pines, which are a distinctive feature along the water, would have to be removed.
"The health of the trees along the foreshore will be regularly monitored by an arborist," he said.
The alternative was to take more of the beach which he said would not be popular with the public.
Sunshine Coast Council has issued warnings for people to stay back off the seawall because of the real dangers of falling rocks and further collapse.
Cracks have appeared at the top of the wall and some sections are beginning to subside.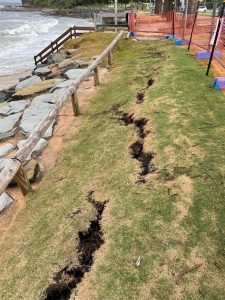 "Beach accesses, picnic tables, seating and the boat ramp have been closed and we ask people to not walk along the beach, near the wall," Cr Landsberg said.
"There is a significant risk of the wall deteriorating further and if that occurs, rocks falls are highly likely.
"The rocks can fall onto the beach at any time, and if it does, it will happen fairly quickly – within about 10-20 seconds – which means that anyone standing at the base of the rock wall will be injured."
The beach to the north of the seawall can still be accessed via Eleanor Shipley Park.
However the ongoing rough seas linked to the La Nina weather pattern are expected to hamper the start of repairs for some time.
Cr Landsberg said the weather forecast was "relentless" which would make it difficult to get machinery onto the beach.
The council also had to work with the State Government because foreshore areas came under the Department of Environment and Science (DES), he said.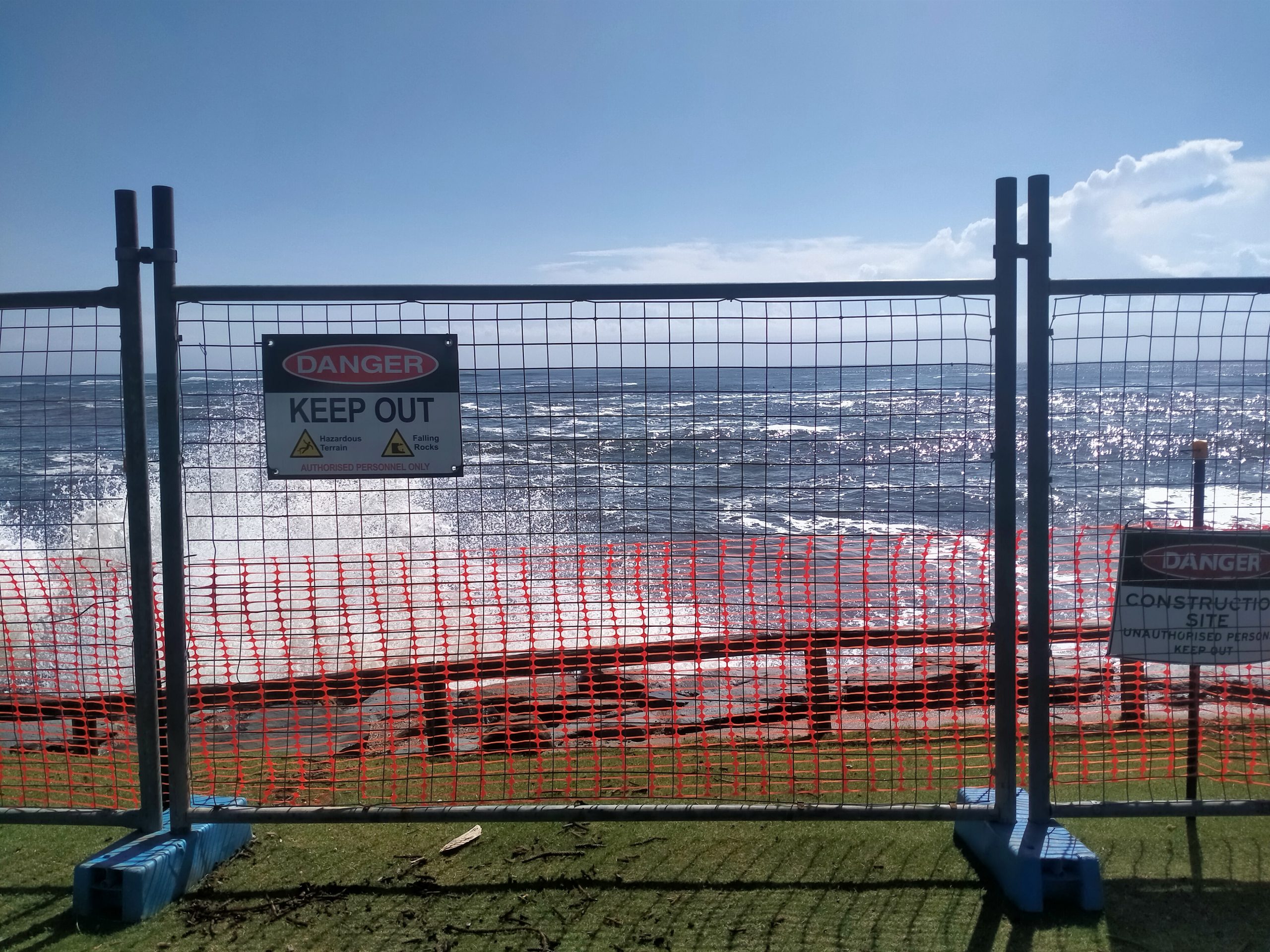 The Sunshine Coast Council website said it expected repairs to be completed towards the end of 2022.
"The safety signage and fencing will remain in place for the duration," it stated.
A council spokesperson was unable to give an update to Sunshine Coast News, but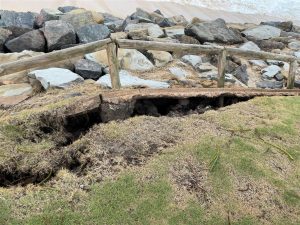 provided a statement saying that independent geotechnical and coastal engineers had been engaged  to assess the damage and recommend solutions.
"Council will update the community on the repair options as soon as the investigation is complete and would like to remind the community to stay clear of the seawall due to the risk of falling rocks and injury."
A webpage has been set up to keep the community informed as the investigation continues at www.sunshinecoast.qld.gov.au/mbseawall