A member of one of Australia's richest families says he is looking forward to his plan for a towering 4.5-star resort in Mooloolaba being approved when it is put before council next week.
Kenneth Wagner, from Toowoomba's prominent Wagner family, has proposed a 13-storey hotel with 182 rooms and rooftop pool and bar that could revive the Coast's tourism jewel.
The fate of the luxury project, estimated at $50 million, will be decided when it comes before councillors at next Thursday's meeting.
A council report has recommended the resort go ahead subject to some conditions, such as limiting the building height and requiring a minimum of 133 carparks.
Mr Wagner told Sunshine Coast News while he did not wish to comment ahead of the meeting, he was "looking forward to an anticipated approval".
If given the green light, the decision would be a significant milestone in a long-running bid to develop the prime block of land on Brisbane Road.
The new resort is earmarked for the site adjacent to the new multi-storey paid carpark on Brisbane Road, on the corner of First Avenue.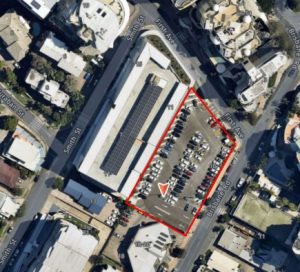 The architecturally designed building has been described as a three-level podium topped by a tower which contains the hotel rooms.
The ground floor of the "podium" would include a public plaza where people can meet and gather, plus a restaurant, bar, cafe and shops.
The two floors above that would contain hotel and public carparking with boundary screening and vertical landscaping.
The hotel rooms and facilities would be housed in the tower from floors three to 11. Floor three would also have a kids' club, outdoor play area, gym, spa and podium top planting.
Floor 12 is where functions could be held, while the whole building would be topped off with a roof area boasting a bar, restaurant, pool, outdoor dining and function space.
Want to stay on top of local happenings? Get stories direct to your inbox by subscribing to our free daily news feed. All it requires is your name and email. See SUBSCRIBE at the top of this article 
"The hotel is 13 storeys that is predominately 45m in height above ground level, with a peak of roof plant screening maximum height of 48m above ground level," said a report by planning consultant Ethos Urban which undertook an independent assessment for council.
The building has been designed to look like "multiple smaller towers, instead of one continuous bulky structure," said the report.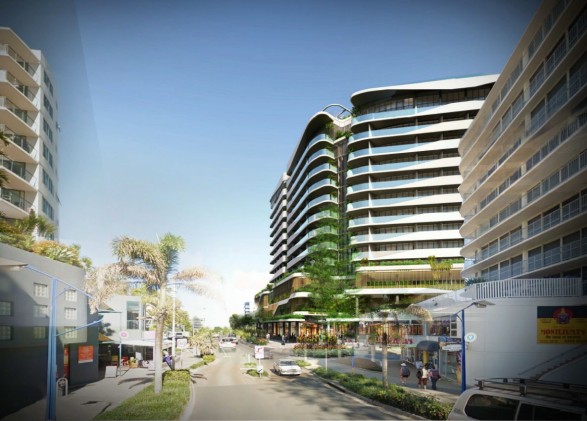 The 2998sqm block was previously owned by the council which had been on a mission to encourage the development of a five-star resort to revive the heart of Mooloolaba.
It was purchased by Mr Wagner's company KPAT Mooloolaba for $7.2 million in 2020 after a tendering process.
Previous to that, the entire site — including the half which now holds a carpark — had been one parcel.
The full block was approved for a major development proposed by the company Abacus, however those plans were abandoned in 2018.
Afterwards the land was split into two, with one side dedicated to the new eight-storey carpark and the second parcel eventually sold to the current proponent.
Divisional councillor Joe Natoli urged his colleagues to "stand firm" and "demand the highest outcome" from the project.
Cr Natoli said he would have preferred to see a full five-star resort in that location and there was an opportunity now for council to elevate the current proposal.
"What I'm saying is we can improve this thing," said Cr Natoli.
"It's almost there; there are a few elements missing. Council needs to stand firm."
Cr Natoli has raised questions about provisions such as the loading area, the need for a public bus set-down area and providing easy-to-access public parking.
He said his decision on whether to vote in favour of approving the resort would depend on the responses he received over the coming week.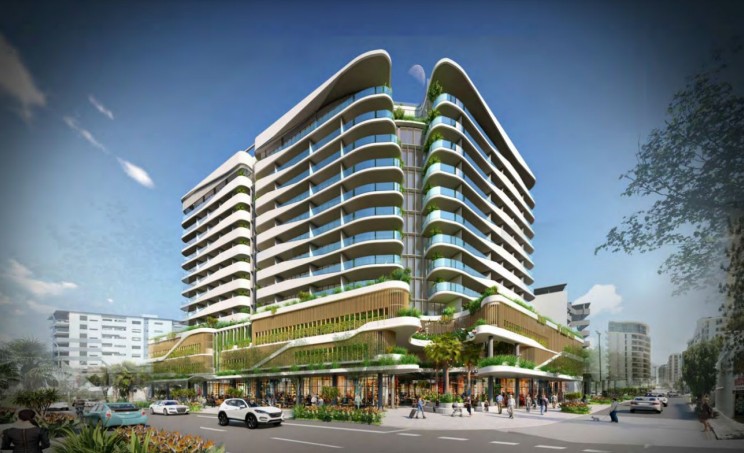 Cr Natoli originally voted against awarding the tender to KPAT Mooloolaba in 2020 because at the time he had questions over the tendering process such as why other applicants proposing full 5-star resorts, including a Hilton, were knocked back.
He said KPAT had been given an "incredible deal" and now council should insist on the best for the community.
"I believe Mooloolaba needs five-star hotels, we need more of these in Mooloolaba," he said.
"I am supportive of building a hotel, I just want to make sure the council gets what it wants.
"Council should demand the highest outcome so the community is better off."
Mr Wagner said he would not comment publicly on the council's upcoming decision until after the vote.