Thousands of people have joined an eleventh-hour campaign to save towering trees from imminent logging in popular recreational bushland on the Sunshine Coast.
The State Government plans to "harvest" native hardwood from Ferny Forest, a 130 hectare section of Beerwah State Forest near Landsborough, just as it's poised to become a protected area.
The picturesque park is loved by mountain bikers, runners and walkers who enjoy its 10km single-track trail looping through diverse tall trees, with an understory of ferns and native shrubs like banksias.
The forestry department has announced it plans to cut down "selective" hardwood natives for use as power poles, sawlogs, girders and landscaping logs.
The species targeted include blackbutt, white stringybark, tallowwood, red mahogany, grey iron bark, flooded gum, turpentine and grey gum, according to the government's own website.
A public protest has been postponed after bad weather to Friday, March 11, from 4-6pm by the Save Ferny Forest group (details at the end of the article).
It's believed there are hardwood trees up to 600 years old in Ferny Forest which has been a state forest since 1874 and sits on the banks of Ewen Maddock Dam near Mooloolah River National Park.
The area is considered prime habitat for koalas, which have now been listed as endangered, and campaigners say there are 190 plant and 53 threatened animal species.
Local journalists supporting local people. Help keep independent and fair Sunshine Coast news coming by subscribing to our free daily news feed. All it requires is your name and email. See SUBSCRIBE at the top of this article 
The controversial log harvest is planned for this year which is a couple of years before timber-getting is due to end in native bushland in South-East Queensland.
From December 31, 2024, timber production will stop, including in Ferny Forest, under the SEQ Forests Agreement struck in 1999.
But Save Ferny Forest spokeswoman Teena Chumbley said the State Government was trying to squeeze in one more round of logging before the area gained protection.
The Department of Agriculture and Fisheries (DAF) website states the tree take will be "the final selective harvest of this area".
It was last logged in the mid-90s. In 2015, the 10km mountain bike loop was opened and the spot quickly became a popular recreation park.
Ms Chumbley said the group felt like it was racing against time to save the expanse of bushland because the government was not revealing when it planned to start.
The department has also remained tight-lipped on how many trees it is planning to fell.
Ms Chumbley said locals only found out about the harvest after one recreational user spotted a small sign "tucked away" from public view.
That notice stated that DAF had "submitted a harvesting plan that will include the removal of some hardwood species".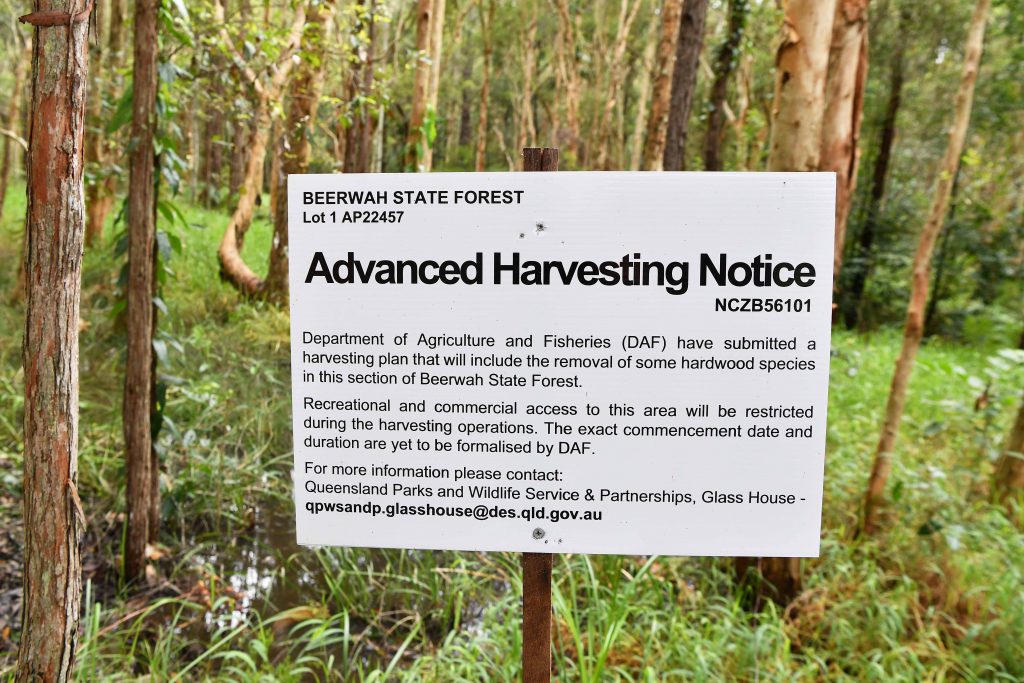 After this discovery, people hastily formed an action group, set up Save Ferny Forest and Save Beerwah State Forest Facebook pages, launched a website and started a Change.org petition which has garnered more than 20,000 signatures.
In the first week alone, some 10,000 people joined the online campaign.
Ms Chumbley said people could not believe that a cherished haven of trees and native animals could be subject to logging in these days of environmental awareness.
"Under the forestry code, 50 per cent can be logged. Will they log 50 per cent? Will it be less?" asked Ms Chumbley.
"Even cutting one tree has a big impact and changes the area."
Do you have an opinion to share? Submit a Letter to the Editor with your name and suburb at Sunshine Coast News via: news@sunshinecoastnews.com.au
Member for Caloundra Jason Hunt has told concerned locals he has raised the issue with the Minister Mark Furner and indicated that "as the local MP I do not support it".
"I understand that there is a process that needs to be followed and I'll be doing whatever is required to make sure that the voices of my constituents are being listened to," he wrote.
The DAF website has made it clear that: "The Queensland Government plans to harvest suitable trees from a section of the Beerwah State Forest in 2022, although a start date has not yet been finalised.
"The site will need to be closed to the public during harvesting to ensure the safety of forest workers and visitors."
Ferny Forest is part of the 4561-hectare Beerwah State Forest which is managed by Queensland Parks and Wildlife Service (QPWS).
The Department of Agriculture and Fisheries (DAF) allocates and sells state-owned native timber through sales permits.
However, these permits are due to end on December 31, 2024 as part of the South East Queensland Forests Agreement (SEQFA) signed by the Queensland Government, the timber industry and the conservation sector in 1999.
A spokesman for DAF did not answer SCN's specific questions but provided a statement that contained generic information from its website.
Too important to lose
The Sunshine Coast Environmental Council (SCEC) has called for the urgent conservation of Ferny Forest which it described as a "rare refuge".
SCEC advocate Narelle McCarthy said the pocket of wildlife and diversity was a special place in an increasingly urbanised Sunshine Coast.
The type of habitat there could be home to threatened species such as greater gliders, koalas, glossy black cockatoos and tusked frogs and other wildlife that is under threat from logging.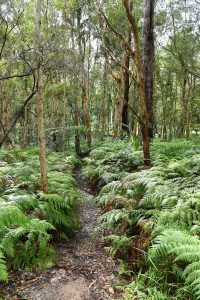 Ms McCarthy said SCEC was aware of and recognised that the Forestry Agreement allowed logging until 2024, but she said it was not appropriate, especially with today's dwindling natural environments.
"This forest and others in a contemporary context are too important for climate, biodiversity, amenity and wellbeing," said Ms McCarthy.
"It has far more value as a forest in the long-term than the short-term take of timber.
"In a contemporary context in 2022 we can't afford to lose these conservation areas with threatened species, even though technically under the Forest Agreement they are allowed to log before it transitions to protected area."
Ms McCarthy said if 50 per cent of the "basal area" was chopped down, it would create gaps where plants and animals were destroyed.
Importantly, selecting out mature trees would mean the loss of large trunks that would have become future hollows for species like the greater glider which only bears one young.
"What we need on the Coast is to allow these trees to mature and form hollows. Greater gliders need dens and hollows, from two to 14 trees, to survive," she said.
An Indigenous trail
Indigenous representatives have called for the "immediate cessation" of logging plans.
Bridgette Chilli Davis, representing the Murulla Kubi Kubi and Country Jhdongah Sunshine Coast, said the forests along Steve Irwin Way had special significance.
"Steve Irwin Way was originally a heavily used Indigenous trail leading to the road intersection area near Daisy's Place," she wrote in a letter to Jason Hunt.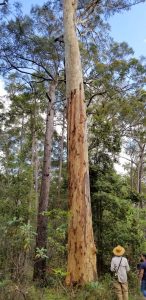 "This intersection was near the beautiful Mooloolah River and was a meeting place and gateway for the Aboriginal people moving between the coastal plains and the hills to the west.
"Many of the large very old trees in Mooloolah River NP stand there because my people looked after those trees and cleared the vegetation and debris at their bases so they continued to grow for hundreds of years marking the direction Aboriginal travellers would make.
"Some of those trees are where my ancestors gave birth and some are where they died (very secret business)."
She said the forest would contain song lines, scarred trees, silcrete tools and protected trees.
Save Ferny Forest has postponed its protest to Friday March 11, from 4-6pm at Pioneer Park in Landsborough.