UPDATED:
Emergency Alerts remain current for Noosa and Gympie after more heavy rain that has left communities isolated and caused flooding not seen in more than three decades.
Roads are closed, or impacted, throughout the region and latest updates can be found at qldtraffic.qld.gov.au. Information and details on local road closures can be found on Sunshine Coast Council's Disaster Hub website: disasterhub.sunshinecoast.qld.gov.au.
Noosa residents are advised to prepare as more areas may become isolated for some time and to monitor the latest information from the Bureau of Meteorology. For further information, visit: disaster.noosa.qld.gov.au.
The Bureau of Meteorology predicted we may see another 100-150mm of rain on Sunday with the chance of a thunderstorm.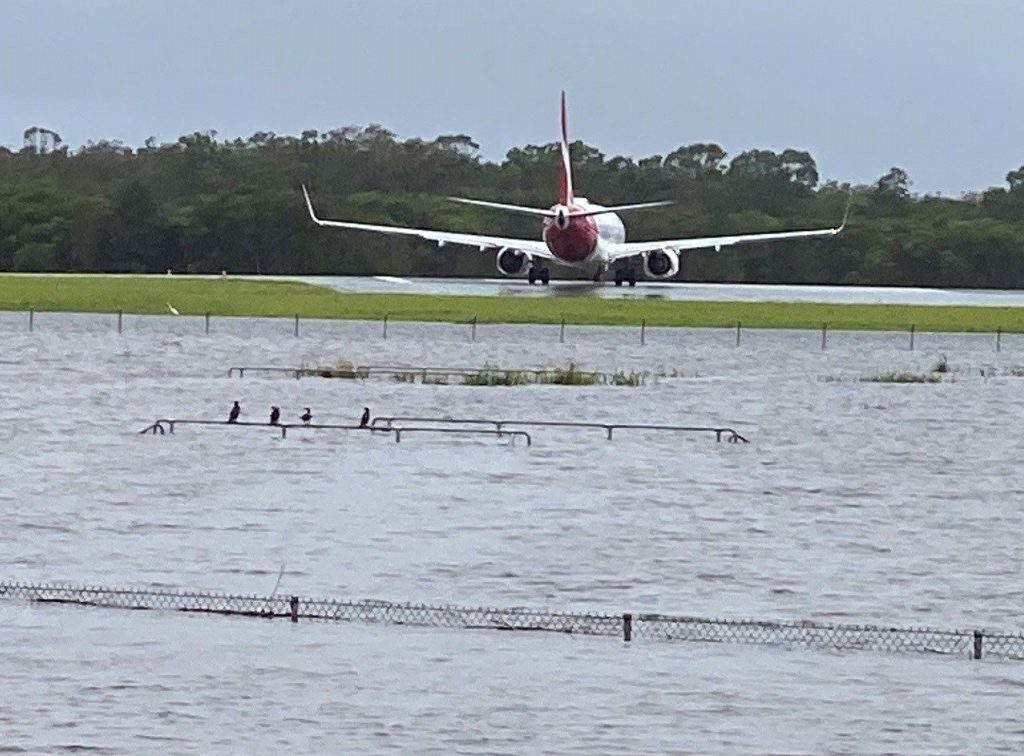 However, conditions are expected to ease during the day with only a shower or two likely for Monday, and Tuesday being partly cloudy with only a 30 per cent chance of a shower.
Major flooding has been recorded, or is occurring, across the Sunshine Coast, and major flooding is possible at Palmview, Tewantin, Dunethin Rock and Picnic Point Sunday morning.
The Bureau said flood levels may reach previous highest recorded levels and may be elevated for some time.
"Tewantin may exceed the February 1992 Major Flood Level (1.81m), Dunethin Rock may reach the 1992 Major Flood Level (4.40m) and Picnic Point may reach the 1992 Major Flood Level (1.91m).
"Very heavy rainfall has been recorded across the Noosa and Maroochy River catchments. In the 24 hours to 9pm Saturday, rainfall totals in excess of 430 mm have been recorded. Further heavy to intense rainfall is forecast into Sunday.
"Rapid river and creek level rises have been observed along the Maroochy, Noosa and Coochin Creek catchments and their tributaries. Further significant rises are possible with forecast rainfall.''
In Gympie the river level has exceeded the February 1999 level and further increases are expected.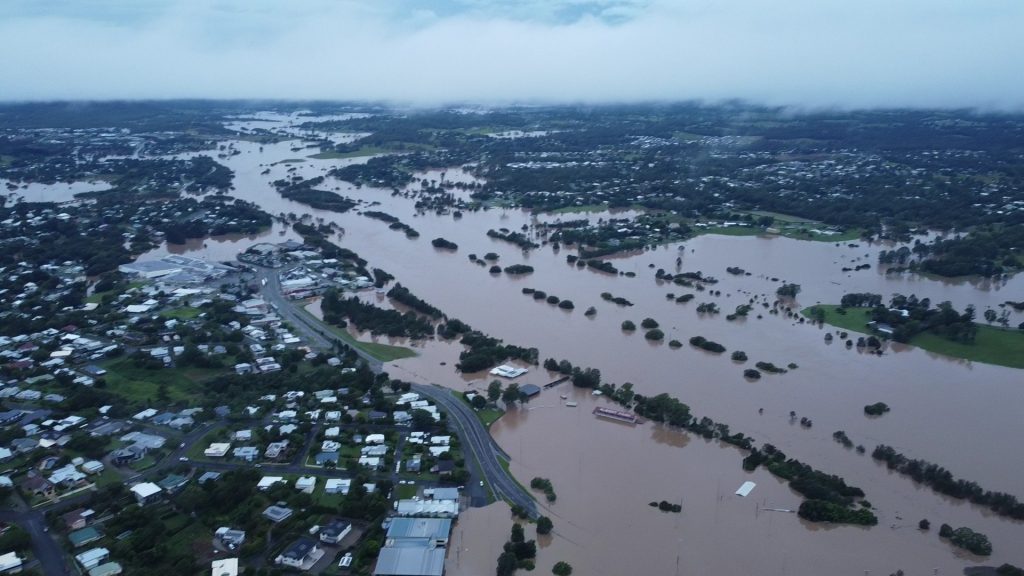 The weather on the Sunshine Coast has improved, but the danger is not over, with roads extensively damaged, flood levels still high and landslides and falling trees a high risk.
Authorities are urging people to stay off the roads while crews urgently assess and prioritise works, ahead of undertaking repairs over the coming week.
They are also clearing debris and landslides across the region.
The Department of Transport and Main Roads has advised the Bruce Highway remains closed in both directions at Six Mile Creek and is likely to remain closed for the rest of Sunday and overnight.
Sunshine Motorway is closed north of the Sunshine Coast Airport.
Sunshine Coast Local Disaster Management Group Chair Mayor Mark Jamieson thanked the community for staying home Saturday and has urged them to continue to stay safe and stay home as recovery efforts began.
"The weather has improved, however we're not out of the woods just yet," Mayor Jamieson said.
"Showers and wind are forecast for today (Sunday) and while river levels will continue to drop over the next 24 hours, high tides will still impact neighbouring roads and property.
"Please keep safety your number one priority and stay away from flood waters.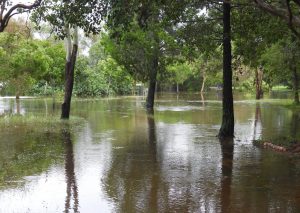 "We've experienced minor flooding in some areas, with moderate to major flooding in other areas, including the Mooloolah River which reached 4.7 metres this morning and may peak at 4.8 metres as water continues to move down the system.
"Following today's high tide, water levels should begin to drop and will hopefully return to normal levels over the next day or two.
"Please be patient over the coming days as our emergency services and council crews work through the significant recovery task.
"Many roads are still closed and we are repairing and opening roads as soon as possible. If you see any hazards, please report them to council.
"The hard work starts now in terms of recovery and will continue over the coming weeks."
Motorists are urged to stay off the roads, unless for essential purposes.
Evacuation centres remain open for people in need at the Nambour Showgrounds and the University of the Sunshine Coast stadium.
All Sunshine Coast beaches are closed due to dangerous weather and surf conditions.
Energex reported approximately 3000 homes without power in Caloundra, Nambour, Maleny, Kenilworth. Conditions are challenging and residents are asked to be patient while Energex crews undertake the slow and safe restoration.
The Federal Government said that following the damaging weather event, disaster assistance had been activated for 10 local councils in Queensland's southeast.
The funds will go to clean-up efforts in the Sunshine Coast, Noosa, Fraser Coast, Gold Coast, Gympie, Ipswich, Lockyer Valley, Logan,  North Burnett, and Toowoomba LGAs.
This  will be jointly funded by the Federal and State Governments.
Rainfall from 9am Saturday to 5am Sunday:
430mm at Mount Glorious
317mm at Elimbah
306mm at Rose Ck Road
302mm at Mount Mee
288mm at Beerburrum
295mm at Wamuran
283mm at Delaneys Ck
EARLIER
An Emergency Alert has been issued for residents in the Sunshine Coast, Noosa and Gympie regions as homes come under threat, roads turn into rivers and flooding intensifies after further heavy rain.
The elevated warning, from Queensland Fire and Emergency Services (QFES), was issued as more than 400mm fell in some areas overnight, adding to the massive totals seen in recent days.
Pomona has recorded a staggering 774mm in two days – 329mm coming in the six hours to 4am Saturday.
QFES warned flooding was occurring across the region and may impact properties.
Flood warnings have been issued for all major waterways in the area and a Severe Weather Warning remains current for South-East Queensland due to strong winds and heavy rainfall, which are expected to continue into Sunday.
"A major flood level has been recorded in the Mooloolah River and it is expected to impact surrounding areas," QFES said.
"You may need to consider leaving your property and should take the necessary steps to provide shelter for your pets.
"If you need to leave, then please take essential mediation, secure your property and go and stay with family or friends on higher ground."
The Mary River at Gheerulla near Kenilworth (pictured above and below) has burst its banks and flooded the landscape as captured on a drone by resident Gavin Jackson.
Usually the waterway has barely more water than a creek but after days of rain, following last month's deluge, it looks like a dam.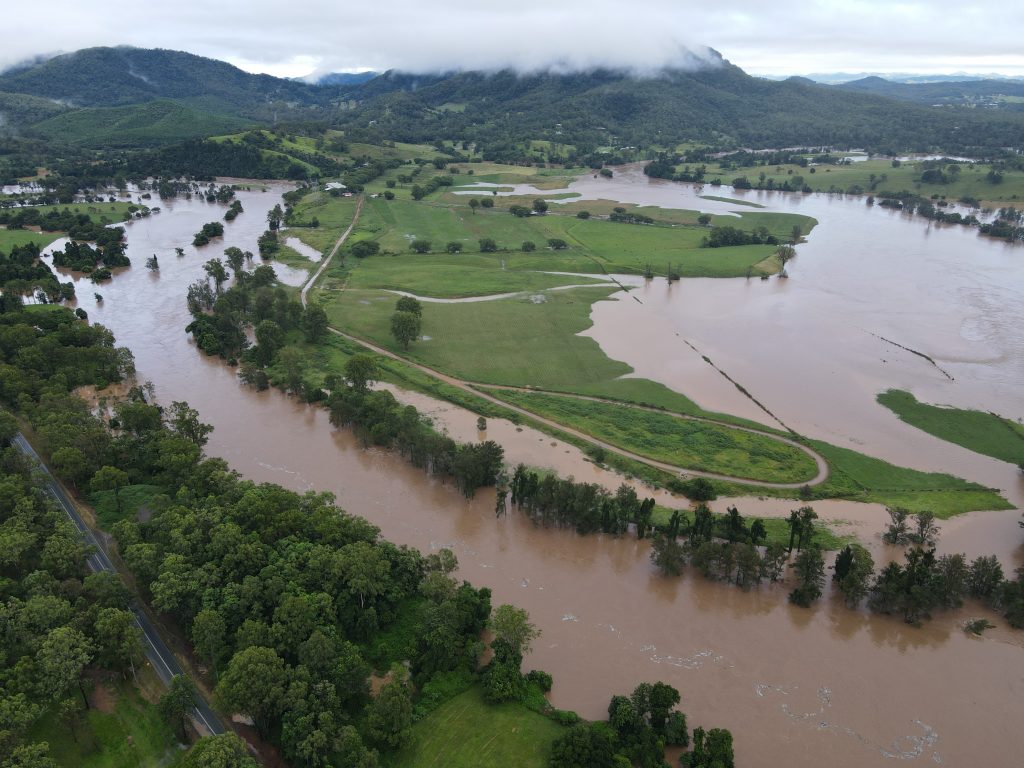 QFES confirmed an SES volunteer had died while responding to a call for assistance in Coolana in the Somerset region.
Three other SES personnel were rescued when the vehicle they were travelling in was swept off the road. The SES unit was assisting a family after floodwaters threatened to inundate their home.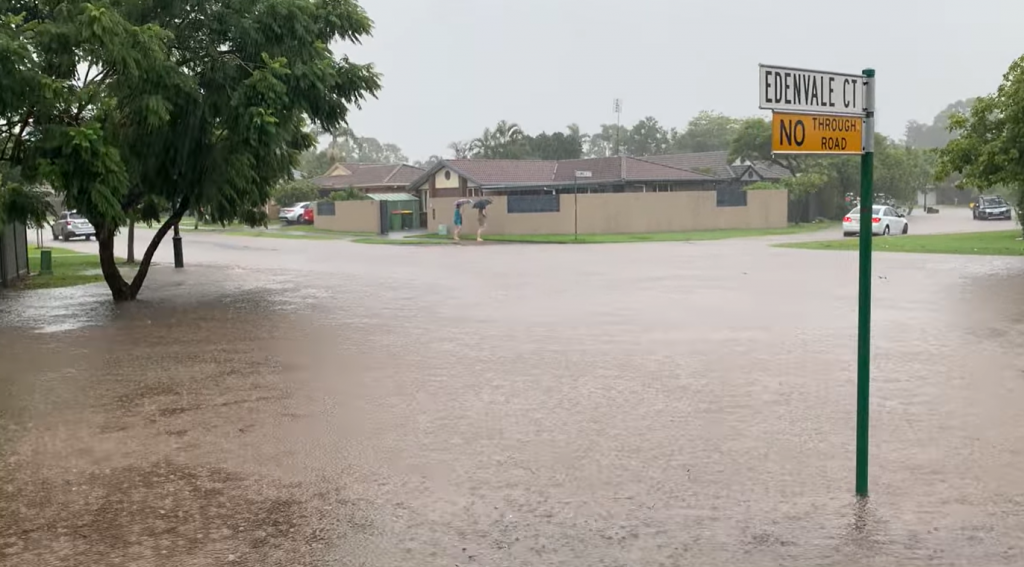 Sunshine Coast Local Disaster Management Group Chair, Mayor Mark Jamieson, said there was a range of resources and assistance available through council, emergency services and recovery agencies for our community.
"I thank them for their continued efforts to keep our community safe," he said.
The evacuation centre at Nambour Showgrounds remains open and is able to accept people and animals.
Mayor Jamieson said the Sunshine Coast Local Disaster Management Group (LDMG) was keeping a close eye on the unfolding situation.
More information and details on road closures can be found on council's Disaster Hub website: https://disasterhub.sunshinecoast.qld.gov.au.
For life threatening emergencies, call Triple Zero (000).
For help in storms and floods, including sandbag requests, call the SES on 13 25 00.
To report a council related urgent matter or emergency, call (07) 5475 7272 or 1300 007 272.
For the latest Noosa information, see Council's Facebook page – facebook.com/noosacouncil – and the Disaster Dashboard – disaster.noosa.qld.gov.au
Noosa Leisure Centre is open as a Place of Refuge. The Pomona Community House is also available for those requiring assistance. Please call 0411 114 077.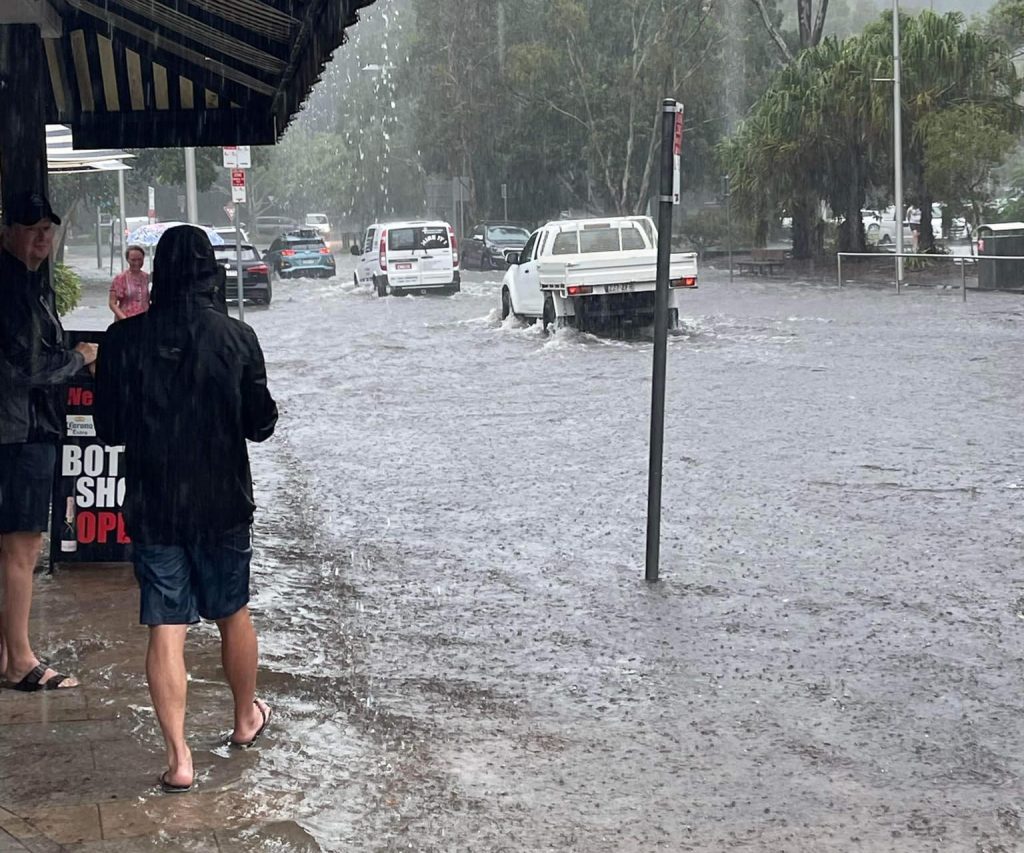 Flooding in the areas of Gympie and Hilton Terraces is creating dangerous driving conditions.
"Noosa Council crews are erecting road closure signs where they can, but the challenging conditions are creating more difficulties. There is an inability to get to some roads," a Noosa Council spokesperson said.
"Motorists should stay off the roads, as even going through low levels of flooding causes wave activity that creates more damage to some properties."
The Disaster Dashboard has the latest weather warnings, road closures and power outages.
Those in the Gympie region can attend a Council-run evacuation centre at the Gympie Civic Centre, Mellor Street Gympie, or the Pavilion at the Gympie Showgrounds.
The conditions forced the cancellation of Surf Life Saving Queensland's 2022 Youth State Championships, which had attracted 3000 competitors and officials and were to be hosted by Alexandra Headland and Mooloolaba clubs.
Energex crews are urging anyone with boats in the floodwaters to keep away from overhead powerlines.
An Energex spokesperson said: "With floodwaters rising and getting closer to overhead live powerlines it is imperative people never run their boat anywhere near them.
"Make no mistake, any accidental contact with powerlines can be deadly.
"Always work on the premise that all powerlines are live because they very well could be – and probably are."
Where rising floodwaters are threatening Energex's electrical equipment or private premises, Energex crews may need to disconnect power for the safety of people and equipment.
In the majority of cases the community will not be forewarned before this occurs as it needs to occur quickly.
If someone is in a home or business still with power and floodwaters are rising please call Energex's emergency line on 13 19 62 to organise disconnection.
If your home or business has been inundated by floodwaters, you will need to engage a licensed electrician to inspect your property for electrical safety. They will fill out the necessary paperwork and submit it to Energex before we can safely reconnect power.
The Bureau said heavy rainfall was recorded in the 24 hours to 9am Friday in the Mary River catchment and Sunshine Coast region.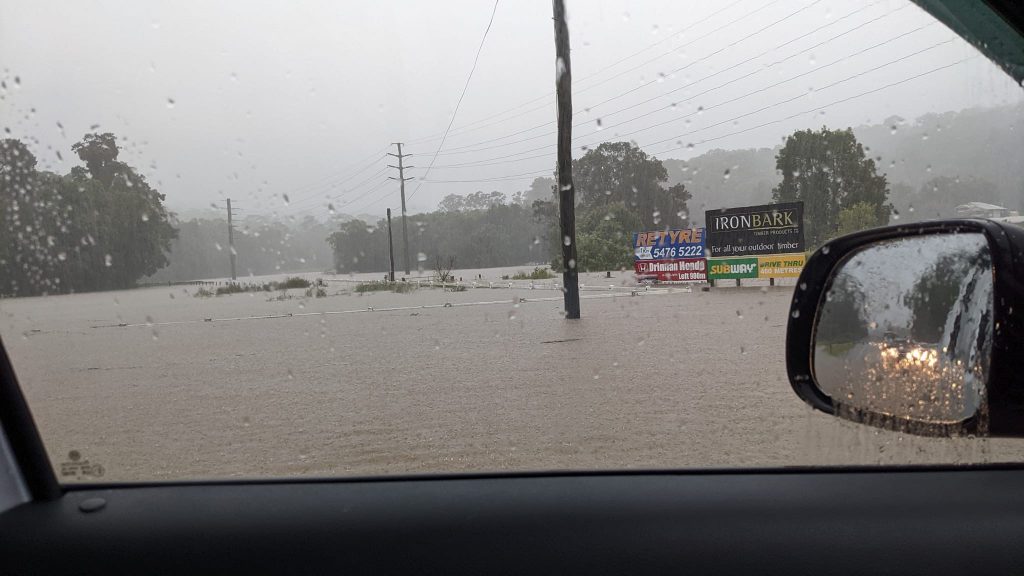 Local journalists supporting local people. Help keep independent and fair Sunshine Coast news coming by subscribing to our free daily news feed. All it requires is your name and email. See SUBSCRIBE at the top of this article 
Further heavy rainfall is forecast to continue during Saturday and into Sunday, which is likely to lead to further significant river level rises.
A Major Flood Warning is current for the Mooloolah River, Moderate Flood Warning for the Noosa River, Minor Flood Warning for the Maroochy rivers, and Flood Warning for the Coochin Creek.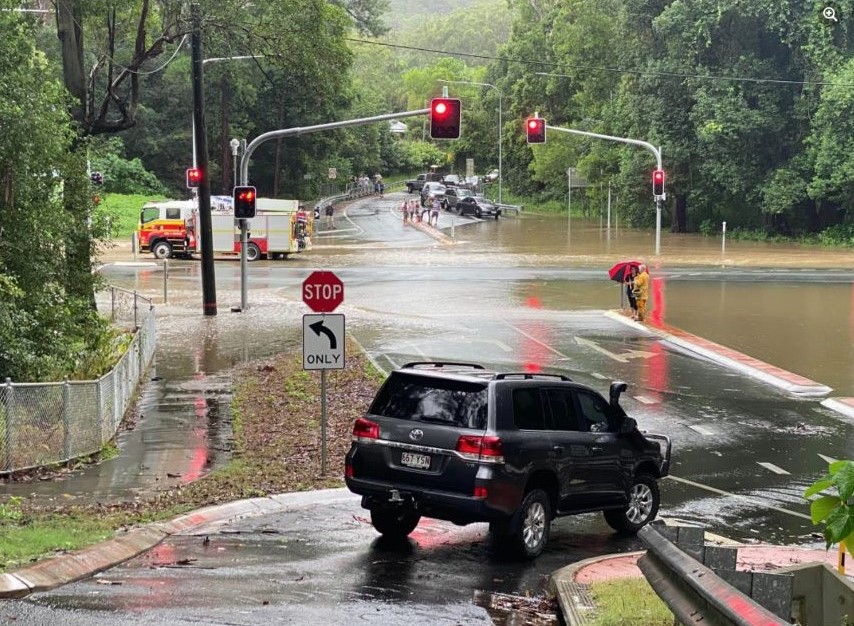 Mooloolah River:
Major flooding may occur along the Mooloolah River.
The Mooloolah River at Palmview peaked at 4.89 metres mid-evening Friday and is currently at 4.69 metres (moderate flooding) and steady. The Mooloolah River at Palmview is likely to fall below the moderate flood level (4.60 m) Saturday morning. However renewed rises and major flooding are possible again over the weekend with further heavy rainfall forecast.
Maroochy River:
Minor flooding may occur along the Maroochy River.
The Maroochy River at Dunethin Rock is currently at 2.01 metres (below minor) and rising. The Maroochy River at Dunethin Rock is likely to remain below the minor flood level (2.90 m) Saturday morning. However, renewed river level rises are possible during Saturday with further heavy rainfall.
The Maroochy River at Picnic Point is currently at 1.11 metres (below minor) and rising. The Maroochy River at Picnic Point may exceed the minor flood level (1.30 m) on the high tide Saturday morning.
Noosa River:
Moderate flooding may occur along the Noosa River.
The Noosa River at Tewantin is currently at 1.12 metres (above minor) and rising. The Noosa River at Tewantin may reach the moderate flood level (1.30 m) on the high tide Saturday morning. Higher levels are possible over the weekend with further heavy rainfall.
Coochin Creek:
Minor to moderate flood levels are slowly easing along the Coochin Creek early Saturday morning. With further heavy rainfall forecast, renewed rises and significant creek levels are possible over the weekend.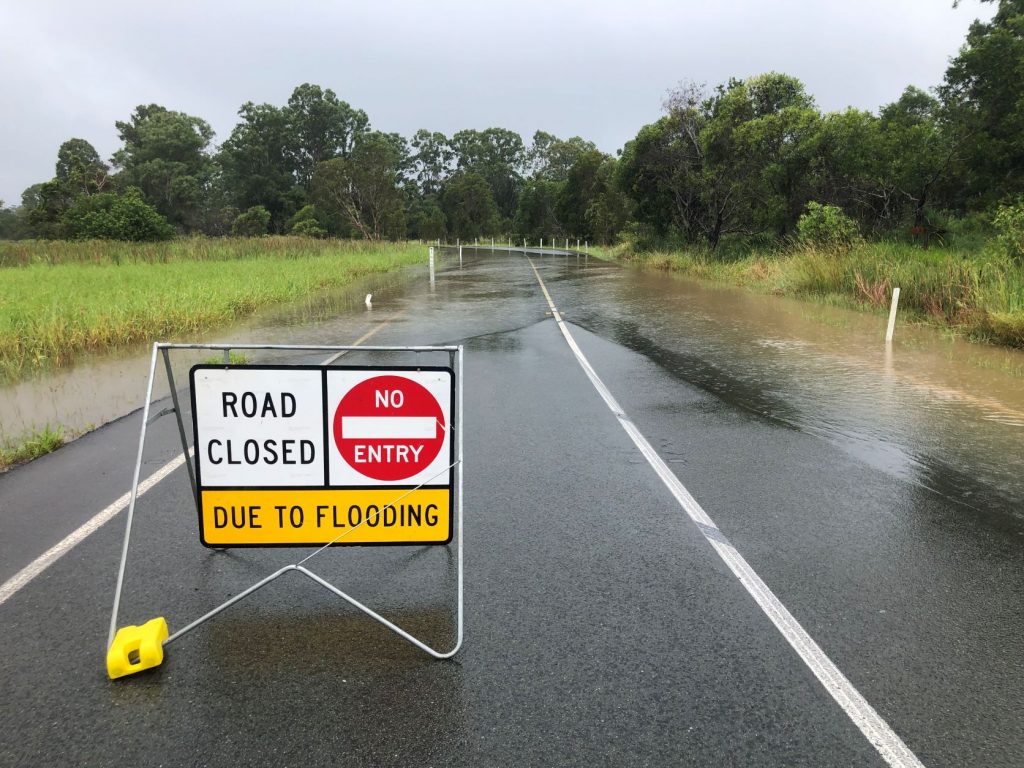 Flood Safety Advice:
Remember: If it's flooded, forget it. For flood emergency assistance contact the SES on 132 500. For life threatening emergencies, call Triple Zero (000) immediately.