The region's first sleepbus is already proving its worth in the community, delivering almost 60 safe sleeps since services began one month ago.
A second sleepbus, dedicated to women and children, is now officially on the road to being transformed and is expected to arrive later in the year.
After a long wait and community campaign led by the Maroochydore Neighbourhood Centre, the specialised bus, which provides a safe night's sleep for people living rough, arrived at Maroochydore in January.
Since services began on January 21, the sleepbus has provided 58 safe sleeps across four weekends, two of those passengers being four-legged companions.
MNC community development co-ordinator Mark Ellis told Sunshine Coast News the service was well received, with those using the bus "keen" to jump on board.
"We've provided 56 (sleeps) to those sleeping rough on our streets and two pets, Poppy and Maisie," Mr Ellis said.
"Like their owners, both dogs got onboard, curled up on the bed and slept through the night."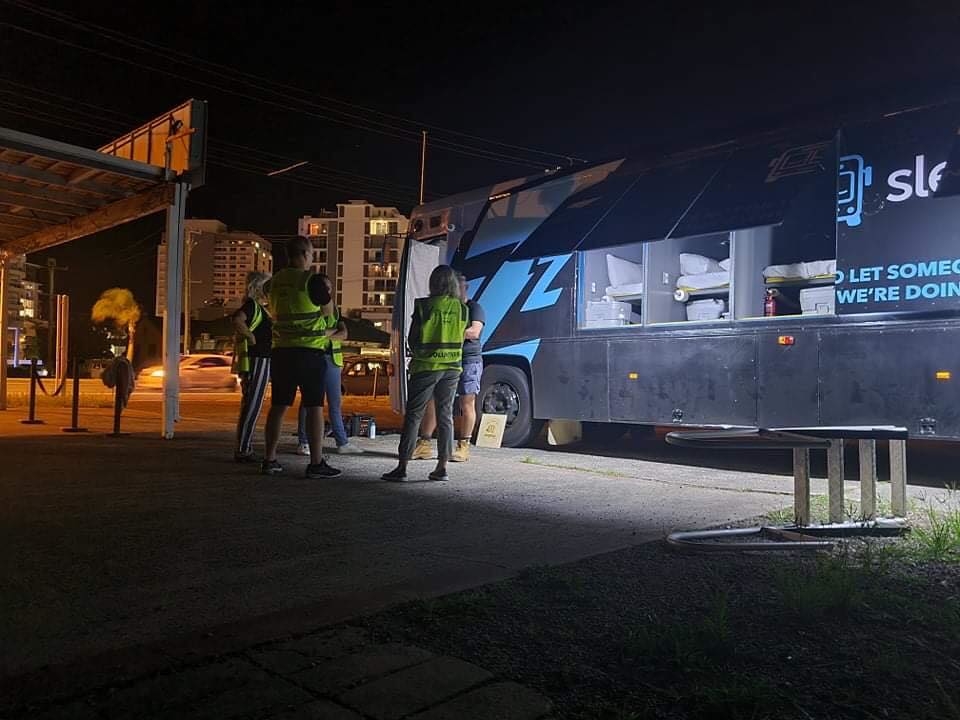 "The people who are using it are keen to get on."
"Boarding finishes at 10pm but by 8.30 they rock up, they are on, and they are asleep 15 minutes later.
"They sleep through the whole night and are woken up at 7am and say they feel fantastic, so they are getting a good 10 hours sleep.
"Feedback from those accessing the service has been positive with all being thankful to get the opportunity to sleep on a mattress and out of the elements."
Mr Ellis said some feedback from users had included: "Feels like heaven", "It's a good option to have when it's raining" and "It's really nice to stretch out and not sleep upright in my car for a change."
He said the change in those using the service was evident with overnight volunteers, known as caretakers, noticing a happier demeanour in passenger the following morning.
"The people who do the care-taking are the ones who see the change overnight," Mr Ellis said.
"They see them at night and they are sleep deprived and they see them in the morning smiling and bouncing out of the bus.
"They are some of the comments being made from the caretakers – that they that look different, they sound different and they are more spritely – and we all know what a good night's sleep does to us."
Mr Ellis said a variety of men and some women had made use of the sleepbus, ranging in age and circumstances.
"The age groups are usually 30 to 39 and between 50 and just over 60. There are some females using the bus, but about 98 per cent are males," he said.
""The demographic of homeless has changed quite a bit too in recent years.
"We've got families sleeping in cars and it's not going to get any better unfortunately."
The sleepbus operates on Friday, Saturday, and Sunday evenings at Thrive Sunshine Coast on Aerodrome Road in Maroochydore.
Sunshine Coast Council says it has supported the Sleepbus initiative by providing a permit to use the Brisbane Rd carpark, on the corner of the Sunshine Coast Motorway and Brisbane Road.
"Council will continue support the Sleepbus initiative by exploring other suitable locations for overnight parking for this service," said a spokesperson.
Mr Ellis said more volunteers were needed to establish a daily service and a recent call-out had seen 70 people put their hands up.
"A bit of training has to happen from here and as soon as we find the people that are keen, we will put a few more days on."
"We've got a volunteer who is a doctor, we've even got sleep specialists – there's a whole range of people.
"The doctor saw one of the guy's legs and said it wasn't looking good. He was able to write him a script and now this guy's leg is looking a million bucks.
"I take my hat off to these people. They are coming out and seeing first-hand what is going and they are all learning from each other."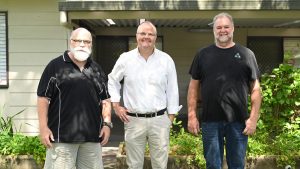 The sleepbus service has gained nationwide attention thanks to the community campaign, and a series of Sunshine Coast News articles.
Federal MP Ted O'Brien put his hand up recently to volunteer his time for a night shift and has donated $10,000 for new office furniture at MNC to help it continue its vital work assisting the community.
Mr Ellis also said other towns across Australia had heard of the work on the Coast and were in the process of looking into their own sleepbus.
"Because of the campaign we did up here, Hervey Bay has ordered one, Byron Bay's ordered two, Taree, Adelaide, Bundaberg and Caloundra are all looking at one," he said.
"That all comes off the back of what we did up here with our campaign and all of the articles that (SCN) wrote. People read them and it's come from them."
Read the day's top Sunshine Coast News stories sent direct to your inbox once daily. Simply go to SUBSCRIBE button at top of this article to register.
Looking ahead, Sleepbus CEO Simon Rowe confirmed the region's second bus, known as a pink sleepbus, had left the Sunshine Coast and was headed for Victoria where it will be repurposed to sleep women and children.
Local company CDC Queensland have donated the bus.
"The future pink sleepbus has left CDC Queensland depot in Kunda Park and is making its way down the highway to Melbourne to be converted into Maroochydore's women and children's sleepbus," Mr Rowe said.
"This sleepbus will be fitted out with fewer sleep pods but they will be wider to accommodate families.
"If all goes well the bus will be back on the coast by winter 2022."
To register to volunteer visit sleepbus – volunteer.