A staggering number of rescues and beach visits were recorded over the summer school holiday period.
It feels like every year is just getting busier, but our lifeguards and lifesavers have once again done a fantastic job keeping our beaches safe.
They performed more than 700 rescues across the Sunshine Coast amid more than four million beach visitations.
They're massive numbers that were driven by an influx of tourists as our state borders opened, along with the extension of the school holiday period due to COVID.
We must also thank our partners in Noosa and Sunshine Coast Council for their support in providing additional resources on our beaches during the extended break.
What to expect this weekend
After a few days of fairly benign conditions, a strong southerly swell and winds are due to build and continue into the weekend.
The surf should exceed the 1m mark, and possibly reach 1.5m on Sunday.
Southerly winds are expected to be strong throughout the weekend, likely more than 20 knots, which will make the conditions extremely choppy and messy.
The combination of surf and wind will make conditions challenging, so it's really important to only head to patrolled areas and follow the advice of lifesavers and lifeguards.
Now that we've passed the peak of the summer and February has arrived, patrol times will again finish at 5pm at all beaches so bear this in mind when planning your afternoon swims.
Lifesavers put to the test
This weekend will see some of our best lifesavers heading north to Bundaberg to compete in the State Surf Rescue Championships.
The event not only sees our lifesavers competing across the some of the traditional lifesaving sport disciplines, but they will also be tested across patrolling and first aid scenarios, resuscitation techniques and more of our core skills used on patrol every weekend. Good luck to all our competitors!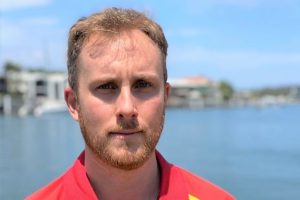 If you're heading to the beach, make sure you of course only swim between the red and yellow flags!
Aaron Purchase is Surf Life Saving Queensland's regional manager for the Sunshine Coast. His column in sunshinecoastnews.com.au keeps the community informed of what's happening on the beach and offers tips on how to stay safe.