See the driver of that car next to you at the lights?
Yes – that one: the bloke in the ute dressed in high-vis. He was talking to his passenger mate and changed lanes back there without indicating. Makes your blood boil, doesn't it?
But what about the one you didn't see yesterday – that P-plater who came out of nowhere. You had to brake hard because you might have been going a little loose and fast on the rat run to work.
Where visual, physical or cognitive distractions are concerned, we can be both the goodie and the baddie on the roads. None of us is lily white.
The roads are a heaving hive of humanity. We intersect with and pass each other, hover near and zoom by. We are all guilty of distractions but mostly they just prompt a temporarily elevated heart rate and a wave in apology.
Some are not so lucky.
Two young women attended Maroochydore Magistrates Court last week to witness the sentencing of the driver who almost killed them.
Charlie Harris and Harlee Henderson, both 20 and from Mooloolah Valley, were in a sedan that was crushed by a 24-tonne crane truck on the wrong side of the road at Ilkley last March.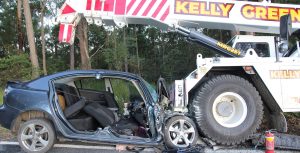 The driver, Russell Leslie Curtis, didn't mean for it to happen. His attention had faded and the result was horrific.
The women sustained critical injuries and Harlee's soon-to-be-born son died. They lost their jobs because they couldn't work. Their pain and suffering continues.
The truck driver was naturally devastated, sorry for not taking more care and accepting of responsibility for changing so many lives. He was fined and lost his licence and therefore his job.
While crashes as catastrophic as this one are mercifully rare, distractions and inattention brings us close far more often than any annual report will show.
Queensland Transport says that on average 29 people are killed and 1284 are seriously injured each year on state roads as a result of crashes where driver inattention played a part.
It's why the penalties for using your phone while driving were jacked up last year.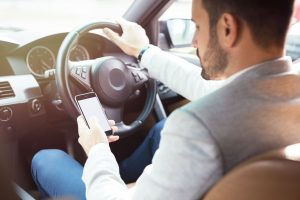 Evidence shows that when your eyes are off the road for just two seconds, a vehicle moving at 60km/h travels more than 33 metres. The average person takes 1.8 seconds to react to an incident, so that is not going to end well if something unexpected happens just ahead.
Doling out penalties is one thing, but surely the crane vs car case is a wake-up call for us all.
We need to see a driver's licence as far more than just our ticket to get behind the wheel.
It is a commitment that when you are in charge of a vehicle, you will do just one job: drive it.
It is a promise to other road users that you will drive within the rules, showing them care and paying attention to what is going on around.
Two young Mooloolah women's near-death experience was laid out in the Maroochydore courts. It was a horror show no one would wish on another.
Jane Stephens is a USC journalism lecturer, media commentator and writer. The views expressed are her own.