Sunshine Coast residents with some of the tiniest backyards in the country have proven size doesn't necessarily matter when it comes to making the most of your little patch of Australia.
House proud families who live in Aura, where backyards can be just 3 metres deep, are showing that you can still have a pool, grow vegies and have friends over for a barbie out the back.
Since about the early 1990s, there has been shift in Australia towards significantly smaller blocks, with the house itself now taking up most of the land.
That trend has been cemented in Aura's burgeoning estates where some yards are so small that the double garage has become the place to hang out with the neighbours and have a beer.
Aura was launched in 2015 with an expected an population of 50,000 when completed and the demand is so great it is now 10 years ahead of schedule.
It's the suburbia of the future with land sizes as small as 75sqm. One of the most popular house-and-land packages is a three-bedroom home on 280sqm.
One of the builders in Aura, Vantage Homes, says the average block size in Australia today is between 250sqm and 300sqm which is around half the 600sqm of before.
But the shrunken yard presents a design challenge that many Aura residents have taken up to create homely and inviting outdoor spaces that require much less maintenance than a traditional quarter-acre lot.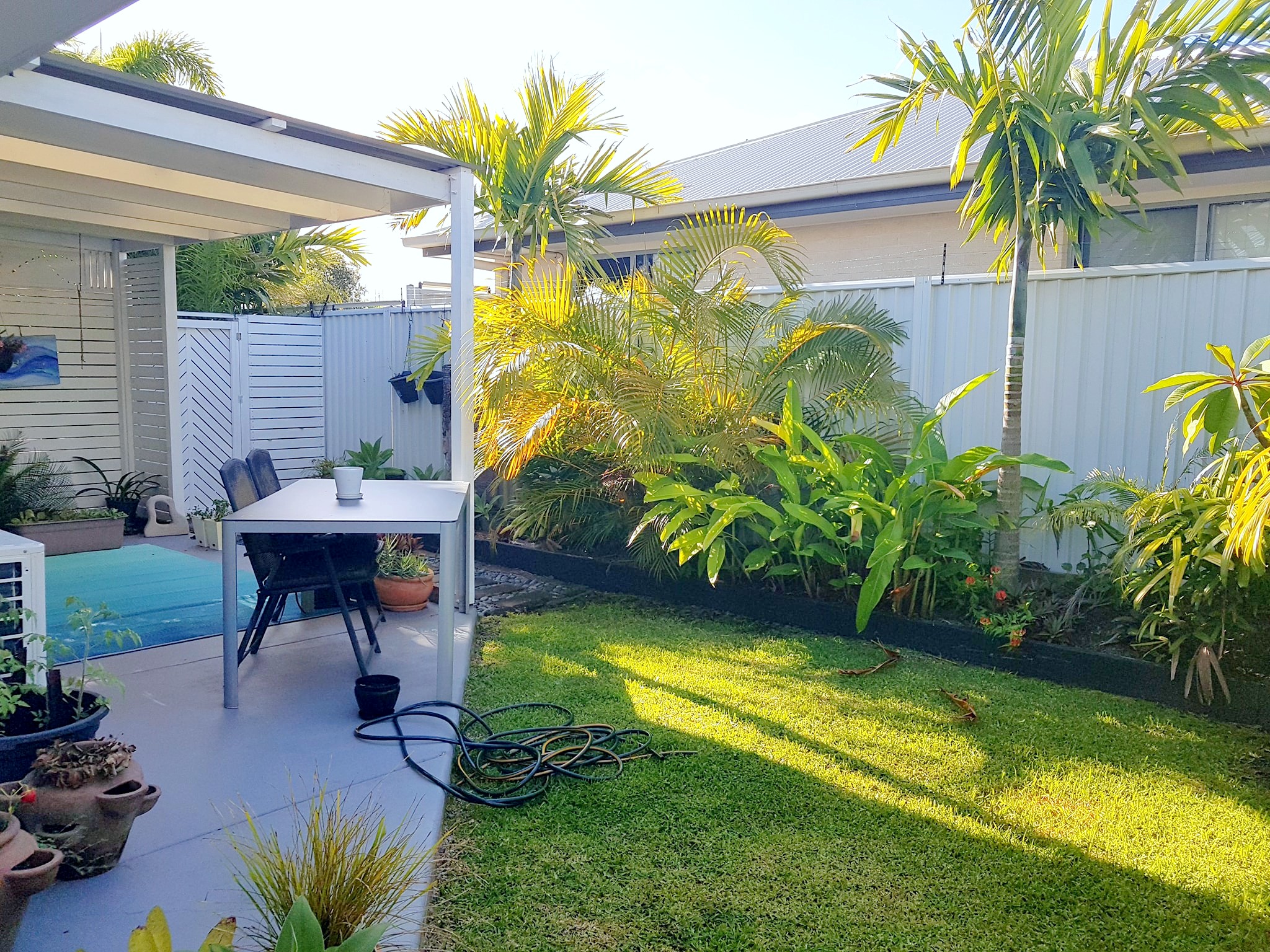 An original Aura resident Jan-Marie Brooke, who lives in Bells Reach, designed a lush tropical oasis of solitaire palms, golden canes and hibiscus.
Every room has a sliding door that opens onto an outdoor space and white light fills the two-bedroom house — with a separate 'goddess apartment' — which sits on a 376sqm block.
The backyard is about 10m x 4.5m which she filled with plants from the Yandina markets and she has a big poinciana out the front.
"Good design doesn't have to be big," said Jan-Marie.
"It's about making the most of what you have. Some people literally use the whole block for their home.
"But gardens are a stress release. If you have gardens around you, it's naturally calming and that's why I wanted to have greenery off every room."
Tiny yard, tiny pool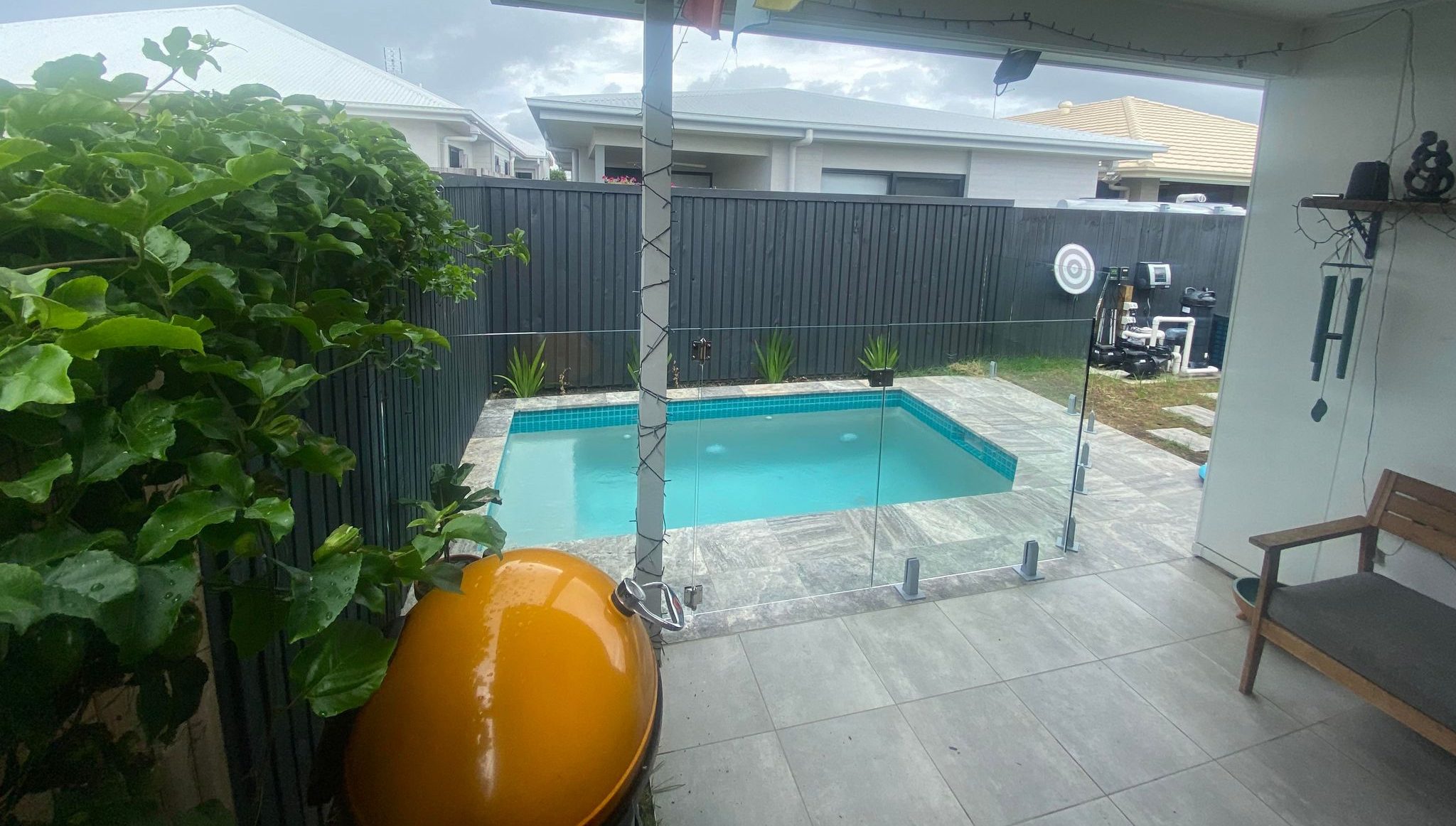 Chris Hodges has managed to squeeze a pool into his family's cosy garden without compromising on amenity.
The pool is just 4m by 2m and is heated so it can be used all year round which the kids absolutely love.
"We only have a small 300m2 block but we love it," he said.
"My wife is a passionate gardener and has transformed our front yard too.
"We also have a passion fruit vine growing along the boundary fence. The passion fruit vine is also growing over the fence so our neighbour gets heaps of passion fruits too."
You don't need a huge backyard for a spa either.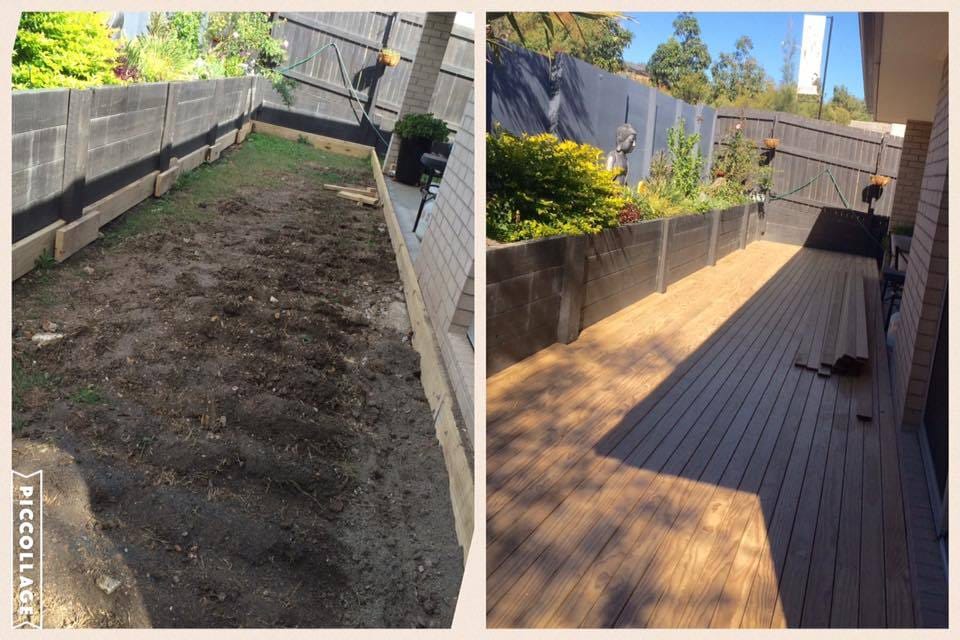 Chris Robertson has a Balinese-themed outdoor area and has replaced the turf with timber decking.
The space comes to life with choice plants filling out the garden bed and perfectly placed pots.
"It's like having a large extension to my patio area," he said.
"I love sitting in the spa the end of a long day and having a few drinks. Very relaxing and in winter time I get a fire pit going. It's just a nice atmosphere."
Alfresco enjoyment
Brett and Meagan Larkin live on a corner block in Baringa which is about 400sqm.
They did most of the work themselves to create a pool and deck to make the most of Queensland's warm climate while also protecting their space from the harsh sun.
"We had thought early on to position our home 3m off the rear fence so as to add a double side gate for our multi-use trailer to keep it from the road side," said Brett.
"And our side yard size was on purpose so as to put a deck under our alfresco area and later, when funds allow, a pool with the extended deck added on."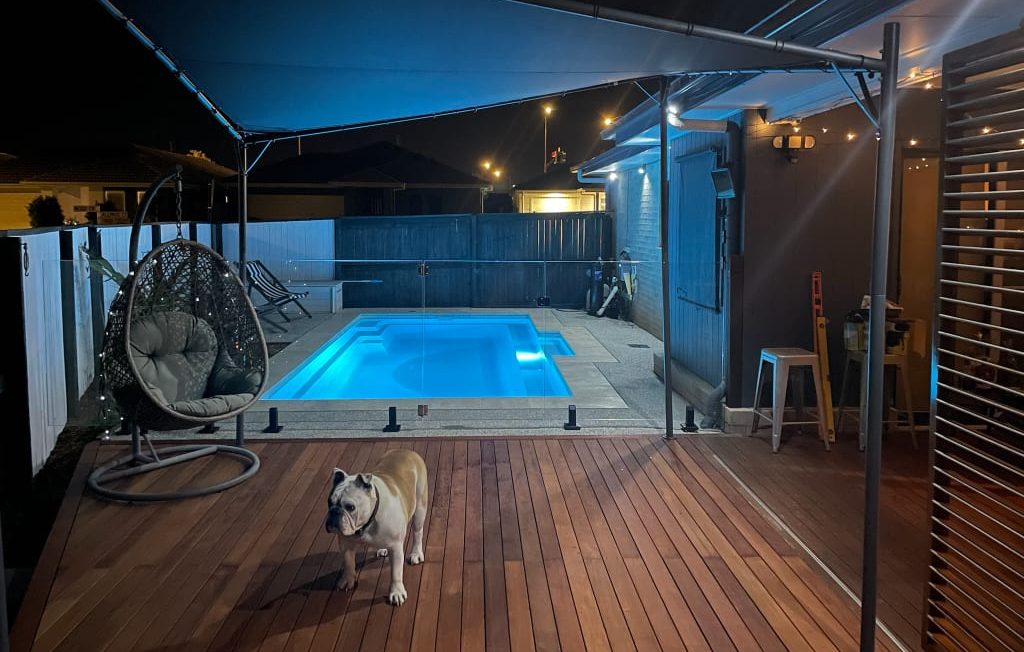 "I had repurposed a wooden louvre frame and added it to a track to sun shade the alfresco at different times of year where the sun moves.
"We made use of a small yard by making sure the pool, deck and house floor were the same level to feel more apart of the home instead of three different areas."
We ensured to provide a multi function space, so built in a raised seating area in our garden bed. Additionally screened the water tank so that it visually wasn't such an eyesore
Pandemic vegies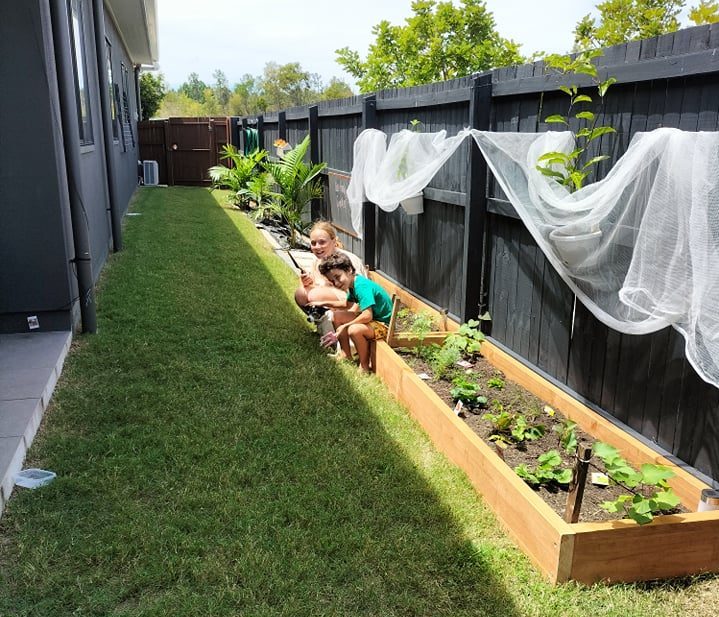 COVID lockdowns inspired Sharna Dalton and her family to do something more with their runway strip of lawn.
They installed raised beds gardens along the length of their back fence and started nurturing and edible plants.
"We are trying to use our space for plants and gardens. Especially with COVID, we became interested in growing our own food and herbs. The kids love it," she said.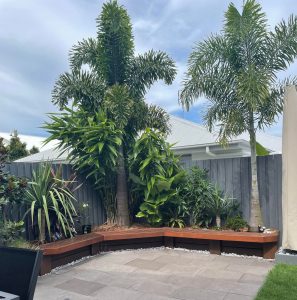 Another good use of garden beds was Rebekah Foster's idea to incorporate seating.
"We ensured to provide a multi function space, so built in a raised seating area in our garden bed," said Rebekah.
"Additionally screened the water tank so that it visually wasn't such an eyesore."
Easy care garden
Diane Moriarty lives in Pelican Waters but also has limited outdoor space which she has turned into a tropical garden that's easy to maintain.
Vibrant plants such as red bromeliads add artistic splashes of colour to the landscape while a decorative water feature a a sculptural focal point.
"I just wanted to try and create a tropical garden feel with plants that could tolerate the heat and sun in this climate," she said.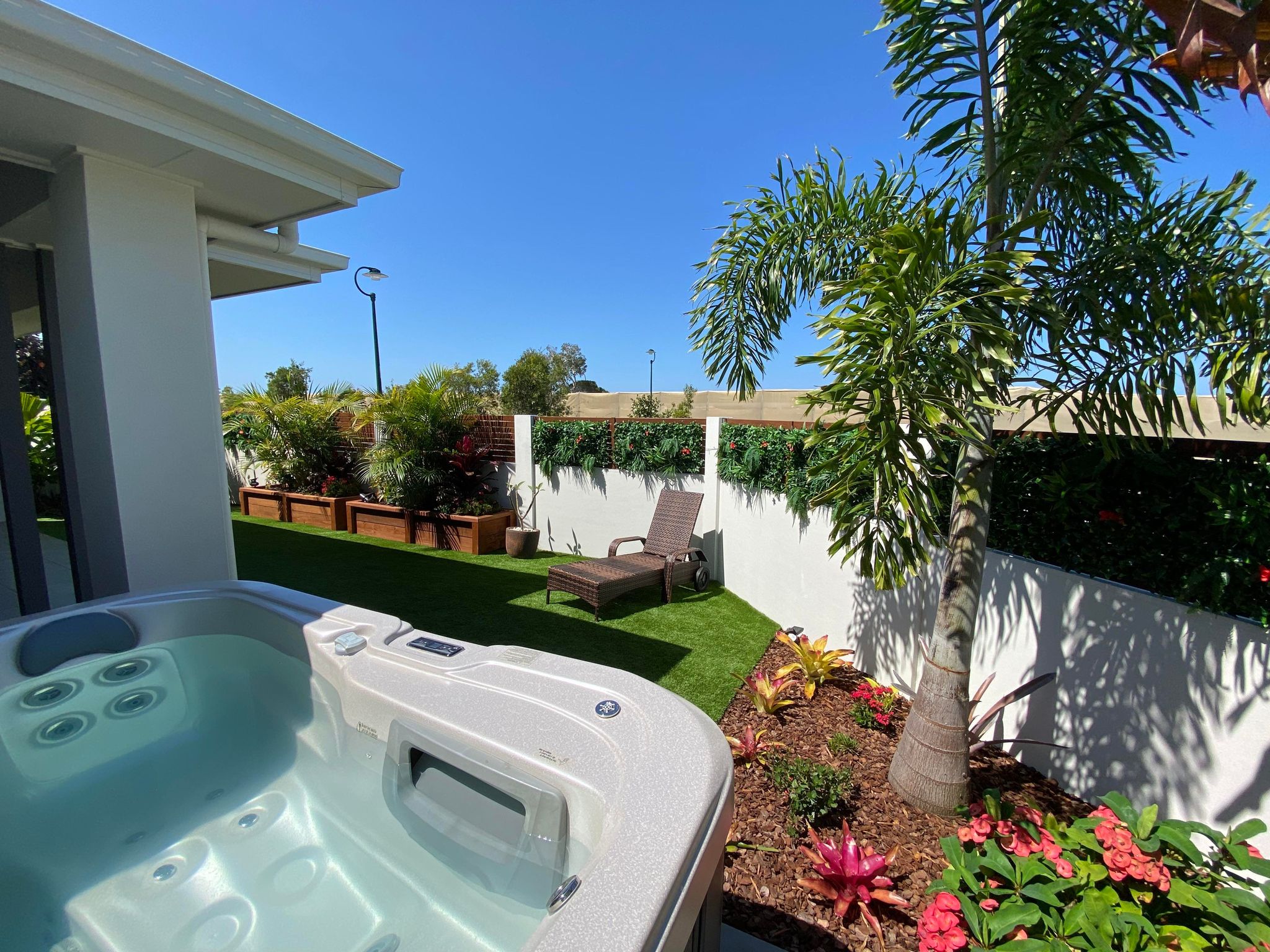 "It's an easy care garden with different textured leaves and includes pops of red flowers.
"I'm very happy with how it turned out, I think I've got the tropical feel, I've also added the odd spotlight/solar lights to show the plants at night."
Help keep independent and fair Sunshine Coast news coming by subscribing to our free daily news feed. All it requires is your name and email. See SUBSCRIBE at the top of this article