A tiny beachfront suburb that had gone under the radar for years is now smashing records as one of the most sought-after locations on the Sunshine Coast.
Buyers from around Australia are fighting to get their hands on rare absolute seaside homes in Marcoola, previously best known for being home to the airport.
The sleepy village reached a new property record at auction on the weekend with $2.55 million achieved for a highset timber home at 21 Joanne Street, behind the dunes.
Late last year, the quiet village also had the highest increase in rental prices in Australia.
In a moment of silence between auction bids on Saturday, it was the sound of crashing waves in the background, that was enough to secure the winning bid.
"There was a big pause during the auction at $2.5m," North Shore Realty listing agent Brad Reed said.
"I said (to the crowd) that's the ocean you can hear, it's not a recording. We got another $50,000 after that."
Auctioneer Gordon Macdonald then brought the hammer down at $2.55 million, setting a record for this prized location.
"It was a cracker of an auction," Mr Reed said.
"This is a record for the established area of Marcoola Beach."
"On the Maroochy north shore you can't get beachfront at Twin Waters, nor at Mudjimba and there are only 10 blocks in Marcoola Beach which are beachfront," Mr Reed said.
"The next spot is Yaroomba which is twice the price. And you can't get beachfront in Coolum."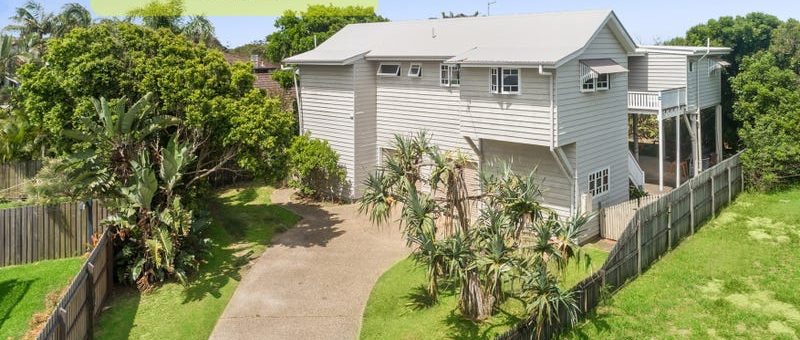 Mr Reed sold the five-bedroom beachfront property to the vendor 20 years ago, for $670,000.
Among the Saturday auction crowd of 150 people were 14 registered bidders, including a local couple with a phone in hand and the responsibility to help a Sydney buyer get across the finish line first. They did their job securing the property for the interstate buyer.
Mr Reed noted there were 70 inspections of the property prior to auction with only three of them being by interstate buyers while the rest were locals.
And another record tumbles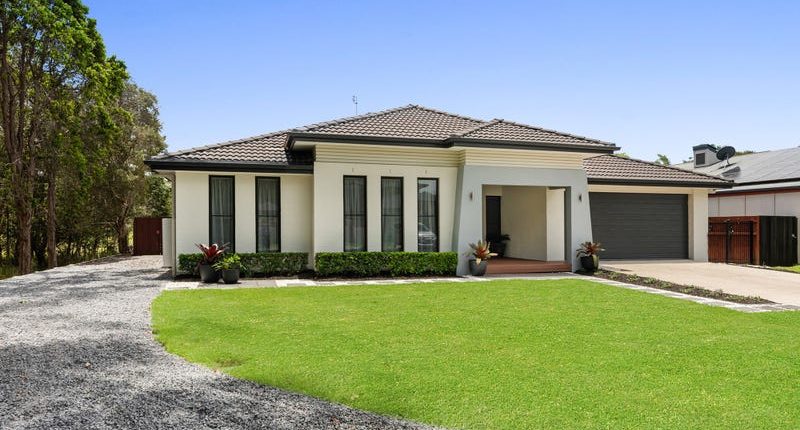 The peaceful, private five-bedroom residence at 56 Coolibah Street in Mudjimba was too good an opportunity for a growing family not to push for a pre-auction purchase.
The contemporary home with several separate living spaces for children and adults to enjoy sold for $1.7 million, setting a record for the estate.
Nearby is the patrolled Mudjimba Beach and its beachfront cafes.
"It's a lovely big home and well-presented," North Shore Realty listing agent Brad Reed said. "It is one of the bigger homes in the estate."
The buyers, who have a young family, are from the Coast. "The home ticked all their boxes," Mr Reed said.
Help keep independent and fair Sunshine Coast news and opinion coming by subscribing to our free daily news feed. All it requires is your name and email. See SUBSCRIBE at the top of this article. 
Competition for Pacific views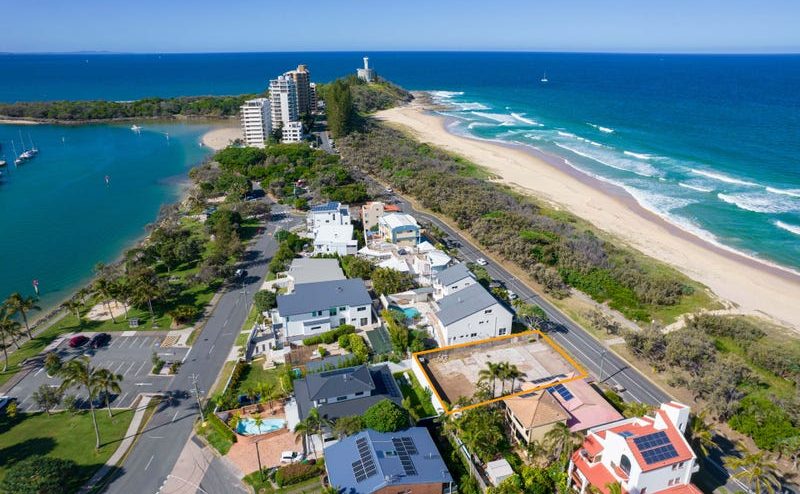 Sweeping panoramic views of the ocean and Mooloolaba harbour will greet the eventual new owner of the 546 sqm empty block at 17 Pacific Boulevard in Buddina.
It is one of the highest blocks of land in that area.
Listed by the team at Next Property Group, it went to auction on Saturday with 21 registered bidders vying for this unique Buddina property. Most of the bidders were from Brisbane and the Coast.
"It had heated bidding up to $3.6 million," Next Property Group principal Loren Wimhurst said.
"We are currently in strong negotiations with several buyers in the $4 million-plus range."
"For a beautiful home you would be paying $6 million to $7 million in that location," she added.
$1 million 'traditional home'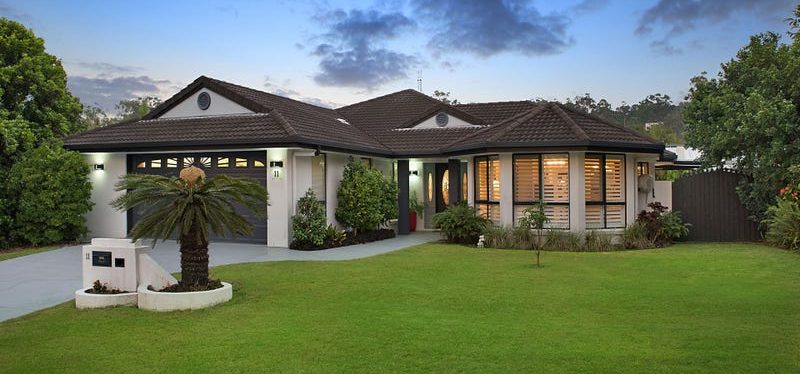 There was brisk bidding for the four-bedroom home at 11 Barrier Close in Buderim, which has been tenanted for the last three years.
It sold under the hammer to a local investor for $1 million, Ray White agent Robert Horne reported.
"The sellers were over the moon with what they got," Mr Horne said.
Over 60 people attended the Saturday auction which attracted five bidders from the Coast and Brisbane, and one from Sydney.
"I think there is so much demand for this type of property; the traditional four-bed, two-bathroom home with a pool," Mr Horne said.
"There seems to be any number of buyers out there that have got the capacity to spend around $1 million for that sort of product."
"The buyer could see value in it as an investment," he added.
"This home was a bit impeded as it has tenants in place so anyone buying couldn't move until July 7. That had a bearing on some of the action."
Auction results
17 PACIFIC BOULEVARD, BUDDINA
UNDER NEGOTIATION POST AUCTION FOR OVER $4m
Land only. Next Property Group, Loren Wimhurst, Richard Scrivener Courtney McGuirk
11 BARRIER CLOSE, BUDERIM
SOLD UNDER THE HAMMER FOR $1m
4 Bed, 2.5 Bath, 2 Car, Ray White, Robert Horne, Sally Horne
PASSED IN AT $850,000
4 Bed, 3 Bath, 1 Car, Ray White, Judy Wild, Lew Pottinger
75 GOSSAMER DRIVE, BUDERIM
SOLD UNDER THE HAMMER FOR $1.190m
4 Bed, 2 Bath, 2 Car, Ray White, Jodi Price
PASSED IN. UNDER CONTRACT
4 Bed, 3 Bath, 3 Car, Ray White, Kathryn Wiltshire
SOLD UNDER THE HAMMER FOR $1.005m
4 Bed, 2 Bath, 2 Car, Ray White, Matt O'Grady, Kirstin Cowie
PASSED IN AT $1.9m
5 Bed, 3 Bath, 8 Car, Ray White, Kathryn Wiltshire
21 JOANNE STREERT, MARCOOLA
SOLD UNDER THE HAMMER FOR $2.55m
5 Bed, 4 Bath, 2 Car, North Shore Realty, Brad Reed
 217/26 SAINT VINCENTS COURT, MINYAMA
SOLD PRIOR TO AUCTION FOR $412,000
1 Bed, 1 Bath, 1 Car, Ray White, Mandy Leahy
 12/91-97 DUPORTH AVENUE, MOOLOOLABA
PASSED IN AT $600,000
2 Bed, 1 Bath, 1 Car, Ray White, Sarah-Louise Anderson
 5 ANTHONY AVENUE, MOOLOOLABA
UNDER CONTRACT AFTER AUCTION FOR OVER $1m
4 Bed, 2 Bath, 2 Car, Next Property Group, Loren Wimhurst, Carmel La Macchia
36/13 MOOLOOLABA ESPLANADE, MOOLOOLABA
PASSED IN AT $1.150m. UNDER NEGOTITATION
2 Bed, 2 Bath, 1 Car, Define Property, Grant Whisker
56 CO0LIBAH STREET, MUDJIMBA
SOLD PRIOR FOR $1.7m
5 Bed, 2 Bath, 2 Car, North Shore Realty, Brad Reed
41 CUPANIA STREET, MUDJIMBA
SOLD UNDER THE HAMMER FOR $1.675m
4 Bed, 1 Bath, 1 Car, North Shore Realty, Mark McDonald