The new "North Bribie Island" has a castaway.
Fears are growing for a lone kangaroo seen marooned on the fragile, isolated isle created after a dramatic breakthrough about 2km south of Caloundra's Happy Valley.
This happened on January 2 and, since then, what was a small channel has widened by the day.
Tides and powerful seas have carved a deep and dangerous opening about 300m across.
Golden Beach resident Chris Green was kayaking with friends in Pumicestone Passage on Sunday, when he spotted a solitary local resident on the newly annexed "North Bribie" about noon.
The stranded fellow is believed to be an Eastern Grey, which are found in Bribie Island National Park.
"The kangaroo looked fine and healthy," Mr Green said.
"It was the only one I spotted.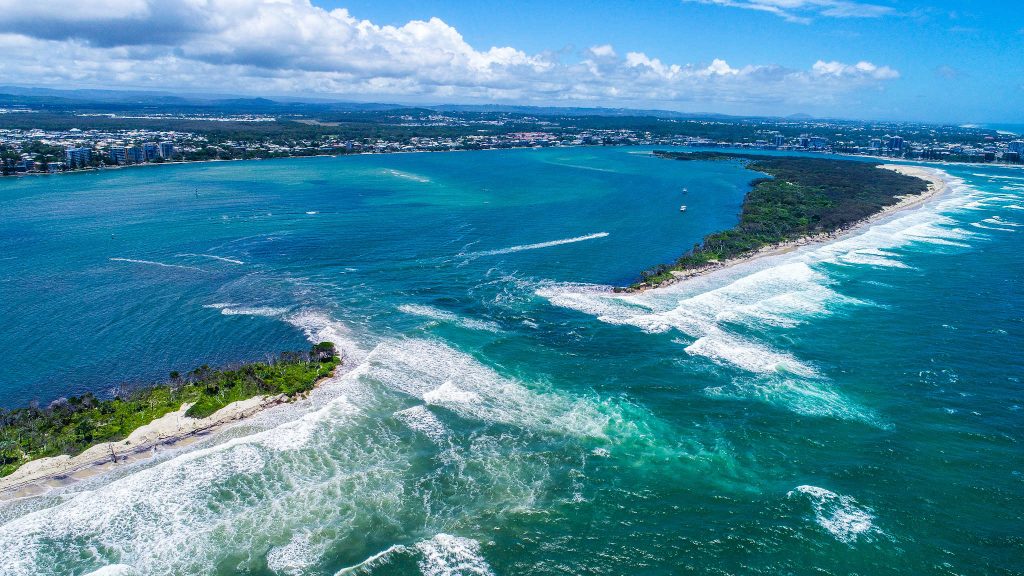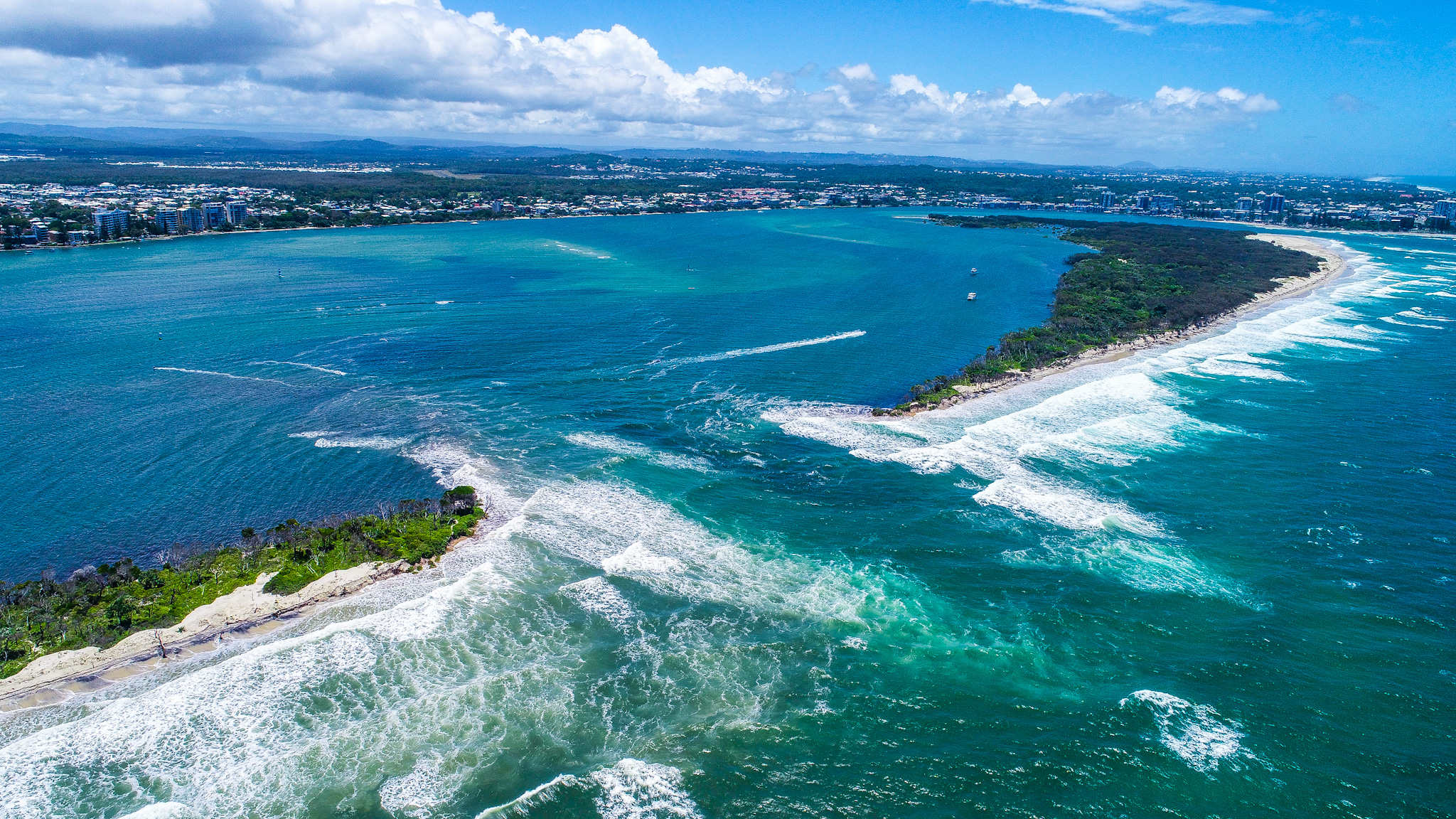 "I was concerned that it might not find enough food and the population might be too small to survive on the small island.
"I guess that the kangaroos are smart enough to swim off the island if it can't support them."
University of the Sunshine Coast researcher Elizabeth Brunton, of the SEQ Eastern Grey Kangaroo Conservation Project, said she wasn't aware a kangaroo had been trapped by the separation.
"There have been documented instances of kangaroos swimming many hundreds of metres, but kangaroos only usually swim if they need to: for example, to escape predators," Dr Brunton said.
"In the short term, there may be enough food on the island. However, in the long term, staying on the island isn't likely to be a good option for the 'roo.
"I would suggest the best course of action would be for the kangaroo to be monitored regularly in the coming days and for it to be relocated to the southern side if it doesn't relocate itself."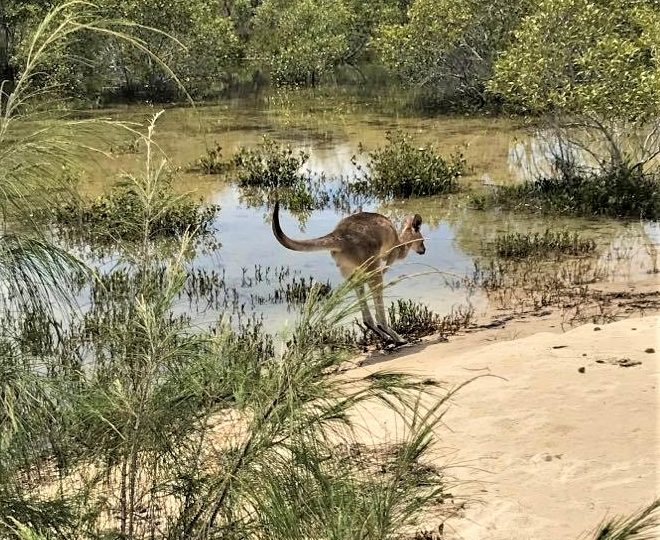 This is the latest sad tale of Bribie Island kangaroos, which have largely fallen victim to habitat destruction and road kill in recent times.
In August 2019, up to 40 kangaroo carcasses were spotted from the air between Second and Fourth Lagoon while trying to escape the island's catastrophic bushfires.
Mr Green shared his photo to the Caloundra Community Board Facebook page, where opinion was divided as to whether or not wildlife experts or National Parks and Wildlife should intervene to rescue the kangaroo and rehome it on the larger island.
Do you have an opinion to share? Submit a Letter to the Editor with your name and suburb at Sunshine Coast News via: news@sunshinecoastnews.com.au
Trish Collier wrote: "I was only speaking to someone about this as I was concerned some may have got stuck there. I don't think that area could permanently sustain them. I hope someone can sort this."
Danielle Dunshea added: "Authorities need to be contacted as there is no food or fresh water or good shelter from bad weather."
But Deni Casey advocated letting nature take its course: "You do know kangaroos do eat leaves and stuff. Also they have lived on this country way longer than any of us. We don't have to intervene. Why do humans feel they have to control what naturally happens".
Leanne Piekut agreed: "Exactly, Deni. Nature has its way. Humans stuff it up because they think they know better!"
A Department of Environment and Science spokesperson said that in general, the DES had responsibility for the protection of native species rather than individual animals.
As with any injured, sick or orphaned wildlife (other than crocodiles and cassowaries or marine mammals), individual cases of stranded animals on the tip of Bribie Island should be reported to the RSPCA on 1300 264 625 or a local licensed wildlife carer organisation.
The Bribie split has created quite an attraction, but concerns linger about the impact it may have on the passage and Golden Beach.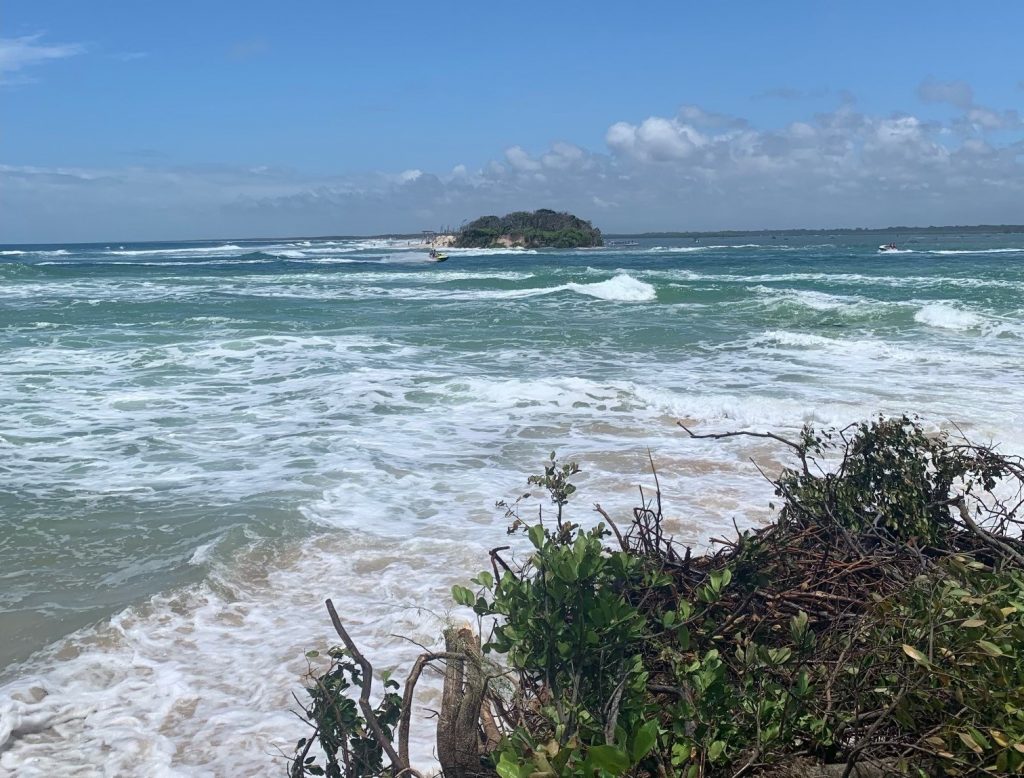 It has already forced one long-established business to alter operations and pivot.
The State Government's principal coastal scientist Sel Sutlmann believes the dramatic tidal breach could become the "dominant" entrance to Pumicestone Passage but told Sunshine Coast News: "As this breakthrough is a naturally occurring event in a dynamic coastal environment at the tip of Bribie Island, there are no planned remedial actions".
Local journalists supporting local people. Help keep independent and fair Sunshine Coast news coming by subscribing to our free daily news feed. All it requires is your name and email. See SUBSCRIBE at the top of this article. 
Caloundra Coast Guard flotilla commander Roger Pearce said continuing erosion had widened the new channel to about 300m.
"There will be more erosion but the worst of the erosion will happen at the end of the month on January 31 when we get our king tides coupled with a storm surge," he said.
"Certainly, the southern end has steadied down a lot but the northern end is still breaking up."
Local residents feared the worst in the wake of the tsunami warnings issued after the underwater volcanic eruption in Tonga and big swells in recent days from the remnants of ex-Tropical Cyclone Cody as it tracked a course from Fiji to New Zealand's North Island.
Mr Pearce said the breach had been measured at 280m early last week but a coast guard member's photographs showed that another 20m had been eroded following the big swells.