A former Sunshine Coast deputy mayor says he's "dumbfounded" by a council decision that has created a traffic nightmare at a busy intersection which he's now been told is "irreversible".
Moffat Beach resident Tim Dwyer, the former long-time division 2 councillor, contacted the council over its "silly design" at a busy Moffat Beach intersection used by 26,000 motorists daily.
But an email reply from council dismissed the traffic congestion caused by lane changes at the Buccleugh/Roderick street lights as only a "minor" inconvenience and stated that the change was "irreversible".
Mr Dwyer said he feared the council's sheer stubbornness to admit a mistake would prevent a solution being found despite a traffic study currently underway to determine if any further improvements could be made.
"Why would officers spend time and ratepayer funds on a review if it's 'irreversible'? That doesn't make sense either and quite likely demonstrates a bureaucratic snow job, not an authentic review process," he said.
"I was just dumbfounded they would put such a silly design into that intersection."
Changes to the right-hand southbound lane came into effect in November last year and since then motorists have been frustrated by cars banked up from the Moffat Beach lights to the Dicky Beach shops 1.5km way.
Drivers have become confused and traffic has been delayed as there is now only one lane to go straight because the second lane was changed to a right-turn only, controlled by an arrow at the lights.
Until recently, motorists could use the left-hand lane to turn left to Moffat Beach via Roderick St east, the right-hand lane to turn right into the western side of Roderick St, or both lanes to continue southbound towards Caloundra.
Amid widespread public outcry over the traffic madness, Mr Dwyer took up the issue with council but was shocked by the email reply.
"They need to stop being stubborn and make that right-hand lane a right-hand turn and straight ahead (heading south), thus allowing the two lanes to bring the capacity back to the intersection, that is required in a growing population," he said.
"They've made a mistake and they're that stubborn that they're more focused on engineering theory, rather than a practical, merit-based solution. Some common sense is required."
Mr Dwyer said the current "debacle" gave the smallest traffic movement – cars heading south and turning right into Roderick Street – the highest priority.
But the greatest movement of traffic – heading straight on to Caloundra or turning left to Moffat Beach – appeared to be deemed the lowest priority.
Cars turning left into Roderick St in that left lane also were forced to slow down to take the corner, further impeding the traffic flow of those vehicles heading straight.
"In trying to make the intersection safer, they've made it less efficient, less effective and reduced the capacity of it," Mr Dwyer said.
"It might be a bit safer in some regards for pedestrians (with the green light for cars delayed slightly to give walkers time to cross) but I think it's less safe in other ways."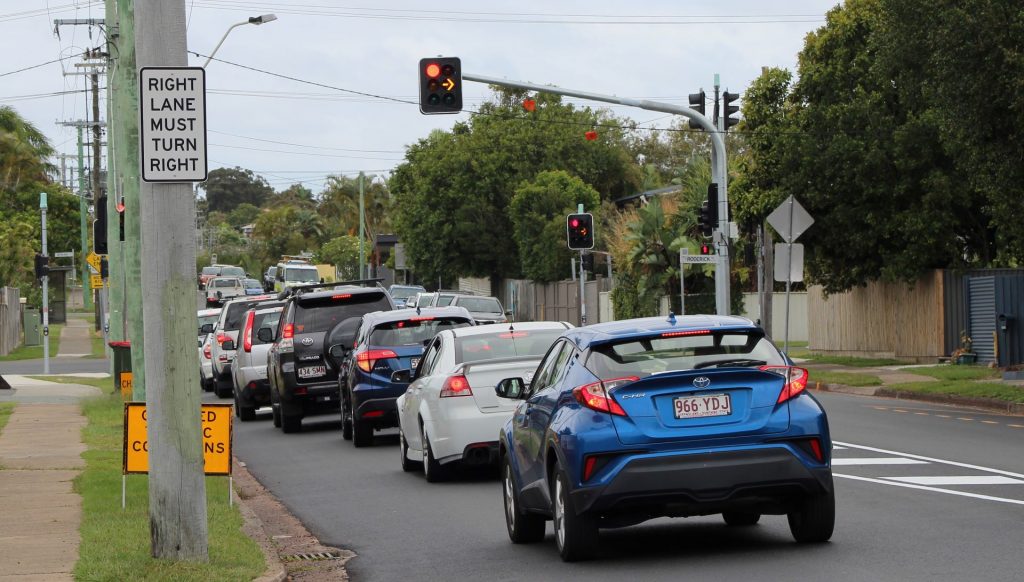 A Sunshine Coast Council spokesperson said the traffic study and monitoring of traffic behaviour at the intersection were still underway to determine if any further improvements could be made.
"The study is due to be finalised in late February 2022, to ensure we capture school and business commuting peak times," the spokesperson said.
"Pedestrian and motorist safety has always been, and will continue to be, our highest priority and we will be considering all options to achieve that objective while also improving traffic flow.
"We thank the community for their patience as we undertake this study."
Help keep independent and fair Sunshine Coast news coming by subscribing to our free daily news feed. All it requires is your name and email. See SUBSCRIBE at the top of this article.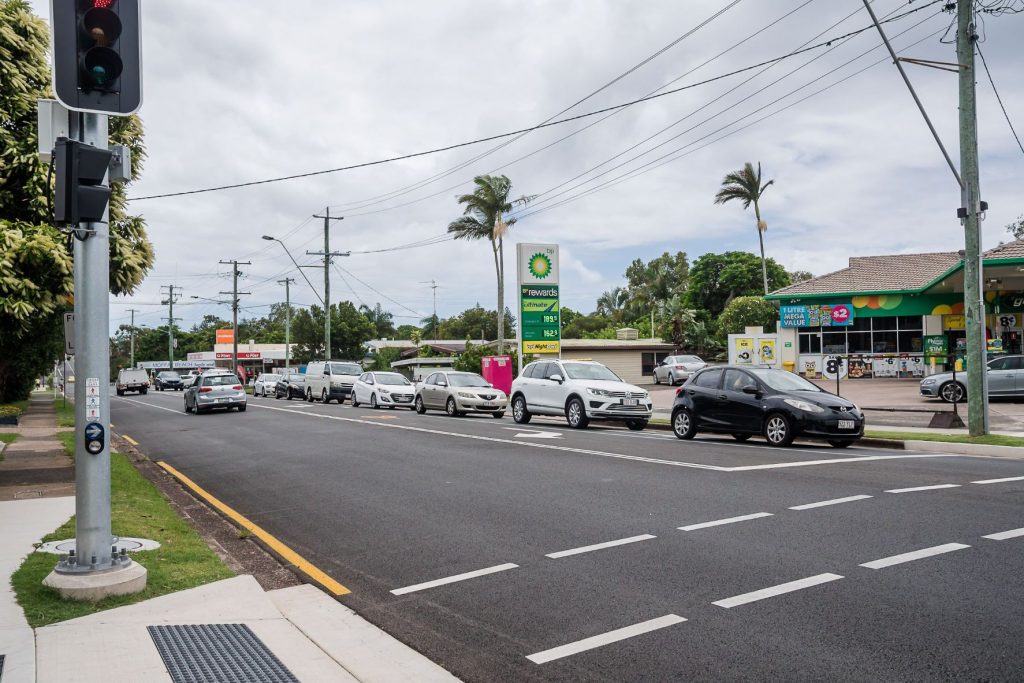 Mr Dwyer said he had been informed by a council officer that it was "unacceptable" for the intersection to have turning lanes and traffic controls that did not match when approaching from the north and south.
"Going north towards Dicky Beach, there is a right lane turn only. Now that's been there for years and years," Mr Dwyer said.
"(The council) said it was unacceptable that going south didn't have exactly the same set up.
"It's ridiculous that an engineer would think that by making intersections work the same in theory, it's going to make them work correctly in practice.
"Why would you try to make something equal when it's not equal and in fact can't be equal because the movements of cars travelling south into town have different characteristics to the ones travelling north."
Mr Dwyer believes an assessment should have taken into account the surrounding domino effects – getting in and out of Bryce St, the Tooway shops and the service station – and created a different solution that was safe for pedestrians without restricting traffic flow in any direction.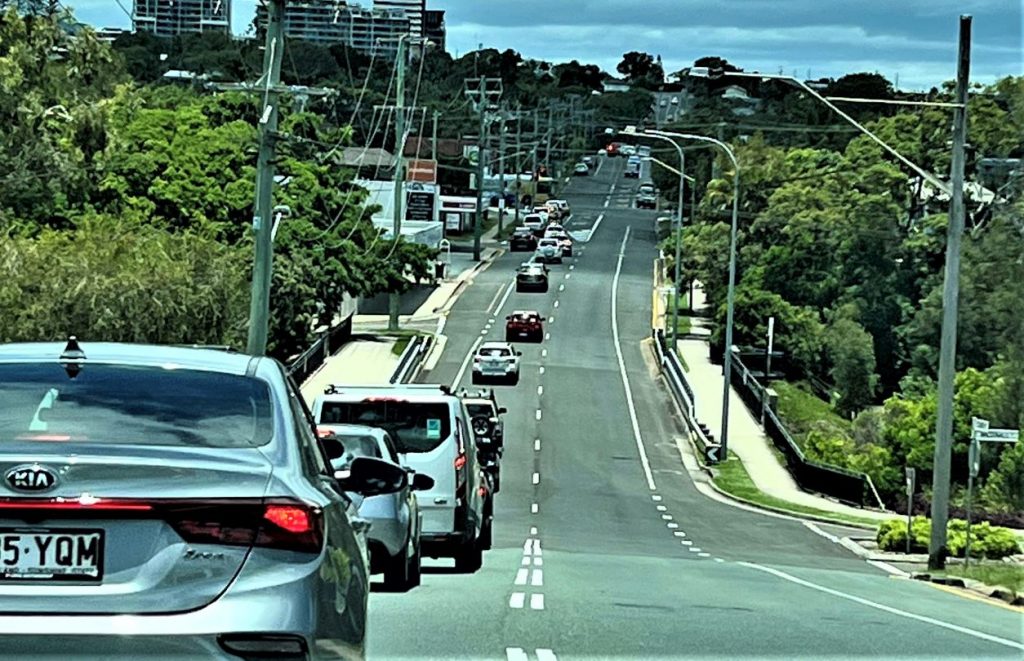 He said the changed traffic conditions also gave no consideration to the many cyclists using the intersection.
"With road widths, cars turning left and going straight ahead/in and out of the servo/pedestrians, it makes the intersection a bigger danger for cyclists than it was before," he said.
"Council adds bike lanes all over and supports active transport, but here they dilute consideration of cyclists. A poor outcome."
Do you have an opinion to share? Submit a Letter to the Editor with your name and suburb at Sunshine Coast News via: news@sunshinecoastnews.com.au