Once a proud Tobruk man, always a proud Tobruk man – that's Maroochydore ex-sailor Rick Mayes.
Rick's intricately detailed HMAS Tobruk (II) radio-controlled model has taken five years longer to build than his two-year stint on board the famed Royal Australian Navy ship.
But he now looks back at both stretches of devoted service as challenging and rewarding in their own way.
The 75-year-old Sunshine Coast Model Boat Club member will launch the 1:72-scale model – complete with three smaller ancillary vessels and landing craft heavy HMAS Balikpapan – in water on Wednesday.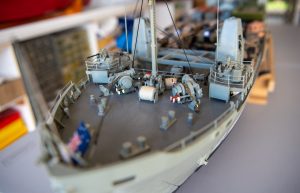 The milestone, that has been seven years in the making, is all the more special to the retiree because of his fond memories as one of 150 crew members serving on HMAS Tobruk L50 (landing ship heavy) from July 19, 1982, as his final posting during 20 years of Navy service.
The Petty Officer Radio Supervisor was in charge of the ship's radio department, before retiring in September 1984.
"I would say that she was pretty close to the best posting I had out of the nine ships I was posted to," Rick recalls.
"A lot of things were happening on board: you worked with the Navy, Army, RAAF.
"In my position, I had to provide all the radio circuits and equipment involved.
"It was a pretty demanding job, very rewarding and I got a lot out of it. Never a dull moment."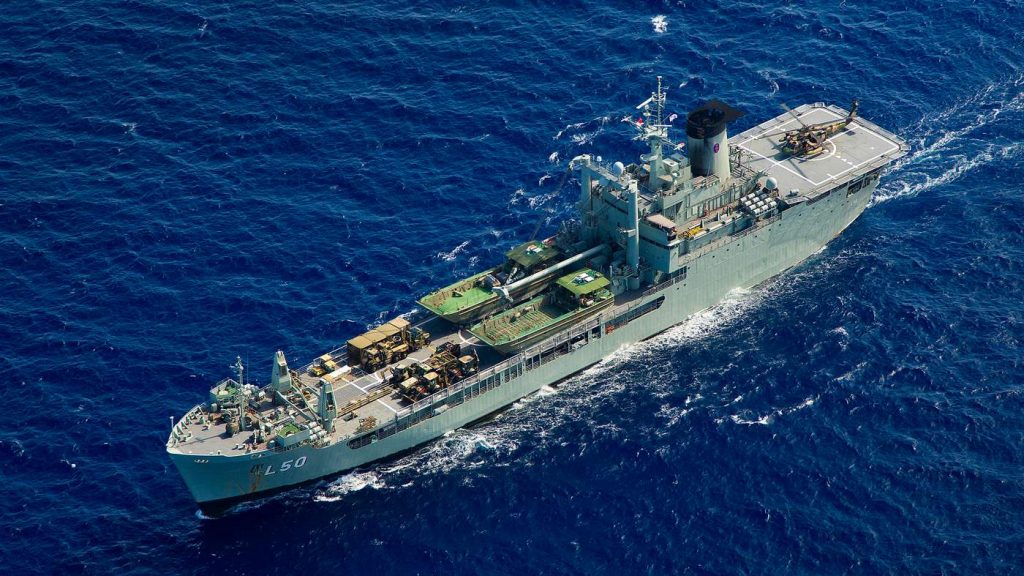 With a motto of "Faithful and Strong", the Tobruk was a multi-purpose troop and roll-on/roll-off heavy-vehicle carrier with facilities for bow and stern loading, beaching, a drive-through capacity and inter-deck transfers via ramps.
Her forward and aft helicopter decks could be operated simultaneously, a big Velle derrick was capable of lifting 70 tonnes, and accommodation was available for up to 520 troops.
Rick always envisaged creating a full working model of the hard-working Navy ship one day. To that aim, he accumulated many photos and details and obtained modellers' plans.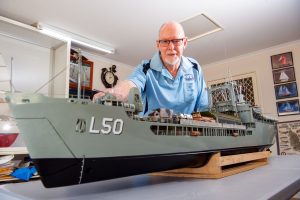 The result is a 1.7m, 18kg model that is operated by two 10-channel transmitters: one for "at-sea" operations using nine channels and the other for "in-harbour" operations using seven channels.
The model has:
five working flag hoists, bow doors and stern ramp opening to offload two Abrams tanks and mobile crane
 operating helicopter safety rails, red flashing lights on the chopper and rotating blades
a ship's horn, smoke maker, working port anchor, bow thruster, rotating radars and ship's radio equipment to broadcast throughout the vessel
on the vehicle deck, a variety of trucks, jeeps, trailers, a LARC-V ( Lighter Amphibian Resupply Cargo 5 tonnes: aluminium-hulled amphibious cargo vehicle), a LCM-8 (Landing Craft Mechanized, Mark 8: small landing craft), and two smaller LCVPs (Landing Craft, Vehicle and Personnel: landing craft used mostly for transporting goods and people) and four shipping containers.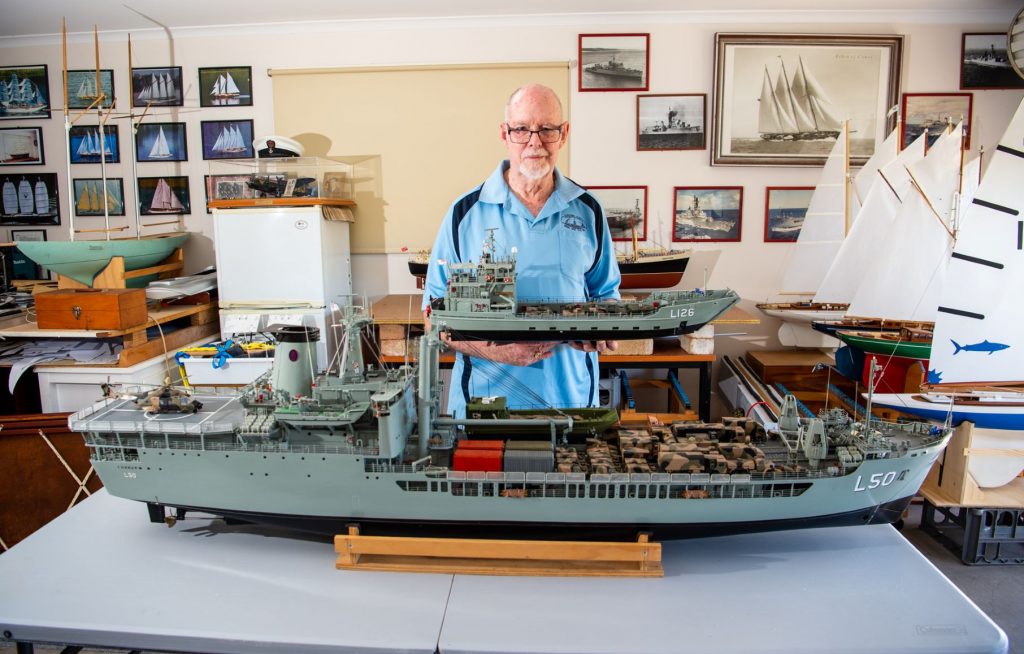 In conjunction with the Tobruk, Rick has built a 70cm working model of HMAS Balikpapan L126 (landing craft heavy) on the same scale with operating bow ramp and two flag hoists, plus rotating radar.
"While 'at sea', she can marry up her bow ramp with Tobruk's stern ramp," Rick says.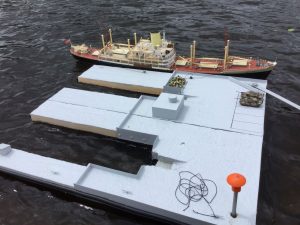 "I have also built a floating wharf, to berth the models and to offload the two Abrams tanks and one mobile crane.
"In order for the models not to move within their respective docks, Tobruk has a berthing rod which protrudes out from the starboard side of the model to connect to the wharf. Balikpapan has the same operation, with the berthing rod operating from the wharf."
In his labour-of-love reproduction, Rick has tried to remain true to the ship's capabilities and is in the process of producing a video of all its working functions during its launch for the world to view on YouTube, and the Facebook page and website of Task Force 72 (an international association of radio-controlled model boat builders, all creating in the common scale of 1:72).
Rick aims to show the Tobruk and Balikpapan in their respective "finger docks", with a further model, the MS Whakatane, berthed outboard on the wharf. That model was built by Rick's late mate Terry Godsell who served on her as an electrical engineer.
Like many men his age, Rick's love of model-making began in childhood.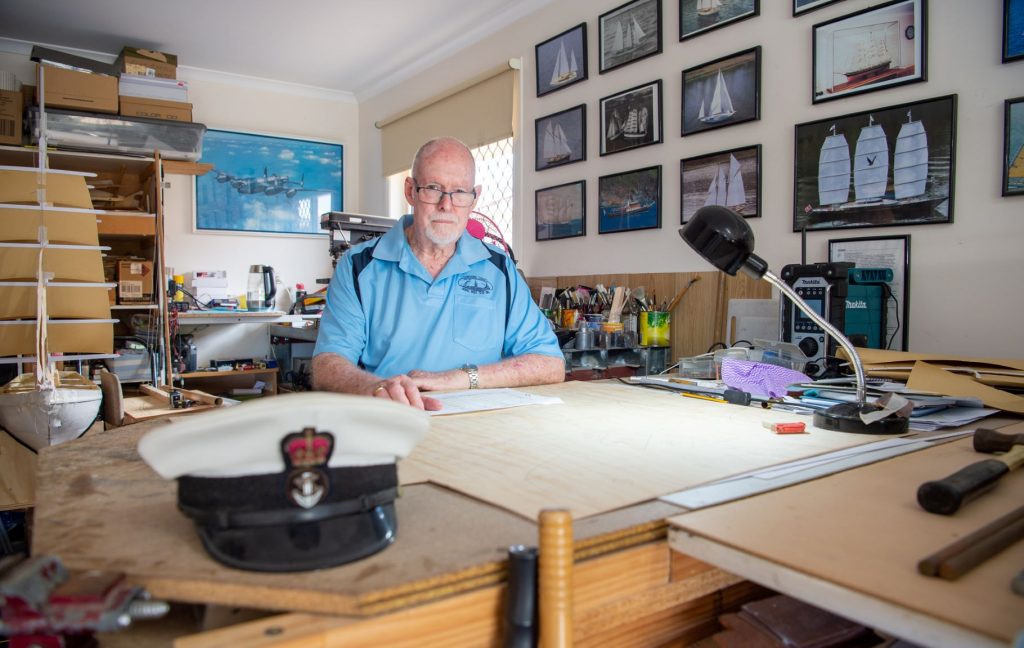 "I've got a wall here with 21 pictures (of models) on it," he says with pride.
"(I've been doing it) basically all my life but I didn't get back into building models again until after my first wife passed away back in 1988.
"I've still got my very first radio-controlled transmitter here. It only had one channel.
Local journalists supporting local people. Help keep independent and fair Sunshine Coast news coming by subscribing to our free daily news feed. All it requires is your name and email. See SUBSCRIBE at the top of this article. 
"Over the years, I have built a further three warships, which I had served in during my 20 years' service.
"However, my love of modelling ships lies with sailing schooners and square riggers.
"I've got a big sailing ship here. It's seven feet long and it's got four masts and 29 sails.
"It's going to my grandson."
HMAS TOBRUK (II)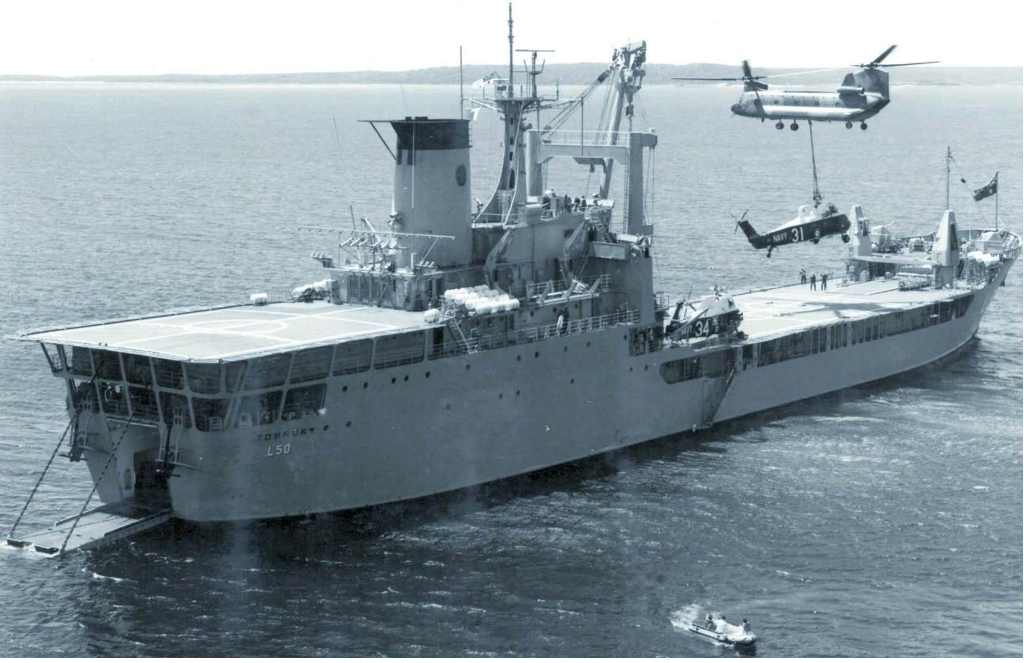 The Tobruk was a multi-purpose ship designed for combined Navy and Army amphibious operations.
The 5800-tonne, 127m long ship, launched on March 1, 1980, took Brisbane as her home port and supported Australian peacekeeping operations in Bougainville and East Timor as well as making multiple trips to the Middle East to deliver vehicles and cargo to Australian forces as part of her honours.
Love nostalgia? So do we. Help keep more great Coast memories alive by subscribing to our free daily news feed. Go to Subscribe at the top of this story and add your name and email. It's that simple.
The ship was decommissioned on July 31, 2015. After being scuttled in late June 2018, she now rests on her starboard side as a world-class dive tourism attraction, about 17 nautical miles (32km) off the coast between Bundaberg and Hervey Bay in the Great Sandy Marine Park.
Being only a few metres below the surface, the former Navy ship is ideal for beginners to feel comfortable yet challenged, while the unique layout allows more experienced divers to explore the deeper decks and swim through the length of the ship along the 20m wide tank deck.
• Sunshine Coast Model Boat Club Inc welcomes all model boat enthusiasts and visitors at its sailing venue at the University of the Sunshine Coast in Sippy Downs Drive every Sunday from 8am to 1pm (weather permitting).