Caloundra residents are questioning the council's assertion that only two per cent of the town's last diverse bushland reserve will be impacted by construction of a new four-lane shortcut.
Designs for the Caloundra Transport Corridor Upgrade (CTCU) show the major thoroughfare will slice through Ben Bennett Bushland Park, a native corridor with walking trails.
The four-lane carriageway will effectively split the 21 hectare reserve, separating off a section in the south-west corner.
In its latest update on the project, Cr Terry Landsberg said community questions about Ben Bennett park featured prominently during council's public feedback phase.
"I want to assure the community that council is working with TMR (Transport and Main Roads) to minimise the project's footprint on the park, wherever possible," said Cr Landsberg in a statement.
"The concept design of the Nicklin Way intersection and alignment through this area affects only about two per cent of the park and it is likely this will be further reduced when the design is refined through the detailed design process."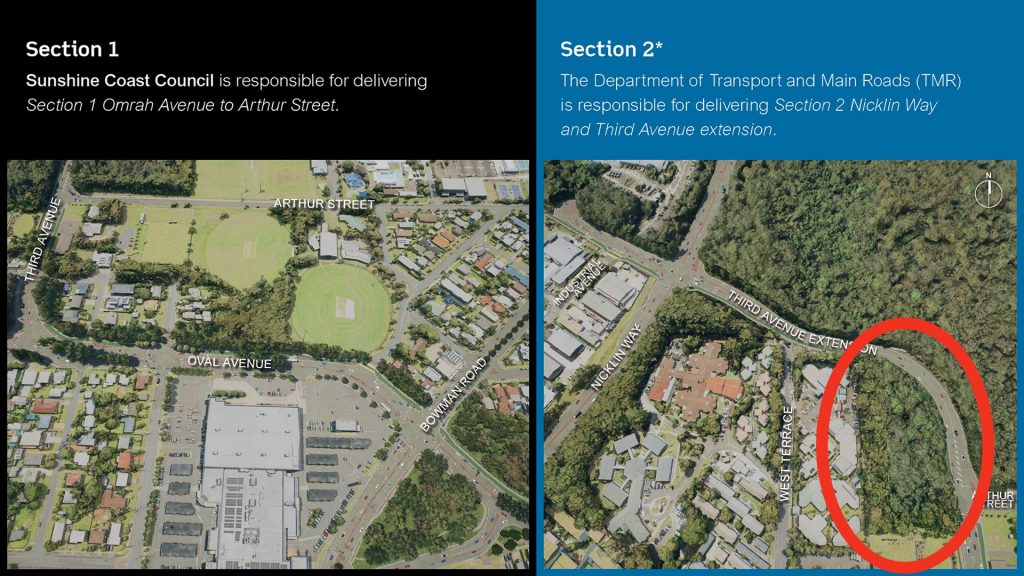 The $37.8 million CTCU project will provide a major new connection from Nicklin Way, north of the Caloundra Road roundabout, to the city centre.
The 1.6km route involves widening Oval Avenue and Third Avenue from two to four traffic lanes and connecting Oval Avenue with Omrah Avenue.
However members of Value Caloundra and wildlife advocates have questioned the "two per cent" claim and are demanding to see an environmental impact report.
Wildlife Preservation Society of Qld Sunshine Coast branch secretary Jude Crighton said the council's assertion was a "misrepresentation of the full effect of the current plan for a four-lane carriageway".
With the park cut into two, Ms Crighton said any fauna such as echidnas that live there would be "mince meat" trying to cross the road.
"The south-western sector…will be effectively severed from the remainder of the park, and although it will be a useful buffer from the road for human habitat, will no longer be safe wildlife habitat," she said.
"A larger area of the remaining park will suffer the adverse effects on both flora and fauna of noise and changed drainage patterns, both during construction and from vehicle traffic and storm-water management once opened.
"The extensive fencing required to keep wildlife safe will unfortunately block human access to this beautiful and diverse natural asset currently enjoyed by all ages."
Ms Crighton also queried the council's artist drawings which she said gave a false impression of tall trees and green bushes along what would be a busy bitumen and concrete corridor.
Value Caloundra's Emma Rees said many people were still not aware of the full scale of the project and how it would change the area.
"As a community group we are saying, 'Can you compromise?'. Where is the compromise? How genuine are they in listening?
An online petition is circulating with nearly 6000 signatures to Save Bennett Park and another public protest is earmarked for January 27th at the park.
Help keep independent and fair Sunshine Coast news coming by subscribing to our free daily news feed. All it requires is your name and email. See SUBSCRIBE at the top of this article 
Cr Landsberg promised that the council would take on board community feedback which would "directly inform the project's next stage, detailed design, which will take place in 2022″.
"This is a major transport infrastructure upgrade for our Caloundra community which aims to meet the current and future needs of motorists, cyclists, pedestrians and public transport users," Cr Landsberg said.
"The project will address significant congestion at the nearby intersection of Nicklin Way, Pelican Waters Boulevard and Caloundra Road, providing motorists, cyclists and pedestrians with an alternative access route to everything that Caloundra has to offer.
"The upgrade is the next step to addressing one of the worst traffic snarls on the Sunshine Coast, recognising the flow-on impacts that the congestion causes on local roads in Aroona, Currimundi, Dicky Beach and Moffat Beach which are now becoming congested as drivers seek alternative routes."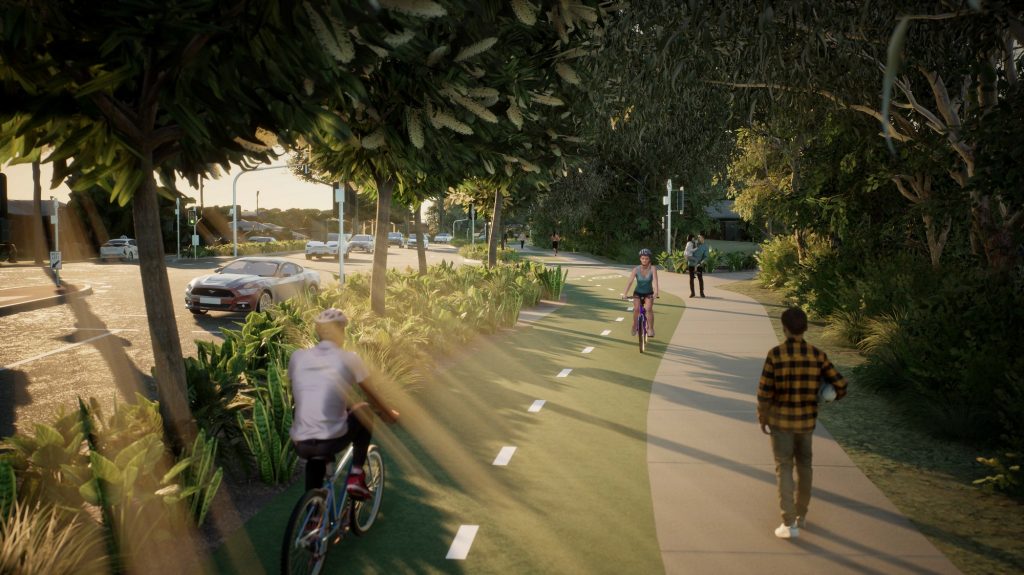 He said council and TMR would continue to investigate the design's footprint, improve active transport (walking and cycling pathways), and protect flora and fauna during the detailed design process.
For more information about the project and map, please visit Council's Caloundra Transport Corridor Upgrade webpage. To receive project updates please register your contact details by emailing: CTCU@sunshinecoast.qld.gov.au