A climate-change protest group – notorious for blockading inner-city streets and Supergluing members to bridges and government buildings – is ramping up action on the Sunshine Coast.
Extinction Rebellion (XR) carved a niche in the region nearly three years ago, and more than 1300 people follow its activities through the group's Coast Facebook page.
The page states: "We are facing an unprecedented global emergency. We need non-violent civil disobedience for climate and ecological justice in Aus & the world – starting in your local main street. If not you, who & if not now, when?".
XR Sunshine Coast spokesperson Tracy Hickey said the local discussion group now had 192 members, with 25 people actively participating in actions.
While less dramatic and political than some of XR's past headline-grabbing activities, recent stunts have managed to turn the heads of residents and visitors alike over the festive period in Caloundra.
Sunshine Coast News reader Denis Ball photographed the latest protest installation.
It was positioned near a busy Happy Valley car park and walkway and showed a man in a dark suit bent over like an ostrich burying its head in the sand to avoid facing danger.
On a post next to the "head in the sand sculpture" was a sign with a QR code that, when scanned, took curious onlookers to a YouTube video: "Heading for Extinction Talk with Bors Hulesch and Sara Hudston" from Extinction Rebellion UK.
The sculpture also referenced the currently trending Netflix "armageddon" film Don't Look Up.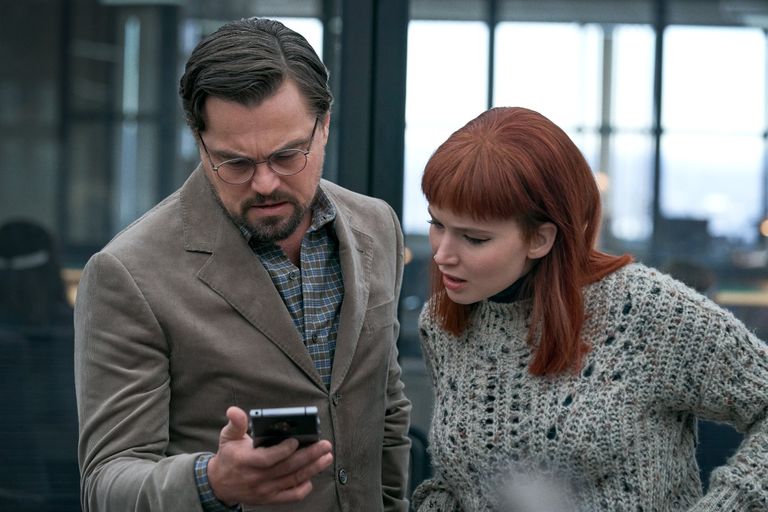 The movie is about an astronomy grad student (Lawrence) and her professor (DiCaprio) who discover a comet on a direct collision course with Earth and embark on a media campaign to warn mankind. But they find themselves faced with a disinterested public and a political campaign gaining momentum that denounces the "inconvenient truth" and tells people: "Don't look up".
Mr Ball said that while he thought the installation was interesting enough to photograph, he did not wish to scan the QR Code to discover more. Others taking photos at the same time had mixed reactions.
Help keep independent and fair Sunshine Coast news coming by subscribing to our free daily news feed. All it requires is your name and email. See SUBSCRIBE at the top of this article. 
"I have heard of the Extinction Rebellion, especially the young person from Pelican Waters (Eric Serge Herbert who earned notoriety in the national media in 2019 after Supergluing himself to Brisbane CBD roads)," Mr Ball said.
"I do not believe in the protest stunts they do, such as disrupting traffic by gluing (themselves) to roads and posts etc.
"This just pisses people off and not creating the support they are trying to achieve.
"(There) should be a more professional way the goals can be reached."
Ms Hickey said the aim of the sculpture, designed from recycled materials, was to use the hype surrounding Don't Look Up to connect with people who would align themselves with XR, and from there, those interested could scan the QR Code to join their local group.
Over the past three years, the local group had played an integral part with other climate groups in demanding Sunshine Coast Council declare a climate emergency, she said.
"Actions have included the climate emergency wheel outside council offices, banner train at the Caloundra markets, chalking of pavements and pole banners about Code Red, banner drop, as well as part of the national 'NAB: don't Nab our future' actions at local branches," Ms Hickey said.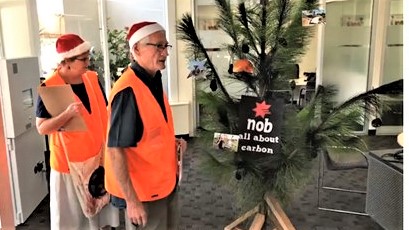 A recent filmed pre-Christmas stunt, posted on the Extinction Rebellion Sunshine Coast Facebook page on December 14, shows a jolly older man and woman in high-visibility vests and Santa hats delivering a pine tree laden with coal and decorated in photographs illustrating climate-change disasters to the NAB Bank Nambour branch.
The Facebook post, titled: "NAB is dreaming of a black Christmas", targets NAB CEO Ross McEwan and alleges his bank has lent more than $7 billion to fossil fuel companies in the past five years.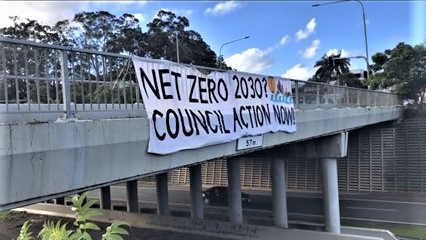 A banner drop over the Jones Road overpass in Marochydore on December 13 also was filmed for the Extinction Rebellion Sunshine Coast Facebook page.
Reading "Net zero 2030? Council action now", the banner highlights the climate emergency declaration made by Sunshine Coast Council in November last year.
"Council target is net zero by 2041 but that is 11 years too late. We need net zero council emissions by 2030!," the corresponding Facebook post says.
The resolution, adopted unanimously at the November Ordinary Meeting, signalled a continuation of action by the council to reduce greenhouse gas emissions urgently, accelerating the work which is already being done in the region.
Do you have an opinion to share? Submit a Letter to the Editor with your name and suburb at Sunshine Coast News via: news@sunshinecoastnews.com.au
Council's website states that Sunshine Coast Council and Noosa Shire Council have joined forces to create a Regional Climate Action Roadmap to guide, inform and build regional capacity to develop and prioritise local responses to climate-related risks such as sea level rise, higher temperatures, bushfires, floods and droughts.
Sunshine Coast Mayor Mark Jamieson has previously told Sunshine Coast News the council was proactive in developing and implementing climate-change policy that was evidence-based and aligned with the best available science and would continue to do so.
Ms Hickey said local members needed to grow the XR group and demand climate-change action by peaceful civil disobedience.
"XR has chosen this type of action because historically it works," she said.