A Sunshine Coast man was thinking about extending his holidays, after scoring a $1 million Gold Lotto win.
The Cooroy resident was enjoying his break in Central Queensland, when he was told he was one of two division one winners from Wednesday night's draw 4145.
He purchased his 36-game QuickPick online at thelott.com, the official home of Australia's lotteries.
He planned to enjoy more holidays and potentially purchase a new car.
"It's really amazing. I can't believe it," he said.
"Initially, when I received the notification email, I thought it was a scam or some kind of joke.
"My partner and I are enjoying a holiday in Central Queensland right now and we have terrible reception at the hotel we're staying in, so I had to drive up the street to check The Lott app.
"As soon as I opened The Lott app, I couldn't believe my eyes. It's incredible.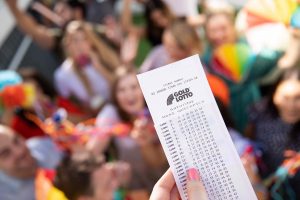 "You never think you're actually going to win. I've been purchasing entries for a while and only win $30 here and there, so this is just sensational.
"I usually play my own numbers, but decided to purchase a QuickPick instead.
"We're supposed to check out of our hotel tomorrow, but we're contemplating staying.
"Thank you, thank you."
He said he had some other ideas in mind, to enjoy the prize.
"We were supposed to enjoy an overseas holiday in Europe earlier last year, but we had to pull the plug as the COVID cases continued to climb," he shared.
"We probably will do more travelling later this year with the prize and maybe purchase a new car.
Help us deliver more news by registering for our free daily news feed. All it requires is your name and email. See SUBSCRIBE at the top of this article. 
"I'll definitely have to celebrate this prize. We might go somewhere else and book a really nice hotel to toast things off."
The winning numbers were 36, 3, 40, 5, 12, 7, while the supplementary numbers were 42 and 20.
There are more chances to win big with Tuesday's Oz Lotto offering $20 million, while Thursday night's Powerball had $60 million up for grabs.
Tickets can be purchased at any licenced lottery outlet, online from thelott.com or via The Lott mobile app.