The remnants of Ex-Tropical Cyclone Seth are expected to result in heavy rainfall in our region.
While weakening dramatically, the once-powerful system isn't completely done with, and will create strong winds and rough seas into the weekend.
It also could dump a parting gift of up to 100mm of rain on the Sunshine Coast region on Friday.
The Bureau of Meteorology is also predicting the chance of thunderstorm.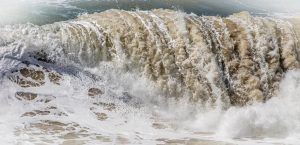 A strong wind warning also will be in place with winds possibly exceeding 30 knots.
The swell will be 2m to 2.5m, but the waves will blown apart by the onshore winds.
The BOM says a ridge extending from a high pressure system near New Zealand will extend along the southern coast in the wake of ex-tropical cyclone Seth.
Saturday is looking better with only a 50 per cent chance of showers and winds turning east to northeast and easing to 15-20 knots.
Sunday will be partly cloudy and then there's only the chance of a shower or two through to Wednesday.
Temperatures over the next few days will be between 22C and 27C.
For more information, go to bom.gov.au.