A local restaurant chain with a commitment to ethical and sustainable foods is reaching even higher with the appointment of its very own "green guy".
Chad Buxton, a qualified marine scientist, has been employed as a full-time sustainably officer for The Good Place restaurants based at Kawana, which has six restaurants in Qld and NSW.
The Good Place believes in a diet rich in "real food" and offers delicious gluten-free meals, with all ingredients sourced from nearby local producers.
While many businesses often aspire to reduce their carbon footprint, The Good Place is following through with the dedicated appointment.
Mr Buxton (pictured) previously managed the Plastic Free Noosa campaign which aimed to eliminate plastic straws at local restaurants, schools and tourist venues.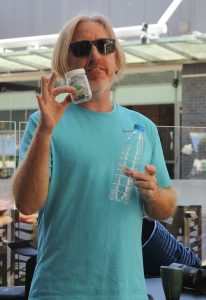 He said often businesses had noble ideals but the follow-through was hampered by time constraints, existing workloads, lack of commitment, financial concerns and simply just not knowing where to start.
"There is often not someone in that role with the responsibility to drive that; usually it gets added to someone else's workload," he said.
"And what I've been finding in the industry is that often there's not any capacity to make these changes, or they're under-prioritised so they take longer than expected, or they're not implemented properly, or when implemented they fail because there's no one actually pushing it.
"With improved sustainability, you're essentially changing the behaviour of not only your staff, but also your customers, and changing behaviours is hard."
Help keep independent and fair Sunshine Coast news coming by subscribing to our free daily news feed. All it requires is your name and email. See SUBSCRIBE at the top of this article 
The Good Place chain has already made some differences by switching from large energy-hungry combi ovens in each venue to conventional ovens, and also moving their slow overnight cooking process to one production kitchen.
This has saved $1500 monthly in power costs per venue.
Mr Buxton is also carrying out audits of overall electricity use, water use, and waste generation, and has the authority in his role to initiate changes that improve business sustainability.
The Noosa restaurant, for example, gives its broken egg shells, coffee grounds, and food waste to the local Mens Shed, and they use that to grow produce.
The chain has also signed up with Green Caffeen, which promotes re-usable takeaway cups to reduce paper cups going into landfill.
Mr Buxton is also managing the chain's ongoing community clean-ups – on local beaches, rivers and neighbourhoods – which has appealed strongly to community members and potential customers.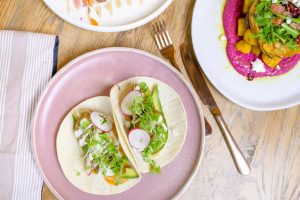 Owner James McGovern said The Good Place had not been doing as much in the sustainability space as he would have liked, so bringing in Mr Buxton was necessary.
"We wanted to ensure the integrity of the business core values: community, health and the environment," said Mr McGovern.
"We were already doing a good job particularly on the health values, we're very much into the community, and we were doing better than most businesses in terms of the sustainability of our business, but to go that next step and really be a leader in that space, I think we had to have a dedicated resource to do that.
"It's an unusual role for a business of our size but there's definitely been a positive commercial impact, and for us it was never a gamble. We're seeing a return on investment as well as delivering to our values, which is what the main thing is for us, I guess."