Brisbane is the gift that keeps on giving.
In recent times, it's come to the party by opening exciting new cultural and entertainment areas, offering quirky experiences, creating bespoke hotels, and serving up world-class bars and restaurants to explore.
From Howard Smith Wharves cultural and entertainment precinct at Petrie Bight, the New Farm Riverwalk and grand old favourite South Bank Parklands to Van Gogh Alive at Hamilton Northshore, Michelangelo's Sistine Chapel: The Exhibition at West End and the Queensland Gallery of Modern Art Asia Pacific Triennial, the Queensland capital certainly sparkles.
But this time, I find myself celebrating the Central Business District.
This was my old stomping ground as a girl – the scene of many a Saturday afternoon excursion to the Albert Street Cinemas (now Event Cinemas in The Myer Centre) or Forum Theatre (then at the corner of Albert Street and Elizabeth Street), shopping in the swish historic Brisbane Arcade or Queen and Adelaide street boutiques and department stores, bicycle riding through the Brisbane City Botanic Gardens, and even school choir eisteddfods in City Hall's magnificent auditorium.
More pictures below in the photo gallery
And who could forget Brisbane Festival Hall, bringing out the "fangirl" for Rod Stewart, Dire Straits and Powderfinger (the inner-city music, boxing and performance venue that had served Brisbane for more than 40 years closed on August 29, 2003, and was demolished, with the site now home to the Festival Towers apartments).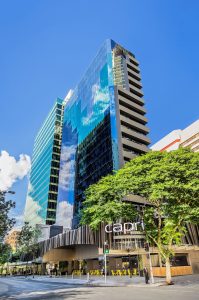 All these memories bring a smile to my face as I hit the switch on the bedhead of my 11th floor Studio Premier room at Capri By Fraser Hotel Residences at 80 Albert Street, automatically pulling back the curtains to reveal a whole new Brisbane city.
The Cross River Rail Link is already making its mark – set to transform Brisbane and its transport options in the lead-up to the 2032 Olympic Games.
The new 10.2 kilometre rail line from Dutton Park to Bowen Hills, with 5.9 kilometres of twin tunnels under the Brisbane River and CBD, includes a new Albert Street station.
But looking a little further afield, I soon realise the once awkward ugly duckling of an "overgrown country town" I grew up with has turned into the elegant white swan of cosmopolitan cities, with 2.4 million souls, 6000sq km of space and almost unrecognisable exterior.
Today, I have decided to treat myself to some "girlfriend time", to be spoilt and reconnect with places that never seem to change. If you can't do that at Christmas, when can you?
Two blocks and a six-minute walk away from Capri by Fraser's 24-hour reception desk is our first stop: The Myer Centre for a welcome late lunch in the Food Court and the final 90 minutes of Saturday afternoon Christmas and summer fashion shopping at the multi-level Target.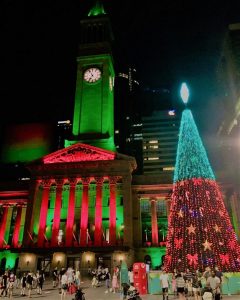 To heighten the nostalgia, our evening beckons us through the Queen Street Mall's decorations and festive photo fun towards King George Square's giant Christmas Tree light show next to an equally eye-catching Brisbane City Hall in red and green.
The Christmas in Brisbane program is now in full swing and will continue until Christmas night, December 25, centring on South Bank and the CBD.
The Lott City Hall Lights, for example, is even more spectacular, dazzling visitors with a visual and sound display of The Night Before Christmas, narrated by media personality Robin Bailey. The free shows are every 15 minutes from 7.30pm to midnight daily.
While I'll always lament the loss of the round fountain with its own multi-coloured light show year-round, I was overjoyed to see King George Square is still a "people's place" this night, with families, couples and friends enjoying this most wonderful time of the year.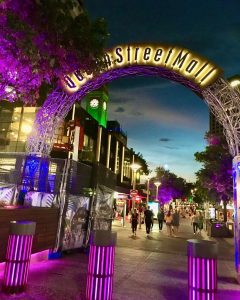 Young and old can continue embracing the balmy subtropical glory with free Christmas films and family favourites at River Quay Green at South Bank.
Two crowd-pleasing films will screen nightly on the lawn by the Brisbane River with a family-friendly movie from 6.15pm and a film for adults at 8pm from December 18-23. See the screenings at the website.
And you can colour your world and enliven the senses at Roma Street Parkland with Brisbane's largest interactive lighting display, The Enchanted Garden, now until December 23.
As another Brisbane summer storm brews, sending its own laser light show across the sky behind the skyscrapers, we head for cover at the Pig 'N' Whistle King George Square for a front-row seat.
A good-old fashioned catch-up over a shared serving of mushroom arancini balls and flash-fried calamari washed down with chardonnay is a great way to pass the time as the raindrops bucket down on the market umbrellas and party tables only metres away.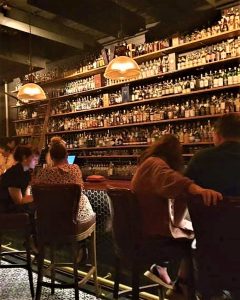 We interrupt the short walk back with a detour to Death and Taxes: a seriously hip bar hidden away in Burnett Lane: Brisbane's oldest laneway, dating to 1829. In a decadent, richly decored double space that tips its hat to London and Paris underground bars, we sip a nightcap of Mirage cocktails (Tanqueray Sevilla Gin, passionfruit, Okar Tropic, coconut, mango).
It gives us time to marvel at the wall of more than 1000 bottles on offer, guess the prices of the top-shelf spirits accessed by a ladder, and take a peak into the back room of beautifully upholstered booths and 100-year-old timber floors.
A big Sunday itinerary demands we first fuel up at Brew Café and Wine Bar, tucked into the end of a laneway on Queen St, for selections of strong coffee, pine-orange juice, a Big Breakfast (bacon, pork and fennel sausage, two eggs your way, hash brown, grilled tomato, house-made beans and tomato relish with sourdough toast) and Mushroom Toast (herb and garlic mushrooms, mushroom sage oil, ricotta, avocado substituted for the poached egg on toasted sourdough bread).
Time for more nostalgia, reliving our childhoods with the help of the Museum of Brisbane, located on Level 3 of City Hall around the edge of the dome and at the entry to the clock tower.
A long stroll around its City In The Sun and Storytellers immersive experiences and a good look around the gift shop fills in time before the Clocktower Tour.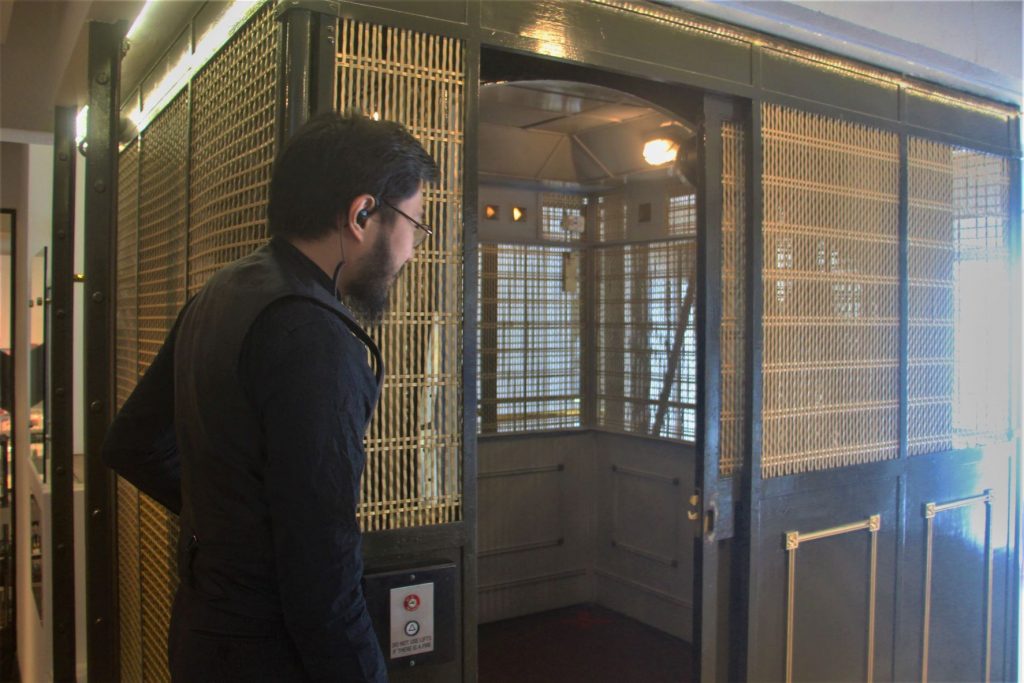 The 92m clock tower is accessed by Brisbane's oldest lift, now modernised for a faster and safe trip to the observation platform at 76m.
The large hour bell is 193cm in diameter and weighs 4.25 tonnes. The four smaller bells that make up the Cambridge Chimes weigh a total of 3 tonnes.
When the clock was built, it was the largest public clock tower and most modern timekeeping piece in Australia.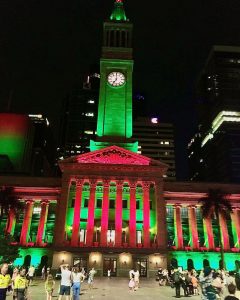 The four opal white clock faces of the rectangular tower are about 5m in diameter and the sheet copper minute hands are almost 3m long.
Covering almost a hectare, the Brisbane City Hall opened in 1930 after a decade of construction, and was considered one of the nation's most important structures at the time – in the same architectural league as Sydney Harbour Bridge.
Up until a time when building laws were changed in the 1960s, no structure was allowed to be taller in the CBD.
The copper dome crowning its grand auditorium, with a 37.5-metre internal diameter, was the country's largest.
City Hall closed its doors at the end of 2009 so it could undergo critical restoration work worth $215 million, that included removing the auditorium floor and excavating seven metres below for continued strength and stability. It reopened to the public three years later in April 2013.
We check out The Shingle Inn cafe, established in 1936, on the ground floor of City Hall that has become a Brisbane institution for high teas. And I would have loved to have spun around a few times under the massive dome of the renovated auditorium but it was closed for a private function.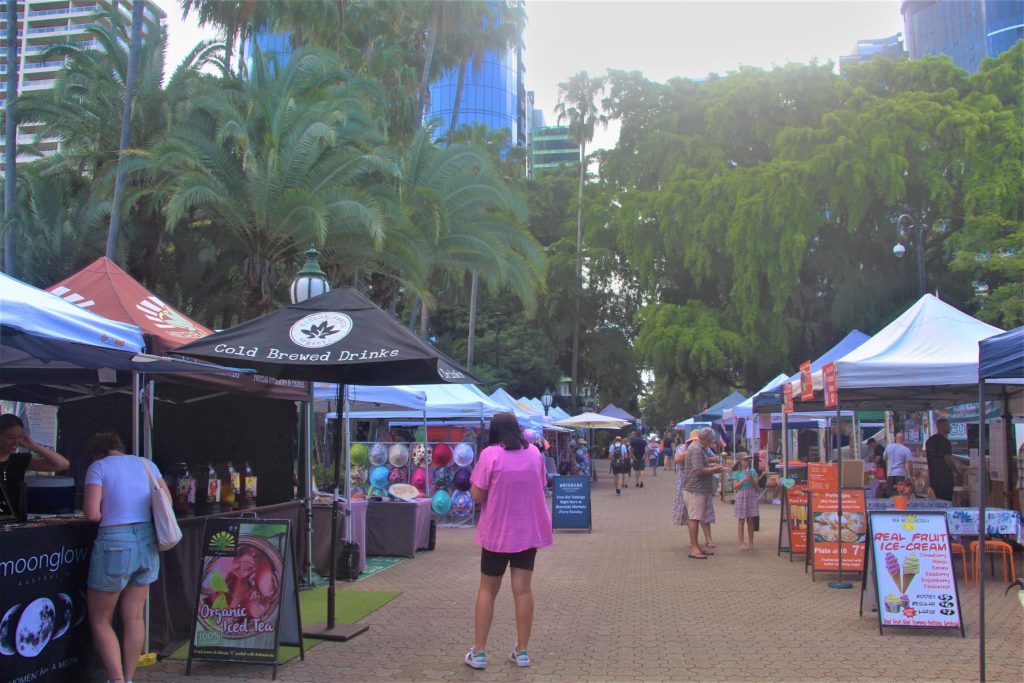 So we're off again, and a two-minute walk from Capri By Fraser in the other direction has us at the Brisbane City Botanic Gardens' Albert Street gates, wandering through the Riverside Sunday Market and grabbing an authentic spinach and feta gosleme for lunch before taking the scenic route towards the river, under the cool canopy of the Weeping Fig Ave and Bunya Walk.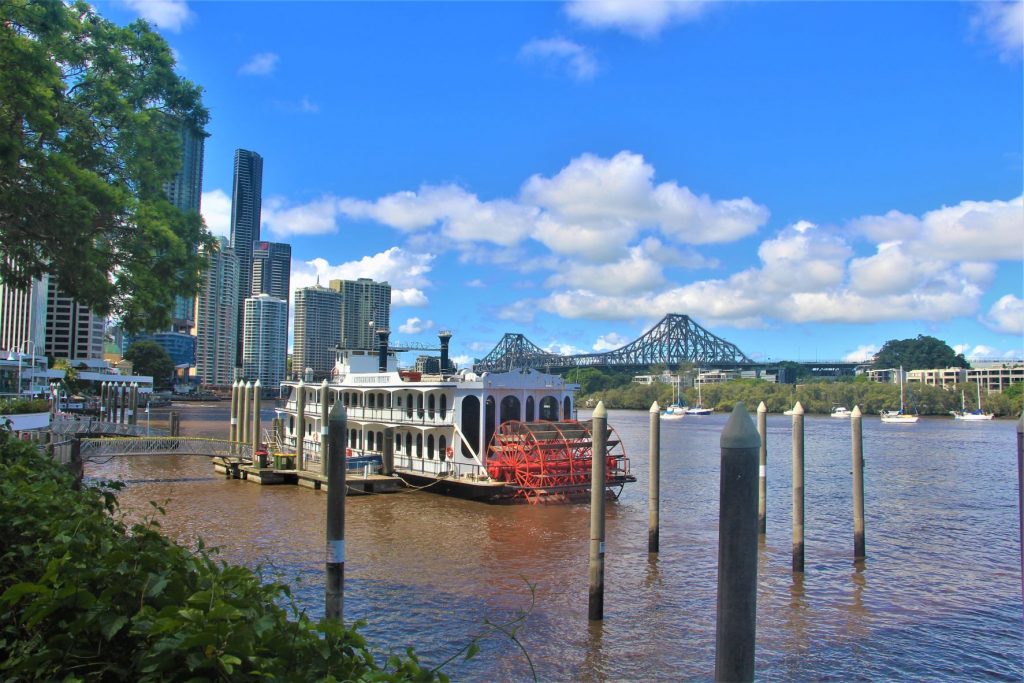 The City Reach Boardwalk offers jaw-dropping views of the much-loved Story Bridge, moored yachts and one of the Kookaburra River Queens at anchor, before we take up our premium seats to drink in the view and people-watch at the Riverbar and Kitchen, among the many Eagle Street Pier food and drink establishments.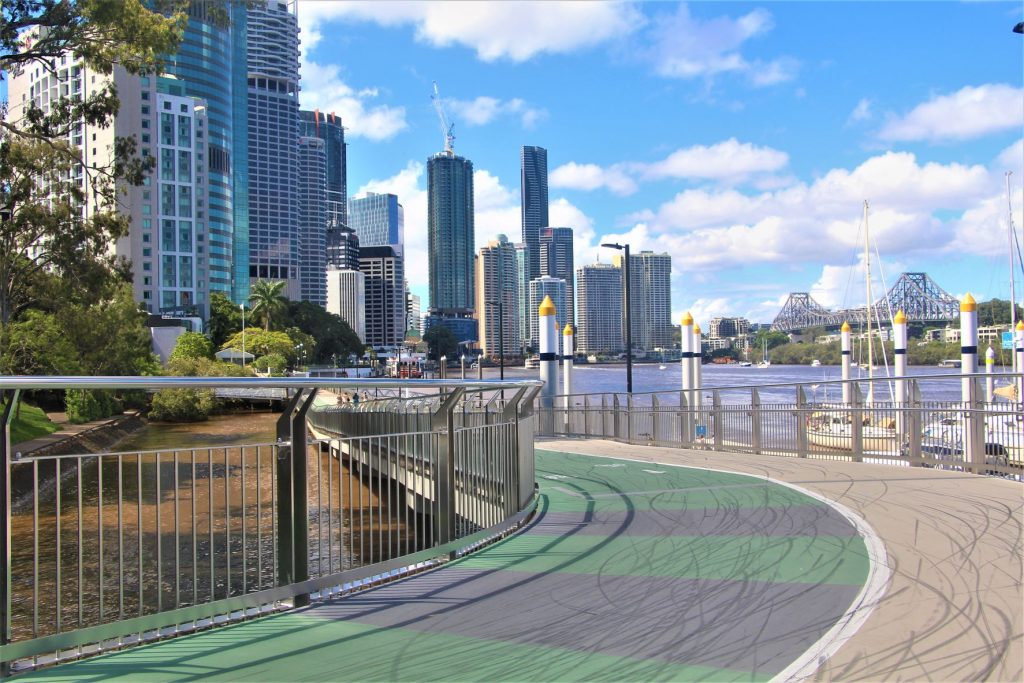 And because we just can't get enough of our favourite bridge, we move on for new perspectives from seats at Mr Percival's overwater bar, Gigi's picnic tables and beanbags and Ciao Papi restaurant at the Howard Smith Wharves for a very laidback Sunday afternoon and evening.
Of course, I could easily have saved myself the exhaustion and blisters by never leaving our doorstep and making the most of the 4.5-star Capri by Fraser Brisbane for a luxurious getaway.
We could have simply made ourselves at home in our air-conditioned room (one of 239) with our kitchenette and a level of attention to detail that includes a microwave and espresso maker, soothing pillowtop bed and 48-inch LCD televisions with cable programming.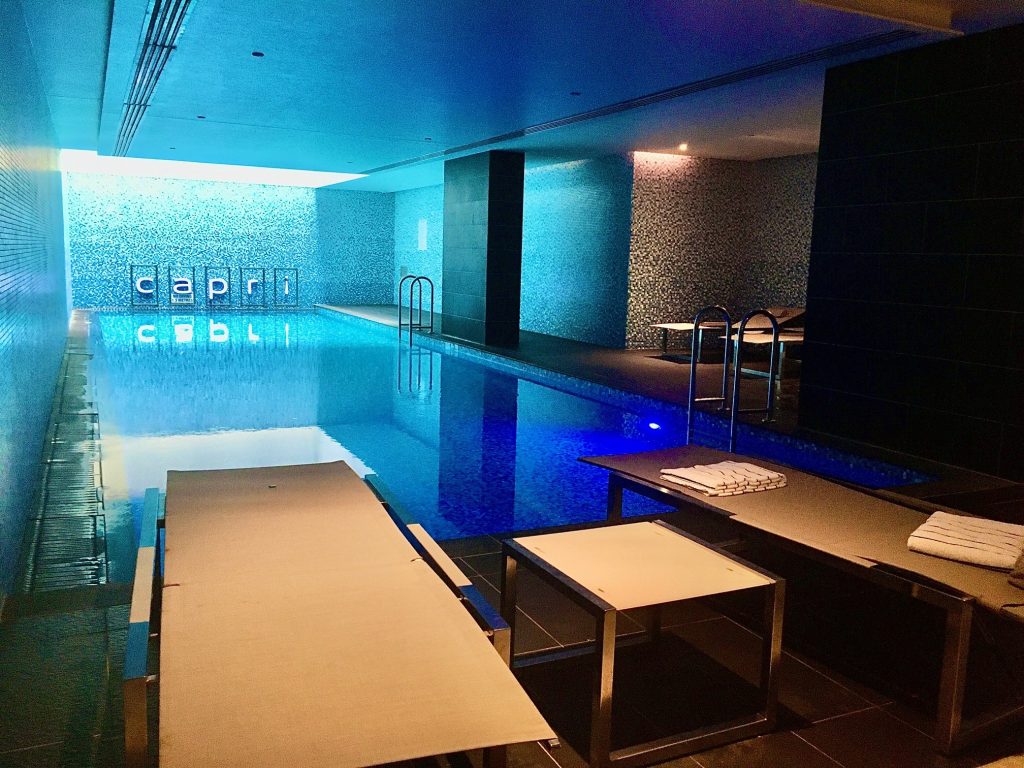 Level 2 has the inviting indoor heated pool complete with his/her sauna and steam rooms and 24-hour fitness centre to help us be human again after a long week.
The onsite Mediterranean restaurant Black Fire Brisbane has tasty cooked-to-order, a la carte selections for breakfast, lunch and dinner, along with a mouth-watering in-room dining menu.
Contactless check-in and check-out, complimentary wifi, on-site self parking, and business centre all help make our stay hassle-free.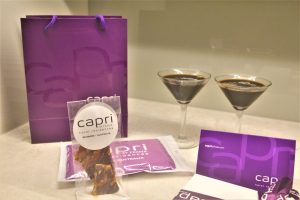 Adding the Capri By Fraser Indulgence Package makes us feel extra special. The package includes:
• two Espresso Martinis
• handcrafted hazelnut brittle from New Farm Confectionary
• a late checkout of 1pm
• complimentary room upgrade
• luxurious bathrobes and slippers after booking a Studio Executive or Studio Premier rooms.
But as our two-night stay comes to an end, we have one more stop: a two-minute walk across the road to our booking at Aquarius Health and Medispa.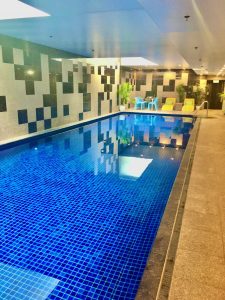 A girls' getaway wouldn't be the same without being made to feel like a pampered princess.
And this inner-city sanctuary does all that – from the quiet contemplation of the Zen Room and the silky smooth floating pleasure of the his or hers magnesium pools (hot and cold) to the unisex indoor lap pool that transports us away to a tropical resort, the elegant cocktail bar with baby grand piano, and the expansive locker rooms' swimsuit spin dryer.
The Monday Me Time 60-minute relaxation massage with bathhouse entry, gym access and locker is an absolute bargain at $69 (normally $120. Other specials are available Tuesday to Friday).
And happy and polite Rob, originally from the Philippines, expertly unknots all the kinks in my back and shoulders to send me happily on my way home – just another of Brisbane City's gifts, gratefully received.
HAVE YOURSELF A MERRY LITTLE CHRISTMAS