An Alexandra Headland hairstylist who is known for giving clients the celebrity treatment has been named a finalist in the hairdressing industry's equivalent of the Golden Globes.
Carmody Homan travelled the world doing hair and partnered with leading brands before settling with his wife and kids on the Coast.
He has been named a finalist in two categories — hair shot of the year and excellence in education — at the Australian Hair Fashion Awards.
Mr Homan comes from generations of fashion designers, so it was no surprise that at age 15 he fell into the world of hairdressing.
Born in New Zealand born, he styled hair for Runway Week and worked for some of the world's biggest brands in Sydney, London and New York.
"My grandmother was a fashion designer and my father was a fashion designer so it has always been around me," Mr Homan told Sunshine Coast News.
"My father was quite successful in New Zealand and Australia and he was the one who really pushed me into doing hair.
"New Zealand was too small for me so my dad bought me a one-way ticket to Sydney."
Since then, Mr Homan has travelled the world to create, direct, educate, lead and set trends.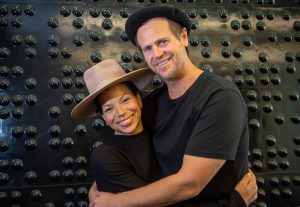 Meeting his wife Tasha in London, and now with children of their own, The Homans moved to the Sunshine Coast in 2020 and earlier this year opened pop-up salon, Homan, in Alexandra Headland.
The salon offers everything from style makeovers to bespoke haircuts and a non-invasive cosmetic treatment called Cryotherapy and Mr Homan said it was doing "really well".
"I've always been a bit of an underdog and when we decided to come back to Australia everyone said we had to move to Melbourne or Sydney, that this wouldn't work on the Sunshine Coast.
"For me, I've always known that everybody wants to look beautiful and it doesn't matter where you live, it's how you adapt to the culture."
Help keep independent and fair Sunshine Coast news coming by subscribing to our free daily news feed. All it requires is your name and email. See SUBSCRIBE at the top of this article
Mr Homan said he was passionate about passing on his skills and knowledge to the next generation.
"Being back in Australia and on the Sunshine Coast my strategy has been to elevate the level of education in Queensland," he said.
"You can be as creative as possible but not everyone can translate their creativity and help people grow.
"For me there are two levels of educators – there are educators and there are educators who can teach. For me it's about growing people."
Being unable to travel globally, Mr Homan has been running courses through zoom as well as sharing his knowledge with TAFE students.
"My mission as an educator is to teach all hairdressers globally the art of relevant hairdressing and how to spot trends before they become commercial," he said.
"I learnt a lot from my father about how to implement trends while knowing the market I'm educating in and where their spheres of influence may be."
Mr Homan has worked in several roles including international educator, trend expert and face of Redken. He was a member of the ULTA Beauty Pro team and international Artistic director for Toni and Guy Australia and UK.
The winners of the Australian Hair Fashion Awards will be announced at a gala night in Sydney on December 13.